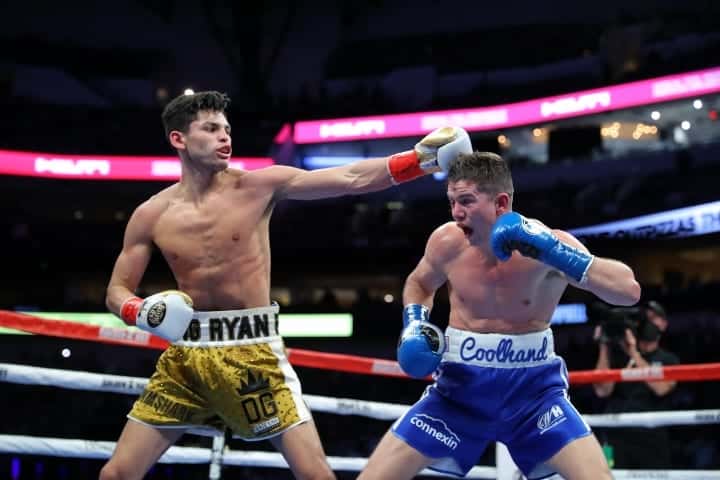 Coming off his KO win over English contender Luke Campbell last Saturday night in Dallas, is unbeaten Lightweight rising star Ryan Garcia set for not only Lightweight but U.S. boxing stardom later this year? It's a big topic on the latest edition of the "Big Fight Weekend" podcast,

Host T.J. Rives is back with special guests to go over Garcia's 7th round KO of Campbell and all of the latest boxing news and info from this week and looking ahead to the future. Marquis Johns, Sr. Writer from the BigFightWeekend.com website and Carlos Toro of FightGameMedia.com are along to discuss it all.
Will we see Garcia next battle fellow unbeaten star Gervonta Davis in the coming months? It's a fight that the Cali-kid was demanding last Saturday night after the biggest victory of his career. Or, will Garcia fight fellow Californian and WBC World champ, Devin Haney? Marquis and Carlos give their thoughts on all of this and the Lightweight picture, as a whole.
The guys also discuss Carlos' picks for fighter and KO of the year in 2020 and who should really win out for these type of awards.
Finally, T.J. and Marquis mention the latest news with four division world champ, Canelo Alvarez, and his desire to already be back in the ring in February. However, it doesn't look like it will happen in his home country of Mexico, as he had wanted. Instead, due to Covid 19 and the continuation of spiking cases, Canelo will apparently look to fight again in the U.S. and we have insight on where that might be?
Marquis finally relays the only noteworthy boxing card that is going on this weekend, and, it's actually in Mexico, too.
Hear it all on the only place you need to stop and listen for all your boxing news, takes, previews and recaps: it's the "Big Fight Weekend" podcast. And, make sure to subscribe/5 star rate and review us on Apple Podcasts, Spotify, Google Podcasts, etc.!!