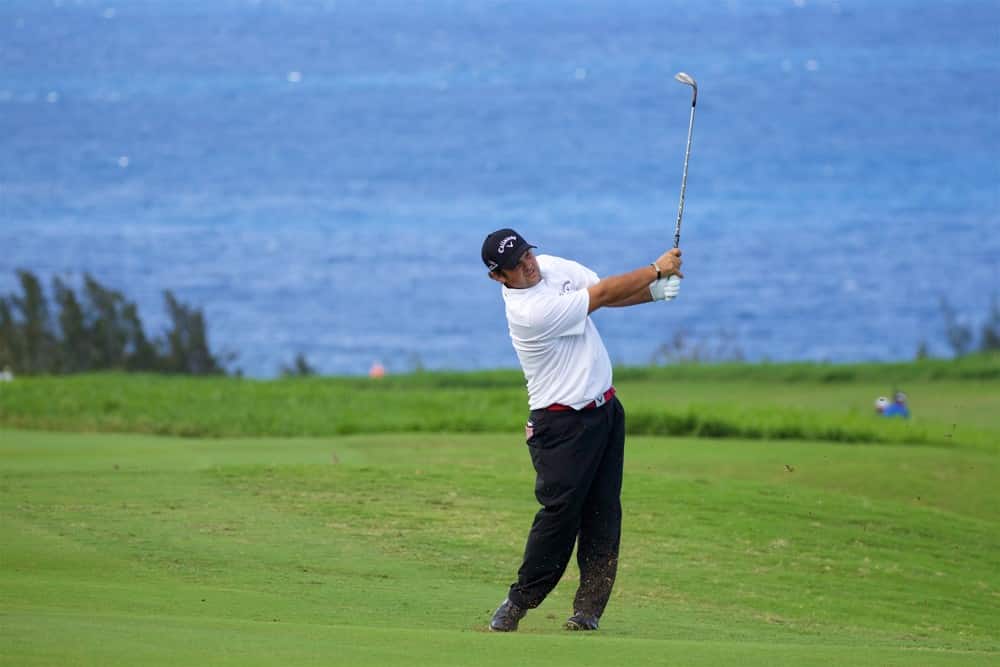 For those who missed it, check out the 2021 Sentry Tournament of Champions Preview and Betting Strategies for the types of golfers you should look to target for your picks. With that in mind, here are my favorite props and outright bets for this week (with odds courtesy of MyBookie.ag).
Sentry Tournament of Champions Picks:
Outright Winners
Patrick Reed – 14/1
Reed's track record at Kapalua speaks for itself. Reed won the tournament in 2017 and lost in a playoff to Justin Thomas last year. Kapalua is a great golf course for Reed. The wide fairways mask one of his weaknesses – driving accuracy. He's also a great wedge player and a tremendous putter. Those are important skillsets for a low scoring tournament like the Sentry Tournament of Champions. He has the firepower to notch his second win at Kapalua.
Webb Simpson – 16/1
Webb Simpson crushes bermudagrass golf courses. He crushes tournaments with lots of birdies. And he crushes tournaments that reward players for great wedge play. It's really that simple for anyone who wants to back Webb at Kapalua this week. Many people think Kapalua favors a bomber, but the golf course allows even shorter players to hit wedges into the Par 4's on most holes thanks to the elevation changes. Webb is in a fantastic spot to get off to a quick start in 2021.
Collin Morikawa – 22/1
Morikawa is not getting much respect from bettors or books this week. His sluggish fall is probably to blame. Since his win at the PGA Championship, his ball striking slipped and he struggled with the putter. But it's a new year and the long layoff could have been just what he needed to reset his game. Morikawa played great at Kapalua last year and has all the tools needed to win the tournament. If he's fixed his ails, 22/1 on Morikawa is a steal.
Positional Props
Justin Thomas Top 5 – +140
It's difficult to stomach betting a player even as talented as Justin Thomas at 6/1 with how strong the field is. There's a reason, though, why he's a two-time winner of this tournament. Justin Thomas is a great wedge player and puts circles on the scorecard in droves. For those who don't want to bet his steep outright price, grabbing him to finish Top 5 at plus odds is a palatable alternative.
Hideki Matsuyama Top 10 – +125
Hideki is the guy everyone wants to be a sleeper pick to win the tournament. But with as much buzz he has coming into this tournament, he's turned into quite the chalky play. His backers point to his great course history at Kapalua, but he hasn't played here since 2018 and his game has trailed off since then. Nevertheless, his Top 10 odds provide an opportunity for those not quite as bullish as the market, but still love his game for the golf course. Hideki should make another appearance inside the Top 10 on the final leaderboard.
Scottie Scheffler Top 10 – +250
Scottie Scheffler is primed for a big year. He was lost a bit in the shuffle with the rest of the young guns on the PGA Tour. But by the end of the 2020 season, he was a force. His COVID diagnosis derailed him in the fall, but after a winter's break, he should be ready to go. Scheffler's fantastic all-around game and his knack to card lots of birdies will be a great fit for Kapalua.
Sungjae Im Top 10 – +275
Like Morikawa, a few weeks off could do wonders for Sungjae. He was fantastic before the pandemic shut down the PGA Tour. When it returned, he just wasn't quite the same. However, even during his struggles, his best performances came on bermudagrass surfaces, a consistent trait in his young career. At his peak, Sungjae has the all-around game to do well at Kapalua, and a return to good form is in the cards.
Sentry Tournament of Champions Picks:
Matchup Props
Webb Simpson +115 over Bryson DeChambeau
The love for Webb Simpson is above. As for Bryson, he's getting buzz this week from those salivating by how far he'll hit his drives. But Bryson's edge in the distance department is most noticeable on golf courses where only he can access landing zones that others can't. At Kapalua, everyone will have a short iron in hand on most of the Par 4's, and the Par 5's are mostly reachable for all. Since Bryson and Webb will be holding wedges in hand on many approach shots, Webb owns a big advantage in that department. The underdog should best the favorite in this matchup.
Hideki Matsuyama -125 over Tony Finau
The love for Hideki is above. As for Tony Finau, it's tough to go against him this week considering he checks the boxes in many categories. He's a really good iron and wedge player and makes a ton of birdies when the putter is hot. But while I'm not typically one who is a stickler for grass types, it is a noticeable trend that Tony Finau struggles on bermudagrass golf courses. Finau has not had a Top 10 on the PGA Tour (excluding the staggered start Tour Championship and the 18 man field at the Hero World Challenge) on a golf course with wall to wall bermudagrass since the 2017 Valspar Championship. That's enough for me to fade him in a matchup against Hideki this week.
Collin Morikawa +1.5 Strokes (-115) over Viktor Hovland
This is not a slight against Viktor Hovland, a player I hold in high esteem. This play is more to do with how high I am on Morikawa and the opportunity to get 1.5 strokes on someone for the tournament without paying too much juice. Both players should play well at Kapalua, however, Morikawa should keep it close to cash that side of the matchup prop.