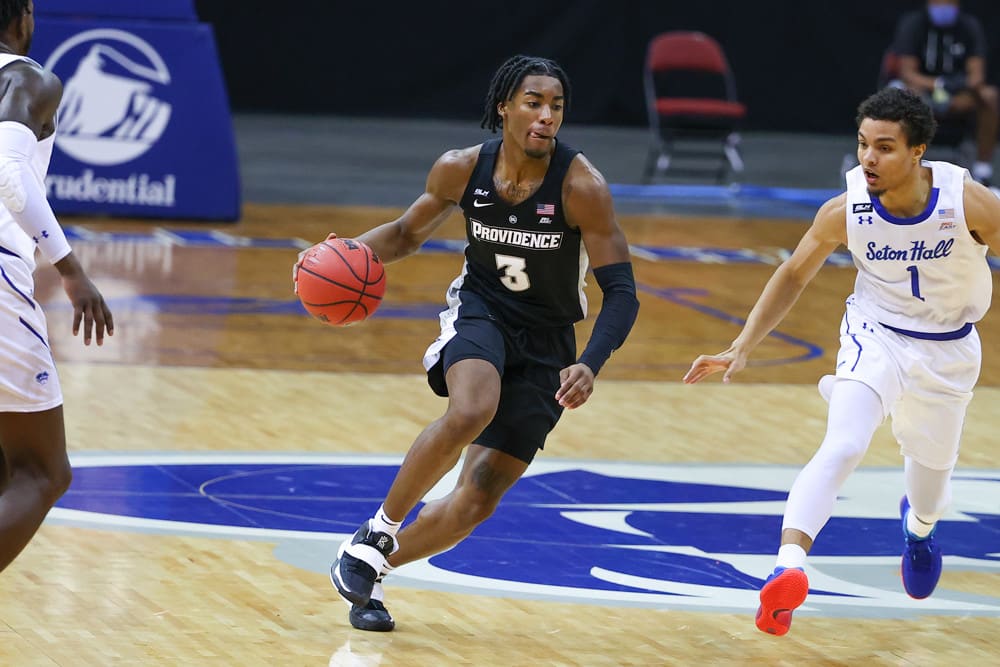 Happy New Years Fantasy College Basketball fans. Now that the holidays and college football are mostly behind us, we can focus on college basketball. Right in time, we have an excellent slate of games this weekend. So shake off that hangover and let's play some DFS – here are my college basketball daily fantasy picks.
This column will highlight players in the main Saturday slate which consists of eight marquee matchups. Be sure to follow me on Twitter (@NC_NicK ) as I'll post some thoughts on the other slates when they become available on Draft Kings.
Let's do this!!
College Basketball Daily Fantasy Picks: G's
Big Money Men:
David Duke, Providence – $9.5K
There's a reason why Iowa's Luka Garza ($10.2K) is the only player more expensive than Duke. While most of America probably hasn't heard of Providence's guard, the junior with the unfortunate name, has been killing it. Not only does Duke average almost 20 points a game, he also brings down over 6 rebounds and dishes out over 4 assists per game. That's loading up the stat sheet.
The other reason to roster Duke this weekend is the juicy matchup vs a Creighton team that has never been known for their defense. While the Friars usually look to slow down the tempo of a game, the Blue Jays will want to push the rock, which should ensure more possessions than the average Providence game.
Joe Wieskamp, Iowa – $7.8K
Other than Gonzaga, the Iowa Hawkeyes might have the best offense in the nation. If you can't afford Garza, Joe Wieskamp is a swiss-army-knife type player that's been doing everything for his team. He averages almost 30 fantasy points a game and comes in at a decent price.
It seems like you'll need someone from Iowa on your roster every time they play. It's not a great matchup vs Rutgers, but the Hawkeyes are basically matchup-proof. Wieskamp is also listed as a G/F so he adds some flexibility when building your lineup.
Montez Mathis, Rutgers – $6.8K
Let's stay in this same game. We know Iowa can score the ball, but they're also prone to letting their opponents do the same. Iowa is the number one team in KenPom's offense efficiency, but only number 96 in Adj D. They play a Rutgers team on Saturday that has really impressed early this year. I'm looking forward to watching this game and will definitely have a couple guys going in it.
With that said, sign me up for Rutgers' Montez Mathis at $6.8K. Mathis has been a solid contributor all year, but took his game to another level vs Purdue (25 points, 5 rebounds) with teammate Ron Harper Jr out injured. Although listed as Q currently, I'm expecting Harper Jr to miss this matchup too which opens the door for Mathis to shine again.
Bargain Bin:
Jalen Tate, Arkansas – $5.5K
After dealing with an aggravated ankle issue, Tate came back into the Razorback starting five vs Auburn. He promptly played almost 30 minutes and put up 24.8 fantasy points. While he averages in double digits and is usually good for about 10-16 points, he also chips in with 4.4 RPG, 4.6 APG, and 1.1 SP.  Add all that up for only $5.5K and you might want to roster this fellow.
DeVion Harmon, Oklahoma – $4.9K
I love the potential value Harmon brings to the table for a price south of $5K. After coming off the bench in the Sooners first six games of the season, the sophomore was recently rewarded with his first start vs Texas Tech. He scored 17 points and put up over 25 fantasy points.
Maybe just an importantly, he played all but one minute. Off the bench, Harmon was getting about 26 mins a game, but he played 39 vs Texas Tech. I think we're ahead of the curve on this guy. Expect him to be more expensive soon.
College Basketball Daily Fantasy Picks: F's
Big Money Men:
Greg Brown, Texas – $8.5K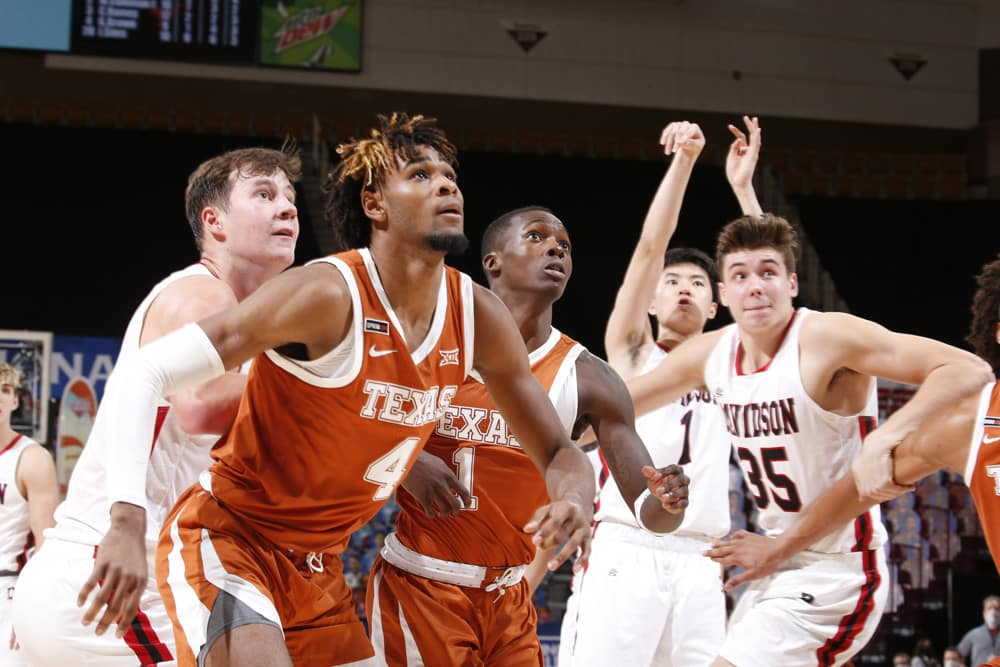 If you follow college basketball recruiting, maybe you have already heard of the Longhorn true freshman. If not, he might put himself on the map this weekend. There's been some ups and downs, as you would expect from a freshman, but Brown is putting it all together with double-doubles in each of his last two games. Additionally, he's done this while only playing 22 – 26 minutes most games.
It's a tough matchup vs Kansas, and the amount of minutes played may not be worth the high price tag. At this point, I'm on the fence if I'll roster Brown or not. He's dripping with potential but he's not at a bargain price. At the minimum, keep an eye on this guy.
Scottie Lewis, Florida – $7.7K
Here's another combo guy that's listed as a G/F, meaning you place him anywhere in your lineup. Lewis has been killing it of late with three straight games over 35 fantasy points. It's a plus matchup vs an LSU team with an Adj D over 100.  Beam me up Scottie!
Denzel Mahoney, Creighton – $7.3K
What a great name. One of the best actors ever for a first name and a classic movie character for his last name. We probably don't have any big Guttenberg fans out there, do we?
Regardless, Creighton has a top 10 offense in the country and Mahoney happens to be their leading scorer. The 6'5" senior has been in double digits six straight games, including a couple north of 20 vs Marquette and Nebraska. He's a player with a very safe floor that you can mix with riskier players.
Bargain Bin:
Chevez Goodwin, USC – $4.7K
Despite only averaging 17 minutes a game this year, Goodwin has put up nearly 20 fantasy points three consecutive games and five of the seven Trojan games this year. He seems like a good bet for 8-10 points and 6-8 boards against an average Utah team. Coming off a loss to Colorado, expect USC to come out hungry and put up a nice performance.  Good chance Goodwin is a big part of that.
Anthony Duruji, Florida – 4.1K
Another Gator? Well, I've mentioned I like the matchup against a questionable LSU D and while the Tigers have several playmakers all capable of putting up production, they are priced higher than a lot of Florida's guys.
We all should know that UF's Keyontae Johnson is out for the year after collapsing on the court. Duruji was his backup and is now in the starting lineup. In his first game as a starter, Duruji put up 27.3 fantasy points. He scored in double digits while also bring in five rebounds, three blocks, two steals, and even knocked down a three-pointer. Not too shabby for a guy at only $4.1K
You may also like:
Northwestern vs Iowa Preview | The College Experience (Ep. 496)