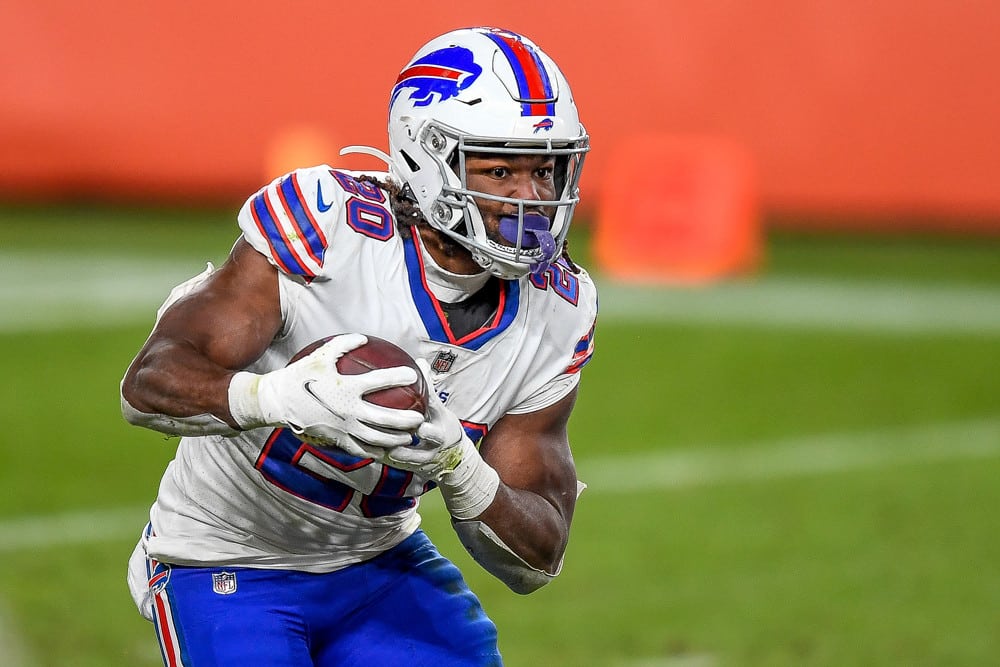 Monday Night Football Info
Time: Monday, December 28th @ 5:15 PM Pacific
Location: Gillette Stadium, Foxborough, MA
Weather: 40 f Mostly Cloudy
TV: ESPN
Spread: Buffalo -7.5
MoneyLine: -320|+260
Total: 46
Odds courtesy of MyBookie.ag *Promo Code SGP*
This has been a special week of football so far. We started out with a six touchdown rushing performance by Alvin Kamara. It was followed by a massive game by Tom Brady in the first half. We got spoiled by a wonderful first three days of football, we may not be so lucky on Monday Night. The Bills are rolling and are set to roll right into New England to play the downtrodden Patriots. This one is predicted to be a relatively close game, but I tend to disagree. Buffalo should dispatch their opponents quite handily so bulking up on their players will be key to this slate. Affording them will mean taking a calculated risk. Together, we will navigate these waters and come up with a winning solution. These players should help you along the way.
As always, the players below are not meant to be considered a "core four." These are simply players to consider as you are building your lineups. Play one, play them all, it is entirely up to you. My job is to help you see the reasoning behind selecting these players and how they can help you win. We wish you luck on your NFL Monday Night DFS Picks.
NFL Monday Night DFS Picks
Stefon Diggs – Captain $16,500 ; Flex $11,000 WR Buffalo
Unlike the Bills running game, there is a clear top option at the wide receiver position. That option has enjoyed the month of December to be sure. Over the last three weeks, Diggs has been targeted 37 times and he's caught 31 of them. He's amassed an astounding 369 yards in that span as well. The Bills have locked up first place in the AFC East but still have an outside chance at homefield advantage. This means Buffalo will not let off the gas even against this lesser version of the former kings of the East. Not to mention the last time these two teams met, it was only settled by three points in the Bills' favor.
In that last matchup, Diggs caught six of nine targets for 92 yards. The Patriots did well to keep Josh Allen in check overall holding him to a mere 154 yards. So even on a down day, Diggs accounted for almost 60 percent of his quarterback's yardage. He's on a hot streak and his confidence is soaring. This is a great time to load him up in your NFL Monday Night DFS Picks. You should also consider paying up for him in the captain's spot in a few of your multi-entry lineups.
Zack Moss – Captain $11,100 ; Flex $7,400 RB Buffalo
Despite the last game being decided by a field goal, this game just has that blowout feeling. Buffalo has put together an impressive four game winning streak in which they have outscored their opponents by 60 points. Allen and his receivers account for getting their team the lead. It's up to Devin Singletary and Moss to grind the clock down to maintain it. I can understand though that trusting a Bills running back can be a tough proposition. If you were to line up the rushing stat lines of the two side by side, you may not be able to tell the two apart. Both have had average outings over their last two weeks. Then again, neither have been called on to be all that stellar.
It's a coin flip really as to which of these backs will have the better day. In this case, it was Moss who had the better day in week eight when last these teams met. Both had 14 carries. Both had over 80 yards. Moss edged out Singletary by way of his two trips to the endzone. Ultimately, the decision to play Moss comes down to his recent usage. Of the pair, it's been Moss with double digit carries in the last two weeks.
This is important for the simple fact that he will get these touches against a Patriots run defense that forgot to close the gates. In back to back weeks they have allowed massive games to Cam Akers and Ahmed Salvon. Akers cut them up for 171 while Salvon followed it up with a 122 yard pounding. This may be a good week to roll out both Bills backs, but if you can only fit one in, Moss is your guy for this NFL Monday Night DFS pick.
Jakobi Meyers – Captain $10,800 ; Flex $7,200 WR New England
Look, whether you like it or not, you have to roster at least one Patriot. Since you are forced to, you might as well roster the one with at least some upside. Damien Harris, the only other potential playmaker, has been on the injury report all week. This leaves Meyers in line for the most work in the New England offense. He's the only Pats wideout who has seen double digit targets in weeks and the only to log a 100-yard game since week 11. He is coming off only his second game over 100 yards on the season. Last week against the Dolphins, he went for 111 yards on 7 receptions.
His matchup this week is not ideal as the Bills have throttled opposing wide receivers all season and have tightened their grip over the last two weeks. Buffalo last week held the entire Broncos receiving corps to 5 catches for 37 yards. When considering what he is up against, Meyers comes out the best choice. In the last four weeks, Damarie Byrd has only been over 25 yards receiving once. The same can be said for N'Keal Harry. Even the pass catching running back James White has seen one game over three yards in that span. You're playing the odds here that Myers will have the highest fantasy point total for the entire New England offense. Judging by the numbers, your odds are pretty good.
Dalton Keene – Captain $2,100 ; Flex $1,400 TE New England
I am not one to advocate for the traditional, "punt," plays. I want to make every roster spot count. But in this case, all the Bills weapons are the play here and making room for them makes a play like this necessary. Last week, Keene took 29 snaps for the Patriots and garnered two targets. You can make a similar case for his fellow tight end Devin Asiasi who saw 27 snaps with only a single target. They are the only two viable options at the position and either one of them can be a complete bust. But again, stacking Allen and Diggs is expensive but can't be avoided. Having a cheap piece of the puzzle will lighten that load. Certainly reserve this play for only one or two of your NFL Monday Night DFS Picks.
NFL Monday Night DFS Picks Related Posts