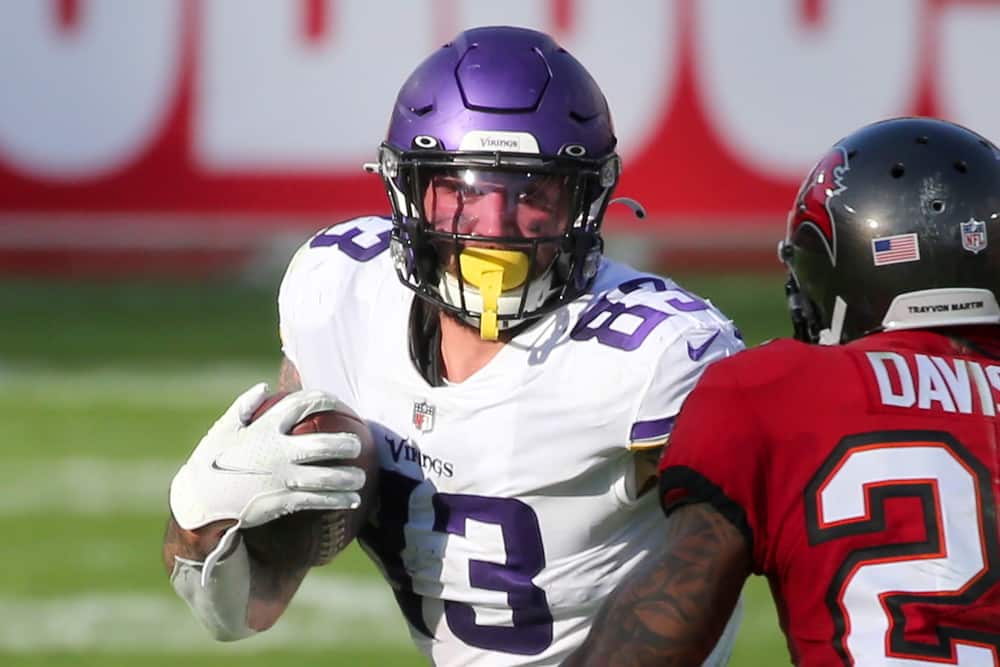 NFL Christmas Game Info
Time: Friday, December 25th @ 1:30 PM Pacific
Location: Mercedes-Benz Superdome, New Orleans, LA
Weather: 44f
TV: FOX, NFL Network, Amazon
Spread: New Orleans -7
MoneyLine: -340 | +280
Total: 51.5
Odds courtesy of MyBookie.ag *Promo Code SGP*
NFL Christmas DraftKing Showdown
We must have been good this year. The NFL has given us the gift of the Vikings taking on the Saints as our Christmas present. While we wait anxiously for this game to play out as it sits wrapped under our tree, let's use that time to build your DraftKings Christmas Showdown lineups. The Norsemen travel to play under the dome in New Orleans in what should be a tightly contested game. They are fighting frantically for a spot in the extended playoff picture while the Saints have already locked up their postseason spot. Jack Frost will not be nipping for this matchup which should make for a fantasy friendly day.
New Orleans is depleted at the wide receiver position. Michael Thomas is on the injured reserve and Tre'Quan Smith has yet to participate in practice this week. This has the potential to elevate several supporting players in Drew Brees' stable. It also could raise the ceiling for one of his older horses. For Minnesota, the script begins and ends with Dalvin Cook and he is priced accordingly. Should you choose to put him in your lineup, you'll need to decide where to spend down to make room. Hopefully after this game is unwrapped, you will win enough to get that PS5 no one got you for Christmas.
As always, the players below are not meant to be considered a "core four." These are simply players to consider as you are building your lineups. Play one, play them all, it is entirely up to you. My job is to help you see the reasoning behind selecting these players and how they can help you win.
1. Alvin Kamara – Captain $17,100; Flex $11,400 RB New Orleans
Chances are you are already planning to roll out a lineup for each of the top running backs in this game. The following paragraphs are likely not for you. This is a case for Kamara if you are on the fence in a single entry contest over which one to pick. Both he and Dalvin Cook are going to dominate in touches and points. This cannot be helped. Ownership will be high on both of them. This can also not be helped. The slight edge for Kamara is his matchup, which he is in prime position to exploit to the benefit of your DraftKings Christmas Showdown lineup.
The Vikings are on the lower rungs of the league in most aspects of the rushing game. They are 23rd in terms of rushing yards allowed per game. On average, they are surrendering just under 126 yards a week to opposing running backs on the ground. This works well for the Saints as they are averaging 131.8 rushing yards per game. Kamara hasn't registered a 100-yard game yet this season and he likely won't this week either. But he has still managed to perform at a high level thanks to his pass catching abilities. In 14 weeks, he has only failed to unwrap double digit points in one of them. He will make for a fine pivot from the more expensive Cook if you are looking to do so.
2. Emmanuel Sanders – Captain $13,200; Flex $8,800 WR New Orleans
Michael Thomas is out. Tre'Quan Smith has not practiced as of Tuesday. This leaves Sanders as the only Saints pass catcher with more than a handful of targets to his name. Although to be fair, he has found coal in his stocking on more than one occasion this season as well. But, with the likelihood of the top two targets on the shelf, he is New Orleans' best hope at receiver. The best indicator of a potential big game comes out of week 5 against the Chargers. In that game, he logged a season high 12 catches on 14 targets for 122 yards. Notably absent that day was Thomas. Smith only saw Brees look his way 3 times out of 47 drop backs.
He's still an expensive option to be sure. Even still, he's certainly an intriguing option to lead the sleigh in the captain's slot due to his expected volume. Sanders will also benefit from facing a porous Minnesota pass defense. The Vikings sit at 24th in the league when it comes to passing yards allowed averaging around 255 yards per game.
3. Latavius Murray – Captain $7,200; Flex $4,800 RB New Orleans
The other half of the Saints backfield has been an afterthought for a few weeks now. Murray has averaged only 6 total touches a game and the dreadfully low output that comes with it. What gives me hope on this slate is how bad the New Orleans rush defense has performed this season. As was stated with Kamara, the Saint's can be found towards the bottom of the list in most statistical categories. They are giving up more than 125 yards per game and Kamara is only putting up half of that as of late. This leaves the door open for Murray to pitch in the remaining half should he get the necessary work. He could be a fantastic stocking stuffer for your DraftKings Christmas Showdown picks.
4. Tyler Conklin – Captain $4,500; Flex $3,000 TE Minnesota
Unlike his counterpart in the North Pole, Minnesota's Rudolph will likely not make a Christmas appearance. He's still on the Viking's report with a foot injury that has kept him out of the last two games. In his place, both Irv Smith and Conklin have divided up the tight end action. So far, it has been a 50/50 split as to who has had the better day. Two week ago, Smith found the endzone while catching all of his four targets for 63 yards. Last week, it was Conklin's turn to score with three receptions on four targets for 57 yards.
What leads to the selection of Conklin over Smith in this case is his price. You will need to spend down at some point in this slate. You'll also need that pick to come with an outside chance at a touchdown. That is a feat this pick has recently accomplished. Even in the week in which Smith came out on top, Conklin still grabbed five of five targets for 40 yards. You normally want a dart throw to more than double his salary. This slate makes it all but impossible to do so which makes Conklin a present you'll need under your tree.
NFL Christmas DFS Showdown Related Posts
NFL Week 16 Survivor Pool Picks
Week 16 In-Depth FantasyPros Football Rankings: PPR, Half-Point, Standard & More
NFL Week 16 Preview: Odds and Betting Trends