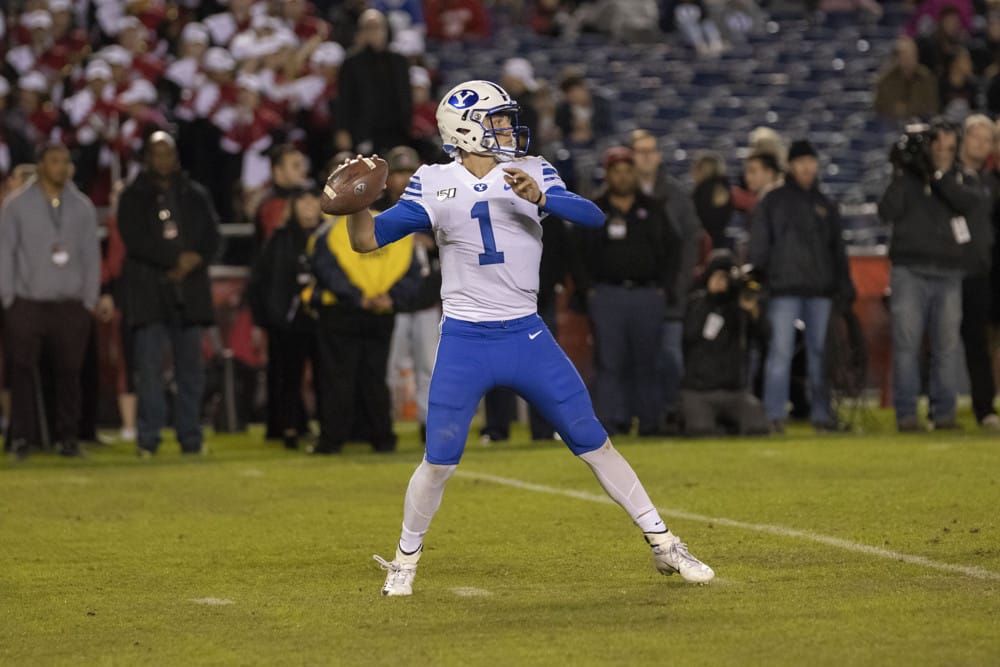 We have two games on Tuesday.  Tulane and Nevada will kick things off in the afternoon game in the Famous Idaho Potato bowl.  Yep, that means bowl season starts with Coastal Carolina's teal turf and Boise State's blue turf.  Tulane's a slight favorite and the O/U sits at 57.
The night cap is the RoofClaim.com Boca Raton bowl between UCF and BYU.  Our eyeballs get to take a break as this will be on the normal and boring green turf.  BYU is about a touchdown favorite and the O/U sits at a high 75 points.  This game will be fun as both offenses can crank out the points.  I'd lean to rostering players in this game over the early one.
With that said, here's my line-up.  Let's do this!!
That's right.  I'm going with both of the high-dollar QB's in the evening game.  Wilson and Gabriel have been crushing it all year long and should get close to 30 fantasy points or more each.
In a slate with below-average running back options and nice depth at the WR position, I'll gladly pay up for the expensive QB's.  Nevada's Carson Strong and Tulane's Michael Pratt have both had nice seasons with some good fantasy outings but they aren't the sure-fire locks like Wilson and Gabriel.
RB:  Toa Taua – Nevada, $5.7K
BYU's Tyler Allegeier ($6.6K) is the highest RB on the slate but he's a but banged up and too costly for me.  I'll grab Taua who has a couple 100 yard outings this year including 131 yards and a TD vs Hawaii.  He also averages 3.5 catches a game
For a bargain-bin dude, Huderson isn't a bad option.  He leads the Green Wave in rushing yards and carries and is $400 cheaper than the other Green Wave RB, Cameron Carroll.
One of the toughest decisions of the day was Doubs vs Dax Milne of BYU.  Since I couldn't afford the two most expensive WR's in the slate, I went Doubs.
Romeo has had some lovely games this year including over 100 yards outings in five of Nevada's eight games.  He'll make his introduction to America on Tuesday with what should be a fantastic performance.
I'm rounding out my WR's with the second and third most expensive Golden Knight WR options.  Jaylon Robinson has been a beast this year, but has had a couple down performances of late.
Richardson's decline in production may be attributed to Nixon returning from an injury and the emergence of Harris.  Tre Nixon has caught five balls in consecutive games and Jacob Harris is coming off his best game ever, catching 3 TD's vs USF
I had to get one more BYU guy in this lineup and Romney could be a real nice stack with Zach Wilson.  Romney started off this year with three straight games over 100 yards receiving.  Hamstring and concussion issues quickly put a damper on what was going to be an excellent season.  At only $4.8K, I love taking a gamble on Romney and his huge upside.  I'm hoping the injuries are a thing of the past.