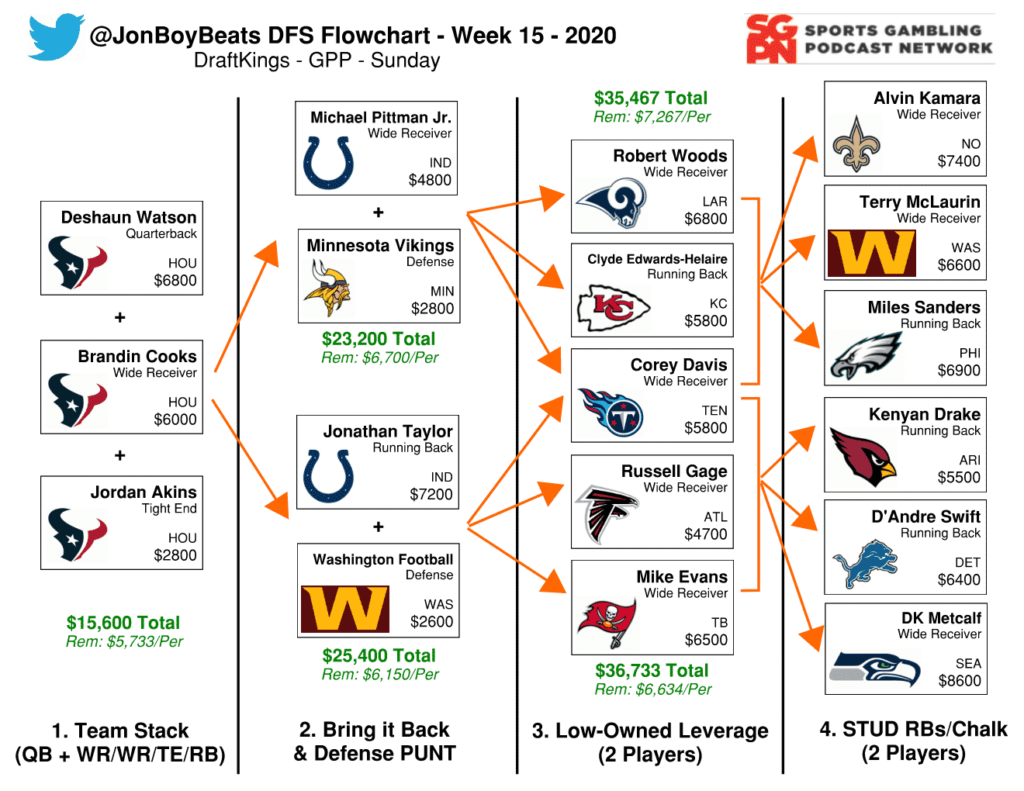 Going to just jump right into the Sunday version of the flowchart because as I am writing this, the Saturday games have not yet kicked off so there isn't much to breakdown from that. I think we have a really interesting slate ahead of us as a few extremely chalky options have opened up and decisions around these will directly affect how your lineups are made.
Drew Brees is back for the Saints and Michael Thomas is out for their matchup against the Chiefs so Alvin Kamara is projecting as one of the highest owned players on Sunday. It makes for an interesting decision-point as Patrick Mahomes, Tyreek Hill, and Travis Kelce are some of the most expensive options available to pair up with Kamara. This game is interesting to me because as you are trying to build lineups with 3 of the above players, it starts to get pretty thin on some of the value options. This reminds me of a couple of different slates this season where the seemingly chalky game actually goes underowned by the tie the slate locks because everybody has slowly moved away and tried to pivot off of it. Definitely something to be aware of as we get closer to kickoff.
NFL DFS Flowchart Week 15 – DraftKings GPP
Team Stack
I really love Deshaun Watson this week in the Texans matchup against the Colts. Houston is a 7 point underdog, but these AFC South divisional matchup always seem to stay close and I think Watson has the potential to help keep the pace up in this game. Houston also provides a couple of cheap stacking options to make it so some of the more expensive players are still accessible in the studs column. Brandin Cooks is projecting as one of the better point/dollar plays on Sunday, however he is projecting to come it at a lower ownership threshold and that makes him seem like a really great GPP option. Cooks got a clean bill of health on Friday, so we don't have to worry about any game-time decision issues with him and I think he should perform as a true WR1 against the Colts. At the tight end position, I am going back to the well with Jordan Akins at $2800. He has definitely had a case of the dropsies lately and last week he saw a touchdown bounce off his shoulder because the sun was in his eyes. He clearly appears to be the top Texans TE option and its hard to deny the red zone opportunities that he is getting even though he hasn't been converting those into points. At such a low price, I am hoping that he finally finds paydirt.
Bring-It-Back Stack
Jonathan Taylor has been running hot as we come down the home stretch, but one of the concerns with starting Colts players this season has been trying to figure out who will be getting the fantasy opportunities. Indianapolis has really spread it out a lot this season, but Taylor has been moving in the right direction for the past couple of weeks. His rushing share increased from 45% in Week 13 to 65% last week. It is concerning that he was only on the field for 56% of snaps, but I think the Colts are trying to load up the rookie as we come down the stretch to prove that they have a reliable option come playoff time. On the flip side of the flowchart, Michael Pittman Jr. has seen 5+ targets each of the past three games and matching up against this Houston secondary may be exactly what the Colts other rookie needs for a blow-up spot. TY Hilton has been hot as of late, so I think Pittman is also a good leverage option off the Hilton chalk.
Low Owned Leverage
For the leverage section, I really like Clyde Edwards-Helaire this week mainly because it seems that everyone will be trying to find a way to fit in Kelce or Hill into their lineups, and CEH should go mostly overlooked. It's been a while since we've seen a big game from the first year running back, but we know the potential is there on this Kansas City offense. Robert Woods is a great leverage option off the projected Cam Akers chalk and overall I really like the Rams passing threats more than Akers this week in their game against the Jets.
Studs and Chalk Players
I touched on Alvin Kamara at the top, and I don't think there is much else to add about the great spot that he is in against the Saints. Kenyan Drake is a player that may catch some steam late if Chase Edmonds is ultimately ruled out against the Eagles, but either way he has seen 20 rushing attempts in 2 of the last three games and is not priced like an RB seeing that volume this week. For price point alone, Drake seems like a great play. Miles Sanders is a guy that I am trying to load up on as much as possible this week because I have a feeling ownership will condense around the RBs above $7000 and Sanders comes in just below that group. He was able to thrive last week when the offense opened up due to Jalen Hurts rushing ability, and I think that continues this week against the Cardinals. With Dwayne Haskins back at QB for Washington, I think we will get back to the Terry McLaurin we saw for the first half of the season. With Haskins throwing the ball, Scary Terry had multiple weeks over 20 DKPts but has not hit that mark since week 9 against the Giants. Here's hoping that McLaurin bounces back big time in Week 15.
That does it for my analysis of the Week 15 Sunday slate! Good luck and I hope to see some screenshots this weekend!
Week 1 – Optimal Lineup 157 DKPts, min cash in GPPs (top 20%)
Week 2 – Optimal Lineup 175.4 DKPts, 3X-4X cash in GPPs (top 4-5%)
Week 3 – Optimal Lineup 122.3 DKPts, no cash
Week 4 – Optimal Lineup 171.3 DKPts, 2X cash in GPPs (top 7-10%)
Week 5 – Optimal Lineup 178.92, 3X cash in GPPs (top 3-4%)
Week 6 – Optimal Lineup 180.2, 2X-3X cash in GPPs (top 5-6%) (ALL LINEUPS CASHED)
Week 7 – Optimal Lineup 153.34, no cash
Week 8 – Optimal Lineup 140.12, no cash
Week 9 – Optimal Lineup 174.26, 3X-4X cash in GPPs (top 4-5%)
Week 10 – Optimal Lineup 178.92, 10X-15X cash in GPPs (TOP 1%)
Week 11 – Optimal Lineup 168.12, 2X-3X cash in GPPs (top 4-5%)
Thanksgiving – Optimal Lineup 187.42, 2X-3X cash in GPPs (top 5-7%)
Week 12 – Optimal Lineup 189.5, 3X-4X cash in GPPs (top 3-5%)
Week 13 – Optimal Lineup 194.16, 4X cash in GPPs (top 2-3%)
Week 13 Monday – Optimal Lineup 156.14, 5X-6X cash in GPPs (top 1-2%)
Week 14 – Optimal Lineup 137.44, no cash