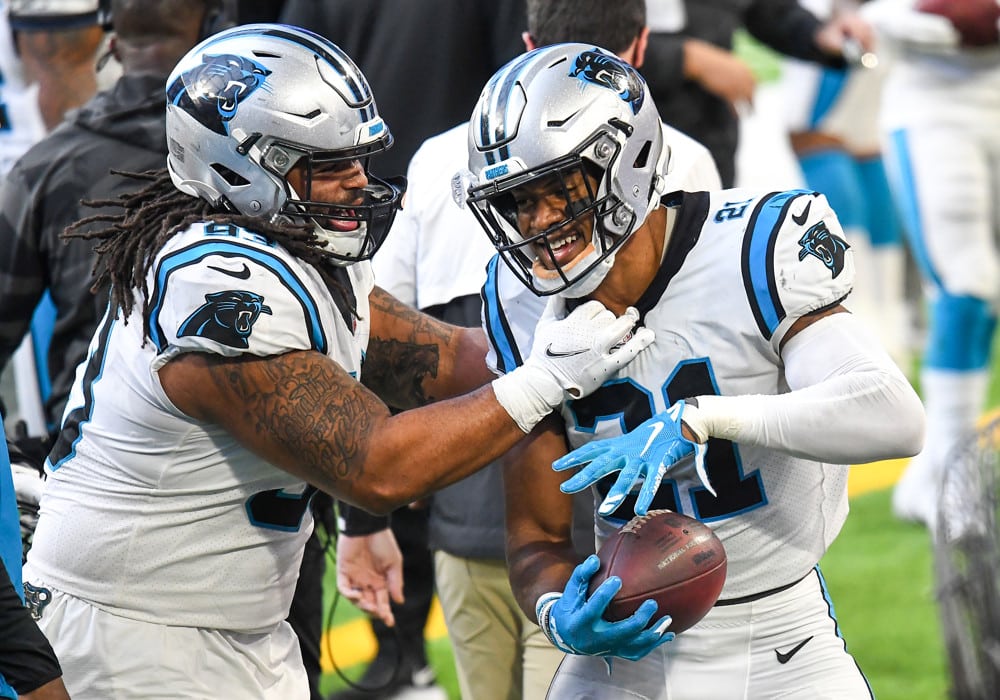 What a day this is going to be. Not only do we have a pair of NFL games gracing the schedule, but six NCAAF conference championship games as well!
It will be an action-packed evening. Two conference championship games and the first NFL game kick off in the 4 o'clock hour, with two more conference championship games and the late NFL game kicking off around 8 o'clock. We're in for a treat.
Let's also make some money while enjoying these games. Without any further adieu, here are the best bets for Saturday evening's slate of games.
Best NCAAF and NFL Bets for Super Saturday
Notre Dame Fighting Irish +10 vs. Clemson Tigers
The ACC Championship Game is going to be one of the best games of the entire season. Clemson and Notre Dame already played once this season, but that was without Trevor Lawrence. Now, Lawrence is healthy and both teams are ready to go.
Notre Dame is undefeated this season (10-0) with the only two games (12-7 vs. Louisville; 47-40 vs. then-No.1 Clemson) finishing within one score. They have skated to the end of the regular season since beating Clemson with two 14-point and one 24-point win.
Clemson has dominated as well since their only loss of the season. They beat Pittsburgh 52-17 and Virginia Tech 45-10 to close out the season.
These are two great teams and I do not expect more than 10 points to separate them on Saturday evening. It should be a close game. Notre Dame getting 10 points after already beating Clemson is too good to pass up.
Shortly after Notre Dame and Clemson kick off at 4:00 p.m. EST, the Bills and Broncos will battle in Denver.
Buffalo Bills -5 at Denver Broncos
The Bills are coming off an impressive win against the Steelers. They aren't the only ones, however, as the Broncos won their fifth game of the season last week against Carolina.
Buffalo is legit. Their win against Pittsburgh was their third straight win and fifth straight against-the-spread win. They have actually won six of their last seven games, only failing to cover -4 against the Patriots (24-21) and -9.5 against the Jets (18-10). Against the Broncos, they have an advantage in most statistical categories. One of those advantages is at wide receiver where Stefon Diggs should handle the secondary with ease.
The Broncos may have won last week and kept it close against Kansas City the week before, but they're due for another loss like the blowout against the Saints or Raiders. The Bills are a team that will be able to handle Denver and win the game by at least a touchdown.
As these two afternoon games finish, we'll get a clash between Tulsa and Cincinnati in the AAC Championship Game.
Tulsa Golden Hurricane +14.5 at Cincinnati Bearcats
The No. 23 Tulsa Golden Hurricane (6-1) are getting 14-and-a-half points against the No. 9 Cincinnati Bearcats (8-0).
A 16-7 loss to Oklahoma State started Tulsa's season off with a loss, but they were able to keep it close enough as 24-point underdogs. They then rattled off six wins in a row, including a win as 20.5-point underdogs against UCF, as they finished the season with a 6-1-0 record against the spread.
Cincinnati has also had an impressive season. They are undefeated, but with a 5-3 record against the spread. They only beat UCF by three points in their regular-season finale and also failed to cover 22.5 points against USF (28-7).
This should be another good game for the AC Championship. I think it'll be a close, low-scoring game with Tulsa +14.5 as the best bet.
Now let's head back to the NFL's late game to finish off the slate.
Carolina Panthers +8 at Green Bay Packers
The Packers should beat the Panthers, but I don't know if it's going to be more than a one-score game.
The Panthers are only 4-9 this season, but just one team has beaten them by more than eight points. The Buccaneers did just that in Week 2 (31-17) and Week 10 (46-23). Carolina has been able to keep it close against the Vikings, Chiefs, Falcons, Saints, and Bears in recent weeks.
The Packers, on the other hand, have had some trouble keeping teams out of games. Even two weeks ago, the Eagles came back late to make it a game before they pulled away for a 14-point win. Last week they only beat the Lions 31-24 as 9.5-point favorites, and last month they beat the Jaguars 24-20 as 13.5-point favorites.
I don't necessarily think the Panthers will make a huge threat to win the game outright, but they'll be able to keep it close and get a backdoor cover if necessary.