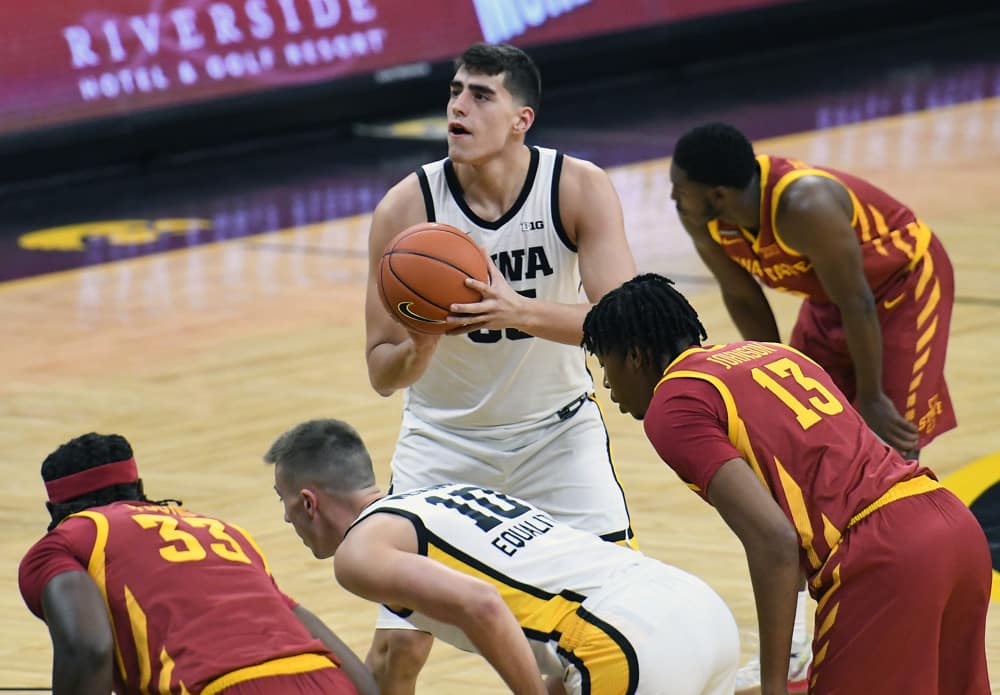 Happy Holidays College Basketball Picks fans. It's been a great week of hoops that will be capped off with some premier matchups this weekend. We watch the games, we bet on the games, why not play some DFS too?
This column will highlight players in the main Saturday slate. Be sure to follow me on Twitter (@NC_NicK) as I'll post some thoughts on the other slates when they become available on DraftKings.
Let's do this!!
College Basketball Picks: G's
Big Money Men:
Jalen Suggs, Gonzaga – $7.2K
To say there's going to be some points scored in this Gonzaga @ Iowa game would be an understatement. These squads are the first and second ranked teams in KenPom's offensive efficiency rankings. Iowa is currently averaging an insane 100.5 points a game while Gonzaga doesn't lack far behind at 93 PPG. When constructing your lineup this weekend, start with this matchup.
My backcourt will start with Gonzaga's true freshman, Jalen Suggs. While he doesn't score as much as backcourt mate Joel Ayayi, he's actually averaging more fantasy points per game and he's $400 cheaper. The extra fantasy points are due to the young phenom averaging 6.3 APG, 4.7 RPG, and 2.3 SPG to go along with 13.3 PPG.
Jalen Crutcher, Dayton – $7.2K
While Obi Toppin is no longer at Dayton, G Jalen Crutcher still is and he's off to an excellent senior year. Here's another guy that has raised his PPG, RPG, and APG from last year. He's the leader of the Flyers who square off against an untested Ole Miss Team.
The Rebels may be 4-0 but they have yet to face a team ranked in KenPom's top 200. Expect them to struggle containing Crutcher and this Dayton offense.
Terrence Clarke, Kentucky – $6.1K
There's going to be a boatload of young guards facing off against each other in this UNC/Kentucky game. While the matchup doesn't have the luster it usually does, this is blue blood basketball and I'll be watching.
The Kentucky guards have taken their fair share of criticism and most of it has been warranted. They are freshman and they will struggle. Amidst all these struggles is Terrence Clarke who has put up over 20 fantasy points in 4 of his 5 games this year. He's slowly improving each game and I like the price point here.
Bargain Bin:
Jordan Bohannon, Iowa – $5.8K
Why is a guy that has only scored double digits in one of the six Iowa games this year in this column? Well, CBB DFS isn't all about putting the ball in the basket. Bohannon is averaging over 20 fantasy points a game because the senior PG does everything else.
Did I mention I want a lot of pieces in this game? It would be wise to roster a couple of the high priced players in this matchup while taking a flyer on a low-priced dude or two. There will be fantasy points a plentiful.
Eric Hunter Jr, Purdue – $5.4K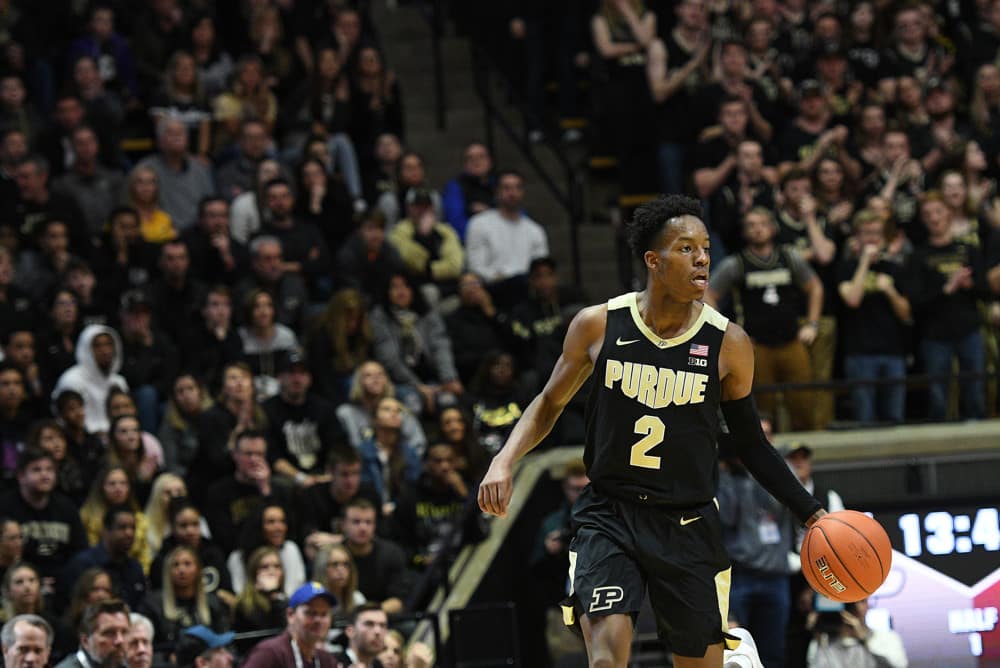 After missing the first few Boilermaker games with an injury, Hunter Jr is back in the lineup and producing as expected. I'm just not sure if Draft Kings has caught up yet. At $5.4K he's a steal especially against a Notre Dame team not known for their defense. The junior guard is primed for a breakout game.  He'll be in my lineup.
Johnny Juzang, UCLA – $4.2K
Here's another guy that may be primed for a breakout game. After transferring in from Kentucky, Juzang missed the first few games with UCLA this year due to an injury. He's been brought into the mix rather slowly over the last two games only playing 20 and 26 minutes, respectively. The minutes should increase and the talent is undeniable. He's at a rock-bottom, bargain bin price and he just may reward you with his best game of this early season.
College Basketball Picks: F's
Big Money Men:
Luka Garza, Iowa – $10K
Garza is almost a shoe-in for national player of the year. Rostering him this week, and paying up the 10K, is chalky as hell but it provides you with guaranteed production. There will surely be a national audience watching this game and the senior big man who can score the ball with the best of them, will be looking to showcase his skills.
The matchup is right. The player is right. The question is if you will be willing to put up 1/5 of your total budget on just one guy. If that answer is a "yes", you'll find no argument here.
Trayce Jackson-Davis, Indiana – $8.5K
There's another big man in the Big 10 who is off to a tremendous start to the year. Thru six games, Jackson-Davis is averaging an outstanding 37.6 fantasy points per game. Indiana has an inter-state showdown with Butler on Saturday, and the Bulldogs do not have an interior presence who can hang with this Hoosier.
My only pause for hesitation is the slow pace that Butler plays at. Butler is the 303rd ranked tempo on KenPom. They are a bunch of clock suckers, like UVA of the Midwest, that aim to limit the possessions in order to keep the game close. Either way, Jackson-Davis will get his.
Garrison Brooks, UNC – $6.8K
Apparently the mighty have fallen. The Draft Kings price tag on Brooks to begin the year was north of $9K. The senior big man for the Tar Heels has been dealing with ankle issues and is still in the process of building rapport with the new backcourt in Chapel Hill.
With that said, it's about time Brooks reminds everyone of the player he is. It's a huge game against Kentucky and maybe some folks have forgotten about this big man. I have not. I will gladly pick him up on the cheap.
Bargain Bin:
Patrick McCaffrey, Iowa – $4.7K
Allow me to squeeze one more guy from this Gonzaga/Iowa matchup into this column. In limited minutes, the coach's son has put up double digit fantasy points in every Hawkeye game this year. Coming off his best game, Patrick scored 14 points while chipping in with 4 rebounds, 2 assists, and a block.
I'm a little worried that Iowa may lean on its starting 5 more than usual in a matchup with a top 5 team in the country, but the upside is here. Plus, he has an in with the coach.
Bryce Golden, Butler – 3.8K
After missing Butler's the matchup vs Villanova with an injury, Golden is expected to be back in the starting lineup on Saturday vs Indiana. That's right, here's a guy who played 30 minutes in Butler's first game (they've only played twice this year) and he's less than $4K. This is strictly a volume play. If you have spent up elsewhere and don't have a lot of coin for your last Forward or a Flex Spot, at least grab a dude who's going to be on the court.
College Basketball Picks Related