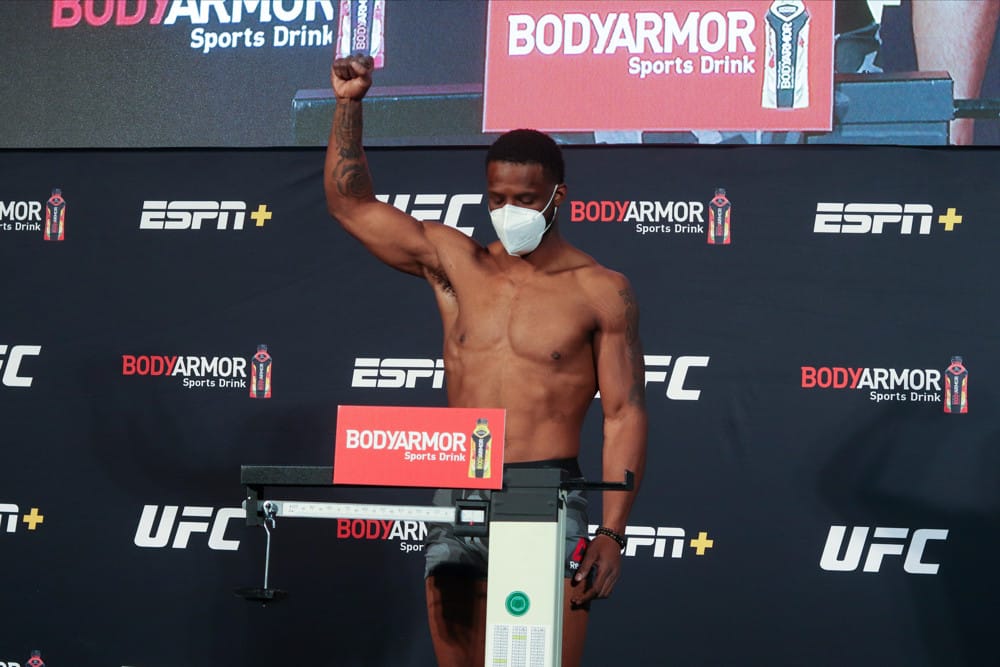 Rejoice! We've reached three straight weeks of winning money on my UFC predictions columns! Sadly, it wasn't enough to drag this space out of the red and into the black for 2020. However, if any year deserves to be in the red, it would be the dumpster fire that 2020 was been. So let's kick this year to the curb on a winning note with odds and picks for the last fight card of the year – UFC Fight Night: Thompson vs Neal aka UFC Vegas 17.
RELATED
Fighting Styles Should Influence Your UFC Betting Picks
8 UFC Stats That Will Win You Money

All odds courtesy of MyBookie
UFC Vegas 17 Fight Card Predictions
Geoff Neal (-120) vs Stephen Thompson
Stephen 'Wonderboy' Thompson has been appointed as the de facto 'gatekeeper' of the welterweight division, and I'm predicting the slight favorite, Geoff Neal, to get past this test to move to the upper reaches of the weight class. Neal, winner of seven straight (five straight in the UFC), is seven years Wonderboy's junior and has the striking and grappling stats in this favor. That's more than enough for me.
Marlon Vera (+110) vs Jose Aldo
Going with the dogs early and often this week. I'm liking Marlon 'Chito' Vera to best the featherweight GOAT, Jose Aldo, in this bantamweight contest. He's six years younger than the weathered Aldo, has won four of his last five fights, and has never been finished as a pro. Aldo was at -165 earlier in the week and has dropped to -140, so there are other smart people out there betting this fight apparently.
Khaos Williams (-105) vs Michel Pereira
Both these guys could carry off the nickname 'Khaos' as they're both wild knockout artists. This is my pick for Fight of the Night. Williams is the younger, bigger man, and is 11-1 as a pro, so I'll gladly take him as the slight dog in this matchup.
Rob Font (+120) vs Marlon Moraes
Yep, another dog. I'm going boom or bust this week. Rob Font has lost every time he's faced a step up in competition, which Marlon Moraes surely is, so I'm also going against history here. But I like that he'll be the bigger man and is on a much hotter streak than his opponent. But I'm not real sold on this pick. Dammit, yes I am.
Taila Santos (-115) vs Gillian Robertson
This is a pick 'em on the My Bookie board currently, yet another fight with razor close odds this week. I'm committing treason and choosing against my fellow Canadian due to Santos's superior size, knockout power, and strong grappling, which should allow her to fight off jiu jitsu wiz Robertson.
Marcin Tybura (-105) vs Greg Hardy
This is exiled NFL star Greg Hardy's toughest test as a pro fighter, and I'm betting on him to flunk it. Other than being far more experienced, I think Tybura's grappling will carry the day here. However, with Hardy's athleticism, size, and crazy power, he's dangerous to bet against.
Alex Morono (+185) vs Anthony Pettis
I told you I was going all-in on the dogs this week. I'm going with Alex Morono for all my normal reasons – he's bigger, younger, and on a hot streak. Hey, stick with what works.
Pannie Kianzad (+135) vs Sijara Eubanks
Yep – another dog. I'm going to be a rich man come Sunday morning. Why am I going with Pannie Kianzad? You guessed it – bigger, younger, and on a hot streak. 'Sarj' is just 6-5 as a pro – I can't bet on that.
Karl Roberson (-265) vs Dalcha Lungiambula
Here we go – a favorite finally. 'Baby K', fittingly, is three years younger than Lungiambula, but is more experienced in the big show. He also has the striking stats in his favor, which is the top predictor of success for an upcoming fight.
Antonio Arroyo (-160) vs Deron Winn
This will be a 195-pound catchweight fight, where AA will be 9 inches taller than Winn! Deron Winn is a 5'6″ 195-pound fighter. Yikes. Despite being a wrestler, I expect Arroyo to have the grappling advantage here, and could very well tap out Winn, who lost his last fight via submission (seven of Arroyo's nine wins have come via submission).
Drako Rodriguez (-195) vs Aiemann Zahabi
Treason times two (Zahabi is from Montreal). The debuting Rodriguez is nine years younger than Zahabi, should have the grappling edge, and is a finisher (two knockouts and four submissions in seven pro wins).
Tafon Nchukwi (-305) vs Jamie Pickett
Two more debuting fighters squaring off in this one. Nchukwi has crazy knockout power in all limbs, and is six years younger than Pickett, so he's the choice here.
Jimmy Flick (-150) vs Cody Durden
This fight was cancelled last minute a couple of weeks ago. Here's what I wrote then, and I stick by it:
I'm going with another UFC newcomer in this fight as well in Jimmy Flick. A submission master (13 subs in 15 wins), he's on a three-fight win streak, all ending via – you guessed it – submission.
UFC Predictions Overall Results 
Record: 196-124
Earnings:  -($381.68)
Return on Investment:   -(1.2)%
UFC Vegas 17 Predictions Related Posts
8 UFC Stats That Will Win You Money
Fighting Styles Should Influence Your UFC Betting Picks