We're back Fantasy College Basketball picks fans. Whatever you do, do not listen to Coach K. We like our college basketball, we want our college basketball, and we need our college basketball!
This column will highlight players in the early Saturday slate that consists of the following four games: Florida @ FSU, Notre Dame @ Kentucky, Cincinnati @ Tennessee, and Syracuse @ Boston College. Be sure to follow me on Twitter (@NC_NicK) as I'll post my lineups for the other slates when they become available on DraftKings.
Let's do this!!
RELATED
College Basketball ATS Picks
The College Experience Podcast
College Basketball Picks: G's
Big Money Men:
Prentiss Hubb, Notre Dame – $8.3K
Although Hubb is the most expensive Guard in this slate, it may be wise to pay up. We all know Kentucky is struggling especially at the perimeter. Ga Tech just put up 79 points on the Wildcats and had four guards all score in double digits.
While the Fighting Irish are also struggling, Prentiss Hubb has been playing lights out. Against OSU, the junior stuffed the stat sheet with 26 points, 6 boards, 6 assists, 2 steals, and a block. That's the kind of all-around fantasy point production us DFS'ers drool over.
David DeJuilius, Cincinnati – $6.7K
If you grabbing a perimeter player on Cincinnati, I'd urge you to chose DeJulius over the more expensive Keith Williams ($7.1K). Even if this game vs Tennessee is a grinder, DeJulius impacts the game in more of a variety of ways. First, he leads the team in minutes, averaging 31 compared to 29.3 for Keith Williams. Second, he averages 6.7 RPG and 5 APG while Williams is primarily just a scorer. Lastly, he averages one less turnover per game.
I love the all-around game Dejulius has displayed. In a matchup where buckets might be hard to come by (Tenn limited Colorado to just 47 points) you need a guy that can pick up fantasy points in other ways.
Bargain Bin:
Scottie Barnes, Florida State – $5.8K and Tre Mann, Florida – $5.9K
I'm grouping these two players together for a couple of reasons. First, Florida and FSU square off Saturday and these guys will surely be guarding each other for at least a portion of the game. Second, and most importantly, I prefer both of these guys over higher priced guards on each of their respective teams (Scottie Lewis – $6.8 for UF and MJ Walker – $6.3K for FSU).
Barnes is the true freshman and highest ranked recruit to ever play for Florida State. While he has struggled shooting from the field in his first two collegiate games, he's averaging 5 rebounds and 5 assists and 2 steals per game. So while MJ Walker scores more points, Scottie Barnes puts up better fantasy #'s. Plus, just wait for him to have a good shooting game which is surely right around the corner. Perhaps maybe even on Saturday.
For the Gators, Tre Mann averages more points than Lewis (15.3PPG vs 10.7PPG) and averages more fantasy points (28.5 vs 26.6) while playing more minutes a game, so you figure out why he's priced less. I love taking both these guys and saving some money to spend elsewhere.
College Basketball Picks: F's
Big Money Men:
Alan Griffin, Syracuse – $7.4K
Here's a guy that wasn't really on my radar coming into this year. Griffin transferred in from Illinois where he played less than 20 mins a game and averaged less than 10 PPG. Well, he's certainly found a home at Syracuse. Thru four games, Griffin is putting up 17 PPG, 7 RPG and chipping in with over 3 APG. Against Rider, the junior forward scored 23 points with 4 rebounds and 5 assist. Against better competition in the 'Cuse's last game vs Rutgers, he had 20 and 8.
The Orange takes on a Boston College team currently giving up 82.4 points a game. I expect Griffin to have the best game of his short career in Syracuse this Saturday.
Isaiah Jackson, Kentucky – $6.8K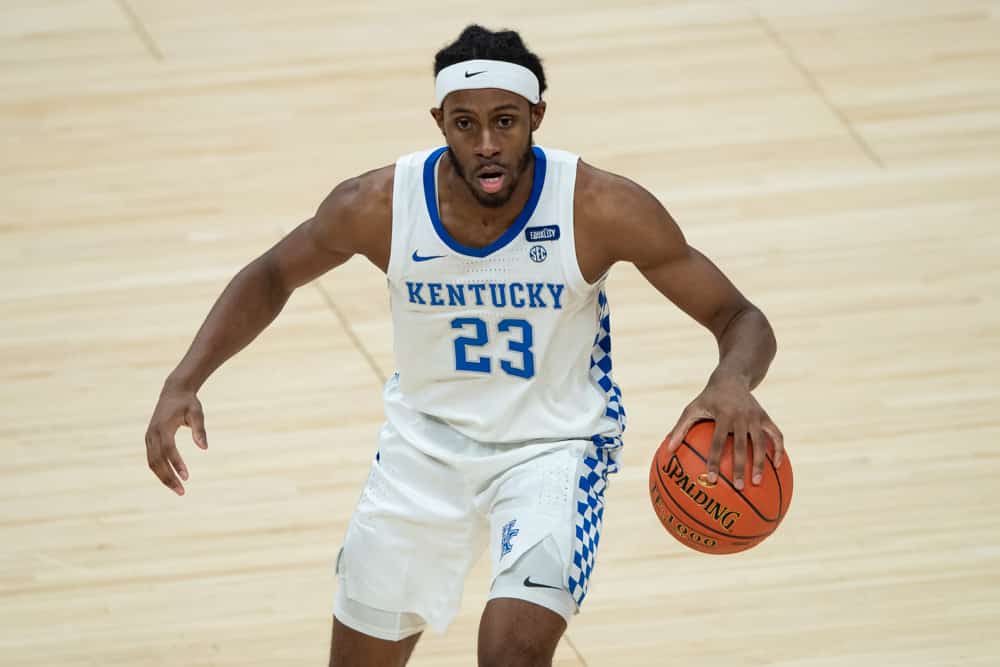 Lost in all of the hoopla over Kentucky's struggles, is a 6'10 freshman forward who is really playing some solid basketball. While Isaiah Jackson may only average 7.8 points a game, he's grabbed more than ten rebounds in three of the four Wildcat games this year and the dude blocked 8 shots vs Kansas.
Jackson is an excellent rebounder and a difference maker as a defender. From a DFS perspective, his contributions in those areas will carry him until he refines his offensive game. When that happens, watch out. Grab him at $6.8K, he'll soon be more expensive.
Raiquan Gray, Florida State – $6.1K
Here's another undervalued Seminole who displays a nice all-around game. Gray may have only scored 12 points in his last game against Indiana but he put up 33.8 fantasy points. It helps when you stuff the stat sheet with 9 rebounds, 4 assists, a block and a steal. Against North Florida the big fellow (6'8, 260lbs) recorded 4 steals.
There are more talented guys on the Florida State roster, but Gray is the ever-valuable role player who does all the little things to help a team win. There's a good chance he'll help your DFS team win too.
Bargain Bin:
Omar Payne, Florida &4.2K
Tari Eason, Cincinnati – $4.1K
Perhaps you have spent up on your guards or you have grabbed a couple high priced big men and you are short on cash to complete your roster. If that's the case, I have a couple low-dollar dart throws you may want to consider.
Both Eason and Payne come off the bench and play less than 20 minutes a game. However, both are doing their most in this limited time. Eason has had his minutes increase in each of the three Bearcats games this season. Most recently against Furman, he rewarded his coaching staff with 8 points, 2 boards, 2 assists, 2 blocks, and a steal.
Payne is also contributing in a variety of ways. While he only scored 4 points in his last outing, he brought down 5 rebounds, dished a couple dimes, and collected 3 block shots. This kind of production from both guys should result in more minutes coming their way as the season progresses.
RELATED
College Basketball ATS Picks
The College Experience Podcast