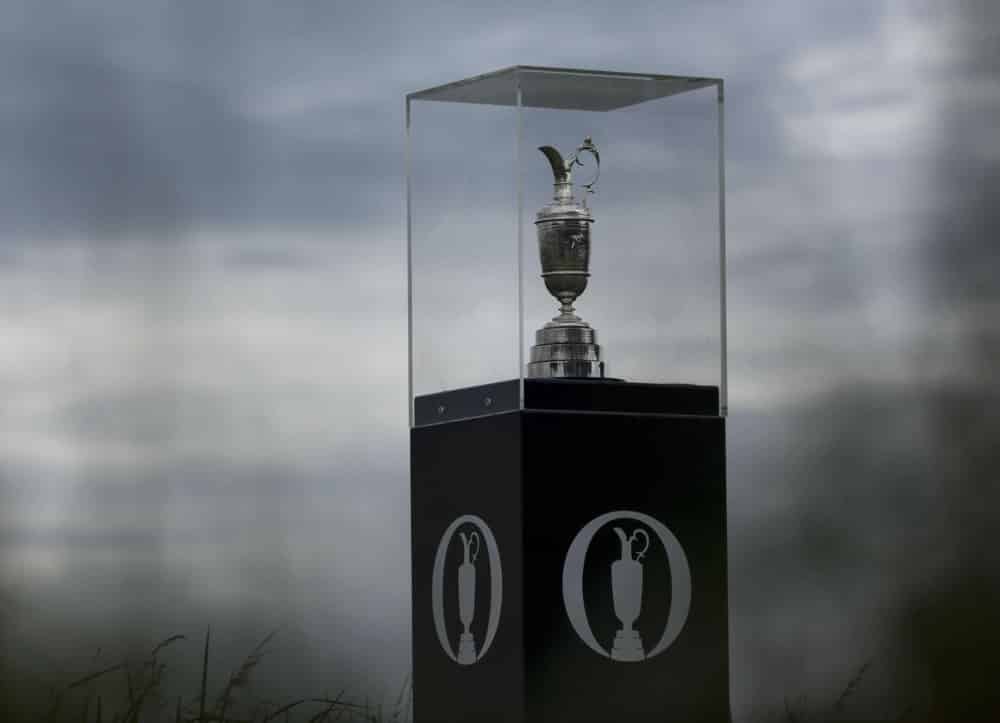 It's never too early to start looking at odds of the 2021 golf majors. It's a great opportunity to try and bet a better number on someone now before their odds start to rise.
With that said, here are my early picks of who will win each 2021 golf majors tournament (with odds courtesy of MyBookie.ag).
Subscribe to Golf Gambling Podcast
2021 Masters Winner – Brooks Koepka (14/1)
Ultimately, weather will be a big determinant of who will win the 2021 Masters. Different weather conditions at Augusta National drastically change what type of golfer has the advantage that weekend. But the one player who excels in almost all weather conditions is Brooks Koepka.
2020 was a year to forget for Koepka and arguably his worst of his career. Koepka began 2020 as the #1 ranked player in the world and has fallen down to 12th in just a year's time. In 17 starts, Koepka had no wins, only four Top 10's and five missed cuts. Most of these struggles are a direct result of knee and hip injuries.
Yet, there are many positives for Koepka to draw on as he heads to 2021. First, he was in the thick of things at the 2020 PGA Championship before a poor final round sunk his chances. He also showed well at the 2021 Masters despite shaky form heading in. And if he didn't hit it in the water on the 18th at TPC Southwind, he could have faced Justin Thomas in a playoff to capture a win.
Koepka also has an intriguing Masters trend on his side. He's entering a point in his career where he'll begin to see a significant jump in his performance at the Masters. DataGolf did a study of total strokes gained versus experience at the Masters, and there is a noticeable jump once a player has competes in his seventh Masters.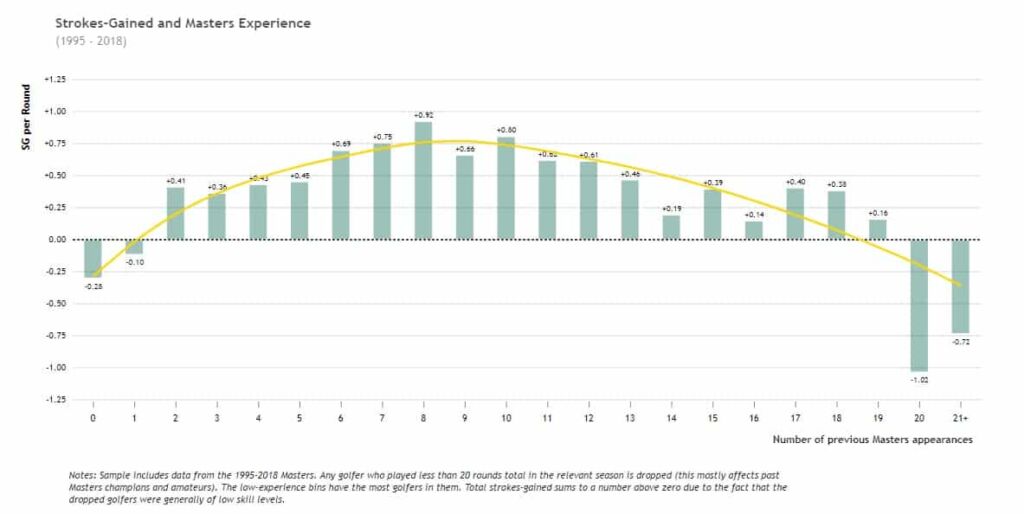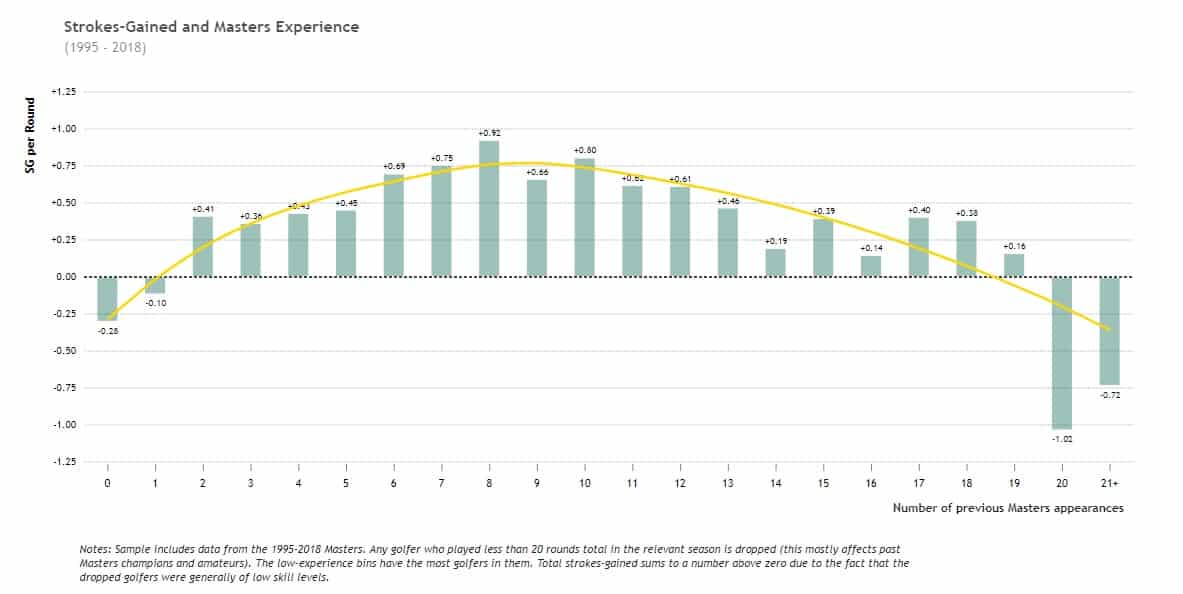 Koepka has played in five Masters, making 2021 his sixth. While technically he's a year away from the big jump, he's starting to enter that window. And Koepka isn't most players. He's a four time major winner who has back to back Top 10's at the Masters under his belt.
Koepka will need to properly rehab over the next month to come into 2021 fully healthy. If that's the case, I see Dustin Johnson slipping the jacket onto Brooks Koepka next April.
2021 PGA Championship Winner – Jon Rahm (11/1)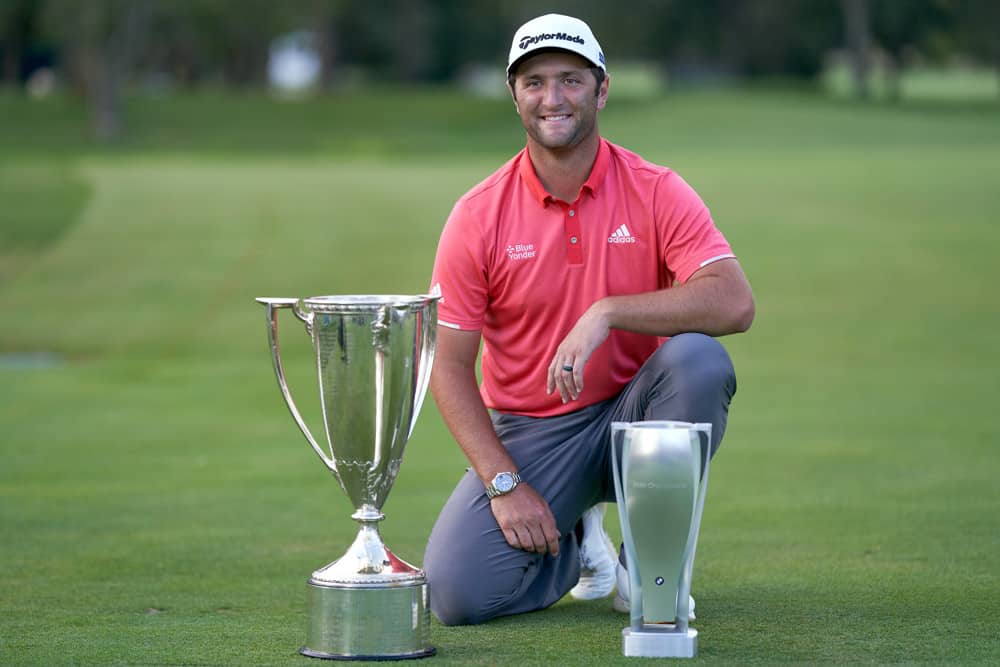 The 2021 PGA Championship will be played on the Ocean Course at Kiawah Island Golf Resort in May. Its first and only major it hosted was the 2012 PGA Championship, won by Rory McIlroy.
The PGA Championship has a negative stereotype in terms of the types of golf courses it goes to, as well as the setup. PGA Championship setups typically are long, soft golf courses with deep penal rough. These conditions typically eliminate shorter hitters and reward bomb and gougers.
The Ocean Course will not play like this. It's a Pete Dye design that features windy conditions with its proximity on the ocean. Kiawah should play firm and fast. The golf course also has penal areas everywhere off the fairway, whether it be water hazards or bogs. The greens are also designed that players must be in the proper position in the fairway to access the pins. All these features are typical of Pete Dye designed golf courses. The golf course is a test of accuracy and execution with very little margin for error.
While Rory McIlroy won the 2012 PGA Championship by a mile, the rest of the leaderboard had a distinct European flavor to it. I'm not  just talking about the nationalities (though seven of the Top 10 players hail from Europe). Almost the entire Top 10 were players of the mold of accurate ball strikers. They're not the longest off the tee, but they're consistent and do the little things well to plod around a golf course. And while Rory's elite length was too much for the field, it was his all-around game that propelled him to an overwhelming win.
Like Rory, Rahm has a bit of a misnomer that he's just a bomb and gouger. Sure, Rahm is one of the best players on the planet with a driver in his hands. But he's more than comfortable dialing it back off the tee with an iron or fairway metal and playing positional golf.
That's reflective in many of his recent wins and close calls. In 2018, he was the 54 hole leader at TPC Sawgrass (another Dye course) before suffering a stroke a club mishap on the 11th ended his hopes. His two most recent wins came at Muirfield Village and Olympia Fields, two firm and fast golf courses that didn't demand pounding driver all day. He also came very close to winning the ZOZO Championship at Sherwood Country Club, a golf course that favored accuracy and precision more than distance.
Rahm is the complete package, even without a driver in his hand. He's a deadly iron player and a wonderful scrambler. These two traits are crucial on Championship Pete Dye golf courses. Rahm will hoist the Wannamaker Trophy in 2021 for his first of multiple major championships.
2021 U.S. Open Winner – Bryson DeChambeau (14/1)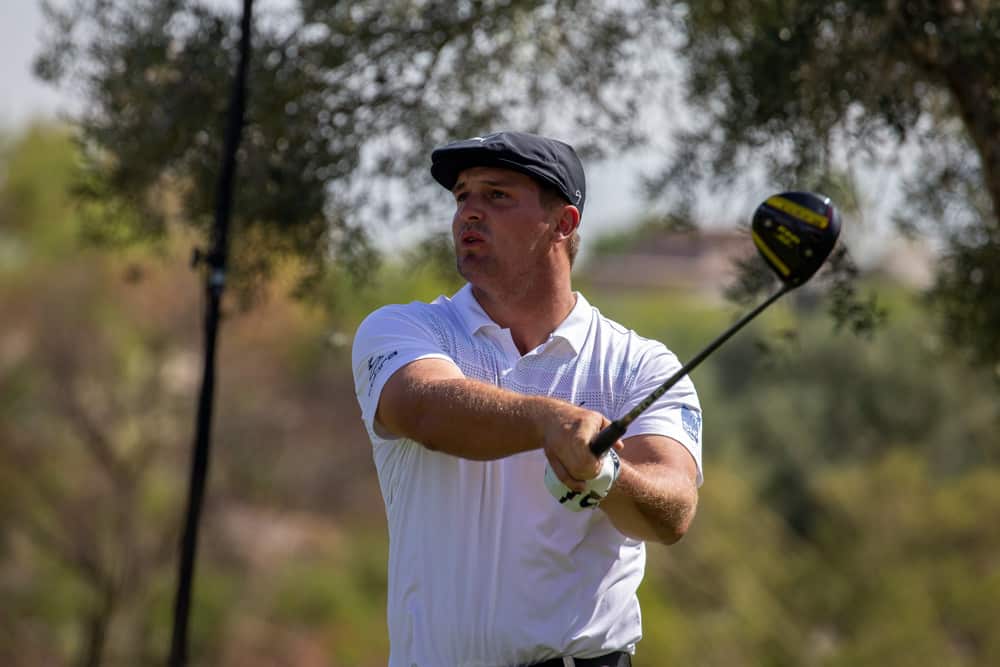 The 2021 U.S. Open is on the South Course at Torrey Pines Golf Club. This is a golf course very familiar to golf fans. It hosts the Farmers Insurance Open every year and was the site of one of Tiger Woods' most famous major victories.
With an annual stop on the PGA Tour and ShotLink data, it's very easy to see what works best at Torrey Pines.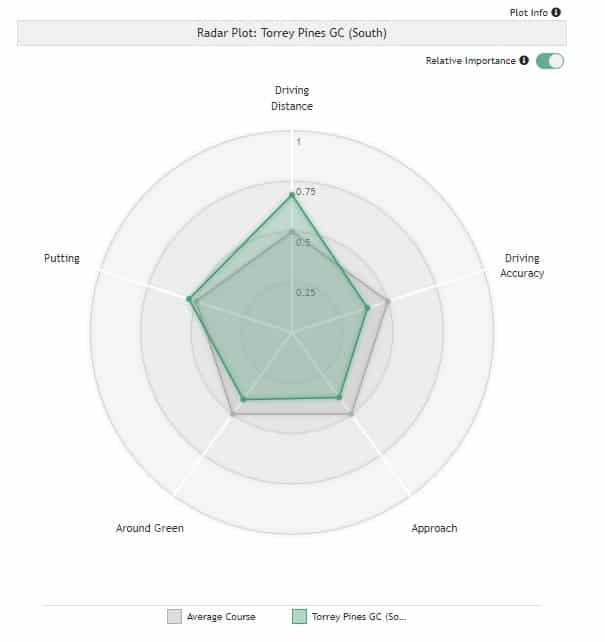 The poster child for a "bomb and gouge" golf course is Torrey Pines South. From the championship tees, the golf course stretches just under 7,700 yards, features narrow fairways and deep penal rough. And that's just for normal PGA Tour conditions. The USGA will certainly ramp up the difficulty.
Short hitters are all but eliminated in these conditions. Sure there may be a few short knockers who defy expectations and post a solid finish, but they're almost never a serious threat to win. There are countless examples where tournaments grow out penal rough to make "accuracy matter", only to see it be overrun by a long hitter blasting driver as much as possible.
If Bryson DeChambeau was able to bomb and gouge Winged Foot, a golf course that many thought couldn't be bomb and gouged, he can absolutely utilize the same strategy at Torrey Pines South. The golf course setup will be perfect for the strategy he seeks to deploy. Without the threat of penalty areas or thick wooded areas, Bryson will blast it over all the trouble, no matter in the fairway or in the rough. He'll have a wedge or short iron into every green, much like he did at the 2020 U.S. Open.
That was a winning strategy at Winged Foot, and it'll be the winning strategy at Torrey Pines South. Of all the early speculative 2021 major winners, Bryson winning at Torrey Pines is my most confident pick.
2021 Open Championship Winner – Dustin Johnson (9/1)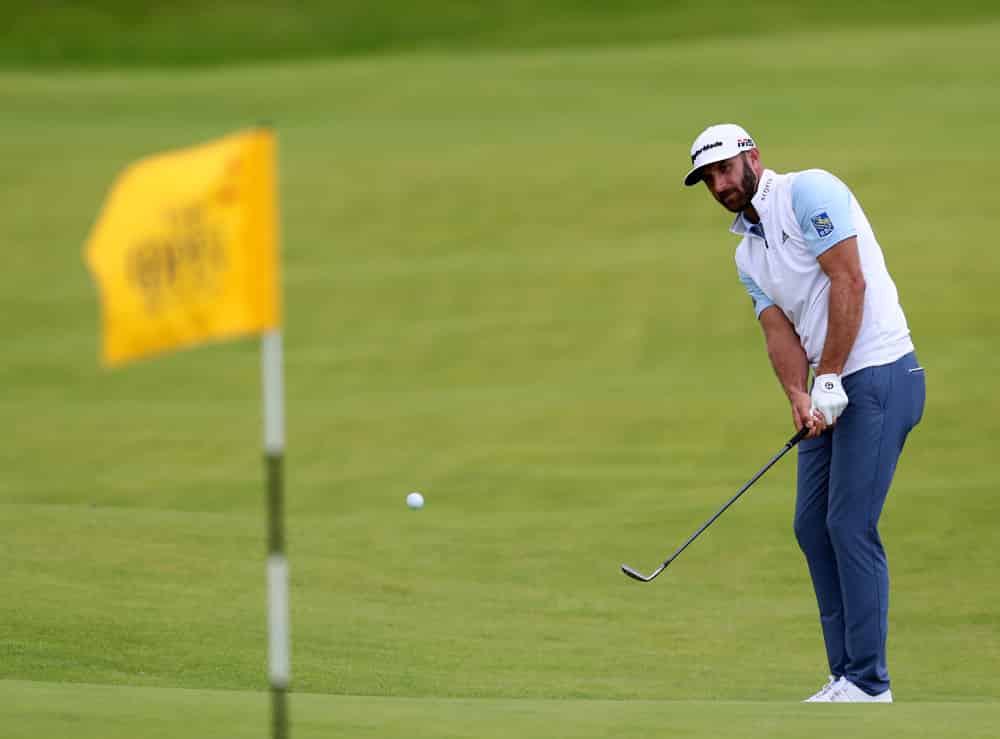 The Open Championship is probably the hardest major to forecast, let alone try and do it eight months away. Like at the Masters, weather can heavily dictate who winds up the winner. Depending on the wind conditions, one side of the tee time draw may heavily benefit or hinder a player. Someone's chances of winning the Open, no matter how well they're playing coming in, might be over right now if they're unlucky with their tee time and the weather.
The 2021 Open Championship will be played at Royal St. George's, a windswept links golf course in Sandwich, UK. Geographically it's one of the more remote Open Championship venues. Several other Open sites are grouped less than 50 miles from each other in Northern England. The others are either in Northern Scotland (all relatively close to each other geographically) or in Northern Ireland. Royal St. George's, however, is at the extreme south end of the British isle along the English Channel.
Despite its southern location, it is no guarantee the weather will be cooperative. The last Open Championship at Royal St. George's saw blustery and damp conditions all weekend long, yielding a winning score of just -5. Before that, it hosted the 2003 Open Championship won by Ben Curtis at -1. Winds howl off the English Channel to create tough scoring conditions on the Harry Colt designed 18 hole track.
Overall, though, the player who typically wins the Open Championship is of a much different mold than typical winners of the majors in the United States. Experience, patience, accurate ball striking and magnificent scrambling is typically the characteristics of recent winners of the Open Championship.
Here's a list of the last 10 Champion Golfers of the Year: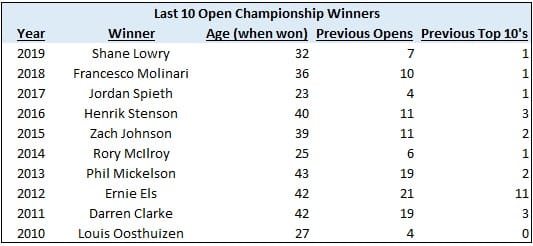 Some of these winners are head scratching ones, either from an odds perspective or had wins completely unexpectedly. Shane Lowry, Zach Johnson, Darren Clarke and Louis Oosthuizen all had odds 70/1 or worse before they won. Ernie Els was well past his prime in 2012 and won anyways. Phil Mickelson's win in 2013 came as a complete surprise given his dodgy and contentious history at the Open. And while at the time Francesco Molinari's win was justified, history will unfortunately look at him as a curious and surprising one and done major winner.
Nevertheless, strong trends are present from this list. Of the last 10 winners of the Open, only Jordan Spieth, Rory McIlroy, and Louis Oosthuizen were younger than 30 years old. Six of the last 10 winners were over the age of 35. Eight of the last 10 had played in at least five Open Championships before winning. And only Louis Oosthuizen did not have a Top 10 at an Open before winning the Claret Jug.
Taking these criteria, let's set some parameters on Open Championship hopefuls:
Over the age of 30
Played in at least five previous Open Championships
At least one Top 10 at the Open in their career
Here's a list of contenders under 50/1 who fit these criteria: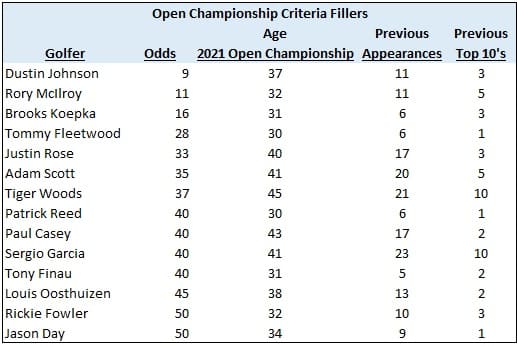 If you were to put a gun to my head, my pick with win the 2021 Open Championship is Dustin Johnson. Anyone who played like he did the last few months can win any golf tournament he enters. It also seems he's transitioned into the next stage of his career. Sure, he can bomb it off the tee as good as anyone. But he's dramatically improved his iron and short game over the summer and fall. That's why he dominated the golf world and won his second career major.
Dustin Johnson also should have won the 2011 Open Championship at Royal St. George's before shanking a ball out of bounds late in the final round. And he fits the mold of a seasoned and experienced player who has the patience and the track record to finally win a Claret Jug.
But there are several interesting contenders on this list who A) aren't playing all that great at the moment, and B) have the game and the moxie to win an Open Championship. Grizzled veterans like Justin Rose, Adam Scott, Tiger Woods, Sergio Garcia and Paul Casey are perceived as past their prime. But with an improvement in form their development into more accurate ball strikers and grinders are great fits for this tournament. Even younger players on this list like Tommy Fleetwood, Jason Day and Rickie Fowler, though struggling, have demonstrated in their career the attributes needed to win the Open.
Bottom line – of all the majors this is the one where a winner can be least expected. Its best to monitor the form of all these players in the months ahead, capitalizing on any glimpses they show that they can win this tournament.
Subscribe to Golf Gambling Podcast