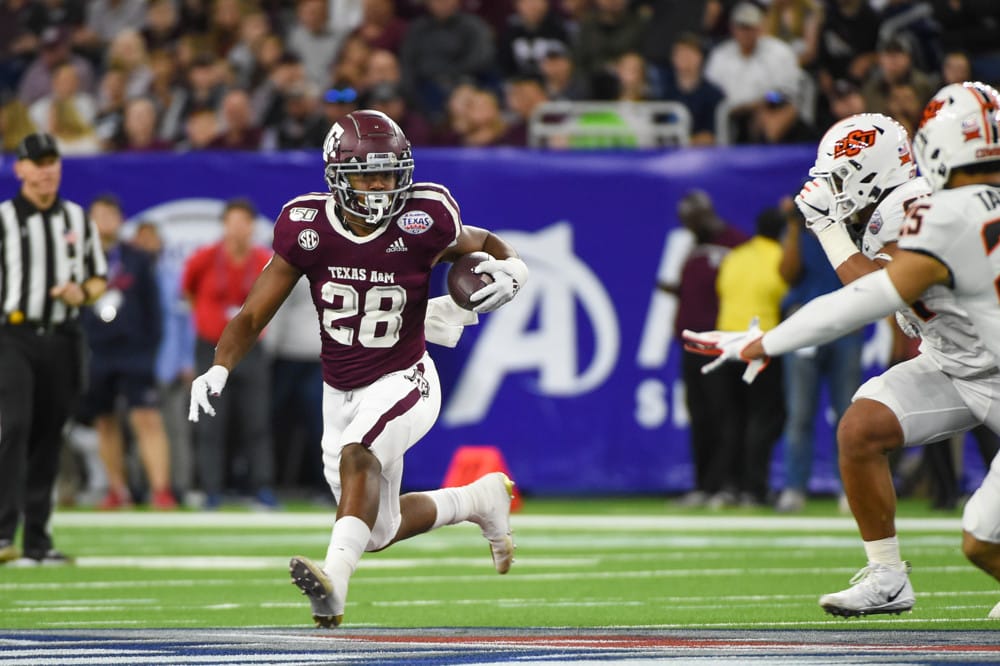 Wow – College Football Daily Fantasy Picks Week 14 already?! This season is flying by and we only have a couple more opportunities to win some money. Seize the day and let's play some Daily Fantasy College Football!
As usual, this column will cover the main DraftKings Saturday afternoon slate. Tune into our weekly podcast (which can be found on The College Experience) for our picks for the Friday and Saturday night slates.
Let's do this!
RELATED
College Football Picks Week 14 – Sports Gambling Podcast (Ep. 914)
College Football Fantasy Picks: QB's
Big Money Man:
Sam Ehlinger – Texas ($9,100)
It's rare to see four QB's in a slate that are more expensive than Ehlinger. So while $9.1K isn't exactly cheap, there's some value in the Longhorn gunslinger. After a scorching start to the year, Ehlinger has come back down to earth a bit but he remains a top DFS QB option on a weekly basis.
Not only has Ehlinger thrown for over 2,000 yards and 23 TD's but he also leads Texas in rushing yards and has eight additional rushing TD's. UT plays Kansas State this week and the Wildcats just let Baylor's Charlie Brewer throw for 350 and 2TD's with 2 more TD's on the ground. If Baylor's mediocre offense can do that, just imagine the #'s Ehlinger could put up.
Middle of the Road Joe:
Jack Plummer – Purdue ($7,900)
This Boilermaker offense is starting to crank out passing stats like it did under Drew Brees twenty years ago. Plummer has played two games and has thrown for over 600 yards and 5 TD's while Aidan O'Connell has played three games and has thrown for over 900 yards and 7 TD's. With O'Connell still out, Plummer will have another crack at putting up a big game.
The main reason I love this Purdue offense is the fact that Rondale Moore is back and playing at a high level. Pair him up with David Bell and the Boilermakers might have the best 1-2 punch at WR in the country. Nebraska comes into West Lafayette on Saturday giving up over 30 points a game and about 425 yards per game. It's a plus matchup at a fair price.
Bottom of the Barrel:
Spencer Sanders – Oklahoma State ($6,800)
It's been a tough year for Sanders as injuries have forced the Cowboy QB to miss time on two different occasions. Returning to the lineup last week, Sanders threw for 222 yards and a TD while adding in 78 yards and another TD on the ground.
The Oklahoma State offense is much better with their QB back at the helm and I expect a nice output vs TCU this week. I expect ownership to be low so Sanders could be a steal at a very affordable price.
College Football Fantasy Picks: RB's
Big Money Man:
Isaiah Spiller – Texas A&M ($7,600)
If you have been paying attention to my columns or our weekly podcast, then you know I've been singing the praises of Isaiah Spiller all year. While his price tag continues to creep northward, he's still $1.6K cheaper than the top RB in the afternoon slate. I'll be going back to the well and rostering Spiller again.
Fresh off a game against LSU where the A&M RB ran for 141 yards and a TD, Spiller will now face an Auburn D giving up 162.4 rushing yards per game. He is the Aggies offense and I expect another fine performance.
Middle of the Road Joe:
Eric Gray – Tennessee ($7,300)
Ok, I'm kind of cheating here. Usually I choose some within the $6K-$7K range for this portion of the column. But, there are still nine more expensive players and my top RB was only $7.6K. Therefore, Eric Gray will be my middle-of-the-road Joe this week. While the Vol passing attack continues to struggle, the sophomore RB has really impressed.
Last week vs Auburn, Gray ran for 173 yards and a TD while catching 3 balls for 49 yards. That makes it consecutive games over 120 yards rushing with 1TD and at least 3 catches. I love the matchup against a bad Florida Gator D. if Tennessee wants to keep this game close, they'll give the rock to their best offensive weapon early and often.
Bottom of the Barrel:
James Cook – Georgia ($5,500)
After watching Dalvin Cook's little bro run all over the SC defense, I was waiting to see his DK price tag this week. I was really hoping it would be less than 5K as we all know he backs up Zamir White. While I was disappointed to see it at $5.5K, I think he's still worth a roster spot.
Georgia plays a Vanderbilt team that fired their head coach this week and all signs are pointing towards a Bulldog blowout. Especially with JT Daniels at QB, this Georgia offense is really starting to get cranked up with opponents not being able to sell out on just the run. I expect Zamir White to be given most of the second half off and damn, James Cook looks a lot like his older brother.  Just look at all the room these Georgia RB's had last week.  Expect more of the same vs Vandy.
College Football Fantasy Picks: WR's
Big Money Man:
Chris Olave – Ohio State ($7,100)
If you keep on offering up Chris Olave at a decent price, I'll keep listing him in my column. I understand Garrett Wilson is putting up better numbers but he's also $1.7K more expensive and I just can't drop $8.8K on my WR1.
All Olave does is produce week in and week out on a Buckeye offense that you have to get pieces of. After consecutive games with 2 TD's, Olave didn't find the end zone vs Indiana but he still caught 8 balls for 101 yards. This week against Michigan State, expect the wideout to find pay dirt again and clear the century mark in yards for the 4th time in 5 games.
Middle of the Road Joe:
Rondale Moore – Purdue ($6,800)
Flat out, Rondale Moore is one of the most exciting offense players to watch in college football. He's electric with the ball in his hands and Purdue will get it to him in a variety of ways. After a bad injury last year (in Week 4), Moore just returned back into the lineup on 11/20 vs Minnesota where he caught 15 balls for 116 yards and added in a rushing TD. Last week, he reeled in 7 catches for 76 yards.
While it is true that with the emergence of David Bell, Moore is no longer the only show in town at WR for Purdue but this offense can feed both mouths. Moore is also $700 cheaper. I like the under-the-radar stack of Jack Plummer and Rondale Moore.  In case you forgot what this guy is capable too, here you are:
Bottom of the Barrel:
Isaiah Likely – Coastal Carolina ($4,600)
You know I have roster at least one tight end and this week I'm going with my boys on the teal turf. In one of the games I'm most excited to watch this week, Liberty travels down to Conway, SC in a battle of nine-win teams. At 6'4 and 245 lbs, the big TE for the Chanticleers will be a mismatch against the Liberty D.
Likely, who continues to build a rapport with freshman QB Garyson McCall, is coming off his best two games of the season. Three catches for 118 yards and a TD vs App State and 4 catches for 73 yards against Texas State is pretty good numbers for a guy less than $5K. I expect the positive momentum to continue this week vs the Flames.
RELATED
College Football Picks Week 14 – Sports Gambling Podcast (Ep. 914)