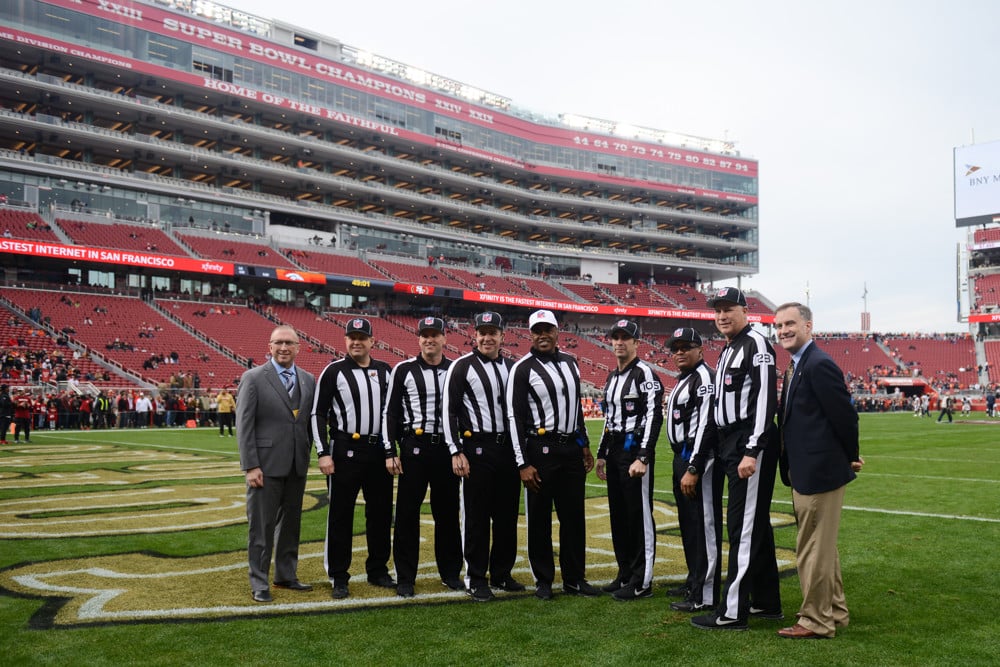 Week 11 is in the books and we have a full 16 game slate for Week 12! I have interesting NFL referee stats for this week so let us dive into it. Again, I want to reiterate this report and stats should not be your only handicap to place bets. It can be a great tool to have in your weekly handicapping arsenal.
CLICK HERE FOR THE FULL WEEK 12 NFL REFEREE STATS REPORT
NFL Referee Stats Week 12 Highlights
Scott Novak
Scott Novak has officiated in nine games thus far. The penalties distribution is almost dead even. However, Novak's officiated games are 3-6 to the Over and are averaging only 44 points per game. Furthermore, home teams are only averaging 19 points per game. Lastly, road teams are 7-2 Straight up and 6-3 against the spread. Novak, is assigned to the NFC West showdown on Sunday when the San Francisco 49ers visit the best defense in the league Los Angeles Rams.
Lean: 49ers/Rams Under 45
Clete Blakeman
Clete Blakeman has officiated in nine games this season. Blakeman is an over bettor's dream referee. In his nine games the Over is 8-1 averaging close to 56 points per game. Furthermore, home teams average close to 30 points per game. Clete Blakeman is assigned to the Chicago Bears vs Green Bay Packers matchup on Sunday Night.
Lean: Packers Team Total Over
Clay Martin
I had mentioned Clay Martin stats in the Week 10 report. Martin heavily favors the road teams and the Over thus far this season. As a result, road teams are 7-1-1 against the spread averaging 31 points per game. Furthermore, Martin is one of three NFL officials who's games average a total of 55 points. Thus, Clay Martin's overall totals record is 6-2 to the Over.
Lean: Washington Football Team/Cowboys Over 45.5
Ronald Torbert
Ronald Torbert has officiated 10 games this season. Home teams have an 80% winning percentage in Torbert's games thus far. Furthermore, Torbert has the lowest combined points total amongst qualifying refs at 41.2 points. As a result, the under is 7-3. Home teams have a +7.5-point differential this season. Lastly, road teams are averaging 16.8 points per game this season. Torbert is assigned to the AFC North battle on Thanksgiving night between the Baltimore Ravens and the Pittsburgh Steelers.
Lean: Steelers -4.5
CLICK HERE FOR THE FULL WEEK 12 NFL REFEREE STATS REPORT
NFL Referee Stats Related Posts
NFL Thanksgiving Week 12 Picks Megapodcast – Sports Gambling Podcast (Ep. 912)