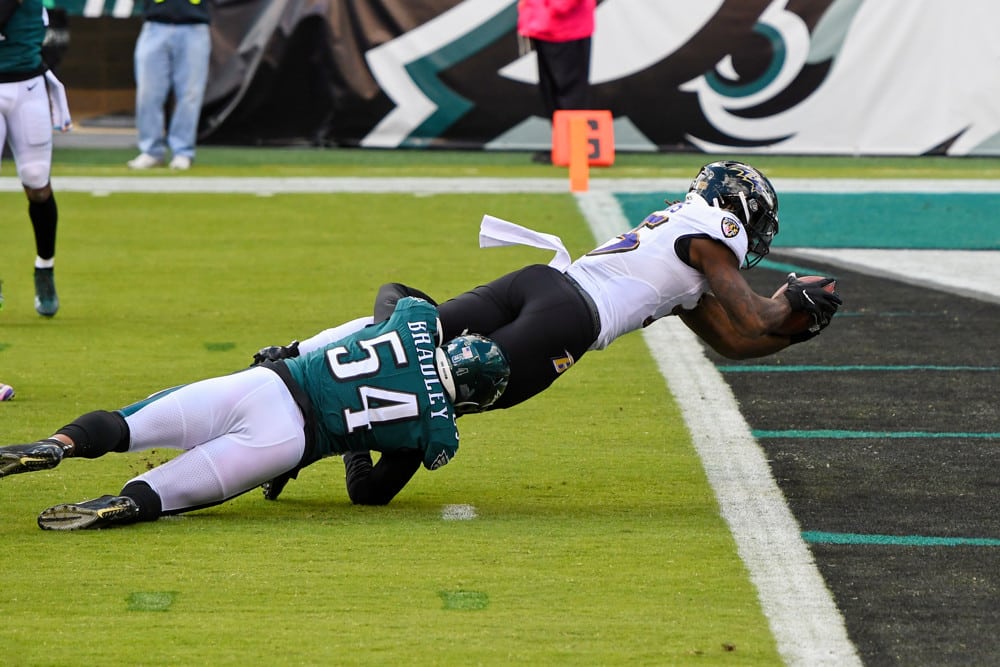 Thanksgiving is a great day to fill up on turkey, stuffing, and, most importantly, FOOTBALL. The NFL's annual tradition continues this season with a three-game slate on Thursday to celebrate the holiday. And there's no better way  to celebrate than indulging in the best NFL player props!
While the games may not feature the greatest teams, there are plenty of opportunities for entertainment and enjoyment. Betting on the games only adds to that. But you don't want to just bet on the game, you want to have a horse in the race even if the score is out of reach. Here are some of the best NFL player prop bets for Thanksgiving.
Best NFL Player Props for Thanksgiving
Houston Texans at Detroit Lions – 12:30 p.m. EST
Deshaun Watson Under 0.5 Interceptions (-120)
Let's start out with a simple one: DeShaun Watson to not throw an interception against the Detroit Lions on Thanksgiving Day.
Watson has five interceptions on the season, but they all came in his first five games. He has not thrown an interception in his last five games and that should continue against this Lions defense. The Lions have been on a similar path, only opposite. They have seven interceptions in 10 games, but just two (both last week against P.J. Walker) in their last five games.
I am always wary about a "not to throw an interception" bet due to the possibility of an end-of-half risk-free hail mary or the like, but you can't let that fear creep in. I expect Watson to keep rolling on Thursday in Detroit.
Duke Johnson Under 56.5 Rushing Yards (-133)
Thursday's slate features three of the worst run defenses in the league, including both of the teams in this game. However, that still won't be enough for Duke Johnson to reach 57 yards.
Johnson will be the feature back yet again with David Johnson still injured, but that hasn't changed his output much. He had respectable performances against Jacksonville (41 yards on 16 carries) and Cleveland (54 yards on 14 carries). That stopped last week when was limited to just 15 yards on 10 carries against New England. The Patriots have allowed 4.41 yards per carry to running backs this season, which is only slightly better than Detroit's 4.68 yards per carry.
While I could see Johnson inching up towards the 50-yard mark against a porous defense, I can't see Duke surpassing 57 yards. That's a total he hasn't reached since October 6th, 2019 (19 games). Even with the Lions' weak defense, Mike Davis needed 19 carries to get to 64 yards last week, while Antonio Gibson had 45 yards on 13 carries two weeks ago.
I expect Johnson to be in the 40-to-50 yard range on less than 15 or so carries. That's another possible prop bet of Under 14.5 rushing attempts if you so desire.
---
Washington Football Team @ Dallas Cowboys – 4:30 p.m. EST
Terry McLaurin Over 73.5 Receiving Yards (-105)
Scary Terry has been one of the most consistent wide receivers this season despite playing in one of the most volatile organizations (and divisions).
McLaurin is the Washington Football Team's top receiver and is being used as such. He already has 871 yards in 10 games this season, including eight games with 74 or more yards. He is on fire with 74 or more yards in each of his last five games – and eight of his last nine games. That includes a 90-yard game against the Cowboys just over a month ago.
Since Alex Smith took over three weeks ago, McLaurin has had performances of 115 yards, 95 yards, and 84 yards. He's also had at least seven targets in each game.
Over 5.5 receptions is an alternate angle here. McLaurin has at least seven catches in six games this season, including four straight games prior to last week.
Either way, McLaurin will be all over the field on Thursday afternoon against the Cowboys.
Amari Cooper Over 51.5 Receiving Yards (-115)
The Cowboys offense took a hit when Dak Prescott went down with an injury earlier this season, but Amari Cooper has been able to regain some of that value.
Like McLaurin, Cooper has been pretty good this season. He started out extremely well with two 100-yard games in the first four weeks but struggled a bit with the quarterback changes. However, he has seemed to find some chemistry with Andy Dalton back under center again.
In Dalton's previous three starts Cooper was targeted 24 times, reeled in 20 catches, and compiled 240 yards (a surprisingly consistent 79, 80, and 81 respectively). Those numbers include a seven-target game in Week 7 against the Football Team in which Cooper had 80 yards on seven catches (including two catches for 39 yards from Ben DiNucci).
Cooper should be able to easily surpass 52 yards once again against the Football Team.
---
Baltimore Ravens @ Pittsburgh Steelers – DELAYED
This game is delayed until Sunday due to COVID … but these props will still be good for Sunday …
Ben Roethlisberger Under 276.5 Passing Yards (-118)
The undefeated Pittsburgh Steelers are still led by Ben Roethlisberger, but the man they call Big Ben isn't what he once was.
Sure, Roethlisberger has a few star-studded games this season with 333 yards against the Bengals just two weeks ago, and 306 yards against Dallas a week before that, but he hadn't thrown for more than 268 yards in any of his five games before that.
Those five games include the first meeting this season between the Ravens and Steelers when Roethlisberger was held to just 182 yards on 21 of 32 passing in a 28-24 win. In fact, Roethlisberger wouldn't have hit the Over 276.5 Passing Yards in many recent games against Baltimore. Roethlisberger has had less than 277 yards in nine of the last 12 games against the Ravens.
The Ravens boast a stout defense. They have allowed just 235.2 passing yards per game this season. Only Patrick Mahomes (Week 3) was able to pass for 275 yards or more.
The Steelers may be able to stay undefeated and Roethlisberger could have a strong game, but I don't see him passing for nearly 300 yards.
Gus Edwards Over 58.5 Rushing Yards (-115)
With JK Dobbins and Mark Ingram on the COVID-19 list, Gus Edwards will step up as the Ravens' top running back against the Steelers.
Edwards is a downhill runner and has made his living as a power back. He's averaging 4.4 yards per carry this season, just down from his career average of 5.1.
Pittsburgh has a tough defense, but that shouldn't make you shy away from Edwards this week. Edwards has succeeded previously as the go-to running back in Baltimore. In fact, his best game this season came against these very Pittsburgh Steelers. In Week 8, Edwards ran for 87 yards on 16 carries and scored a touchdown.
The Ravens will put Edwards in a position to succeed and I see him hitting the over in the best NFL player props.
Best of luck to all, and have a healthy and happy Thanksgiving!
Best NFL Player Props Related Posts
NFL Thanksgiving Week 12 Picks Megapodcast – Sports Gambling Podcast (Ep. 912)