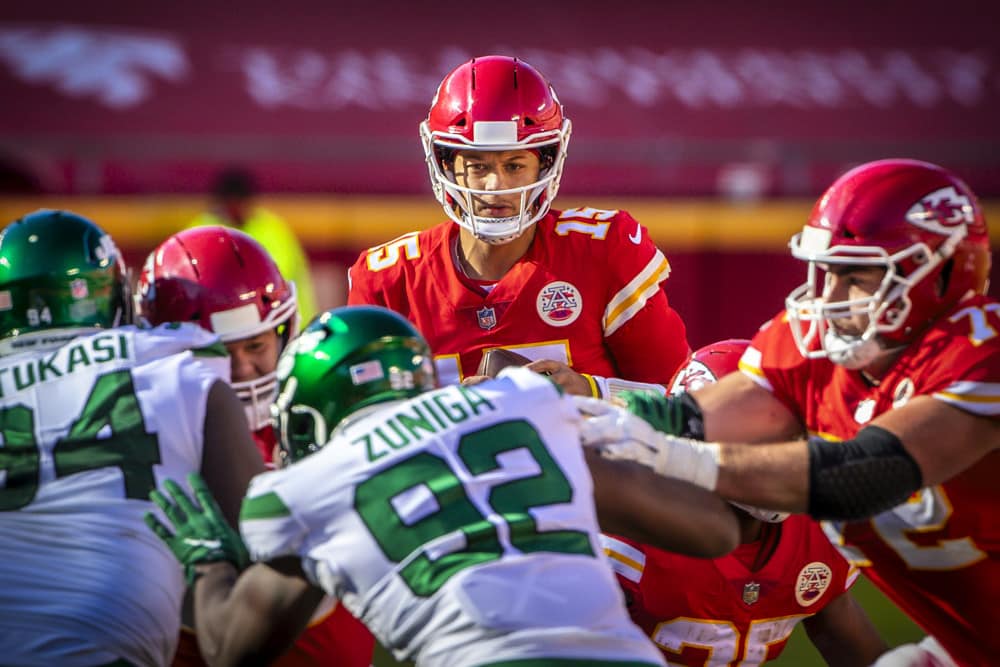 It was a tough showing for Trend Wisely in Week 10, as the 4-8-1 (33%) record on Top Plays and Targets was my worst record of the season. Still hitting over the profit line of 52.4% on the year, so let's see if we can get back on the winning side of the counter this week. Before we jump over into the Week 11 slate, I want to recap some of the things we saw take place last weekend. First off, it was a good showing for favorites as they went 9-5 against the spread (ATS). Meanwhile, as the game totals continue to decrease as we get into the latter part of the season and have multiple bad weather scenarios in play, and the Unders went 8-6.
With Week 11 now upon us, we see a very condensed slate when it comes to Totals. It hasn't been out of the norm to see multiple games closing with a total over 51. Weeks 4 and 6 had seven of these games, while Weeks 5, 7, and 9 had five high-total matchups. With the Thursday night matchup behind us (which stayed well under the total of 57), we only get two matchups this week above 51 (GB @ IND and KC @ LV). It appears that the market has somewhat reset itself and defenses have come into form as the season has progressed. Even though we don't have a bunch of projected shootouts, the slate is still wide open this weekend and should allow for some fun betting spots. Let's jump into what we have in front of us for Week 11.
CAUTION! Your picks shouldn't be based solely on NFL historical betting trends. There are a multitude of things to consider. Trends are just one variable. However, one variable might be the tie breaker you need to make a bet.
Please reach out to me on Twitter if there's anything you want a deeper dive on or particular info you would like to see for upcoming weeks. A lot of these that I will be writing about were once gut opinions or ideas of mine that I decided to dig in and #showmethedata on!
Please note: I have removed games that contradict over multiple trends from the "Targets" list
NFL Week 11 Betting Trends
Historically Reliable Teams
There will be a lot of talk this week about Andy Reid and his record after a bye week, which at 17-7 ATS is impressive. Clearly Reid is very good at getting his team prepared for a game with an extra week of game planning. What's even more outstanding is how well the Chiefs have done in divisional road games since Reid took over in 2013. The Chiefs are 18-4 ATS in these spots with Reid at the helm and this week they get a primetime road divisional matchup against the Raiders. Yes, this is the same Raiders team who beat the Chiefs 40-32 in Week 5 and then proceeded to take a few victory laps around the stadium with their bus before departing for the airport. Patrick Mahomes and the gang will be ready to seek their revenge on Sunday night.
In Week 9, we highlighted the Pittsburgh Steelers historical fragility as a double-digit favorite and they proceeded to barely squeak out a 24-19 win against Garrett Gilbert and the Dallas Cowboys. As a reminder, the Steelers are 10-24 ATS since 2001 when favored by 10 or more points. This week, they are set to take the field again as a double digit favorite against the Jaguars and I am going back to the well and fading them. Jake Luton has definitely not been a world beater since he took over for Gardner Minshew at QB for the Jaguars, but they did manage to stay close in last week's matchup against the Packers and covered a 13.5 point spread there.
Target Sides: KC -8, JAX +10.5
How Late-Season Byes affect Teams
For the purposes of this article, I am defining a late-season bye as Weeks 10 through 12. We have four teams coming off byes this week, but before we rush to go bet these well-rested teams, let's dig into the trends. Surprisingly enough, teams who go on the road after a late-season bye are 15-8 SU and 14-9 ATS since 2010. Meanwhile, the late-season bye week teams who get to stay at home the following week have done poorly going 15-14 SU and just 13-16 ATS. Don't fall victim to the late-season bye bias (bye-as) that you might hear getting tossed around this week. Play it smart with these teams.
Target Sides: ATL +4, KC -8
Early Down Success Rate (EDSR) Mismatches
In week 4, I talked about EDSR, one of Warren Sharp's favorite statistics. Almost every 3rd and 4th down is reactive due to the distance needed for a first down, and many times the 4th quarter is reactive based on the score differential between teams. EDSR eliminates these conditions and only looks at how teams do (offensively and defensively) on 1st and 2nd downs in the first three quarters of a game. In the biggest mismatches this season, the better team went 16-11 SU and 12-15 ATS (tough run in Week 9-10, so banking on a bounceback). Here are this week's biggest mismatches.
Target Sides (The differentials listed compare the EDSR of the target team to the EDSR of their opponent on the other side of the ball)
MIA -4 (Pass Defense +17, Pass Offense +15, Run Offense +5, Run Defense +5)
PHI +2.5 (Run Offense +20, Run Defense +11, Pass Defense +7, Pass Offense -4)
HOU +2.5 (Pass Offense +29, Run Defense +4, Run Offense +3, Pass Defense -9)
Pace of Play & Explosive Play Rate
Defined as a rush over 10 yards or a pass over 15 yards, explosive plays are a good stat for us to use to dial in on totals to bet. Theoretically, if a team is really good at hitting explosive plays on offense and they face a team who gives up a lot of them on defense, that is a recipe for a game where possession is constantly changing. With shorter drives (and more of them ending in scoring plays), this increase in offensive opportunities should help lead to higher scoring games. When it comes to pace, there are two things to consider. Seconds per play tells us how quickly teams are breaking the huddle and snapping the ball in order to increase pace, and overall plays helps us compare expected offensive opportunities. Comparing how teams rank in these two pace categories (in neutral game scripts) with the Vegas Totals can help determine some spots to target. This trend is 11-8 (win-loss) since I combined the two of these.
Target Totals
LAC/NYJ o46.5 (11th highest total, 8th in explosive plays, 4th in sec/play, 7th in plays/gm)
CIN/WAS o47 (9th highest total, 7th in explosive plays, 1st in sec/play, 6th in plays/gm)
DET/CAR o46.5 (11th highest total, 1st in explosive plays, 9th in sec/play, 11th in plays/gm)
GB/IND u51.5 (3rd highest total, 12th in explosive plays, 13th in sec/play, 7th in plays/gm)
ATL/NO u49 (5th highest total, 10th in explosive plays, 14th in sec/play, 7th in plays/gm)
Underdog Movement off the Lookahead Line
If you have been reading this every week, you should be well versed in reviewing lookahead lines by now. If you need a refresher, make sure to go check out the Week 2 article. This is a trend that I started tracking to good success last year and it is already off to a great start in 2020. All told, underdogs in any of these situations have now gone 34-19 ATS even though they have only gone 17-36 SU. Here's a reminder of the three different buckets I am tracking for underdog line movement. It's important to check back in on these right before kickoff on Sunday morning to make sure you get the closest to the closing line as possible. On the other hand, if you see any of this drastic line movement during the week and you can lock in the underdog at an inflated price, then feel free to do so.
Line Movement towards the Underdogs – When the line moved more than 1.5 points towards an underdog they are only 8-15 SU but 14-9 ATS. Target Sides: ATL +5 (Opened +6.5)
Favorite Swapped Sides – This trend is now 5-3 SU, 4-4 ATS, and 5-3 Over to the team that closed as the underdog this season. Target Sides: CIN +1.5 (Opened -1), CAR +2.5 (Opened -2.5), HOU +2.5 (Opened -2.5)
Line Movement towards the Favorites – When the line moved more than 1.5 points towards a favorite, they are a chalky 16-6 SU, but only 6-16 ATS. There are currently no games that fall under this category for Week 11
Betting Small Underdogs Straight Up
Week 11 is interesting because we have some very close games against the spread as five games are looking like they are going to close equal or below 2.5 points. I took a look back at all underdogs who closed between +1 and +2.5 since 2011. These teams are 247-262 SU (49%) and 263-246 ATS (52%). Even though these underdogs are technically better against the spread, it is actually more profitable to bet them straight up. I did the math assuming the moneyline odds are +110 for these underdogs (most fall within +105 and +115) and the spread odds are -110 (standard vig). If you bet on the moneyline for every one of these games, you would be up almost 10 units but if took the points instead and paid the juice you would be down -7.5 units.
Now this is an extremely large sample size, so it's unrealistic to say someone would bet all these games, but a 17.5 unit swing is huge in the sports betting world over the long haul. Just something to keep in your back pocket if you feel like backing one of these small underdogs this weekend. Don't pay the vig, and just bet these teams straight up to win!
That wraps it up for the Week 11 edition of Trend Wisely. Good luck this week, I hope to see some winning ticket screenshots!
Record to date on Target Sides/Totals
OVERALL: 80-71-6 (53%)
Week 1: 15-8-1 (65%)
Week 2: 10-10 (50%)
Week 3: 5-6 (45%)
Week 4: 7-5-2 (58%)
Week 5: 5-10 (33%)
Week 6: 8-8 (50%)
Week 7: 10-3-1 (76.9%)
Week 8: 10-5 (66.6%)
Week 9: 6-8-1 (42.8%)
Week 10: 4-8-1 (33.3%)