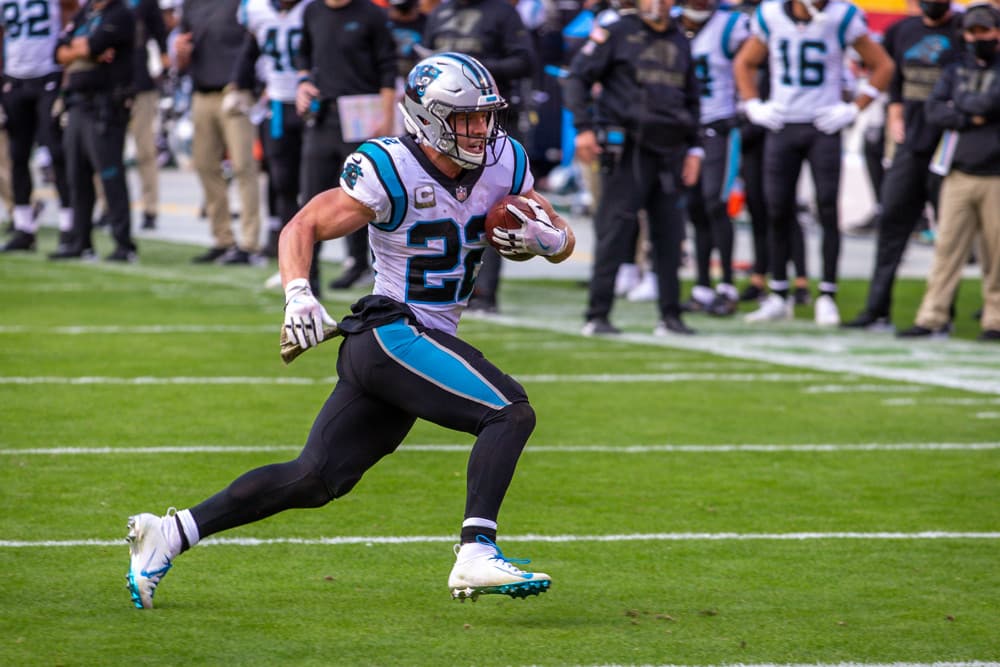 NFL Week 9 is in the rear-view mirror. NFL Week 10 betting odds and totals are out and a few games are getting hit with tons of action. We are getting big news on NFL Week 10 line movement, so let's dive right into it.
There are some great division games this week. Thursday night will have the AFC South showdown featuring the Indianapolis Colts visiting the Tennessee Titans. Sunday's slate includes some intriguing matchups including Philadelphia Eagles vs New York Giants, Denver Broncos vs Las Vegas Raiders, and a clash between two rookie quarterbacks down in South Beach where the Los Angeles Chargers visit the Miami Dolphins. In addition, the Seattle Seahawks visit the Los Angeles Rams in the NFC West matchup of the week!
In this post I will provide some insight on the line movements as well as key factors which are contributing to the biggest line moves thus far.
Odds Provided by Mybookie.ag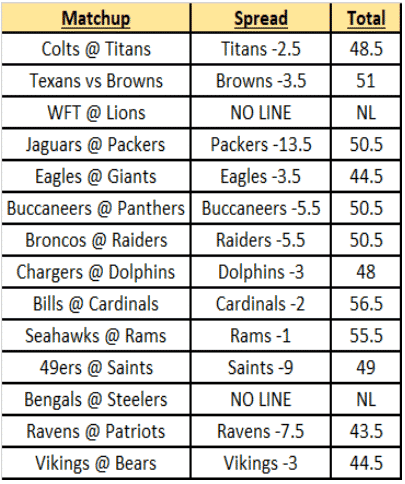 Bye Week: Kansas City Chiefs, Atlanta Falcons, Dallas Cowboys, New York Jets
NFL Week 10 Line Movement
Cincinnati Bengals vs Pittsburgh Steelers
Opening Line: Steelers -9.5   Current Line: OFF
Line Movement News
The Pittsburgh Steelers opened as a 9.5-point favorite Sunday evening, but was quickly pulled off the board because of key news from the Steelers camp. Steelers quarterback Ben Roethlisberger and three additional players went to on the reserve/COVID-19 list. The early report was that none of these players tested positive but were added to the list due to potential contact with Steelers tight end Vance McDonald. Lastly, Roethlisberger did suffer a knee injury in the game last Sunday against the Cowboys.
Washington Football Team vs Detroit Lions
Opening Line: OFF
Line Movement News
Both of these teams are dealing with injuries to their quarterbacks. First, Washington's quarterback Kyle Allen suffered a dislocated ankle in Sunday's loss to division foe New York Giants. Comeback player of the year candidate Alex Smith took the place of Allen and looks to be the starting quarterback for the Washington Football Team going forward.
Furthermore, Matthew Stafford was in the concussion protocol after Sunday's game in Minnesota. Reports today indicated that Stafford was a full participant in practice and may be ready to go Sunday when the Lions host of the Washington Football Team.
Houston Texans vs Cleveland Browns
Opening Line and Total: Browns -1.5 O/U 54   Current Line: Browns -3 O/U 51
Line Movement News
Cleveland Browns quarterback Baker Mayfield was activated off the COVID-19 list today and is expected to play Sunday against the Texans. The biggest move in this game is the total moving from 54 down to 51. As a result, he weather will be factor on Sunday in Cleveland. Forecast is calling for light rain and wind up to 23 mph.
Tampa Bay Buccaneers vs Carolina Panthers
Opening Line: Buccaneers -4.5 Current Line: Buccaneers -5
Line Movement News
Buccaneers opened at -4.5 favorite and the line was moving from -5 to -5.5. However, on Bucs dropped to -4.5 favorites and quickly moved up to -5 and -5.5 due to the injury news of Christian McCaffrey. McCaffrey returned last Sunday against the Kansas City Chiefs from an ankle injury.
However, McCaffrey suffered a shoulder injury, and all indications are that he will be out this Sunday against the Buccaneers. In addition,  McCaffrey is seeking a second opinion on his shoulder and is considered week to week.