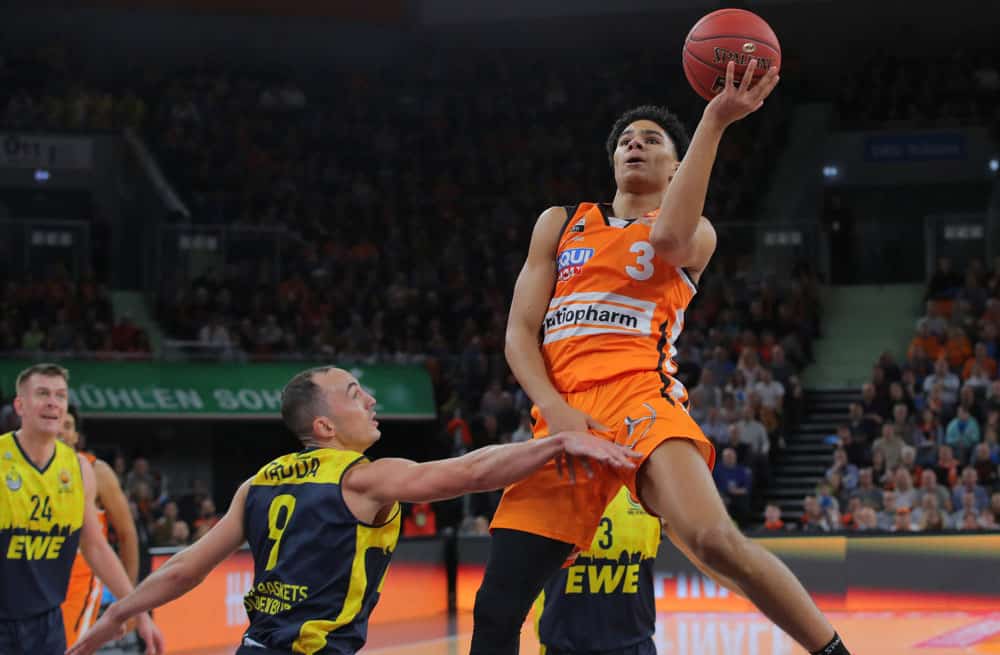 UPDATED: 11/18/20
Don't read THIS NBA Mock Draft 2020 and then close it forever. Bookmark this page RIGHT NOW. Think of this as a living document. A dynamic NBA Mock Draft 2020 that will change as we learn new information, betting odds, and rumors.
For our first ever company-wide NBA Mock Draft 2020, I recruited dozens of writers, oddsmakers, podcasters, friends, and the top regulars on our NBA Slack channel. Sure, none of us are NBA insiders, but we're all passionate fans of the teams we represent in this draft. For the few teams I couldn't find a super fan, I recruited someone who places a lot of wagers on that team. They are just as invested as any super fan.
Guaranteed, this is unlike any other NBA Mock Draft 2020 out there. We don't just look at best players available and team needs, we're considering all betting angles too. We stand by our picks and you're welcome to argue with us in our SGPN NBA Slack channel.
Listen to Zach and I break down this NBA Mock Draft 2020 and our favorite bets in the newest NBA Gambling Podcast on Apple and Spotify.
Powered by RedCircle
1. Minnesota Timberwolves: Anthony Edwards, Guard – Georgia
1st Overall Pick Odds: -300
Draft Position 1.5: Over (+175) | Under (-300)

If you watched any college basketball last year, you know Georgia isn't very good. However, you also know Edwards is NBA ready. In the mold of Dwyane Wade, this is a no-brainer for the Timberwolves. They need scoring. Edwards not only brings instant scoring, he's also the most pro ready player in the entire draft. There should be zero hesitation with this pick for the players behind him are a drop off. Edwards will be a Top-10 NBA player in no time. Wiseman, Ball, and Avdija all could be good players but I highly doubt they'll be Top-10 players. Perhaps, Wiseman could be, but the NBA game isn't catered to big men anymore. Plus, Minnesota already has Karl-Anthony Towns. – COLBY DANT
2. Golden State Warriors: James Wiseman, Center – Memphis
1st Overall Pick Odds: +700
Draft Position 2.5: Over (+170) | Under (-250)

Since the departure of Kevin Durant, the retirement of Shaun Livingston, and Andrew Bogut's decision to play in the Australian National Basketball League, the Warriors suffer from a lack of height and depth on their bench. The team's nucleus remains in tact with Steph, Klay and Dray. However, in order to be true title contenders, they must address their deficits to compete with the Lakers in the West.
James Wiseman is a 7'1 big man who can produce instantly for Golden State. He is a phenomenal rim protector, an elegant southpaw and has a 7′ 6″ wingspan. The Warriors' offense relies heavily on ball movement and is a perfect fit for Wiseman's skillset. His on-court nimbleness and athleticism will lead to plenty of easy baskets in transition. In addition, this Memphis freshman has all the physical metrics that excite general managers and give opposing teams nightmares. He can alter or block shots on the weak side or strong side of the court. – JONG LEE
3. Charlotte Hornets: Obi Toppin, Big – Dayton
1st Overall Pick Odds: 80/1
Draft Position 4.5: Over (-320) | Under (+220)
The Charlotte Hornets are presently devoid of top-end talent, but have some young shooters but lack anyone who can attack the rim. That is where 6-9 forward Obi Toppin out of Dayton comes in. Toppin is a long and physical forward who delivers rim-shattering dunks and can get out to run in transition. His athleticism will put some buzz back into Buzz City and Mitch Kupchak knows he can deliver the shot in the arm that Charlotte needs. Surround Toppin with shooters like Malik Monk, Devonte' Graham, and PJ Washington and the Hornets become a much more intriguing team. With Toppin brought into the fold the Hornets step into the thick of the Eastern Conference playoff picture. Toppin has the ability to attack the rim off the bounce, score in transition, and hit the outside shot that can start to unlock the Hornets' offense. – ADAM PELLETIER
4. Chicago Bulls: LeMelo Ball, Guard – Illawarra Hawks
1st Overall Pick Odds: +175
Draft Position 2.5: Over (-170) | Under (+130)

Editor's Note: #1 overall draft odds moved fast this morning in LeMelo's favor. Possibly because this story?
If LaMelo Ball falls to #4, you have to take a chance on his high ceiling. At 18 years old, he averaged 19.6 points, 8.7 rebounds and 7.9 assists per 36 in the NBL while playing for the Illawarra Hawks. The Bulls ranked 16th in pace, 20th in assist percentage and 26th in assist/turnover ratio. LaMelo's court vision and pinpoint passing could help elevate Coby White, Zach LaVine, and anyone else who shares the court with him. New head-coach Billy Donovan ran three guard line-ups for big minutes last year in OKC. If they add Ball, that a dangerous backcourt trio.
Listed at 6'8" 180 pounds, Ball can be a versatile defender. He's  quick enough to defend guards and has the size to switch on to wings. His decision-making on offense and defensive lapses are the biggest question marks. Well, those plus his questionable leadership and attitude. However, if the right adjustments are made, he can be one of the best playmakers in the NBA – JOSH BAKER
5. Cleveland Cavaliers: Deni Avdija, Wing – Maccabi Tel Aviv
1st Overall Pick Odds: 80/1
Draft Position 4.5: Over (-140) | Under (+100)

The Cavs ended 2019 with one of the worst records in the league and unfortunately fell out of the top 3 draft picks for the third year in a row. They still do not have a franchise player and are in "Best Player Available" mode. At pick 5, the player with the most upside is Deni Avdija. He has great basketball IQ and can fill a need at SF. Avdija needs to work on his strength and improve his shooting to compete at the NBA level. However, his ceiling is high enough to be a top-5 pick. Most likely though, Cavs fans will have to pray for the ping pong balls fall their way again next year. – MATT TUSICK
6. Atlanta Hawks: Onyeka Okongwu, Big – USC
1st Overall Pick Odds: 120/1
2nd Overall Pick: 20/1
3rd Overall Pick: +425
4th Overall Pick: +600
The Atlanta Hawks have lacked rim protection, and size in the middle of the paint. They're ranked 25th in opponent two-point percentage, 27th in defensive efficiency, and 30th in points in the paint allowed. Trae Young is their franchise player now, so it is time for the team to build around him.
Insert Onyeka Okongwu, standing at 6'9, weighing 245 pounds and with a reported wingspan of 7'2. He's tailer-made to improve their interior defense. As a freshman at USC, Okongwu averaged 16.2 points, 8.6 rebounds, 2.7 blocks. His exceptional ability to protect the rim along with his length and athleticism will boost the Hawks' defense and rebounding – MUNAF MANJI
7. Detroit Pistons: Tyrese Haliburton, Guard – Iowa State
1st Overall Pick Odds: 150/1
Draft Position 7.5: Over (-180) | Under (+140)

The Pistons don't have a young or reliable star, so they need everything. Unfortunately, they rarely draft well. In a draft class where there is no surefire superstar like Zion, that won't change this year. They're really just looking for someone that will 'be there,' like Bruce Willis' girlfriend in Pulp Fiction. Someone that's just … you know, around.
Their biggest need is a young point guard who can learn from Derrick Rose. Enter Tyrese Haliburton, an all-around pure PG who averaged 15.2 points on 50.4% shooting and 6.5 assists at Iowa State. His versatility on and off the ball is proven. Haliburton looks like an 'impact over stats' contributor: creating shots for teammates and adding space with his 43.3% catch-and-shoot from three-point range. Seems like a great option for someone in that 'being there' role. – SHANE COLLINS
8. New York Knicks: Devin Vassell, Guard – Florida State
1st Overall Pick Odds: 150/1
Despite not being a believer in RJ Barrett's potential as the Knicks primary offensive creator to build around going forward, I took a "must get a solid starter" approach to this pick rather than a pure best player available strategy.
Mitchell Robinson has already spent his young career cramped for minutes by a weird roster. So, it'd be irresponsible player development to bring another big in here. Robinson needs 32 no-doubt minutes at center. RJ Barrett, though inefficient, is still somewhere on the path to being an offensive star. Neither of those guys can shoot, so the Knicks really need shooting at the other three position. Vassell can come in right away to knock down open three-pointers and play phenomenal defense. The Knicks need a solid 3-and-D wing (Dame Dotson is their only one right now) to go along with Barrett/Robinson or whatever star they can coax into coming to New York. – ZACH BRONER
9. Washington Wizards: Isaac Okoro, Wing – Auburn
1st Overall Pick Odds: 150/1
Draft Position 9.5: Over (+160) | Under (-200)

The Wizards haven't gotten the message. Stuck in mediocrity, they've been good enough to sneak into the playoffs during the Wall/Beal years but not good enough to seriously contend. They also haven't been bad enough to garner top draft picks. So here we are again picking at #9. The backcourt is set while the frontcourt has some young and promising pieces. A wing, especially a lock down defender, makes a lot of sense, as does the best 3, 4, or 5 available.
Auburn SF Isaac Okoro will produce immediately as the lock-down defender Washington desperately needs. If his offense can catch up with his raw athleticism and defensive prowess, watch out. His potential is limitless. – NICK DANT
10. Phoenix Suns: Killian Hayes, Guard – ratiopharm Ulm
1st Overall Pick Odds: 100/1
Draft Position 6.5: Over (-170) | Under (-130)

Some mock drafts have the Suns taking the best available 3-and-D guy at this spot. Call me an overly-optimistic homer, but I really like Phoenix's young options there in Mikal Bridges, Kelly Oubre, and Cameron Payne. Plus, they have one of the best three-point shooters in the league in Devin Booker. What the Suns don't have is their star point guard of the future. At 30 years old, Ricky Rubio is a solid place-holder, but he doesn't fit the timeline of the younger core.
Killian Hayes is a perfect fit next to Booker in the back court. He's a fluid ball handler, a high-level playmaker, and a creative pick-and-roll facilitator. That last skill can catapult DeAndre Ayton as a scorer. Hayes can shoot three-pointers off the dribble and has a few Harden-esque moves in his toolbox. The biggest concern is his catch-and-shoot shooting numbers, but the Suns already have that in spades. Hayes' height, strong frame, long arms, and ball-hawk tenacity make him a versatile defender against guards and wings.  – RYAN MCKEE
READ ALSO
LeBron James Taco Tuesday Analysis
11. San Antonio Spurs: Precious Achiuwa, Big – Memphis
1st Overall Pick Odds: 250/1
The Spurs remain an efficient offensive unit under Popovich and just finished in the top 10 in offensive efficiency for the 14th time in the past 16 seasons. Unfortunately, they have slipped considerably on defense. After finishing in the top 4 in defensive efficiency a whopping 10 times since 2004, they've slipped to 20th and 26th over the last two seasons. Injuries (real or fake) have plagued the Spurs for years. Stars Aldridge and DeRozan are getting long in the tooth and are widely rumored to be on the trading block this offseason. After missing the playoffs for the first time in 23 years, the Spurs are officially in full-on rebuilding mode.
Enter Precious Achiuwa, the 6'9 freshman with a 7'2+ wingspan. He's an elite rim-protector and rebounder, something this team has lacked since the departure of Tim Duncan. Achiuwa will pair nicely with the young, athletic backcourt of Lonnie Walker, Dejounte Murray, and Derrick White for years to come – and possibly give Popovich a second wind. – PATTY C
12. Sacramento Kings: Patrick Williams, Wing/Big – Florida State
4th Overall Pick: +275
The Sacramento Kings have continually swung and missed on versatile big men to compliment their young and talented guards. Enter Patrick Williams, the 6'8" freshman out of Florida State who has the ability to fill a bunch of different roles. Williams is rough around the edges, so the Kings will need to be patient with him, but he has the potential to be the scoring threat that De'Aaron Fox desperately needs as a compliment.
The young big man is also a team defensive asset who will hustle for chase down blocks and loose balls, and his communication and ability as a help defender will translate well to the next level. In order for him to gain a role in the Kings offense immediately, he will need to continue with his sound decision-making and efficiency at the rim. – JON JACKSON
13. New Orleans Pelicans: Saddiq Bey, Wing – Villanova
Like most diehard Pelicans fans, I'm far too distracted by the Saints and how much receivers love punching our safety in the face. I don't care a lot about the Pels' 13th pick. But I do know what the team needs more than anything is a human being capable of playing defense. Like, any defense. They would sign your uncle if he could keep somebody in front of him.
Bey has the size and wingspan to guard multiple positions, is an engaged off-ball defender, and can handle switches within a defensive sequence. He shot 45.1% from three, which means he can space the floor, and potentially prevent us from having to watch Lonzo Ball pretend to be a shooter. For a team that still might trade Jrue Holiday (please don't do that), Saddiq provides the depth, defense and shooting the Pels desperately need. And me with the chance to say "Ya know, he's got 3-and-D potential" for the next 12 weeks. There are no losers here. – ZACH SIMS
14. Boston Celtics (via Grizzlies) : Jalen Smith, Big – Maryland
In reality, Danny will probably trade this pick for more worthless late picks. That guy loves lots and lots of draft picks. Not necessarily good ones, just sheer numbers. But for the sake of argument, let's say he finally drafts a big man. You know you have an issue with big men when Daniel Theis is your best option. Celtics need a legit center who defends in the paint but can play like a strong power forward as well. That's the missing piece to a team that should be contending for Championships. – BOSTON CAPPER
15. Orlando Magic: Aaron Nesmith, Guard – Vanderbilt
With only two guards under contract next season, the Orlando Magic need two positions: guard play and 3-and-D player. Aaron Nesmith fits both needs nicely. His three-point shooting ability was on full display at Vanderbilt. In his entire 46 games, Nesmith shot 41% from beyond the arc. In his 14 game campaign last season, he shot 52% from three, averaging 4 a game.
The NBA now relies heavily on three-point shooters and Nesmith can be that consistent guy for the Magic. Look for him to be one of the top three-point shooting players in the league. – MUNAF MANJI
16. Portland Trail Blazers: Kira Lewis, Guard – Alabama
The backcourt of Damian Lillard and CJ McCollum is one of the best in the game. Lewis is not an immediate replacement for either, but gives them a chance to rest them a little more and still maintain high-level scoring. The Alabama product can play super fast and will be an immediate offensive threat. His defense needs work but can be a nice third guard for the playoff-bound Blazers. The way the game is played right now, there is nothing wrong with building even more strength in the backcourt. – THE WIESGUY
17. Minnesota Timberwolves (via Nets): Theo Maledon, Guard – ASVEL
1st Overall Pick Odds: 350/1
I'm a firm believer that you should always draft the best player available, regardless of fit. You can never have too much talent on your roster. So with their second pick in the first round, the T-Wolves select the best player left on the board. Theo Maledon.
A 6–5 French point guard, Maledon has the size and skills to back up DeAngelo Russell or share the floor with him. While not an insane athlete, he's a plus in pretty much every other aspect on the floor. At only 19 years old, he already with pro ball experience. The sky's the limit. – JEFF FOX
18. Dallas Mavericks: Aleksej Pokusevski, Big – Olympiacos B
During the 2020 NBA playoffs, it became painfully obvious the Dallas Mavericks lacked scoring and perimeter defense. Aleksej Pokusevski is a 7"-0" 195lbs stretch PF with a great stroke from the perimeter and length to help with defense under the rim. During his 2019 EuroLeague season, he averaged 10.8 points and 8 rebounds per game. Pokusevski is a strong ball-handler, passer, rebounder and has a high basketball IQ. Luka Doncic is a perfect complement for him.
In the negative column, he lacks bulk and a knee injury caused him to miss three months. However, he's already showing improvements on the court this year and NBA-level trainers and nutritionists will help him put on 10-15 pounds. – PAPA COMMAS
19. Brooklyn Nets (via 76ers): R.J. Hampton, Guard – New Zealand Breakers
1st Overall Pick Odds: 100/1
Draft Position 15.5: Over (-120) | Under (-120)

A five-star recruit coming out of high school, Hampton was poised to be a lottery pick. Most powerhouse NCAA programs wanted him. Instead, he chose to head down to New Zealand to play in the NBL. Maybe it'll turn out to be the right move in the future? Maybe he let his Lord of the Rings fandom influence him too much? Whatever the case may be, his draft stock declined after struggling overseas. The NBL isn't even a top-10 international basketball league.
That said, all scouting reports say the 6'6″ combo guard has the talent and work ethic to be an NBA starter. He's been working out with Memphis head coach Penny Hardaway and three-point specialist Mike Miller. Maybe he can be long playmaker the Jazz hoped to find in Dante Exum? The Nets must think it's possible since they're kicking his tires. – RYAN MCKEE
20. Philadelphia 76ers: Tyrese Maxey, Guard, Kentucky
1st Overall Pick Odds: 250/1

The Sixers desperately need a guy who can create his own shot and isn't terrified of shooting threes. Maxey is a perfect playmaking guard to pair with Ben Simmons. They get a catch-and-shoot option behind the arc and a speedster who can get layups at the rim. Also, with Simmons injury history, another ball handler is key. Basically they're drafting who they thought they were getting in Markelle Fultz. Hopefully this guy doesn't have a shoulder issue/the yips! – SEAN GREEN
READ ALSO
Which NBA Teams Are Best & Worst at Drafting?
21. Miami Heat: Desmond Bane, Wing – TCU
The Miami Heat turned heads with a deadline trade bringing in Andre Iguodala and Jae Crowder to bolster the lineup for what turned out to be an NBA Finals run. Now Miami has the perfect chance to bring in another 6'6, 215-pound wing that gets it done on both ends.
Desmond Bane does a little bit of everything — shades of Iggy at a fraction of the cost. His senior year at TCU went to the tune of 16.6 PPG, 6.4 RPG and 3.9 APG on 45% shooting for First Team All-Big 12 honors. Oh, and there's more: he shot 44% from beyond. It seems like Erik Spoelstra could draw up some fun things for Bane and Tyler Herro to run. – ADAM ABRAMSON
22. Denver Nuggets (via Rockets): Xavier Tillman, Big/Wing – Michigan State
Tillman is one of my favorite players in this draft and an absolutely perfect protégé/complement to Nikola Jokic. He excels on the defensive end and as a playmaker in the short-roll offensively. His offensive upside, as with most bigs, will go as his 3-point shooting ability goes.
The Nuggets are crowded at guard (Murray, Harris, Morris, Dozier), crowded on the wing (MPJ, Jerami Grant hopefully, Will Barton), and have an elite starting big in Jokic. Mason Plumlee is a great locker room presence but he really struggled in the playoffs this year. Coach Malone was a sucker to play him consistently. Plumlee no longer provides the defense on which his "solid veteran no-mistakes center" reputation was built.
The Nuggets need an upgrade at backup center and Tillman can provide that plus upside. He's a perfect pick-and-roll partner for Monte Morris on Denver's second unit and will add more to his repertoire learning under Jokic. Last but not least, he's a great culture guy, super tough coming from Tom Izzo's Sparty program, and fits in perfectly with #MileHighBasketball. – ZACH BRONER
23. Utah Jazz: Cassius Winston, Guard – Michigan State
This Utah Jazz squad doesn't have many holes, but this is a great chance to address one huge glaring issue. It's no secret that they are thin at the guard position, specifically point guards.
A three-year starter at Michigan State, Cassius Winston is NBA-ready and  a perfect fit for what Utah likes to do. Winston averaged 14.2 points and 6.4 assists per game throughout his college career. He displayed even more ability to score while still facilitating in his senior season, averaging 18.6 points and 5.9 assists per game. How many good years does Utah's starting point guard, veteran Mike Conley, have left? Conley can help mold Winston into a future superstar alongside Donovan Mitchell for many years to come. – WILL MOORMAN
24. Milwaukee Bucks (via Pacers): Malachi Flynn, Guard – San Diego State
The Milwaukee Bucks are coming off another disappointing postseason, but still have their entire core intact going into next season. With Giannis Antetkounmpo, Khris Middleton, Eric Bledose and Brook Lopez, the Bucks need to add depth to their roster via the draft.
Insert Malachi Flynn, a 6'1'' 185 lbs combo guard who can play with or without the ball in his hands. Coming off 17.6 points, 5.1 assists, 4.5 rebounds at SDSU, he earned Mountain West Player of the Year and Second Team All-American. Shooting 37% percent from behind the arc and earning Mountain West Defensive Player of the Year, Flynn is the perfect 3-and-D player the Bucks need off the bench. Give this kid a few years to further develop his game and I can see him getting starter minutes. – DYLAN HEIDER
25. Oklahoma City Thunder (via Denver): Jaden McDaniels, Wing – Washington
1st Overall Pick Odds: 350/1
Jaden McDaniels has the upside to become a star in the league. The uncertainty of Danilo Gallinari re-signing with the Thunder may leave a hole at the forward position. Enter McDaniels, who can also add some height to the front court.  At 6'10," this PAC-12 product can develop into a rebounding monster and also jump start the fast break.
McDaniels has great ball handling abilities and can finish around the basket. He finished the season at Washington averaging 13 points, 5.8 rebounds, and 2.1 assists per game. The size, length, and agility give him a strong upside on the defensive end which is a part of the game Thunder pride themselves on. Giving the lack of depth at the forward position for them, McDaniels fits nicely. – MUNAF MANJI
26. Boston Celtics (via Bucks): Cole Anthony, Guard – North Carolina
1st Overall Pick Odds: 200/1
Draft Position 20.5: Over (+140) | Under (+100)

This move is more about depth. Kemba is the obvious starter but he isn't exactly the picture of health and Brad Wanamaker doesn't excite anyone. Cole Anthony has natural talent. He's raw but getting coached-up by Brad should unlock his natural scoring ability and make him a great piece  off the bench. Hell, he can also bolster the NBA's best G League team, the Maine Red Claws. Because apparently that matters to Danny Ainge! So glad we've had so many draft picks playing well in G league. – BOSTON CAPPER
27. New York Knicks (via Clippers): Tyler Bey, Wing – Colorado
Tom Thibodeau gets the PAC-12 Defensive Player of the Year who should be able to defend any position on the court. While his offensive game needs to develop, especially his three-point shooting, we absolutely could be looking at a Draymond Green type player (he cant shoot either) at a Draymond Green draft price. Fun fact: if you want to sound smart when discussing the Draft with your friends, Bey set the record for NBA Combine vertical leap (43.5 inches). – RYAN KRAMER
28. Los Angeles Lakers: Tre Jones, Guard – Duke
The Los Angeles Lakers, coming off their first Larry O'Brien trophy in ten years, are comprised of an array of talent for the short and long term both. Anthony Davis is posed to opt-out and re-sign, while LeBron James is under contract for another two years.
Despite Rajon Rondo getting healthy at just the right time and Alex Caruso coming into his own in Playoffs, the Lakers still need their point guard of the future. Tre Jones is a steal at the 28th spot. His strong suits and fast break abilities are mirror-images to Rondo, so passing the torch can occur seamlessly. A sophomore fresh out of Krzyzewski Land, Jones is an ambidextrous gem who will flourish under the tutelage of LeBron and Davis.
Jones' court vision is one of the best in this year's draft. His ability to find the open man in transition melds perfectly with how this Lakers roster runs hot in the fast break. At the same time, he can scoop-and-score with either hand when driving the rim. – CHRIS GIORDANI
29. Toronto Raptors: Devon Dotson, Guard – Kansas
1st Overall Pick Odds: 125/1
Having a late draft pick isn't a worry for this team. The Raptors are now known for their exceptional development program. They drafted Pascal Siakam with the 27th pick in 2016, and he's already a starter in the All-Star Game and All-NBA Second Team. Similarly, guard Fred VanVleet went undrafted, and now he's the highest sought-after free agent this off-season.
With this in mind, guard Devon Dotson is the perfect fit. As a 6'2″ point guard, his height scares off other teams. But the Raptors have thrived with one of the smallest backcourts in the league. Point guard Kyle Lowry is the heart and soul of the Toronto Raptors, but at 35, everyone's anxious for a contingency plan.
Reading Dotson's stats, what struck me is just how Lowry-esque he seems. Adjectives like "pesky" and "disruptive" jumped out, all words synonymous with Lowry. The Kansas product is known for his speed, acceleration, and low turn over rate. His ability to draw fouls mimics Lowry's ability for drawing charges.
Dotson has room for improvement; most notably, his jumper needs work. That's not necessarily a deal-breaker for the Raptors. Coach of the Year Nick Nurse is known for his shooting drills. – GEORGEA BROOKS
30. Boston Celtics: Leandro Bolmaro, Guard/Wing – FC Barcelona
Referred to as the "Messi of basketball" in his Argentinian homeland, Leandro Bolmaro is a bigger point guard with plenty of playmaking ability and versatility as a defender. While his shooting leaves a lot of room for improvement, his basketball IQ and fundamentals provide a base with which he can succeed at any level.
Bolmaro has limited experience with the Barcelona senior squad in the EuroLeague, and is not quite as ready to play as other first -ound prospects, but his potential is sky high. Plus, with two other first-round picks, the Celtics can afford to take a shot at possibly the next Luka Doncic. – JOEL MEYER
Subscribe to NBA Gambling Podcast on 

Apple

 and 

Spotify

.
Check out Ryan McKee's new book Modest Proposal Anthology available on Amazon.
READ ALSO
Which NBA Teams Are Best & Worst at Drafting?
LeBron James Taco Tuesday Analysis
My NBA Reddit Post That Went Viral: James Harden's Strip Club Stat