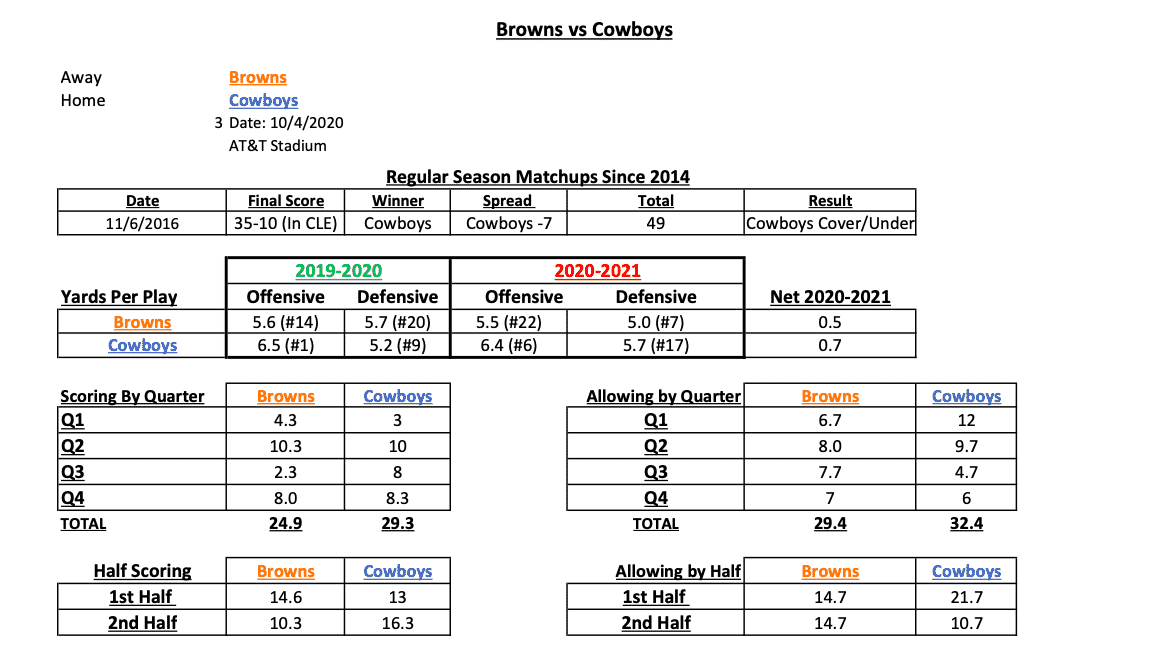 NFL Week 4 Stats Cheat Sheet is here with some intriguing matchups! Let's dive into the numbers for this week. I'll highlight some of the key stats in five matchups that will help with your best bets this weekend.
Checkout the full downloadable PDF for the NFL Week 4 Stats Preview here.
Related
NFL Week Four Picks ATS Podcast
NFL Week 4 Stats Cheat Sheet & Best Bets
Colts vs Bears
Defense
Indianapolis Colts rank first in yards per play allowed in the league at only 4.4 yards. They also rank #1 in Total Defense through the first three weeks of the season. Their defense is a league best allowing only 15 points per game.
Chicago Bears' defense is a ranked 13th, above average. They're also ninth in points allowed per game. Historically, the Bears have been a defensive minded team. Couple that with the improved Colts defense, this Sunday matchup should be an offensive struggle.
Best Bet: Colts/Bears Under 44
Browns vs Cowboys
Offensive Stats
The Cowboys come into this matchup ranked #6 in yards per play on offense and are averaging 29.3 points per game. Dak Prescott through the first three weeks is averaging 383.3 yards per game and 8.2 yards per attempt. Since Dak took over as the quarterback in Dallas (2016), the Cowboys are averaging 27 points per game at home.
Cowboys Points Per Game At Home Since 2016
2016: 29.3
2017: 21.6
2018: 24.9
2019: 29.3
Browns Defense
Cleveland Browns are allowing 29.4 points per game and are ranked #22 in the league allowing yards through the air, averaging 253.7. They're only allowing 6.1 yards per pass attempt. However, that is largely due to the opposing quarterbacks they have faced in Weeks 2 and 3: Dwayne Haskins 6.2 yards per pass attempt and Joe Burrow 5.8 yards per pass attempt.
Best Bet: Cowboys Team Total Over 30.5
Bills vs Raiders
Bills Offense
Josh Allen is having an MVP-caliber season so far and the Bills are one of the top offenses in the NFL. They're averaging 6.6 yards per play, which is third best in the league. Bills have been fantastic in the first half of games, averaging 19.6 points. Josh Allen is #2 in the league in yards per pass attempt.
Raiders Offense
The offensive numbers for the Raiders aren't the most glaring stats, but they are averaging 14.6 points per game in the first half. Derek Carr has a respectable 7.4 yards per pass attempt, which ranks #12 in the league. Stud tight end Darren Waller's stats aren't flashy but Derek Carr has targeted him 28 times. The next closet receiver is Hunter Renfrow (14).
Best Bet: Bills/Raiders First Half Over 25
Patriots vs Chiefs
Chiefs Defense
The Chiefs are coming off an impressive victory over the Ravens last week. Defensively, Kansas City have been average, ranking #16 in yards per play allowed. However, they are holding opponents to 20 points per game, which ranks #6.
Patriots Defense
Last season, the Pats were by far the best defense in the league. They led the league in points per game allowed, Opponent Yards per game, and Total Defense. However this season, they rank #25 in yards per play allowed. New England allows opposing quarterbacks 8.2 yards per pass attempt, ranking in the bottom five of the league.
Patriots vs Chiefs History
The Patriots and Chiefs have met three times in the regular season since 2017 all at Gillette Stadium. The Patriots have been favored in all three games and the Chiefs have won two of those games straight up. This will be their first regular season matchup in Arrowhead and I fully expect the Chiefs to handle business.
Best Bet: Chiefs -6.5
Falcons vs Packers
Packers Offense
Packers lead the league thus far in Yards Per Play (6.9) and points per game (40.7). The Aaron 1-2 punch of Rodgers and Jones have been torching defenses. Rodgers ranks #2 in QBR behind Patrick Mahomes and ranks 3rd in passing touchdowns (9). Aaron Jones has been a monster in the backfield. He is #2 in total rushing yards (303), with a rush per attempt average of 6.1, and four rushing touchdowns. The offensive line for the Packers has done a great job of protecting their QB, allowing only two sacks.
Falcons Defense
Boy, where do you even start with the Falcons? Defensively, they are allowing a league-worst 40.7 points per game. They're #27 in yards per play allowed (6.4), #26 in yards per pass attempt allowed (7.9), #31 in passing yards allowed per game (350.3), and rank #24 in yards per completion allowed (11.2). Their secondary is missing multiple starters. Now this defense has to go into Lambeau Field and take on Aaron Rodgers.
Best Bet: Packers Team Total Over 33.5
Checkout the full downloadable PDF for the NFL Week 4 Stats Preview here.