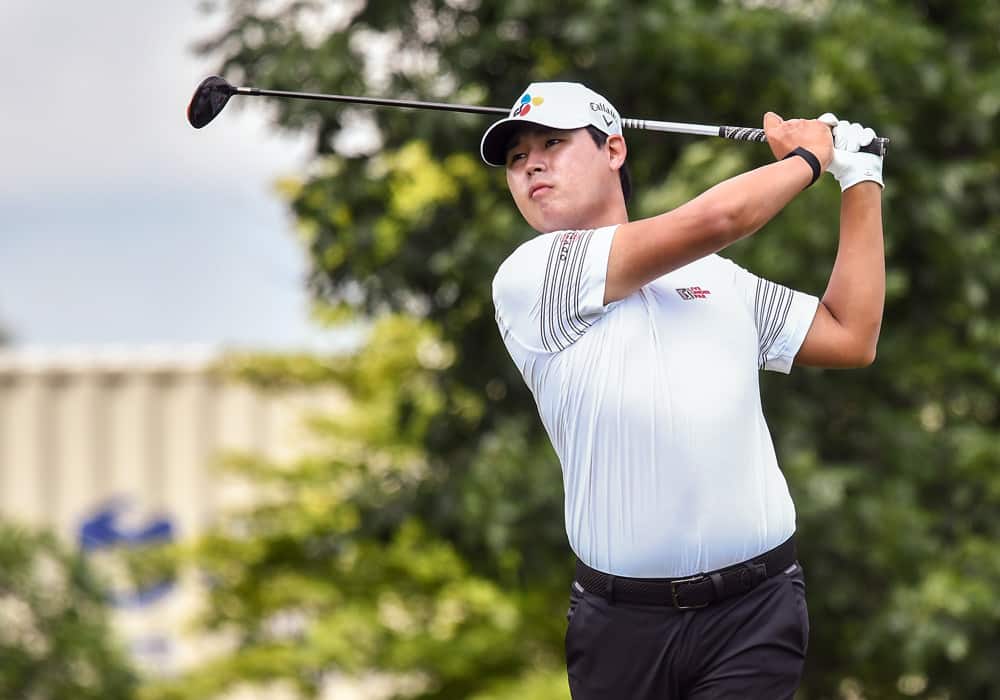 Week 3 of the 2020-2021 season is upon us and we are headed to Country Club of Jackson in Missouri. Most importantly, it's time for Sanderson Farms Championship Picks for DraftKings Fantasy Golf!
This will be the seventh straight year Sanderson has played on this course. Our six previous winners have been Munoz (20′), Champ (19′), Armour (18′), Gribble (17′), Malnatti (16′), Taylor (15′). The guys will face a 7,641 yard, par 72, Bermuda-grass masterpiece. The 18 holes we will see were redesigned by John Fought in 2008 and incorporate many classic Donald Ross characteristics. The course is right in the middle of the pack in terms of tour average for difficulty, fairway width, rough length, green speed and green size. Golfers will see conditions of partly cloudy, temps in the mid 60's and 10-13 mph winds.  We expect to see a winning score around -18.
The par 5s will be difficult to score on, with the longest being 604 and the shortest playing 546 with water protecting the front edge. Previous top finishers typically excel in 150-175 and 175-200 yard proximities.
Last year, Munoz and Im both gained 6+ strokes T2G and 4+ strokes putting. However, in 2019 Cam Champ ran away with the trophy with the bomb and gouge approach outdriving every other competitor by over 150 yards. We have also seen reports from the course this week that this could turn into a putting competition. So in summary, golfers will have to rely on their strong suits to play this course. We are leaning towards bombers and Bermuda grass specialists.
Sanderson Farms Championship Picks Key Stats 
Driving distance
Prox 150-175
Par 4 400-450
SG APP
SG P
Sanderson Farms Championship Picks for DraftKings
Will Zalatoris $10,200
Choo choo! All aboard the Z train! If you haven't heard of Will Zalatoris, he is a Korn Ferry stud turning heads on the PGA so far this season. Before the U.S Open, Z had 11 top 20s on the Korn Ferry Tour. He has since followed that with a 5th place finished at the U.S Open and an 8th place finishes at Corales Puntacana. He is long off the tee and is great between distances of 400-450 which will come into play this week. There is no reason to believe that Zalatoris hot streak ends this week.
Sam Burns $9,800
Can you feel the Burn? Burns is another golfer who has been very consistent since the end of last year's season. He has made 8/10 cuts. He placed 28th last week and 7th at the Safeway. Burns has gained 4.1 strokes tee to green and 2.7 off the tee in his last 5 events. Burns ranks out high in our model and believe he is a nice core piece to your lineups this week.
Si Woo Kim $8,400
When I think of good drivers on tour, that sweet swing of Si Woo is one of the first that comes to mind. He's been top-20 4 times since June 20′ (Travelers, Memorial, PGA Champ, and Wyndham) only missing the cut at the US Open. During that time he averaged  3+ SG T2G. Here's hoping that aspect of his game is in great form this week. If so, it could carry him to a top 5 finish this week.
Cam Davis $8,100
After four straight MC to begin the restart, Cam Davis has been red hot. He was 12th at 3M, 15th at Wyndham, 29th at Northern Trust and 36th Safeway. He's been excellent OTT and with APP shots. He was 28th here last year, gaining 4+ strokes T2G and APP. Plus he ranks out #1 in our model.
Cameron Tringale  $7,300
Tringale has not golfed since the Safeway where he missed the cut, but did take 3rd at the 3M last season. He is not as consistent as some of our other golfers, but when putting together the key stats, he fits the mold. He is great at par 4s 400-450, which we will see a lot of this week, and has 2.7 strokes on approach against the field the last 5 events. Tringale is a low end up with high upside.
Adam Schenk $6,700
Although he's been a cut-making machine since the restart, Adam is yet to crack the top-20. We think with the weaker field this is his week to do it. Bermuda ranks out to be his best putting surface, and with a solid all-around game in good form, we think the odds will be in his favor.