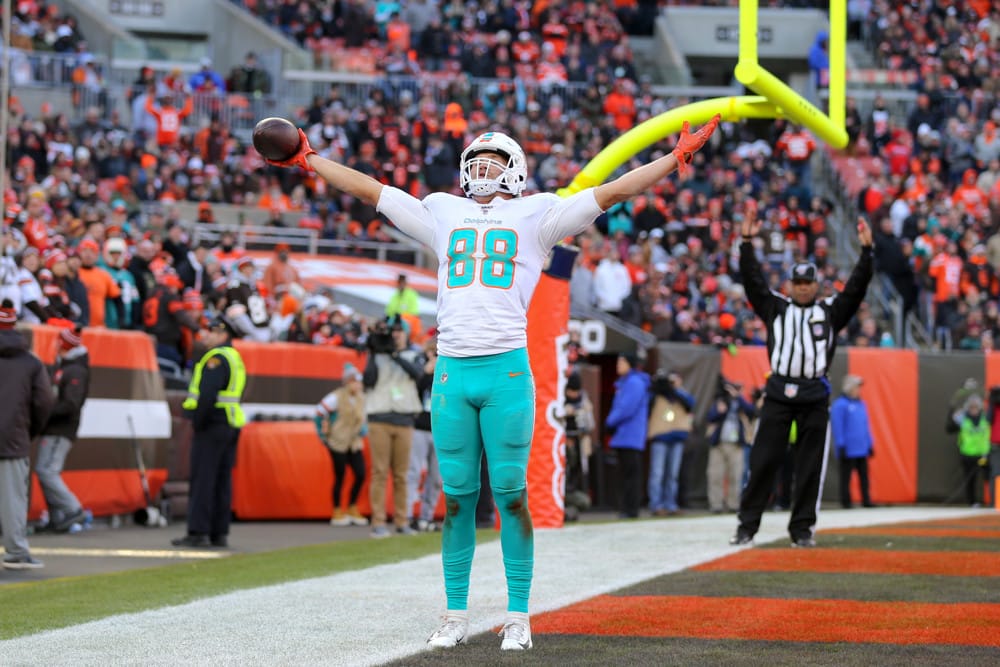 It's Minshew mania squaring off against old Fitzmagic in Jacksonville this Thursday night. On display will be two offenses coming off of emotional Week 2 performances. Both will be looking for a more positive outcome as the clock strikes zero for Thursday Night Showdown Picks. 
Click here to enter the #DegensOnly Showdown for FREE. Winner will get $100 cash and a chance to share their DFS lineup on air. 
This slate has far more to offer than what it would seem on the surface. Each team has a couple of under the radar players that could cause wild swings in tournament standings. Each also has a few veterans that have been found lacking in fantasy production that could make Week 3 their turnaround point of the season. Whatever the case, the options for this showdown make this a fun slate to build and the options are vast. You have a solid chance at building a unique lineup this week if you are willing to go out on a limb.
As always, the players below are not meant to be considered a "core four." These are simply players to consider as you are building your lineups. Play one, play them all, it is entirely up to you. Our job is to help you see the reasoning behind selecting these players and how they can help you win. As always, we wish you luck on your DraftKings Thursday Night Showdown Picks. 
Thursday Night Showdown Picks
Laviska Shenault Jr. – Captain $9,900; Flex $6,600: WR Jacksonville
Looking like a younger Cordelle Patterson, Shenault has emerged as a Swiss Army knife for Jacksonville. To begin the season, the 42nd pick in this year's draft has taken snaps as a wideout and a rusher. In fact, he has taken the third most snaps of all the Jaguars wide receivers. Shenault has seen the field on just over 59% of the offensive plays of the year. He's behind D.J. Chark and Keelan Cole, while considerably ahead of Chris Conley. 
Shenault all but matched his week one output catching three of his four targets for the second week in a row. He also was only two yards shy of his 37 yard performance. The difference last week was his five carries for 37 yards. In fact, in the first half, he looked like the more explosive running back for the Jags. His route running was crisp and he was there when his quarterback needed, both outstanding building blocks.
Good afternoon to Laviska Shenault and absolutely nobody else pic.twitter.com/vVbDE38MDM

— Ian Hartitz (@Ihartitz) September 22, 2020
Look for Gardner Minshew to pay more attention to his new playmaker. Especially against a Miami defense that allowed over 400 passing yards against Buffalo last week. Even more if D.J. Chark misses any time as his questionable tag suggests. He's priced to move and will allow for a wide variety of roster options including two quarterback lineups. 
Looking for a free shot at millions of dollars in prizes? Download the DraftKings app and use promo code SGP
Mike Gesicki – Captain $11,100; Flex $7,400: TE Miami
The tight end position in the league is a now a bit deeper over the last two weeks. Gesicki is proof positive of this as his performance against the Titans was one of several outstanding outings by a tight end. Ryan Fitzpatrick looked early and often to his big pass catcher. 
https://twitter.com/NFL/status/1307768392737198080
The connection saw another seven completions on a total of 11 targets, the most of any eligible Miami pass catchers. All told, he finished the day with 130 receiving yards and a touchdown. What makes his Week 3 potential even more encouraging is his usage on the Dolphins last drive of Week 2. Gesicki was targeted three times down the stretch and cashed them all in for plays of 19, 12, and ultimately his 8-yard touchdown reception.
Miami's receiving corps is thin once you get past DeVante Parker. Gesicki is surging at the right time. The Jaguars defense allowed Jonnu Smith to find the end zone twice last week. His stock is high and should be a consideration for the captain slot this week. 
Isaiah Ford – Captain $4,500; Flex $3,000: WR Miami
The case for Ford is not difficult to make. Last week, with a banged up DeVante Parker on his flank, he snared seven of his nine targets for 76 yards. He outgained his fellow pass catchers with the exception of Gesicki. While Parker may on paper be healthy for this week's matchup, Ford has proven his worth. Not to mention, with Parker back at full strength, it could draw even more attention away from Ford. This has the potential for another solid return on your investment.
His $3k price tag brings with it the possibility of a number of opportunities to build a profitable roster. It is worth it in a least a few of your lineups this week to have shares in the third year wideout. There is a real possibility of him finding the end zone against the Jags much like Adam Humphries and Corey Davis did in Week 2.  
James O'Shaughnessy – Captain $2,400; Flex $1,600: TE Jacksonville
If you are looking for a dart throw with upside, O'Shaughnessy is your play. We know he and Tyler Eifert are in a battle for touches at tight end. We also know that he only has one productive game this season. And yes, Eifert found the endz one to boot. But, consider that Eifert is more than $4k more than his teammate. Add to that, without the touchdown they had all but equal days.
LB Myles Jack, TE James O'Shaughnessy lead Jags with top PFF grades vs. Titanshttps://t.co/yxGK41iCRX

— The Jaguars Wire (@TheJaguarsWire) September 23, 2020
Of course this is not a slam dunk play, but it is one that may differentiate you from the rest of the pack. It will also leave you with all the cap room you need to stack your roster without the risk of taking a complete zero. Minshew loves to spread the love and it could very well be O'Shaughnessy's turn in the touchdown roulette game. You may not feel comfortable with him in your main line, but he is certainly a fun piece to throw into a multi-entry contest just to see what happens.   
Compete against your fellow degenerates in the #DEGENSONLY SHOWDOWN! Winner will get $100 cash and a chance to share their DFS lineup on air.
Sign up at DraftKings.com using promo code SGP, if you're not in DraftKings already.
SCREENSHOT you submitting a five star review on any of our feeds Sports Gambling Podcast, Sports Gambling Podcast Network, The College Experience, NBA Gambling Podcast, Soccer Gambling Podcast.
Fill this form out.
Get a link to enter the Thursday Night Showdown contest for Miami Dolphins at Jacksonville Jaguars and submit your lineup. COMPLETELY FREE TO ENTER!
Thursday Night Showdown Picks Related Articles
Fantasy Football Week 3 Rankings – SGPN Consensus