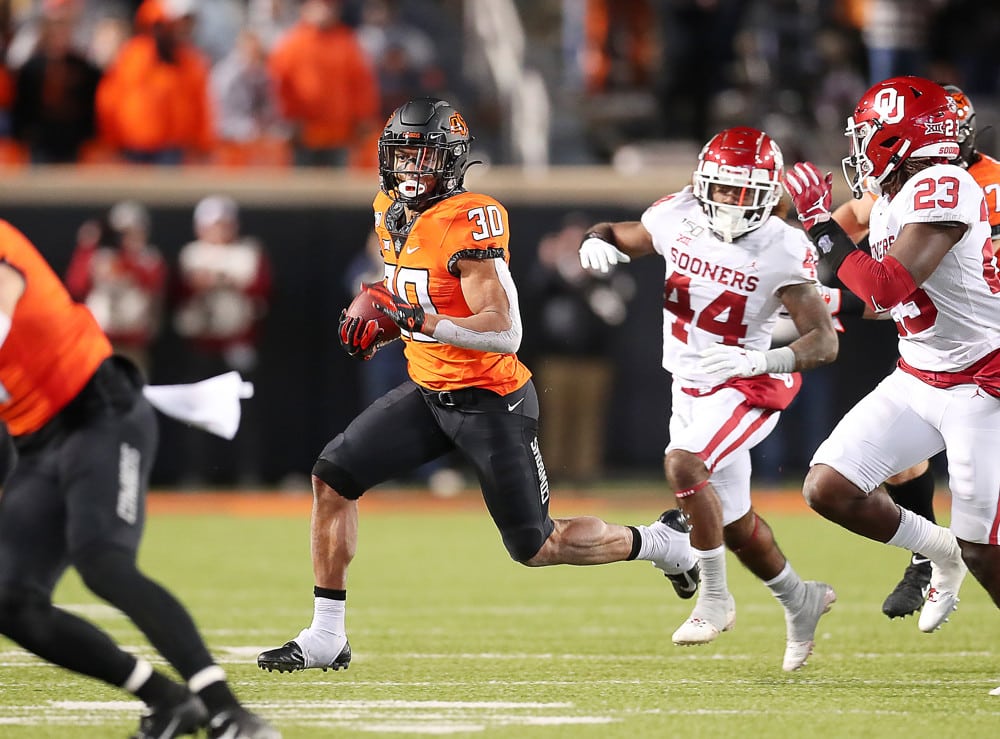 If you regularly play NFL Daily Fantasy Football, but haven't yet dabbled in College Football DFS, you are missing out. It offers the same level of fun, excitement, degeneracy, and potential profit.
A lot of the same strategies apply in College Football DFS. Pay attention to high game totals where offense will be in abundance. It's wise to include a QB-WR/TE stack where you can take double advantage of a favorable matchup. Be cognizant of game script. For example, Clemson plays the Citadel this weekend.  While their starters will put up big numbers in the first and second quarter, they'll play conservative in the 2nd half and bring in backups.
Looking for a free shot at millions of dollars in prizes? Download the DraftKings app and use promo code SGP
College Football DFS Week 3
QBs
Top Picks:
Micale Cunningham (night), Louisville ($7,700)
Fresh off throwing for 343 yards and 3TD's against the Hilltoppers of Western Kentucky, Micale Cunningham will now face a step up in competition vs the Miami Hurricanes. Even with a better D coming into town, expect Cunningham to get his. If you want to pay up for a QB in the night slate, he's not a bad choice. However, I plan to go after cheaper QB's and save some coin for other positions.
Charlie Brewer (afternoon), Baylor ($8,000)
All signs are pointing towards a shootout in Waco on Saturday afternoon as the game's O/U sits at 62.5. Brewer is now a senior with a Mike Leach disciple as the new head coach. Expect Baylor's offensive style to favor the pass much more than it did under Matt Rhule a season ago. Brewer and his receivers will be the beneficiary of the change in style and he'll throw for 300 with a couple TD's.
Best Bargains:
Chase Brice (afternoon), Duke ($6,800.00)
Much like the night slate, I'll be planning on spending less at the QB position so I can spend more on the skilled guys in the afternoon. The Clemson transfer had a solid opening game against a tough Notre Dame defense throwing for 269 yards and running for a TD. Expect similar yardage and a couple TD's in the air against the lesser BC Defense. The Golden Eagles have also yet to play a game while Brice and the Duke offense should be sharper with a tough road battle already under their belt.
Brady McBride (night), Texas State ($6,900.00)
McBride was unavailable in week 2 due to Covid, but he was apparently back at practice on Tuesday. This is a situation to monitor, but I want shares of whoever is playing QB for Texas State. In Week 1 against SMU, McBride threw for 227 and a coupe TD's. Last week, his backup Tyler Vitt ($7,100) threw for 346 and 4 TD's vs UTSA. Wait to see who gets the starting nod and go with that guy.
RELATED
College Football ATS Week 3 Picks
RBs
Top Picks:
Chuba Hubbard (afternoon), Oklahoma State ($8,500)
Hubbard may be the top running back in nation. In 2019, he only ran for 2,094 yards and 21 TD's including a whopping 256 yards and 3TD's against the Golden Hurricane. Tulsa is a finesse team that has no answer for Chuba. Pay up here and make this man the cornerstone of your afternoon lineup.  if you need more convincing check the highlights from last year:
Cam'Ron Harris (night), Miami ($8,500)
We last saw Harris running roughshod over the UAB Blazer defense. Expect more of the same against Louisville Saturday night. The Cardinal gave up a 119 rushing yards to Western Kentucky so I firmly believe Cam'Ron will eclipse the century mark again.
Best Bargains:
Marcus Williams (afternoon), App State ($4,800)
It's a crowded backfield in Boone with up to three RB's receiving a significant amount of touches, but Marcus Williams is the most dangerous. He's a threat to take it to the house every time he touches the ball. Taking a flyer on this Mountaineer could really pay dividends.
Josh Johnson (night), ULM ($5,900)
Johnson could hardly do anything in ULM's opening game against Army. In his defense, the entire offense couldn't do anything. He only received 12 carries (10 more than ULM's second RB) for 38 yards while catching two balls for four yards. Pretty ho hum, right? Well, last year Johnson ran for almost 1,300 yards and 11 TD's. He had 7 games where he surpassed 100 yards and he now goes against a Texas State defense that let UTSA's lead back run for 197 yards and SMU's lead back run for 130 yards. Sign me up.
WR/TEs
Top Picks:
Tylan Wallace (afternoon), Okla State ($7,700)
The O/U for the Tulsa/Okla St game is the highest for any of the FBS vs FBS matchups on Saturday. I'd have no qualms with taking the rare RB/WR stack with Wallace and Hubbard. Before a knee injury last year, Wallace had over 900 yards and eight TD's through nine games. Expect him to pick up where he left off.
Tim Jones (night), Southern Miss ($7,000)
He's the most expensive receiver in the night slate of games and for good reason. As the #2 option a year ago, Jones totaled over 900 yards and 3TD's. In his first game this year, as the WR1 against South Alabama, the explosive wideout caught 6 balls for 139 yards. He also caught 5 balls for 80 yards against this same opponent last year in a game where So Miss threw for over 325 yards.  Check my man's highlights from a year ago:
Best Bargains
Keith Corbin (afternoon), Houston ($4,900)
I want some pieces of Houston's offense so I am all over Corbin at this price. He played in one game last year where he had over 60 yards and a TD before redshirting. Back in 2018, he accumulated over 690 and 10 TD's. He's a now a senior and should be WR1A (with Marquez Stevenson-$6,900) for an offense that wants to throw the ball often.
Kobe Clark (night), Abilene Christian ($5,300)
We're dipping into the FCS player pool with this selection. Clark was the #2 option for the Wildcats last year catching 87 balls for 777 yards and 3 TD's. Due to graduation, he should now be the premier wide out for AC in a game against Utep where they should be able to score some points. He's a possession receiver (caught 11 balls against Mississippi St last year) and we are playing PPR.
Looking for a free shot at millions of dollars in prizes? Download the DraftKings app and use promo code SGP
College Football DFS Related Posts
Miami (FL) vs Louisville Preview | The College Experience (Ep. 277)
College Football ATS Week 3 Picks