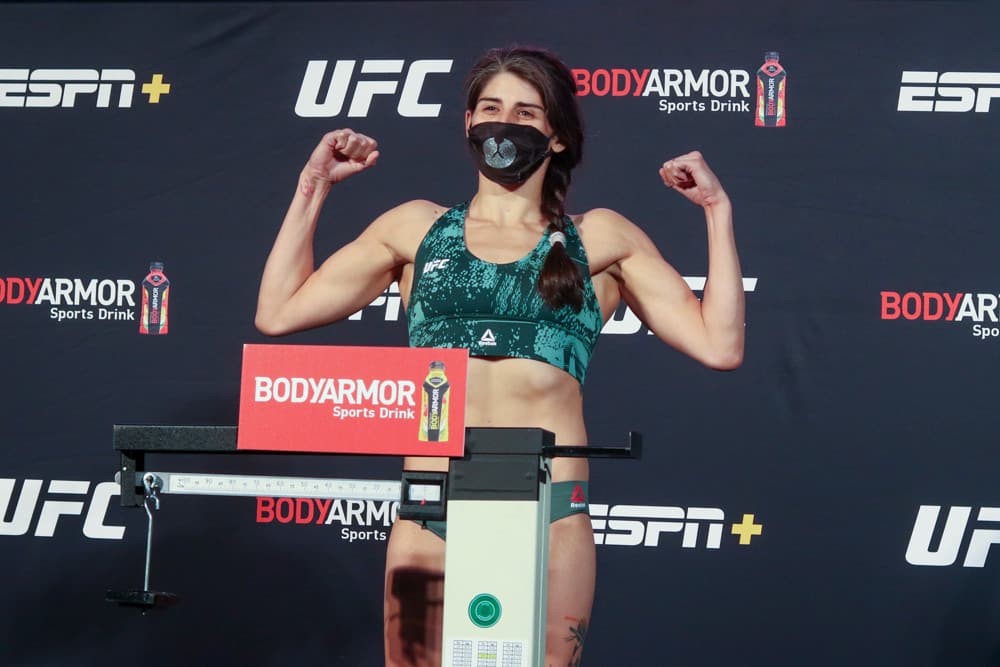 When you're hot, you're hot. And I'm hot right now, going 13-2 on my UFC picks over the past two events. Time for a "market correction"? Or am I just a genius now? This Saturday's UFC Fight Night: Waterson vs Hill will go a long way to determine that.
Here are all the winning picks (with maybe one or two losses thrown in to keep things interesting).
All odds courtesy of MyBookie
UFC Fight Night Predictions
Michelle Waterson (-110) vs Angela Hill
This fight was originally scheduled for the UFC Fight Night co-main event, but was bumped up to a five-round main event when the Thiago Santos-Glover Teixeira fight got cancelled. It's a tight fight at the bookmakers, with 'The Karate Hottie' a slight -110 favorite over Overkill at -120. I'm going with the favorite, Waterson, due to her superior grappling and superior resume against top talent.
Ottman Azaitar (+100) vs Khama Worthy
I'm rolling the dice early and taking the underdog in the co-main event and riding with Ottman Azaitar. He's got many of the factors in his favor that decides the winner of fights – he's younger, has superior striking stats and comparable (ie none at all) grappling to Khama Worthy. It also helps that he's 12-0 and has finished 11 of those victims.
Andrea Lee (-310) vs Roxanne Modafferi
Andrea 'KGB' Lee is the pick here (no, she's not Russian – she just looks like she is, hence the nickname). She's got all the advantages in this matchup – she's seven years younger, is the better striker, and has the grappling chops to stifle Roxie's strong ground game.
Mike Rodriguez (-245) vs Ed Herman
'Slo Mike' is a big favorite over grizzled veteran 'Short Fuse' on Saturday, probably due to being eight years younger and having five inches of reach in his favor. He's finished all 11 of his pro victories, with nine coming via (T)KO, and Herman is 40 years old and not immune to being KO'd, so it might be worth a prop bet here.
Bobby Green (-265) vs Alan Patrick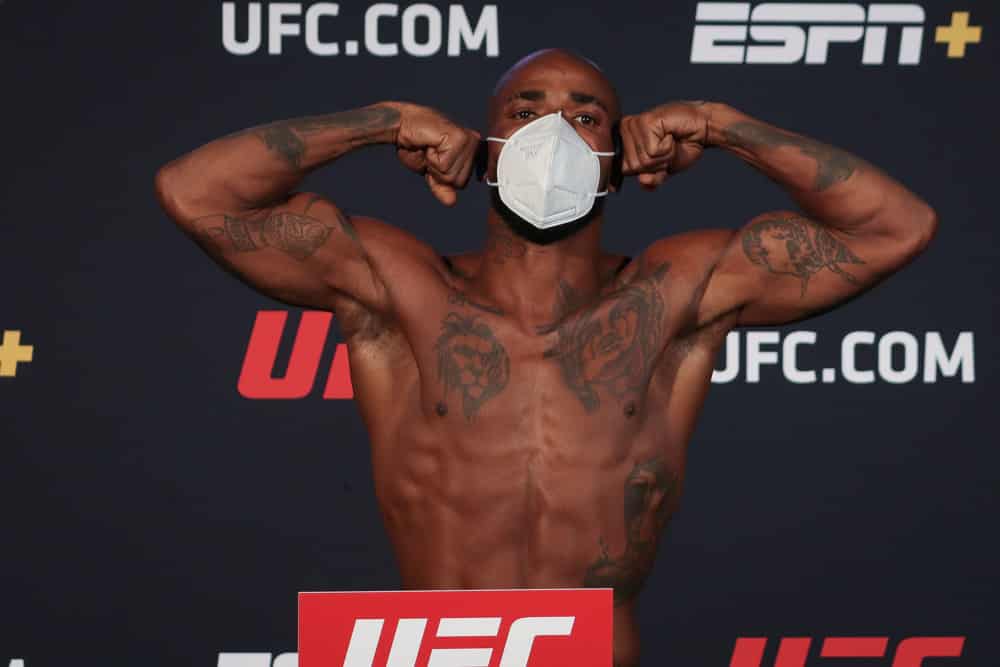 Alan Patrick has been on the sidelines for two years,  so that's the first red flag here. Plus 'King' Bobby Green has been on a roll of late and is a way better striker. His constant pace will not be good for Patrick, whose gas tank will surely not be good after all the time on the shelf.
Billy Quarantillo (-260) vs Kyle Nelson
Going with a large favorite again in this featherweight matchup. Billy Q has been quite impressive since debuting in the UFC late last year, going 2-0. His opponent on Saturday, Kyle Nelson, finally won his first UFC fight last time in the cage after dropping his first two. Quarantillo is the pick in this one as he's the better striker as well as grappler.
Julia Avila (-305) vs Sijara Eubanks
Speaking of scary KO power, Julia 'Raging Panda' Avila has turned the lights out on four of her eight professional victims. Saturday's opponent, Sijara Eubanks, is a very pedestrian 5-4 as a pro, but has never been knocked out. So Avila via decision is the way to go here.
Alexander Romanov (-275) vs Roque Martinez
This one was added very last minute, but 'King Kong' Alexander Romanov was supposed to fight last week before his fight fell through shortly before fight day. He enters the UFC heavyweight division with a perfect 11-0 record, and I expect it to be 12-0 come Saturday night.  Romanov who represented Moldova in wrestling, has wicked ground and pound and chokes, and I see that carrying him to victory over fellow newcomer Roque Martinez.
Jalin Turner (-315) vs Brok Weaver
This was supposed to be Frank Camacho beating Brok Weaver on Saturday, but he had to pull out on Friday. But I still expect the same result, as Jalin Turner is much better than Weaver, whose only UFC win is via a disqualification.
Bryan Barberena (-265) vs Anthony Ivy
'Bam Bam' Barberena has lost his last two, and four of his last six, but he's got a favorable fight this week against Anthony Ivy. I guess the -265 line hints at that. Ivy got pieced up in his UFC debut, getting TKO'd, and Bam Bam can bang (hence the nickname), so it might be worth splashing some dough on the KO parlay.
Sabina Mazo (-250) vs Justine Kish
'The Colombian Queen' is the one to go with in Saturday's curtain jerker. She's superior to Justine Kish in all aspects of the game, as well as being much bigger and much younger. Easy pick.
UFC Fight Night Overall Results 
Record: 122-71
Earnings:  $651.42
Return on Investment:  3.4%