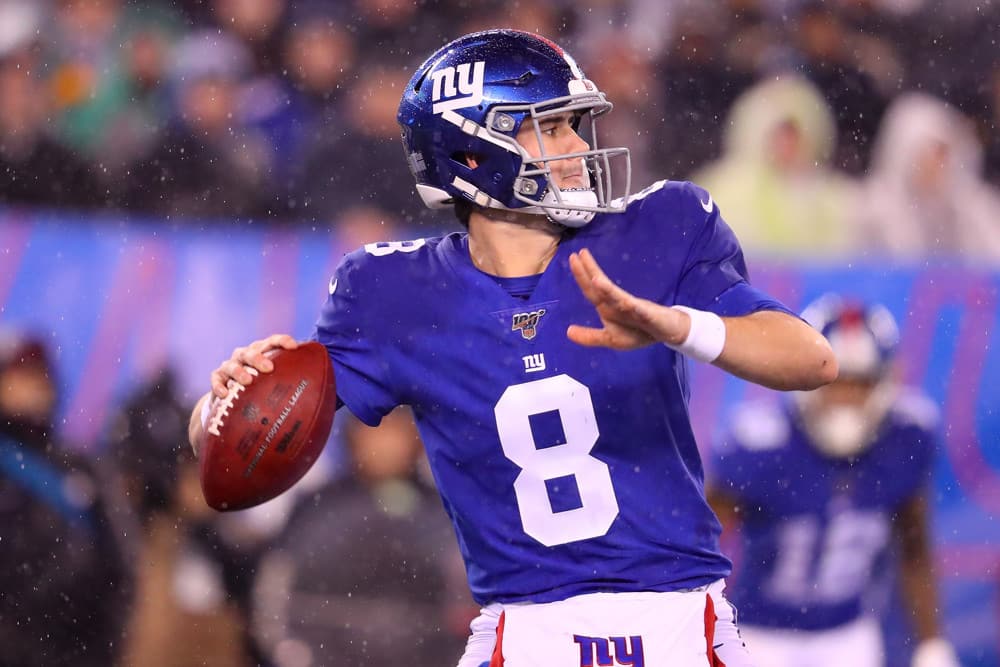 With the NFL season right around the corner, it is time to get your player props in before it is officially too late. While most positions can be a bit unpredictable, the quarterback spot can deliver a bit less variation since the ball will be in his hands on almost every single play. However, oddsmakers still have to release lines for quarterbacks based on projections and those lines can be a bit off at times. As a result, let's breakdown some of the quarterback props that possess the most value in the betting markets.
Check out our FREE Fantasy Football Draft Kit!
Daniel Jones, New York Giants
Pick: Under 26.5 Passing TDs (-128)
Daniel Jones made quite an impact on the New York Giants after taking over the starting quarterback job in the middle of the regular season last season. In 13 games, he recorded 24 passing touchdowns along with 3,207 passing yards. However, he also got injured and missed a few games at the end of the season which makes me question his durability over the course of 16 games with New York's below average offensive line protecting him.
He was also set up to throw the ball a lot more last season due to the injury to star running back Saquon Barkley so I can see the Giants running the ball a lot more in the red zone in 2020 in comparison to 2019. Jones has the talent to put together a great season but he has some issues when it comes to turning the ball over and he takes a lot more hits than he should be taking as a starting quarterback so I expect him to miss a few games for the second straight season which makes this number a bit too high for me.
Teddy Bridgewater, Carolina Panthers
Pick: Over 18.5 Passing TDs (-110)
The Carolina Panthers made a bit of a splash during the offseason when they signed quarterback Teddy Bridgewater to a three-year contract. As a result, Bridgewater got paid starting quarterback money and he will be holding the keys to Carolina's offense for several years. Carolina had a ton of disastrous options behind center last season and Bridgewater has been reliable with his decision-making over the corse of his career so I expect the coaching staff to put a lot of faith in him for all 16 games.
Carolina is also projected to be one of the worst football teams in the league this season so there should be a lot of garbage time opportunities for Bridgewater to pad his statistics. In order to go over this number, Bridgewater has to throw about 1.19 passing TDs per game and I think that he should be able to surpass that mark due to the large amount of attempts that he will be given in the fourth quarter of meaningless games. I expect him to finish the regular season with at least 20 passing touchdowns as a result.
Joe Burrow, Cincinnati Bengals
Pick: Over 21.5 Passing TDs (-106)
The Cincinnati Bengals were rewarded for being the worst team in the league last season as they were able to select quarterback Joe Burrow with the number one overall pick in the 2020 NFL Draft following his Heisman Trophy campaign. While some teams ease rookies into the NFL life, the Bengals are not one of them as they have already announced that Burrow will be the week one starter. As a result, he should be given 16 weeks to throw at least 22 passing touchdowns which makes me believe that this number is far too low.
Cincinnati is projected to be one of the worst teams in the league this season despite possessing a very solid group of wide receivers so I can see Burrow putting up some big numbers in 2020. Regardless of point differential, the Bengals have accepted the fact that their franchise quarterback will need reps in order to progress so I do not expect him to get benched at any point barring a massive deficit late in the fourth quarter. As a result, I expect Burrow to have a lot of opportunities to throw the ball into the end zone so I think that this total is too low.
Carson Wentz, Philadelphia Eagles
Pick: Under 27.5 Passing TDs (-110)
Carson Wentz enters this season following an impressive 2019 campaign in which he threw for 4,039 passing yards along with 27 passing touchdowns. However, the most impressive part was the fact that he played in all 16 games for the first time since 2016. Wentz has been known for being an extremely talented yet injury prone quarterback ever since he came into the league and he has already been dealing with a soft tissue injury in camp so there are some concerns about his durability leading up to the 2020 regular season.
Wentz has missed eight games over the past three seasons combined and his offensive line is getting older so one should be a bit worried about his ability to take big hits in the pocket throughout an entire NFL regular season without getting injured. As a result, that soft tissue injury worries me and I do expect Wentz to eventually get injured once again in 2020 which will make this total extremely difficult to surpass.
Jimmy Garoppolo, San Francisco 49ers
Pick: Under 26.5 Passing TDs (-133)
Despite making it to the Super Bowl last season, Jimmy Garoppolo got a bit exposed during that playoff run as he was reduced to nothing more than a game manager. However, that actually worked out well for the 49ers as they were able to use their elite rushing attack behind that fantastic offensive line to an NFC Championship. As a result, I expect to see San Francisco stick to that offensive gameplan in 2020 as it should rely heavily on the run before opening up some passing plays via play action which will lead to less opportunities for Garoppolo.
Last season, Garoppolo had 27 regular season passing touchdowns so one might think that this number is pretty accurate. However, he threw eight passing touchdowns in two meetings against the Cardinals which helped boost his numbers and that luxury should not be available for him in 2020 since Arizona's defense looks much improved. Plus, a lot of quality weapons from last year's team are not available as Emmanuel Sanders went elsewhere while Deebo Samuel should miss the start of the regular season due to injury so Garoppolo should struggle a bit more finding open receivers.
Check out our FREE Fantasy Football Draft Kit!