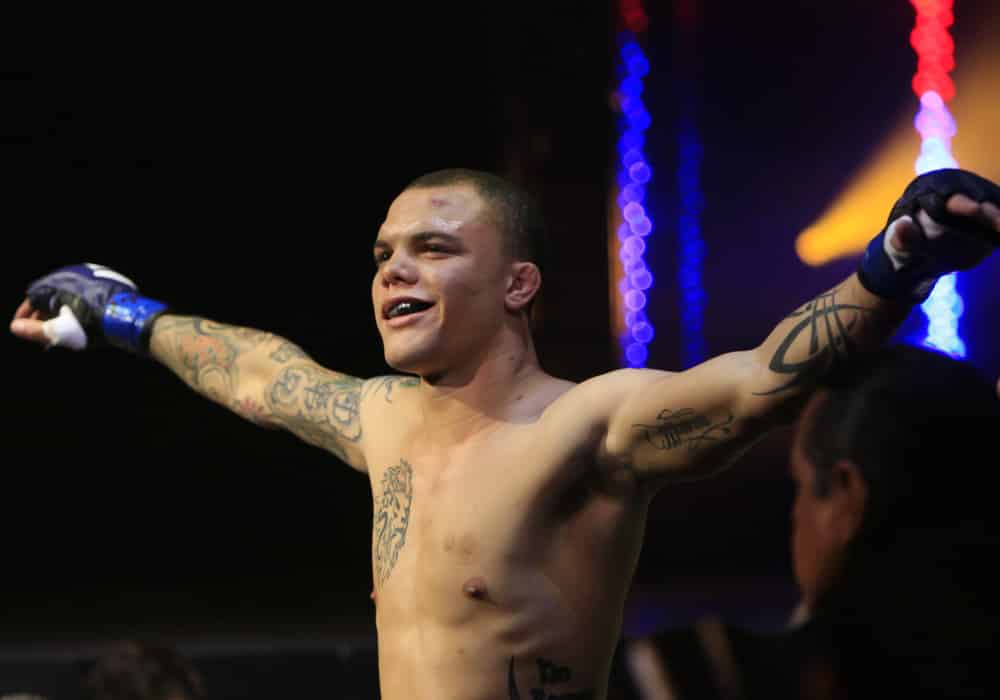 In these turbulent times, at least one thing is certain – if it's a Saturday, there is going to be UFC. And this Saturday is no different. UFC Fight Night: Smith vs Rakic goes down from the UFC Apex gym on the company's campus in Las Vegas. While the fight lineup isn't awe inspiring, it features an interesting mix of veterans and octagon newbies. That does make for some fun DFS lineups, so let's do some DraftKings MMA Picks!
Here are my winning DraftKings MMA Picks for this week. Guaranteed to win you money (please note: results are not guaranteed, void where prohibited, some assembly required, beware of dog, may cause drowsiness).
RELATED
UFC Fight Night: Smith vs Rakic Odds and Picks for Every Fight
Sean Brady – $9,300
I look to the curtain jerker of the night for my big money pickup this week. Sean Brady is a superb welterweight prospect, with a 12-0 pro record to prove it. That includes winning his first two fights inside a UFC cage. First he beat veteran Court McGee for 110 points, then, as an underdog, he bested fellow prospect Ismail Naurdiev, scoring 92 points for his owners. While Saturday's opponent Christian Aguilera is good, he'll need the help from a genie in a bottle to beat Brady (see what I did there?! good, right?!)
Mallory Martin – $8,900
$8,900, at first glance, might seem like a hefty fee for a 0-1 UFC fighter coming off a big 4.5 point performance in her UFC debut. But hear me out. Mallory Martin fought grappling wiz Virna Jandiroba in her first UFC fight last December, so no shame in being tapped out by her. And her opponent this weekend, Hannah Cifers, is smaller than Martin and has lost three straight. So I think MM can come through and earn her worth.
Looking for a free shot at millions of dollars in prizes? Download the Draft King's app and use promo code SGP
Impa Kasanganay – $8,500
Impa Kasanganay just punched his ticket to the big show a couple of weeks ago on Dana White's Contender Series, so this is a quick turnaround for him. But he's got what it takes to beat 'Cocount Bombz' Maki Pitolo, superior nickname aside. Kasanganay is a well rounded fighter with a great gas tank, while Pitolo is a slugger who fades as fights go on. Advantage Kasanganay.
Polyana Viana – $8,000
Polyana Viana's nickname is 'Dama de Ferro', which translates to Iron Maiden, so obviously we have to take her, right? She's been a complete bust in her last three UFC fights, but got 119 points in her debut fight, so there's promise here. Plus she's bigger and a better finisher than her opponent this week, Emily Whitmire.
Alessio Di Chirico – $7,800
Similar to the Viana-Whitmire matchup, Alessio Di Chirico vs Zak Cummings is also pretty much a pick 'em on the board. I like Di Chirico ever-so-slightly to win the fight due to his better striking and grappling stats, and as a bonus he's cheaper than Cummings on DraftKings ($8,400 to $7,800).
Anthony Smith – $7,500
'Lionheart' Anthony Smith got absolutely demolished in his last octagon appearance by Glover Teixeira, in a fight most people criticized for not being stopped in time (Smith took a horrific beating). But, assuming he's not permanently damaged, I think he's a better all around fighter than Aleksandar Rakic. Plus my lineup is out of money, so….
RELATED
UFC Fight Night: Smith vs Rakic Odds and Picks for Every Fight
Looking for a free shot at millions of dollars in prizes? Download the Draft King's app and use promo code SGP