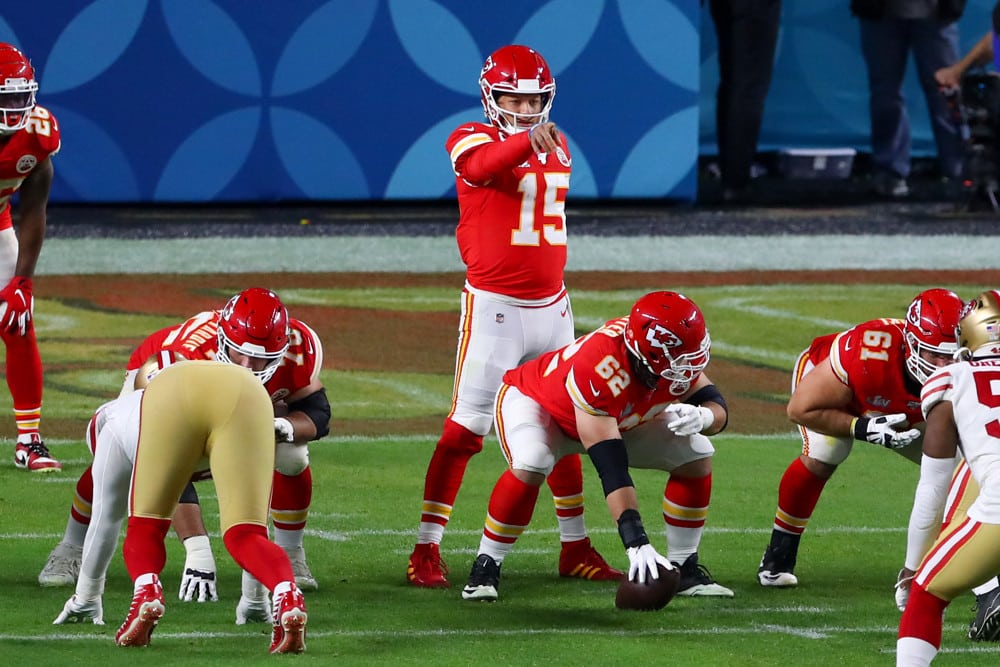 Way back in early May the NFL scheduled was released as were the opening lines. Of course, yours truly wrote a "Never Too Early" article previewing the full slate which can be found here.
Well friends, a lot has happened in the three plus months that have followed. First, a whopping 66 total players have opted out of the 2020 season due to concerns over the Covid-19 pandemic. Other than that, let's see…Cam Newton is a Patriot, Tua is apparently healthy, and there's been a handful of early injuries.
Of course there has been some line movement since the release and totals are now also available. So let's take another look at NFL opening week which is only a little over three short weeks away. Hallelujah!
Houston Texans @ Kansas City Chiefs
Opening Line: Chiefs – 10.5
Current Line – Chiefs -10 / Total: 54.5
Initial Pick: Texans
Apparently, I was on the side of the early money as the line has dropped by a 1/2 point since the initial release. I still feel good about The Texans covering the large spread but it's possible that the fraction of a point might even come into play. Hopefully you got in early and got the hook. I'm still going Texans.
The 54.5 over/under is the largest total of the week and by a wide margin (second highest is 50 in the Cowboys/Rams game). In the 13 games that Mahomes started last year, final scores only went over 54.5 five times. Similarly, only four of the sixteen Texans games went over this game total. This is a repeat of week six last year that saw the Chiefs beat the Texans 31-24 (55 points total) but I expect less scoring this go around. This has been the most bizarre offseason in the history of the league. Teams won't be coming out of the gates firing on all cylinders. I love the Under here.
Seattle Seahawks @ Atlanta Falcons
Opening Line: Seahawks – 1.5
Current Line: Seahawks -1 / Total: 49
Initial Pick: Falcons
Another game where the line has moved down a ½ point. I initially leaned Falcons and I see no reason to change. As mentioned previously, the Falcons may have only went 7-9 last year but they won their last 4 games and are carrying momentum into the new season. I'm still taking the home dog but it should be noted that this is one of my least favorite picks of the week. Give me the Falcons.
We have another inflated total here which leaves me leaning Under again. The average total score of games in 2019 was just over 45.5 (slightly down from 2018). I expect it to dip again in 2020. Plus, these teams played each other last year in Atlanta (week 8) and the Seahawks won 27-20 (47 total points). Give me the Under.
New York Jets @ Buffalo Bills
Opening Line: Bills – 6.5
Current Line: Bills – 6 / Total: 40
Initial Pick: Bills
First game where my initial pick was on the wrong side of the line movement. I get it. It's a conference game and people are thinking the Bills are receiving a bit too much hype. The Bills and Jets split the series last year, with the Bills winning by only a point in NY and the Jets winning 13-6 in week 17 (with a handful of Bills sitting out, including Josh Allen). Well I am throwing caution to wind and riding Buffalo dammit. I'm still going Bills. Expect a defensive or special teams touchdown that pads the margin of victory in Buffalo's favor.
Offensive output was hard to come by in the two Bills/Jets games last year (final combined scores of 33 and 19 points only). However, I expect the Bills offense to be improved in 2020 and the Jets are at least somewhat competent when Darnold is healthy. Buffalo wins 24-17 and we squeak out the Over. This game is a prime candidate to tease the line down and the total down.
Chicago Bears @ Detroit Lions
Opening Line: Lions – 1
Current Line: Lions – 1.5 / Total: 44
Initial Pick: Bears
Call me crazy for picking the road team in a divisional game, but how important will home field advantage be this year anyway? As I mentioned months ago, the Bears have won four straight against the Lions and their defense will be the best unit on the field. Plus, I'm all about fading Matt Patricia especially against a team he is 0-4 coaching against. Go Bears!
Over the last four Bears/Lions games, only once has the total exceeded 44 points. I like the low scoring affairs to continue. Bears win 23-20. Give me the Under.
Green Bay Packers @ Minnesota Vikings
Opening Line: Vikings – 3.5
Current Line: Vikings – 3 / Total: 46
Initial Pick: Packers
Back in May, I felt great about getting the Packers and more than a field goal. While I like 3.5 a lot more than 3, the slight movement isn't changing my pick. Green Bay swept the Vikings last year and this should be a close one. Give me Aaron Rodgers and the Packers.
46 points seems a bit high for me here. Both games last year didn't get anywhere close to 46 total points and I'm expecting a pretty sloppy week 1 across the board. Give me the Under again. Notice a trend here?
Miami Dolphins @ New England Patriots
Opening Line: Patriots – 6.5
Current Line: Patriots – 6.5 / Total: 43.5
Initial Pick: Dolphins
We finally have a game where there hasn't been line movement. While we've seen a lot of hype on the Cam to NE move, I am taking more of a wait-and-see approach. Arguably more importantly is the list of Patriots who have decided against playing this year which includes Dont'a Hightower and Patrick Chung. As long as Miami gives the nod the Ryan Fitzpatrick to start the season, I am taking the points. I'm also considering a money line wager on the 'Fins. Go Miami.
With all the uncertainty surrounding this game, I don't like either side of the total. Twist my arm and I'll continue my theme of picking Under.
Philadelphia Eagles @ Washington ???
Opening Line: Eagles – 5.5
Current Line: Eagles – 6 / Total: 44
Initial Pick: Redskins
So I initially picked a team that no longer exists. That's how much can change in a few months. How can I get behind a team that doesn't have a name let alone a decent QB. While I like the potential of Washington's D, the offense has way too many holes to put my hard-earned money behind. I'm officially switching my pick to the Eagles as a single tear falls down my face. Feels like I'll be on the side of the public but even the public gets a game correct occasionally, right?
The Unders train continues to roll down the tracks.   Both of the 2019 Eagles/Redskins (I can say Redskins since it was last year…please no angry tweets) games went well above 55 points but this is a new year. Eagles win 24-14.
Las Vegas Raiders @ Carolina Panthers
Opening Line: Panthers – 1
Current Line: Raiders – 1.5 / Total: 47
Initial Pick: Raiders
This matchup of potential cellar dwellers has incurred the most line movement and I've gone back and forth myself. I feel like Carolina will be improved but it will take some time. A new coaching staff, a new quarterback, and a defense that may be the worst in the league, doesn't bode well for week 1. A steady dose of Josh Jacobs should be enough to lead the Raiders to victory. Go Vegas.
We have a fairly high total here but give me the Over. I wouldn't be surprised to see a final score of Raiders 30, Panthers 20.
Indianapolis Colts @ Jacksonville Jaguars
Opening Line: Colts – 7
Current Line: Colts – 7 / Total: 44.5
Initial Pick: Colts
While I don't love laying a TD in a divisional game on the road, I'm staying with my Colts. I expect big things in Indy this year and they'll start the season on the right foot. The Jags offense will be feisty but the defense will struggle mightily. Colts win by double digits.
The Indy offense has the potential to put up 30 themselves so I'll take the Over. Indy wins 30-17 and I'm cashing tickets.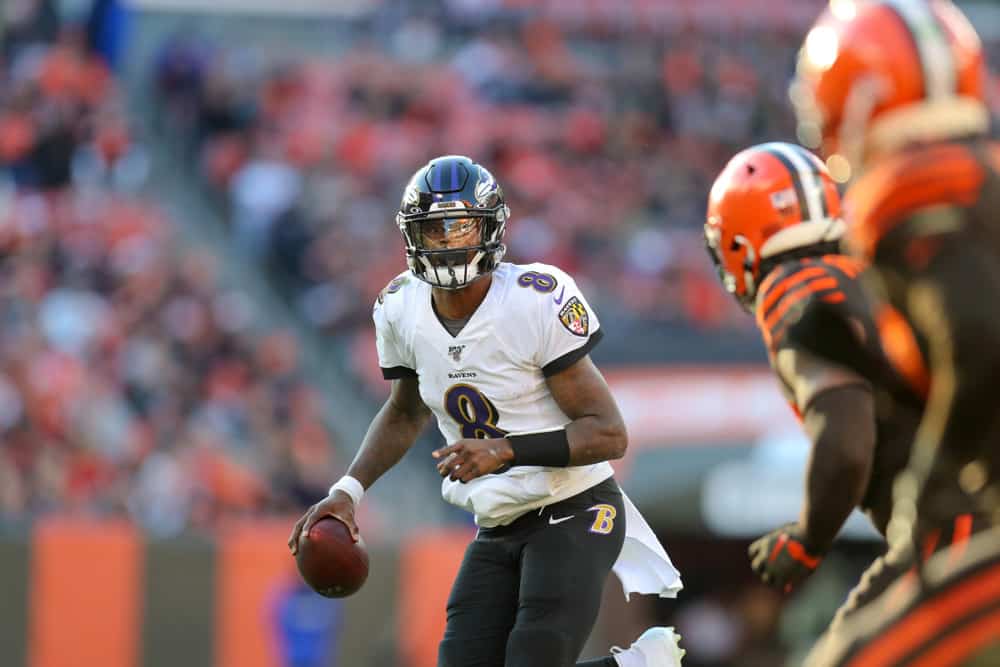 Cleveland Browns @ Baltimore Ravens
Opening Line: Ravens – 9
Current Line: Ravens – 8.5 / Total: 48.5
Initial Pick: Ravens
I'm going to switch sides on this and follow the early money. The Ravens rushing game is due for a bit of regression this year and the Browns will be improved. They may have an actual head coach this year. I expect the divisional game to be close so I'll grab the points. Ravens win but Browns cover. I'm on Cleveland.
Am I going to take another Over? Yep, that's three in a row. I expect both teams to be in the 20's here. Ravens win 27-23 and I win with the Over.
Los Angeles Chargers @ Cincinnati Bengals
Opening Line: Chargers – 3.5
Current Line: Chargers – 3 / Total: 44
Initial Pick: Chargers
As long as the Chargers start Tyrod Taylor, I am all over the Bolts. Now with the line movement, if they squeeze a win out by a field goal, it's just a push? Sign me up. I am a Joe Burrow believer, but I also believe in fading rookie QB's in the first start during a shortened off-season. Go Chargers.
Let's get back to sanity and give me the Under. Brighter days will be ahead for Burrow and company, but they'll need more time to get on the same page. Chargers win 23-16.
Tampa Bay Buccaneers @ New Orleans Saints
Opening Line: Saints – 4.5
Current Line: Saints – 3.5 / Total: 49.5
Initial Pick: Bucs
If you are betting the Bucs, hopefully you got in early as the line has dropped by a full point. Either way, it's not changing my opinion. I believe in Bruce Arians and what he can do with this offense and I expect a close game. The Saints may win but Tampa will be able to do enough offensively to keep it close.
This is the third highest point total of week 1 so you know the direction I'm going, right? Give me the Under. Saints win 24-23.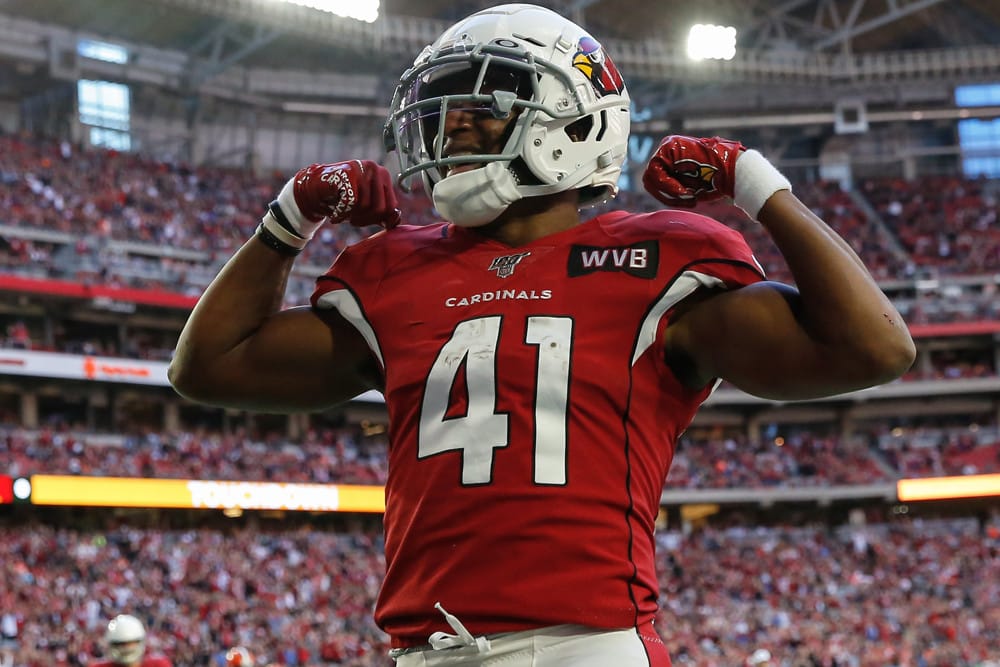 Arizona Cardinals @ San Francisco 49ers
Opening Line: 49ers – 7
Current Line: 49ers – 7.5 / Total: 46.5
Initial Pick: 49ers
Perhaps my least favorite game of the week as I don't feel like I have a good lean in either direction. The hype the Cardinals are getting coming into the season feels eerily similar to the Browns of 2019. However, I have a lot more faith in Kyler Murray and the coaching staff in Arizona than Baker Mayfield and Cleveland. I'm going to follow the early money and flip my pick to the Cards. They'll at least keep it close.
In the two games last year, this dominant 49er defense gave up 26 points and 25 points to Arizona. Perhaps Kliff Kingsbury has a recipe for success against San Fran. They'll get in the 20's again so give me the Over. 49ers win 27-24.
Dallas Cowboys @ Los Angeles Rams
Opening Line: Cowboys – 2.5
Current Line: Cowboys – 2.5 / Total: 50
Initial Pick: Rams
No line movement in this game and no change of my mind for me. Give me the home dog and the Rams to exact some revenge from their 44-21 loss to the Cowboys last year.
The Cowboys offense should continue to hum but the defense has major holes. Perhaps fillings some of those needs in the first round of this year's draft would have been a better idea than drafting a WR but what the hell do I know.
I'm leaning on the Under on this one as well. Rams win 26-23.
Pittsburgh Steelers @ New York Giants
Opening Line: Steelers – 3
Current Line: Steelers – 3.5 / Total: 47
Initial Pick: Steelers
All rise! What can we expect from the first year NYG head coach, Joe Judge? Well, the offense is loaded with talented playmakers. They just need better OL play, the defense to at least be average, and Daniel Jones to cut down on turnovers. They'll keep this game close but I'm still leaning towards the Steelers. I don't love laying more than a FG but the Pittsburgh offense should be solid until Big Ben inevitably goes down with an injury. Give me the Steelers.
I'm going Over. The Giants defense cannot stop anyone but they should be able to put some garbage time points on the board. Steelers win 30-24.
Tennessee Titans @ Denver Broncos
Opening Line: Broncos – 2.5
Current Line: Broncos – 1.5 / Total: 42
Initial Pick: Broncos
I initially went Broncos in an effort to go contrarian as I figured the public would be all over the Titans. With the line moving down a full point, we know that at least the early money is. I'll stick to my guns and go with the home team. Let's be real, I'm on the East Coast with a couple little ones so I'll be fast asleep before halftime anyway. Go Broncos.
The Broncos beat the Titans 16-0 in week six last year, so don't expect a lot of points. I'll say Denver squeaks out a tough fought win 21-17. You know for the last game I'm going Under.