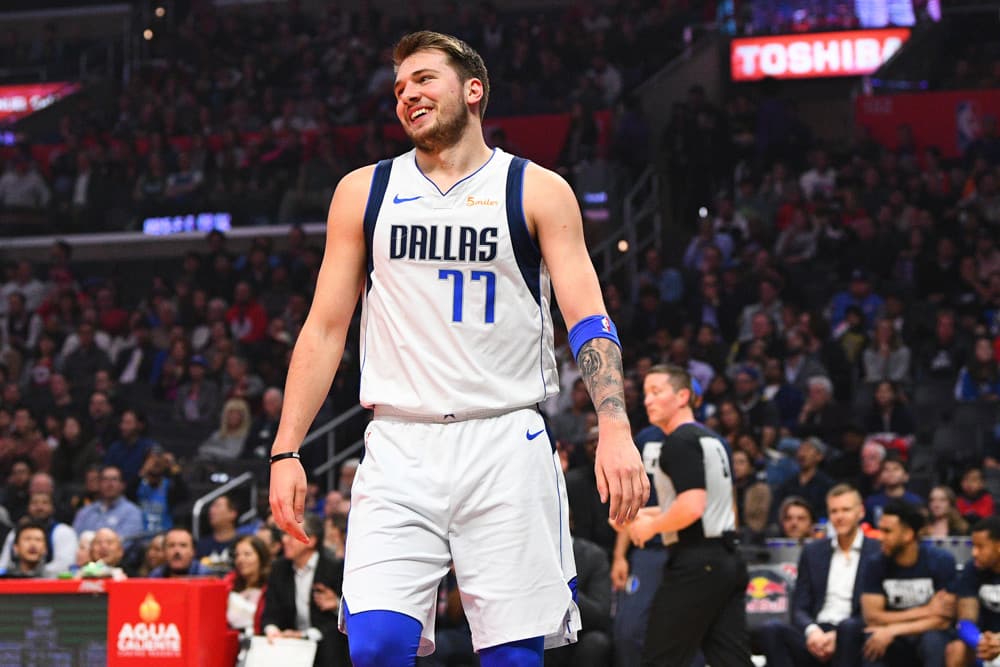 Greetings fellow degenerates! The NBA Playoffs roll on and with only a two game slate ahead of us, we're doing things a little different. Today, we're going to look into the DraftKings showdown slates instead of the classic slate. Showdowns are a nice chance of pace from the classic slate, and with the right plays they can prove to be very profitable.
Those who participate in the SGPN Slack channel (which is a great place to chat sports with fellow degens and the SGP staff) know that showdown slates are my bread and butter. With the exception of certain games, there is usually only a couple of truly viable options for the captain seat. This small variance can make all the difference however, and I'm here to share with you my plays for the day.
Utah Jazz vs. Denver Nuggets
Captain – Jamal Murray ($14,400)
I'm riding with Jamal Murray as my captain for this showdown slate. Murray is fresh off a Nuggets franchise playoff record 50 point game, and the fire is there. It has to be especially rough to lose a game that you drop 50 in, and now his Denver team is facing elimination as well. I don't necessarily expect another huge 50 point game from Murray, but I expect him to lead the team in scoring and turn in a nice stat line which will translate well with the 1.5 times multiplier.
Donovan Mitchell ($11,000)
I feel as though you have to have both Murray and Mitchell in your lineup, and you can save some money by playing it this way. Mitchell has been as-advertised this playoffs, and he has been the main reason that Utah has jumped out to a 3-1 series lead. Mitchell is fresh off a 51 point effort, and I look for him to keep on rolling in this one. I really wanted to work him into the captain seat, but I feel much more confident with the supporting role playing things this way instead.
Nikola Jokic ($10,400)
I love being able to squeeze Nikola Jokic into this lineup to pair with Mitchell and Murray. Jokic hasn't really missed a beat this entire series, and he's scored at least 47.25 fantasy points in three of the four games. Even in the game that his shot was off, Jokic still registered 32.25 fantasy points. The minutes and the shot attempts will be there, and I expect Jokic to play with the same fire that I mentioned when speaking on Murray. I can't pass up this solid stack.
Royce O'Neale ($5,400)
Royce O'Neale continues to start for Utah, and he's had plenty of nights where he's turned in a nice stat line. I'm looking towards O'Neale much for the same reason that I am Morris. O'Neale is seeing plenty of playing time. It's worth noting that he's taken no more than six shot attempts in any game this series despite playing at least 28 minutes in every game. This means we'll need some shot attempts, but the upside with O'Neale is that he normally turns in a decent stat line despite not shooting much.
Monte Morris ($4,800)
Both of these teams are top-heavy, so you might as well roster Monte Morris. He hasn't been able to find his stroke the last two games, but the playing time is certainly there. Morris has been the first guard off the bench and he's averaging the most minutes this series of any other reserve guard for the Nuggets with 28 per game. I live by the formula that minutes equals opportunity, so I'll take this chance to reserve some funds with a great filler.
Georges Niang ($4,000)
I'm rounding out this lineup with a three point steamer in Georges Niang. The 27 year old hasn't been the most consistent by any means, but I'll definitely throw him in my lineup given the supporting cast I have around him. Niang will see at least 15-20 minutes in his game, and it will be up to him to find his shots and make them. I've mentioned that these two teams are top-heavy, and Niang should be a great-upside play with low ownership.
My Lineup
Dallas Mavericks vs. Los Angeles Clippers
Captain – Paul George ($13,800)
I'm starting this lineup off with the contrarian play of the century. There's arguably no player with more pressure on them right now than Paul George, and I believe he will silence the doubters. George's shooting has been noticeably off during this series, and good shooters tend to figure things out sooner rather than later. I'm very confident when I say that I like PG13 to bounce back in a big way with an outstanding game in this game five showdown.
Luka Doncic ($12,000)
No, you're eyes aren't deceiving you. This is Luka Doncic's pricing and not even at the captain spot. Obviously there is great reasoning for his expensive price, but you want to avoid captaining him if you can. Sure, the points will most definitely be there with him at the captain, but you're saving a ton of money by playing him in the normal slot. You can guarantee that the winning lineup of this showdown slate will feature Doncic on the roster, but I believe it will not be in the captain seat.
Kawhi Leonard ($11,000)
You can't beat the opportunity to play George, Doncic and Kawhi Leonard all together in the same lineup. I'm not even going to spend a ton of time talking about Kawhi because anyone who even casually watches the NBA is well aware of how good Leonard is, especially in the playoffs. However, I am playing him away from the captain seat for the same reason that I am Doncic, and this is bankroll management. You're going to need too many "longshots" to have a great game in order to captain Leonard or Doncic, so it's much safer to play things this way instead.
Ivica Zubac ($5,000)
Ivica Zubac is doing everything in his power to hold onto his playing time with Montrezl Harrell working his way back after an extended time off. I'm loving the efficiency that Zubac is bringing to the table, and I expect that the playing time will continue to be there. He's now scored 15 points in back to back games and he's shot no less than 50% in any game this series. Zubac is cheap, and he's a great filler with low ownership potential.
Maxi Kleber ($4,600)
This play may raise a few eyebrows, but I expect Maxi Kleber to do his part and turn in a decent fantasy line. Kleber has played no less than 33 minutes in any game this series with the Mavericks being shorthanded on big men. He's been pretty inefficient so far this series, but I expect a bounce-back game from Kleber. His best shooting effort against the Clippers has been 2-5 from the field, but he's still managed to add at least 23 fantasy points in two games. As I've mentioned, minutes equals opportunities in my eyes, and the playing time is certainly there for Kleber.
Reggie Jackson ($3,600)
I'm rounding out this lineup with a boom-or-bust guy in Reggie Jackson. A lot of his production comes from beyond the arc which can be spotty, but he's now scored double figures in two of the last three games with a 26 fantasy point effort last game. You can bet that the ownership will be low on Reggie Jackson, and I love the play given that I have a great supporting cast around him in this lineup. We don't need 40 fantasy points or anything from Jackson, but another 20 fantasy points or so should do the trick.
My Lineup