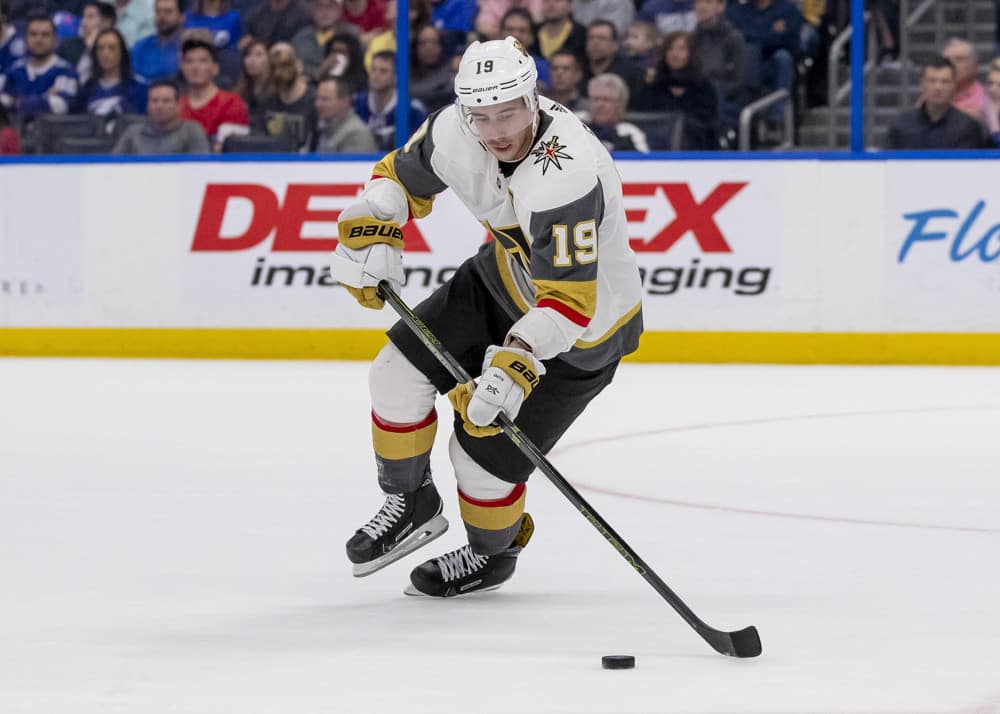 After none of the first round matchups in the Stanley Cup Playoffs went to a deciding game seven, hockey fans will be hoping some intense moments in the later rounds and there are a couple of even matchups that should fulfill those hopes. However, hockey is one of the most unpredictable sports so one can expect things to heat up a bit in the second round. As a result, it is now time for NHL Stanley Cup Playoffs Predictions for which teams will be advancing to the Conference Finals.
Vegas Golden Knights (-330) vs. Vancouver Canucks (+265)
Pick: Vegas Golden Knights 
Even though Vancouver did a great job when it came to upsetting the defending Stanley Cup champions in the first round, Vegas is an entirely different animal and I expect the Golden Knights to take advantage of this inexperienced Canucks team. Vegas has the offensive firepower to keep up with Vancouver on the scoreboard while also possessing enough physicality to wear down the opposition over a seven game series. Vegas is a healthy favorite in this matchup for a reason and I think that it is warranted.
Colorado Avalanche (-270) vs. Dallas Stars (+220)
Pick: Colorado Avalanche
Even though Dallas had a lot of success against Colorado in the regular season, that was a long time ago and I am not going to buy into any of the results that happened several months ago. What I know now is that the Avalanche are the much better team in this series and I expect it to show during these seven games. Colorado has the speed and depth to create a ton of defensive issues for Dallas and its power play is one of the best units in the league so I can see the Avalanche taking advantage of some dumb penalties. Plus, Dallas struggled a lot defensively against Calgary and I expect the defense to look even worse against one of the best offenses in the entire league.
Looking to bet hockey futures? Check out the latest Stanley Cup Odds
Tampa Bay Lightning (-115) vs. Boston Bruins (-105)
Pick: Boston Bruins
Both teams looked very impressive in their first round series and these series should be the most competitive on paper. The Bruins were able to dismantle the Hurricanes in five games thanks to some comeback victories in game four and game five while the Lightning were able to exercise some demons by defeating the Blue Jackets in five games after getting swept by them last season. As of right now, these might be the best two teams in the entire league so seeing them face off against each other in the second round is a treat to all hockey fans.
As for the series, Tampa Bay might have won the first round matchup in five games but it did not look that impressive offensively as it only scored more than three goals once so that elite offense has not looked as sharp lately. As for the Bruins, they have looked great in every area and they have a definitive advantage when it comes to physicality so I can see them wearing down the Lightning over the course of this series. I would be surprised to see this series end before game six but I think that the Bruins should be able to do enough to advance to the next round.
Philadelphia Flyers (-135) vs. New York Islanders (+115)
Pick: New York Islanders
Even though the Flyers are the one seed in the Eastern Conference, they have not played like it so I think that there is a potential upset brewing in this matchup. Philadelphia managed to beat Montreal in the first round but it was thoroughly outplayed at points so I am a bit concerned about its ability to experience similar levels of success against more talented teams. Unlike the Flyers, the Islanders cruised into this round after destroying the Capitals in five games as they have looked extremely dialed in defensively.
New York also has an advantage on the bench as it has Stanley Cup winning head coach Barry Trotz who is considered one of the greatest minds in the history of the sport while Philadelphia has Alain Vigneault who is a very solid head coach without a ton of playoff success so I can see Trotz making some moves that can turn the tide in this series on his team's behalf. I expect this series to be a long one and seven games seems like a real possibility so I will take the more consistent team to advance to the Eastern Conference Finals.