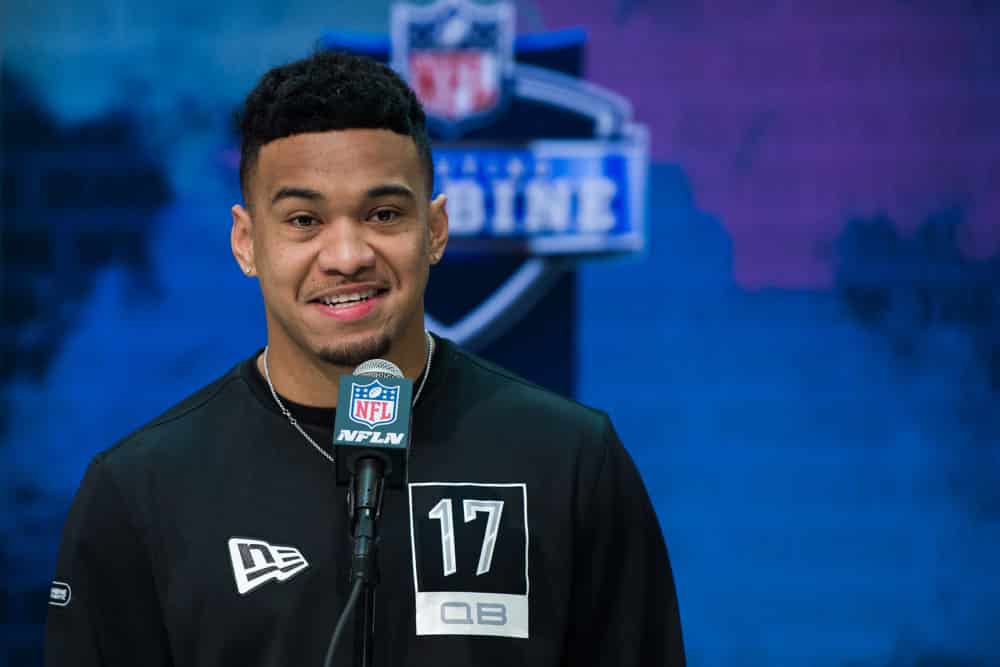 It's almost the best time of the year – fantasy football season. There is no better way to kick off the season than with picking your perfect team name form our list 80+ list of  funny fantasy football names for 2020.
Check out our FREE Fantasy Football Draft Kit!
We've never steered you wrong with funny fantasy football names before! Just look back at 75+ Funny Fantasy Football Names For 2019, 51 Funny Fantasy Football Names For 2017, and 48 Funny Fantasy Football Names. We've got years of experience! Trust us!
First, some from our #degensonly followers on Twitter:
NoMoBrownTD's

— Gilmo Tee (@superubergoober) July 27, 2020
Internet Fantasy Football Team

/Snyder

— ItsABabyWhale (@ItsABabyWhale) July 28, 2020
Now funny fantasy football names from the good people at Athlon Sports:
Josh Jacobs Jingleheimer Schmidt
Lamarvel Cinematic Universe
Country Road, Take Mahomes
My Barkley is Louder Than My Bite
It's Always Darkest Before Deshaun
Zeke and Destroy
Hooked on a Thielen
Aaron it Out
Lights, Kamara, Action
Tua Legit Tua Quit
Golladay Inn Express
Can You Diggs It?
Le'Veon a Prayer
Knockin' on Evans Door
Deshaun of the Dead
Turn Your Head and Goff
Lamar the Merrier!
Quon Solo
Make America Gronk Again
Gronkey Kong
Party Like a Gronk Star
Acute Gronkitis
Golden Tate Warriors
Little Red Fournette
Unsolicited Dak Pics
Hide & Zeke
Dalvin & the Chipmunks
When the Le'Veon Breaks
Le'Veon la Vida Loca
Yippee Ki Yay Justin Tucker
2 Gurley's 1 Cup
Rudolph the Red-Zone Reindeer
Multiple Goregasms
Inglorious Staffords
Stafford Infection
Bend it Like Beckham Jr.
O-Dell No
Brady Gaga
Boy Named Suh
80% Mental, 40% Physical
Pimpin' Ain't Breesy
The Mixon Administration
Mixon Match
Suh-Tang Clan (Ain't Nuthing Ta F Wit)
Breesus, King of the Drews
AB Pisses Sitting Down
BackfieldPenetration
Breesus Christ
D-J-Chark DooDooDooDooDoo
Dan Quinn The Night Away
Dig Bick Energy
Goff My Lawn
GOREy Hole
Gurleys Gone Wild
Gurleys Just Wanna Have Fun
Hit Em Where it Ertz
Injury Free Please
It's Never Shady In Philadelphia
It's-a-me, Lamario
JOE BUCK YOURSELF
Jurassic Barkley
Kiss My End Zone
Madden Curse
Mahomes & Garden
MAHOMES COOKIN'
Mahomies
Mariota Kart 64
Monica Lewinsky and Clinton-Dix
My Ball Zach Ertz
Obi Wan Jacoby
Take Mahomes 2 D Ol' Town Road
Thielen up your mom
Touchdown There
Don't Go Breaking My Chark
Sat Down Wrong and My Ballages are Kalen Me
Get your Mixon her Tate
Take Me Tua Title
Takes Tua To Make a Thing Go Right
Tua One Special
One if by land, Tua if by sea
Check out our FREE Fantasy Football Draft Kit!