NASCAR this week visits both a familiar and unfamiliar track, as the fastest stock car drivers in the world compete on a road course at Daytona Superspeedway for the first time at the Go Bowling 235.
Here's everything to know about the track and the race before putting together a DFS Lineup (values courtesy of DraftKings).
Track History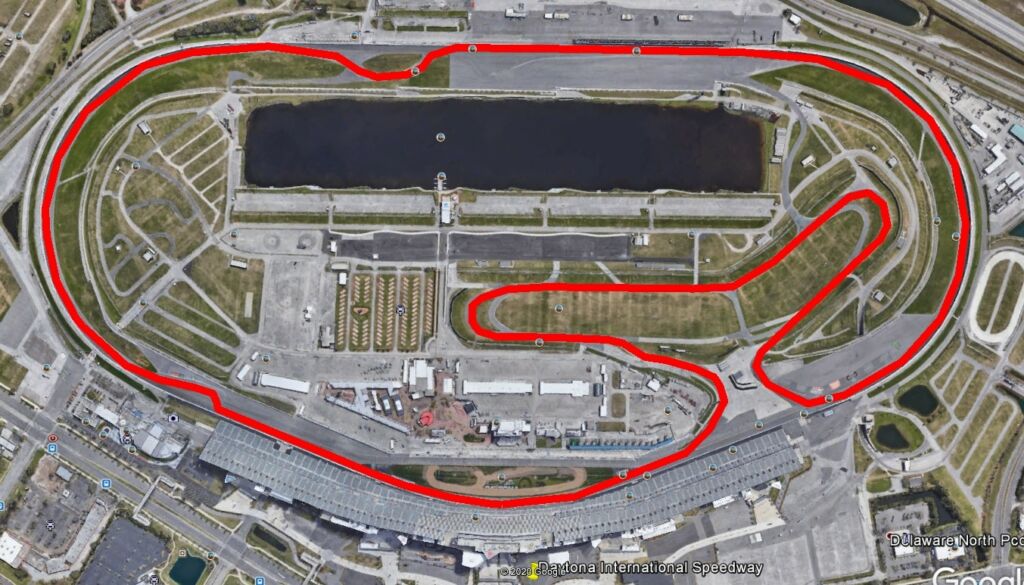 The Daytona Road Course is known in the racing circles as the International Horseshoe Bend, and was constructed inside the most famous track in stock car racing in 1961. This layout is primarily used for the Rolex 24 Hours at Daytona endurance race, however after the cancellation of Watkins Glen the sport opted to utilize the Daytona Road Course for the first time in NASCAR. The layout used is identical to the Rolex 24 Hours of Daytona, with the exception of a small chicane at the beginning of the front straightaway. The chicane is designed to slow down the cars as well as provide for one last passing opportunity for a thrilling finish.
While this is the first time this layout will be used in NASCAR, it's not the first time some of these drivers have competed on it. Here's a quick rundown of the drivers in Sunday's race who have competed on the road course:
Kyle Busch – 2009 Grand-Am and 2020 24 Hours of Daytona
Cole Custer – 2018 and 2019 IMSA Race
Clint Bowyer – 2013 24 Hours of Daytona
Michael McDowell – Five time competitor in the 24 Hours of Daytona, 2005 & 2006 Grand Am.
Jimmie Johnson – Seven time competitor in the 24 Hours of Daytona.
Kurt Busch – 2005 & 2008 24 Hours of Daytona
Ryan Newman – 2006 IROC
Martin Truex Jr – 2006 IROC
Matt Kenseth – 2005 24 Hours of Daytona, 2006 IROC
Kevin Harvick – 24 Hours of Daytona.
While it would seem like these drivers have a leg up, the cars they drove in these competitions are nothing like the heavy and lumbering stock cars they'll have to navigate around the 3.6 mile road course (which will be the longest track they race on this year). And without practice time, going into Turn One will surely be a very nerve-wrecking one for everyone.
If anything, the layout of the track is almost identical to that used at the Charlotte Roval in the fall, with the exception that this track is much longer.
Other Race Notes
1. Because of the lack of practice time and the unfamiliarity of the track, NASCAR is adopting a special rules package for this week only. The 2020 rules package for road courses stipulated for a low downforce, 550 HP engine car. However for this week the cars will be able to utilize a high downforce car with a 750 HP engine. This will help for two reasons. First, the long straightaways and sweeping turns will promote fast and powerful cars to promote passing. This will slightly be counteracted by the high downforce of the cars. But the high downforce will also promote much more grip in the corners, something that may be desperately needed for the drivers given the complete unknown how these cars will navigate around the track.
In addition, Goodyear will be giving the teams the same specs of tires used historically for Watkins Glen.
2. Does the term "road course ringer" exist anymore? This term was typically reserved for an elite set of drivers who usually only raced twice a year on NASCAR, but they would specialize as strong road course racers due to their backgrounds. These included the likes of Ron Fellows, Boris Said and Scott Pruett. Other mainstream NASCAR drivers eventually earned this moniker thanks to their own dominance at the road courses, which include Tony Stewart, Jeff Gordon, Kyle Busch, Mark Martin, Juan Pablo Montoya, A.J. Allmendinger, Marcos Ambrose and Robby Gordon. Between 1993 and 2014, these drivers were responsible for a combined 30 wins in 42 attempts.
Over recent times, however, there seems to be much more parody among winners at the road courses. Since 2010, 15 different drivers have won a road course race across 22 attempts. The emergence of parody at the road courses might be because of the rise in popularity of iRacing, and almost all the drivers own state of the art simulators to perfect the art of road course racing. This has shrunk the talent gap in the field and gives many more drivers a chance to win a road course race than in years past.
3. While the term "road course ringer" seems to have gone the way of the do-do, there are a few drivers in the sport who have a much better recent track record at them than others. The so-called elite group of road course racers today in NASCAR include Kyle Busch, Chase Elliott, Brad Keselowski, Martin Truex Jr. and Kevin Harvick. These drivers have combined to win seven out of the last eight races and have led over 80% of the laps. Given their recent success, all will likely be the favorites to take home the first victory on the Daytona Road Course.
DFS Picks
Kyle Busch – $9,800: Busch is the most accomplished road course racer in the field, with four wins and 19 career Top 10's on road courses in NASCAR. Busch has started to race better lately, and at an unfamiliar track to everyone he should have an edge with his stellar performances on road courses to get his first win of the year.
Denny Hamlin – $9,600: Like his teammate, Denny Hamlin is no slouch on road courses. Hamlin is a former winner at Watkins Glen and has an average finish of 8.8 at road courses since 2017. With so many unknowns about this race track, a safe and high floor driver like Denny Hamlin is a good fit for this week in a DFS lineup.
Kevin Harvick – $9,600: Harvick starts on the pole on Sunday and while that presents some downside, I anticipate that the drivers are going to be very cautious to begin the race until they get used to how the track runs. That should mean Harvick leads most if not all of Stage 1 and garners lots of led lap bonus points, which could neutralize and lost points had from a lower finishing position.
Christopher Bell – $7,200: Normally rookies are behind the eight ball their first season at road courses, but considering this is a brand new track for everyone the limited experience shouldn't impact him as much. Bell enjoyed tremendous success at road courses in the Xfinity Series, capturing a win at Road America and runner up finishes at Mid-Ohio and Watkins Glen in 2019. Bell starts 15th on Sunday and could do enough to at least tread water at that position.
Michael McDowell – $7,000: Not only has Michael McDowell enjoyed a very solid season, he's also one of the stronger road course racers in the field. Despite inferior equipment, McDowell has six Top 20 finishes at road courses in his last eight races. His success is directly attributed to his experience as a Grand-Am racer before he switched over to stock cars, and he has raced around the Daytona Road Course five times in his career. McDowell starts 30th in the field and is very underpriced given his expertise at road racing.
Daniel Suarez – $6,900: Daniel Suarez sees a jump in his pricing this week primarily because he's on a little more level playing field with his competitors despite using inferior equipment. Suarez is also a great road racer with an average finish at Watkins Glen of 8th as well as several good finishes in the Xfinity Series on road courses. Suarez starts 31st on Sunday and should be able to navigate his way up the field throughout the race.
Looking for a free shot at millions of dollars in prizes? Download the Draft King's app and use promo code SGP