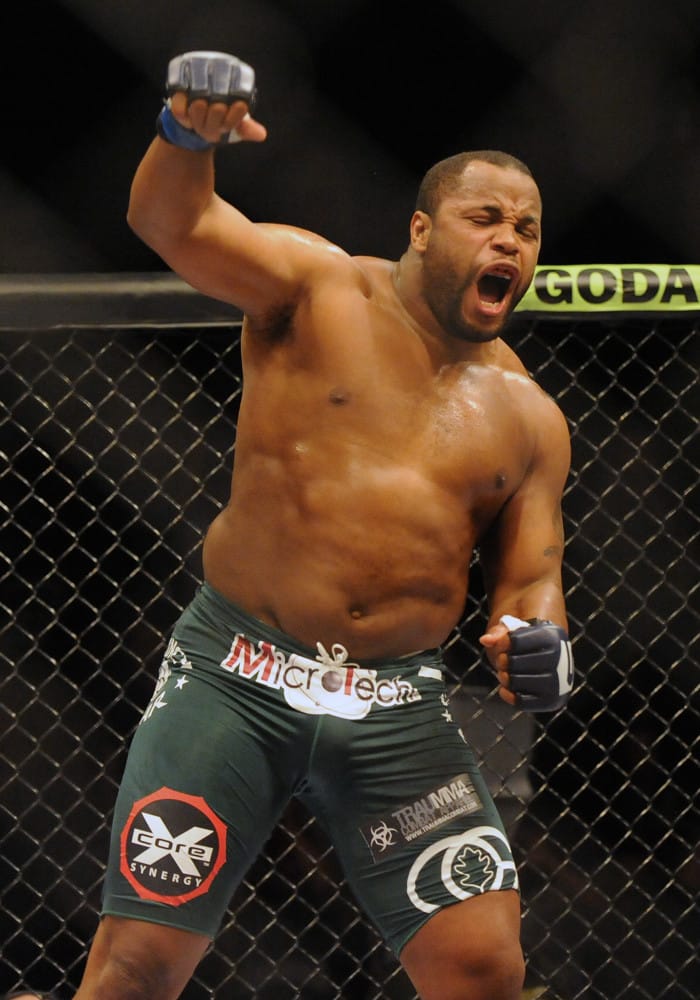 Saturday's UFC 252 could be the last time we see the man pictured above – Daniel Cormier – compete in the UFC cage, as he's threatening to retire after the fight (we've heard it all before, DC). But are we making the sentimental pick and adding DC to our fantasy roster for Saturday?  Read on.
Looking for a free shot at millions of dollars in prizes? Download the Draft King's app and use promo code SGP
Herbert Burns – $8,900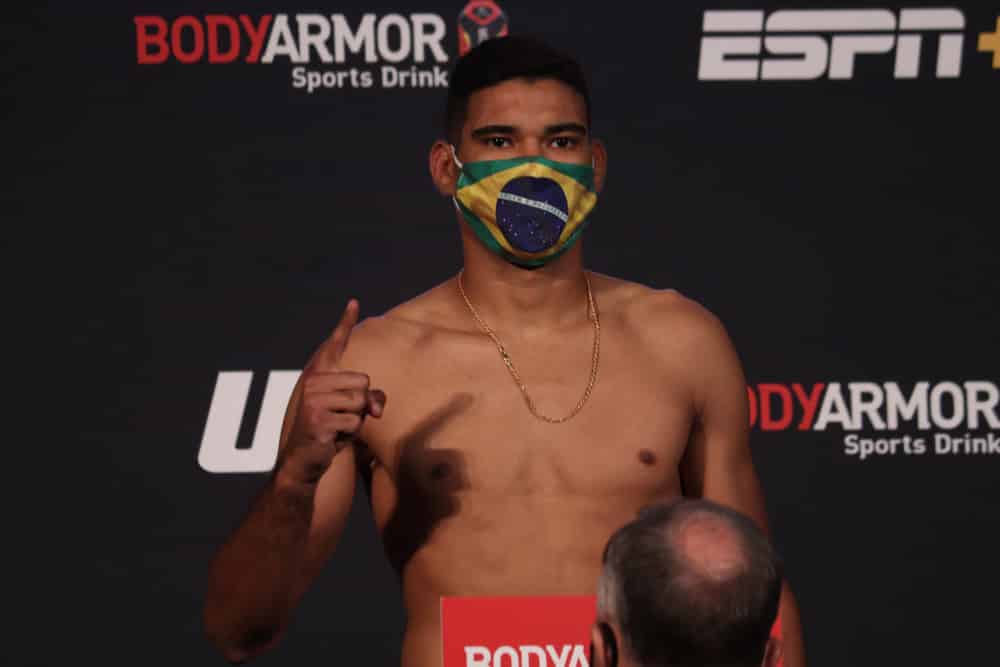 My big ticket purchase this week is Herbert 'The Blaze' Burns, little brother of UFC contender Gilbert Burns. The younger Burns has had a stellar start to his UFC career, winning both of his matches and, most importantly to us, earning big time fantasy points. Despite not even fighting past the first round in either match, Burns chalked up 109 and 101 points, respectively. His opponent on Saturday, Daniel Pineda, is a journeyman who already was cut by the UFC way back in 2013.
Merab Dvalishvili – $8,700
While Burns's healthy 104.5 average points per fight is stellar, the top producer on this card is Merab Dvalishvili, who averages a crazy 107.1 points. So I've got to snatch him up here for $8,700. What's most impressive about his average points is that it is based on a large sample size – six UFC fights. Take his last win against Gustavo Lopez – 73 significant strikes, 13 takedowns(!!), 14 advancing for 174 points! I'll take more of that from 'The Machine' on Saturday, please and thanks.
Jairzinho Rozenstruik – $8,400
After not scoring below 95 points in his first four UFC fights, 'Bigi Boy' crashed back to earth last fight, earning three points in his first round knockout loss to Francis Ngannou. I'm expecting a big bounce-back at UFC 252 against shopworn former heavyweight champion Junior dos Santos. JDS's chin is suspect, having been TKO'd in his last two fights, and with the way Rozenstruik hits, look for a knockout in this one and big points.
Jim Miller – $8,300
Grizzled veteran Jim Miller is a bit of a boom or bust in the fantasy space – he has four recent fights where he scored over 90 points (including his last appearance), but also a fight where he got one point (how is that even possible?!) and another where he managed 10. I expect his expert grappling to be on full display Saturday night against Vinc Pichel, who has shown to be susceptible to submissions.
Daniel Cormier – $8,000
I may be betting on Stipe Miocic to beat Daniel Cormier in their trilogy fight on Saturday, but that doesn't mean I don't think DC will earn some decent points for only $8,000. He's earned over 100 points in his last four UFC fights, including his last fight, which was a loss to Miocic (181 significant strikes, one takedown, two advancing for 102 points). Plus, I consider this fight pretty much a pick 'em, so there's even a chance that Cormier wins the fight and earns even more points.
Chris Daukaus – $7,700
I'm taking another brother of a UFC fighter with my last pickup – debuting heavyweight Chris Daukaus is the big brother of UFC fighter Kyle Daukaus. You can read a more in depth profile of Daukaus right here, but the short story is that not only does he have the size and knockout power you are looking for at heavyweight, he also has the rare heavyweight trait of speed in his arsenal. Sounds good to me for only $7,700
Looking for a free shot at millions of dollars in prizes? Download the Draft King's app and use promo code SGP