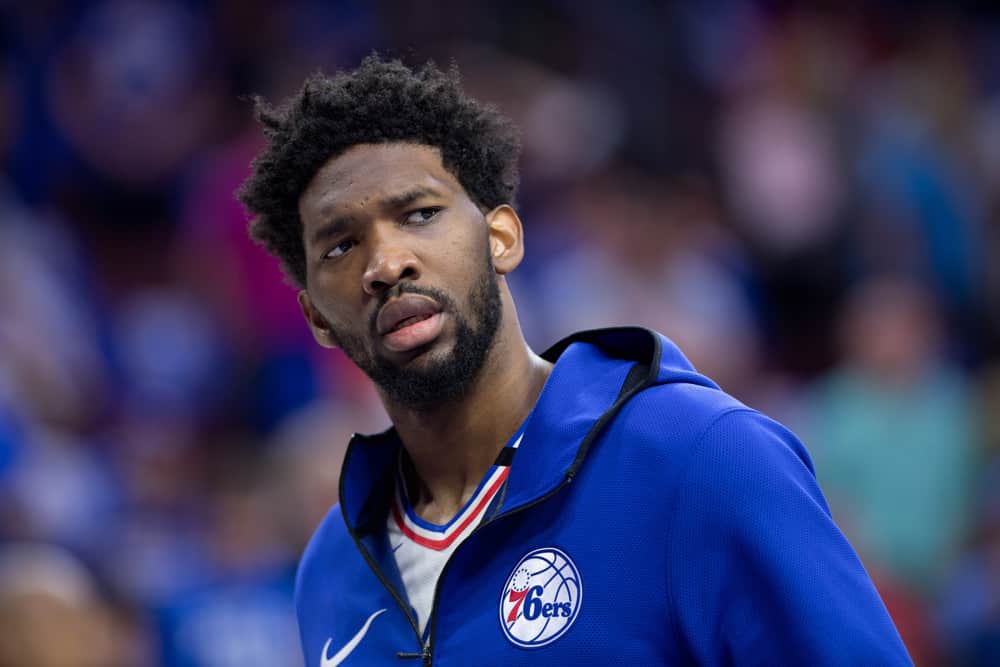 Greetings ladies and gentlemen! As long as there's sports being played, there's also DFS to add another element to our degeneracy. Approaching a DFS lineup can be challenging, and with only roughly 1/4 of the entries being paid, you need to know who the best plays are.
The difference between cashing for $5 and $5,000 can be as simple as finding a "diamond in the rough" (or your Tarik Cohen as Sean would call it). The beauty of the NBA is that there is always a low-ownership bench player that randomly decides to go off for 25 points which translates into a nice DFS score.
If you've been struggling to cash your NBA lineups, or if you're a DFS veteran and are just looking for a second opinion, either way you've come to the right place. I'm going to take a look at some must-play high-priced players, some middle-priced players and some cheaper players that you should have in your lineup for Friday's slate.
It's worth noting that today's slate is one of the more unique. With only nine active players in the price range above $8,000, salary won't be much of an issue. This means that you will need to be more on point with who you place in your lineup, and I'm here to help you piece together that sweet $100,000 lineup.
Expensive Must-Plays ($8,000-$10,700)
Joel Embiid – PHI ($10,500)
There isn't a ton of players falling in the expensive must-plays category for today's slate, but let's state the obvious and get him out of the way. Joel Embiid is $1,200 more expensive than any other player on the board for obvious reasons. For those that may have missed the news, Ben Simmons is out indefinitely with a kneecap injury and this only means one thing. Almost the entire workload will now fall on the trusty shoulders of Embiid. The 76ers could still potentially move as high as the third seed in the East, and these last five games of theirs have meaning. Vucevic is surely no slouch in his own right, but Embiid is the far more physical of the two. I expect Embiid to have a field day on his way to another 50+ fantasy point game with what will surely be another double-double.
Pascal Siakam – TOR ($8,200)
Despite being one of the more pricey players available, I'm expecting relatively lower ownership of Pascal Siakam. He was shooting around 45% from the field before the reboot, but he's only shooting 39.5% since then. They are also taking on Boston who has been known to be in their fair share of low scoring games. However, a win here for Toronto locks away the second seed in the West and the Raptors were one of the more high scoring teams this year. I don't expect Siakam to continue to shoot poorly from the field much longer, and his lankiness will cause trouble for the Celtics. Siakam has the third highest average fantasy points per game on the slate, and I look for him to have a big game.
Mid-Level Must-Plays ($5,000-$7,900)
De'Aaron Fox – SAC ($7,600)
The Kings notched their first win in the bubble last game against the Pelicans, and De'Aaron Fox continued to look outstanding. In their 114-110 loss to Dallas game before last, Fox put up 28 points with nine assists, three rebounds and two steals. He topped this effort in the win last game against New Orleans with 30 points, 10 assists, three rebounds and three steals. Fox is feeling himself as is the whole Kings team now that they have broken the win column, and they are drawing the Nets who are without a variety of players. I love Fox to have another great game as I expect him to top the 40 point fantasy mark once again.
Thomas Bryant – WAS ($7,200)
Those that have been following the NBA closely since the return need no explanation as to why I'm playing Thomas Bryant who only averages 27.7 fantasy points per game this year. For those that haven't been watching much, let me explain. Bryant has been absolutely on fire since the NBA picked back up. He's scored 59.75 fantasy points followed by 43.75 and then 47 last game. The first two games came against Brooklyn and Indiana who, although they aren't exactly terrible paint teams, they aren't exactly good either. However, Bryant remained efficient against arguably the best center in the NBA in Joel Embiid last game. They now face the Pelicans who aren't the best team when it comes to paint defense. Expect Bryant to toy with the 50 fantasy points mark once again.
Jaylen Brown – BOS ($6,900)
I have been riding the Jaylen Brown train for the past few Celtics games, and it hasn't let me down yet. There is one word that can be used to describe him, and that is consistent. Brown won't top the 40 fantasy points mark a whole lot, but you have to go pretty far back to find the last time that he didn't register at least 30 fantasy points. I expect this Boston/Toronto game to be full of fantasy value, and you can't beat the consistency from Jaylen Brown for the cheap price that you're getting him at.
Kemba Walker – BOS ($6,000)
I thought fatigue was catching up to me when I originally saw Kemba Walker's pricing for today's slate. Just to put things into perspective, although Walker is the starting point guard, Marcus Smart (who typically takes the second unit duties) is listed at $6,500. If there's one thing I love when it comes to making a DFS lineup, it's value. Sure, Kemba hasn't been playing his full minutes. However, he took a rest day last game and the team got an off day yesterday so he will be ready to roll. Boston has been easing Walker back into things as he's played no more than 27 minutes since the return which was against the Heat on Tuesday. I expect his minutes to increase into the 30s for this contest, and I love the value at this price.
Long-shots and Value Plays ($3,000-4,900)
Dillon Brooks – MEM ($5,400)
You can't mention DFS value without mentioning Dillon Brooks who continues to be one of the best lower-priced players. DB has quickly become one of my most favorite NBA players, and I love the heart that he plays with. Brooks is going to give it his all from the start of the game until the end, and he will almost always take at least 10 shot attempts. He averaged 25.5 fantasy points per game this year, but he rarely dips below around the 23 fantasy point mark and he has his fair share of games with 30+ fantasy points. The Grizzlies are starting to fall in must win territory, and DB is going to do everything he can to help them get into the win column.
Evan Fournier – ORL ($5,300)
This is a great price to nab a very solid player. I don't expect high ownership of Fournier, and some of that could be with reason. He's only shooting 29.6% since the return of the NBA, but I don't look for that to remain long. Fournier is shooting 46.8% from the floor with 40% from three as a whole this season, and that's something you can't ignore. Fournier has only shot 3-15 from three since the return, and he's an experienced player who I expect will turn things around sooner rather than later. The Magic are trying to hang on to a playoff spot, and they need Fournier to figure things out and I have a feeling he will do so here.