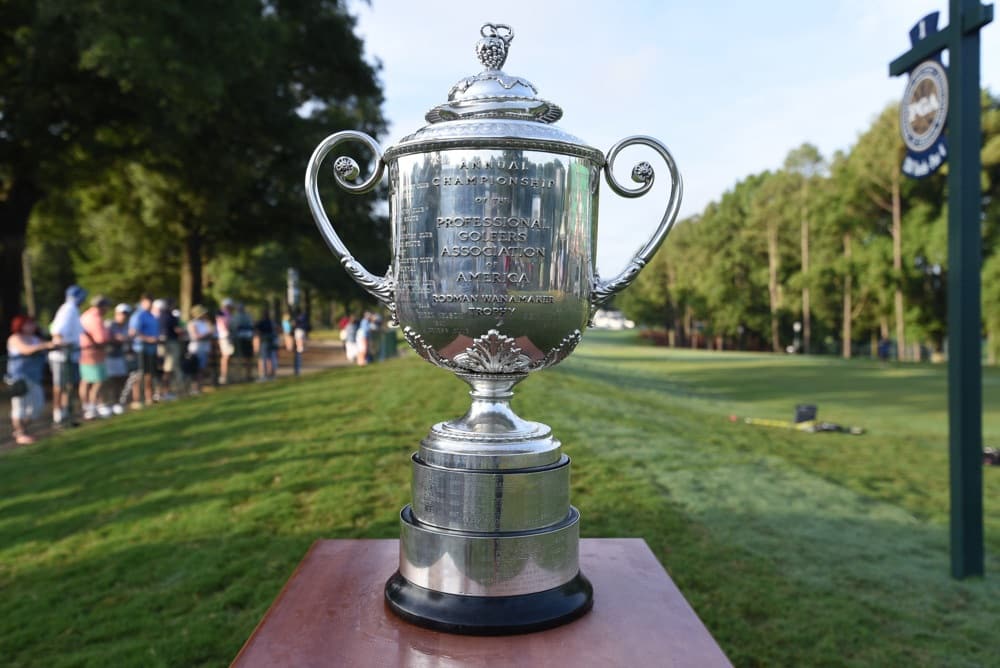 For those who missed it, please check out the 2020 PGA Championship Preview and Betting Strategies column  for the types of golfers you should look to target for your bets.
With that in mind, here's who I like this week to win the 2020 PGA Championship (with odds courtesy of MyBookie.ag).
Brooks Koepka – 10/1: Brooks…I'm so sorry.
https://www.youtube.com/watch?v=RRzsv4vHNDs
All year long I was the biggest Bryson fanboy, caught up in the videos of him maxing up his swing speed in the simulators or the ridiculous quarantine video he shot. My love affair for him led me astray from my one true love and Bryson's mortal enemy – Brooks Koepka.
And the last few weeks has reminded me the error of my ways. Brooks for weeks had called out Bryson for the clown-show he really was. First was showing up Bryson with all his major trophies after Bryson bizarrely accused Brooks Koepka on his twitch stream as not having any abs. Next by dropping hints that Bryson might have given Barry Bonds a call for some "workout tips". Then most recently he trolled Bryson over his little spat with a group of fire ants.
Unfortunately, I got swept up by the potential for Bryson to break the game and worrying that maybe Brooks would never be the same. But all along, Brooks was just waiting for his moment to peak and for Bryson to show his true colors.
Many people think the signs he was rounding into form happened in Memphis, but it actually started to all come together at the 3M Open. Despite a missed cut, Brooks posted his best ball striking numbers of the year, gaining over five shots combined through his driving and approach shots, only to have a sluggish day on the greens to miss the cut on the number. The next week, Koepka improved the ball striking even further, and while he still lost strokes to the field with the putter there were definitely encouraging signs to his game ahead of the PGA Championship.
At this point, I shouldn't be surprised that Brooks is peaking right around a major because this is exactly what we've known him to be all along. I'm sorry for doubting him. Luckily, I was able to grab him at 14/1 last week before his odds started to drop. But even if you can only get in on him at 10/1 the drumbeats are getting louder and louder for him to claim yet another major win.
Jon Rahm – 14/1: I'm not all that concerned about his lackluster performance at the WGC-FedEx St. Jude Invitational. Rahm was pretty bad for most of the tournament, but in Round 4 he had a very strong performance to carry him into the PGA Championship. On Sunday, Rahm shot a 67 and gained over three strokes combined off-the-tee and with his irons. He did something very similar at the Workday Charity Open before then going on and winning the Memorial the following week. And given he won the Memorial that featured windy conditions with deep, penal rough, he should be ready to attack a similarly set up golf course in TPC Harding Park.
The question everyone asks at every major is if he's mentally mature enough to win one. I used to be one of those people who did his best Sigmund Freud impression to psychoanalyze the fiery Spaniard, but quite frankly I just don't care about that anymore. The guy is ultra talented, has won on a variety of different golf courses around the world, and I think we all can agree that eventually he's going to win one. Why not this one at a golf course where the only tricks it can throw players are narrow fairways and thick rough, something the guy can definitely handle.
If he's +3 through 9 and then dropkicks the 10th tee box markers off the property on Thursday, c'est la vie. I'm tired of making excuses not to back him and his unlimited ceiling.
Xander Schauffele – 20/1: At the beginning of the week, I loved Xander. Xander has played solid golf all year long and has been very strong in almost every statistical category. Over his last four tournaments he's gained 1.02 strokes combined off-the-tee and with his irons per round, as well as gained over 0.8 strokes on and around the greens per round. His total strokes gained over that stretch is third in the entire field behind only Justin Thomas and Daniel Berger.
He also is statistically most "due" golfer in the field. According to DataGolf, Xander's expected wins this year are 1.34, and so far in this weird, Frankenstein of a season he's 0-14. He lost in playoffs at both the WGC-HSBC Champions and the Sentry TOC. He was three back of Tony Finau heading into Sunday at the Waste Management Phoenix Open before incredulously torpedoing in the final round. And he held the lead on the back nine at Colonial before imploding with shaky putting. For as much as Xander is putting himself in the mix, a win is right around the corner.
But looking around the internet and tracking where the odds have shifted, I'm definitely not the only one who loves him.
Towards the end of last week and early this week, Xander could be had around 25/1, or even 30/1 if you found a book napping. But money has poured in on him as the week has gone on. He's now moved to 20/1 on myBookie, and I've even seen him under 20/1 on other books.
Plus, he seems to be the darling of all the golf "experts" on the internet in their picks columns this week. And he's likely on track to be the most chalky DFS pick of all the guys >$10,000 this week, a sure fire kiss of death.
I feel a lot more uneasy knowing the crowd will be firmly entrenched behind Xander. Part of the reason he's so popular is that everyone looks at the same stats and trends as I do. But another big rationale are wishy-washy intangible arguments like "he's a California kid" or "he always raises his game at majors" (let's be real – the only guy it's OK use that argument for is Brooks Koepka. Full stop). Anytime you start to hear group think arguments like that, run far, far away.
Unfortunately, my money is already down on Xander this week, and I have severe FOMO on him because of what my spreadsheets are telling me. But if you're the type who likes to be contrarian, this one might not be for you.
Patrick Cantlay – 28/1: Like Rahm, I'm not all that concerned with Patrick Cantlay's lackluster performance at the WGC-FedEx St. Jude Invitational. After a very slow start, Cantlay rallied by shooting -8 on the weekend to go from nearly DFL to T35. Over that stretch he gained just under 4 strokes combined off-the-tee and with his irons, which alleviates a lot of concerns about his form heading into this event.
Cantlay was a guy I liked a lot last week, and though I defended him in the last paragraph I can't deny that he bombed badly. I whistled past the graveyard that Cantlay isn't the best putter on bermuda greens in his career, and that was a red flag I should have taken more seriously.
But on bentgrass surfaces he's typically been much better, where he has gained about 0.4 strokes per round over his last 50 rounds. While I think honing in on grass type specialists are a little overblown, the combination of an expected improvement in putting, a great combination of length and accuracy off the tee and solid iron play seems like a recipe for success of an eventual winner of this year's PGA Championship.
Webb Simpson – 28/1: The central thesis to my 2020 PGA Championship preview was that a golfer with long length off the tee was going to be the one to hoist the Wanamaker Trophy. But if there's a shorter hitter that'll break that hypothesis, it's Webb Simpson.
I'm not sure when it happened, but he's developed into a bit of a killer. He was one of the lone bright spots on the failed and much maligned 2018 Ryder Cup team. After getting saddled with the human excavator for most of the Presidents Cup, Webb beat Byeong Hun-An 2&1 to help lead the American comeback against the Internationals. A few months later, he chased down Tony Finau over the final 3 holes to beat him in the playoff at the Waste Management Phoenix Open. And then most recently he emerged from a crowded leaderboard to win going away at the RBC Heritage.
Simpson already was elite with his irons, scrambling and putting. But he's been able to add some distance to his arsenal as well. His club head speeds and driving distances are up over prior years, and much to my surprise is not only is Webb deadly accurate from 175+ yards out on his approach shots, he's accurate both in the fairway and from the rough. He ranks 20th on the PGA Tour in proximity to the hole from 175+ yards out of rough, something I would not expect from a perceived slow swinger like Webb. His accuracy from the rough will help him given the expected setup of TPC Harding Park.
The one reservation someone might have is that his regular caddie, Paul Tesori, probably won't be on the bag this week for Webb as he deals with an ailing back. Webb and Tesori do a lot of chit chatting over putts and shots, so it's not ideal he won't be there. That might explain why his odds have crept into the 30's as the week has progressed. Nevertheless, Webb played well without him last week with a replacement looper and at the end of the day it all comes down to execution for the player. That's not enough to get me to discount Webb's chances this week.
The cherry on top of the career resurgence sundae would be to win his second major across the pond from the scene of his first. I love his chances this week to do so.
Others to Consider
Daniel Berger – 40/1: As mentioned earlier, Berger ranks second in the field in total strokes gained over his last four tournaments and proved he can prevail against a strong field when he won the Colonial. He's gained over a stroke combined with his ball striking as well as on/around the greens during that stretch, and has a good combination of length and accuracy. These are great combinations ahead of the PGA Championship.
Note – like Xander Schauffele, his odds are on the move. Berger started the week around 50/1 and since he's moved to 40/1.
Tony Finau – 45/1: Finau has been getting murdered from the golf blogosphere for his inability to win. But like I mentioned before, the more times he keeps putting himself in great situations sooner or later a win will go his way. Finau's game sets up perfectly for TPC Harding Park, as he's both long off the tee and has displayed great ball striking, scrambling and putting all year long. It would be so fitting if this were the week he shut everyone up.
Chez Reavie – 100/1: You'd think a short hitter like Reavie would scrape by on the PGA Tour with scrambling and putting, but it's actually been his ball-striking over his last few tournaments that's carried him to great finishes. Over his last four tournaments Reavie has gained 1.5 strokes per round tee-to-green, but has lost about 0.14 strokes per round on the greens. His putting is due to regress to the good after losing nearly 5 shots on the greens at TPC Southwind. Plus, he's proven he can play with the big boys on narrow, penal rough golf courses with his T14 finish at Bethpage Black last year. He's a nice sleeper to join the ranks of improbable PGA Championship winners.