We did it! It took the golf world eight months to finally get to this point. After the COVID pandemic turned both the real world and game of golf completely on its head, at long last gamblers get to bet on a major championship. This week the world's best players head to TPC Harding Park in San Francisco, CA for the 2020 PGA Championship.
Here's everything to know about the golf course and the tournament before placing a single wager on it.
The Field
As one would expect, the field is loaded with all the top players from around the world. For a full list of players competing this week at TPC Harding Park, click here.
Here's a few major storylines about the field:
1. After skipping last week's WGC FedEx St. Jude Invitational, Tiger Woods will be teeing it up at TPC Harding Park to go for his 16th major championship. Considering how little he's played since the PGA Tour returned to action, it's a bit of a mystery what exactly we'll get from him. While his iron play at the Memorial was stellar as usual, he was pretty poor off the tee and with his putter all weekend long. He'll need to fix both if he wants to capture another major championship title.
2. As of this morning, it looks as though Adam Scott will make the trip to San Francisco to play. He hasn't played at all since the PGA Tour returned, but before the break he was enjoying a resurgence in his career by winning the Genesis Invitational and the Australian PGA Championship, his first victories in nearly four years. Like Tiger, bettors will be in the dark about how to handicap his chances this weekend.
3. There are a handful of players who have withdrawn from the field for COVID related reasons. Last week, both Francesco Molinari and Padraig Harrington opted out of the PGA Championship out of precaution. Meanwhile, Branden Grace had to withdraw from the Barracuda Championship while tied for 2nd due to a positive COVID test of his own.
The story here isn't so much to do with these players withdrawing, as all three didn't have very strong chances for success at TPC Harding Park. Rather, the main takeaway is COVID remains a significant, unexpected factor for golf and can pull a player out of a tournament at any given moment. It also remains to be seen if Grace had infected anyone else out in Reno with him who also will be playing the PGA Championship.
The Golf Course
Instead of describing the history of the golf course in written form, I'm going to let the boys of No Laying Up give you a crash course of TPC Harding Park. The guys highlighted the golf course in their Tourist Sauce – California season and did a great job giving both the backstory of the golf course as well as giving viewers an idea of how it plays:
Here's what the golf course typically looks like from above: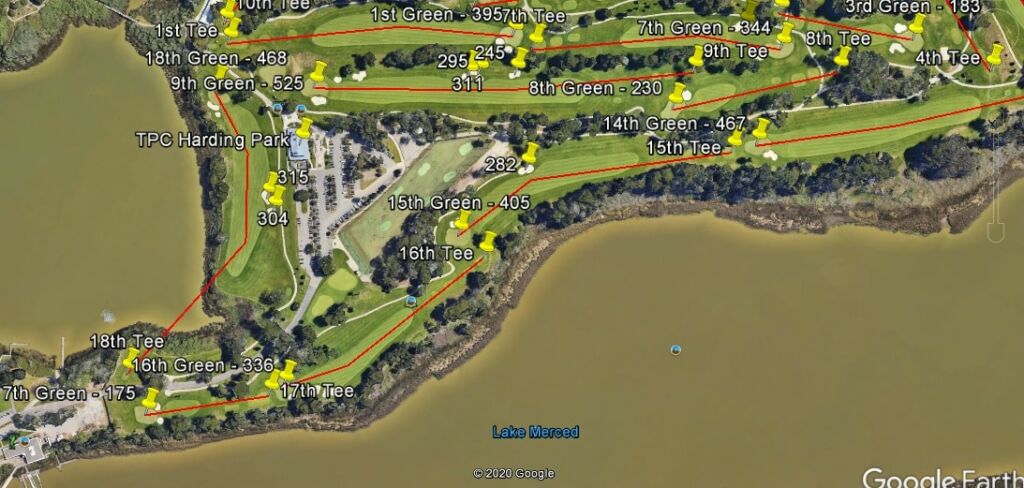 From what they showed in the video and the aerial pictures above, this looks like a much more benign golf course than you'd expect for a major championship set up. While it has the typical municipal golf course features one would expect like small greens and tree lined fairways, it's a short golf course (just over 7,200 yards from the back tees) and there's a lot more room off the tee than you'd expect. Even if a player blasts a drive off line, as long as they're not stymied by a tree trunk there's not a lot of overhanging branches that would impede their approach shot into the green.
In addition, the video above was shot around February/March of 2019, and as you can see the golf course was very water logged and played quite soft. If they didn't have much trouble getting their ball to stop on the squishy bentgrass greens, the pros certainly won't have too much trouble doing it either.
In all honesty, when I first started scouting this golf course back in March, I was very unimpressed. The front nine isn't all that interesting and primarily weaves its way through the middle of the property with similar looking holes over and over. The back nine gets a little more intriguing as it weaves its way around the outer edges and past Lake Merced, but overall my first impression was how vanilla and plain jane this golf course was.
My second impression was that this golf course was going to get eaten alive by the top players in the world. With this tournament held in May, the golf course would still be pretty soft from the Spring rains, and I saw plenty of opportunities for long hitters to blast it over the dog legs for short approaches into receptive greens.
But then COVID hit. And this tournament was pushed into August where the climate is much different. In the summer California sees very little rainfall, and this will allow the golf course to play firm and fast (if the PGA of America allows it, more on this later). While that still might not discourage a player from trying to bomb and gouge it, it would make their task a little more difficult as they'd have a harder time keeping their approach shots on the green.
And then reports came out about the tricks the PGA of America and the golf course superintendents had for the players. It looks as though they seem to have the same observation about their golf course as I did. If they didn't do something, then the winner would make it a laughing stock and shoot a ridiculously low score under par to win. They decided they needed to change the golf course to curb against the bomb and gouge strategy and restore driving accuracy as the most important skill to those who want to win the tournament.
Thankfully, Google Earth had updated its satellite imagery to include pictures of the golf course from April, and I took it upon myself to take a look at how the golf course changed.
There are three primary changes I've found:
1. Narrowing of fairways (example – Hole No. 1)
Before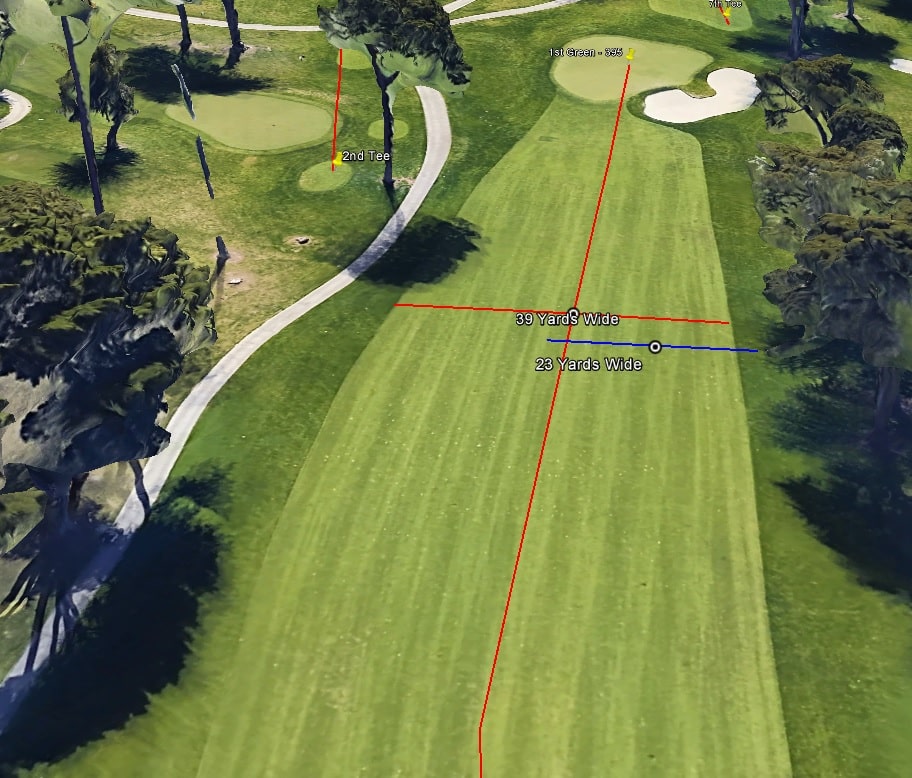 After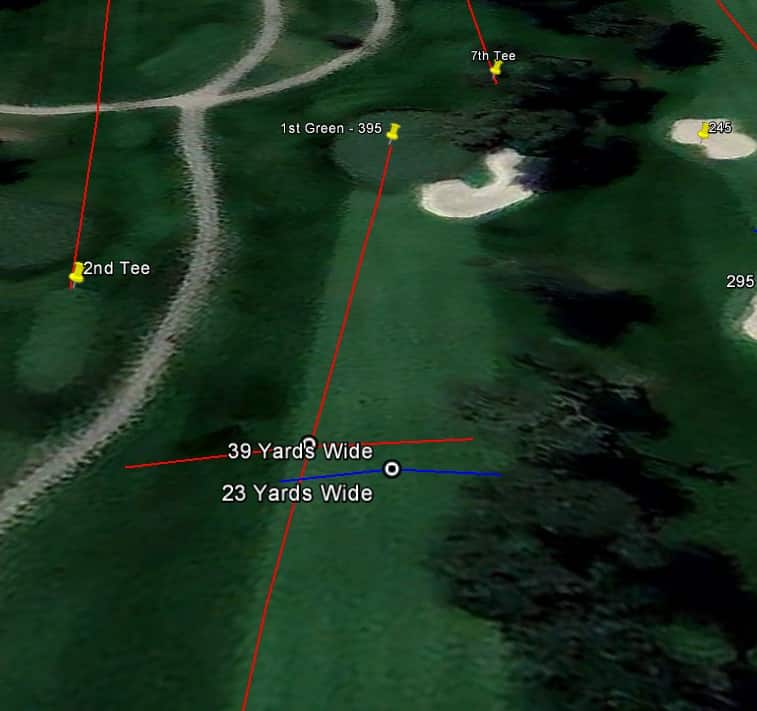 This is the most common change on the golf course for all the Par 4's and Par 5's. The fairways were narrowed in the primary landing zones for most players (in the pictures above, it's about 300 yards). At Hole No. 1, they chopped off about 15 yards of width off the fairway and have grown the rough out to ankle deep depth.
2. Shifting of fairways (example – Hole No. 6):
Before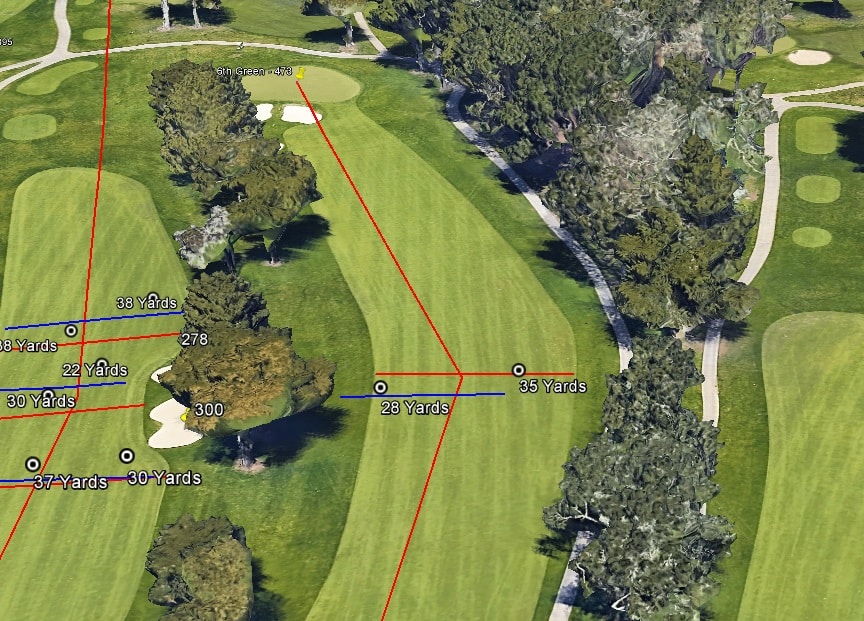 After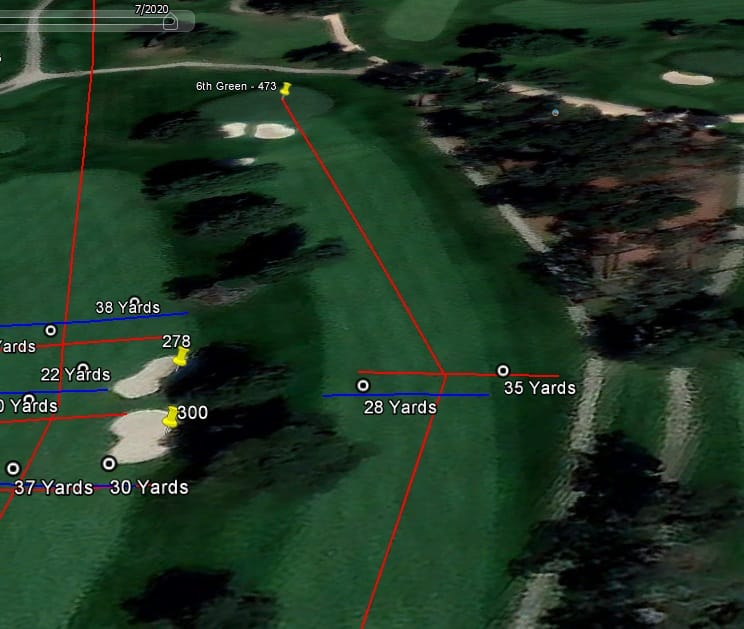 While the fairway wasn't as dramatically narrowed as it was on Hole No. 1, the fairway has been shifted left to bring the trees flanking the left side of the fairway more into play. That's an attempt to try and discourage a player from trying to hit over the dog leg by bringing the trees more into their optimal target line, as well as increase the chances a ball runs through the dog leg and into the rough.
You can also see a notable fairway shift on the Par 5 10th:
Before
After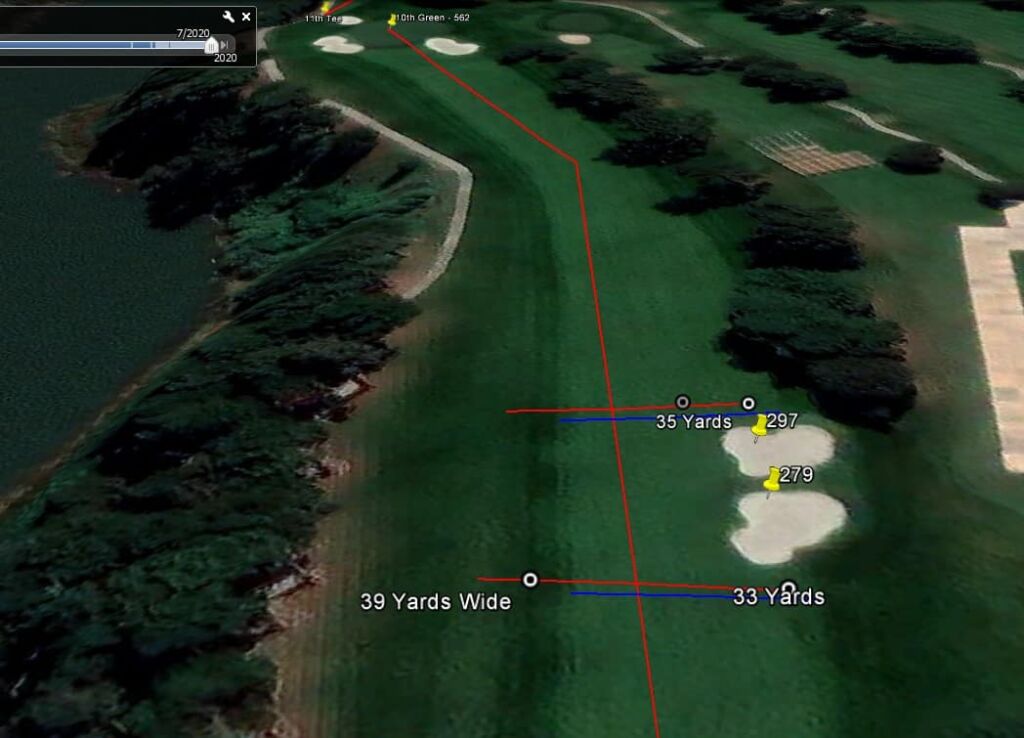 Here, the fairway was shifted right to bring the bunkers more into play. In addition, the rough around the bunkers has been shaved down to give balls a better chance of feeding down into them.
3. Narrowing layup zones on short Par 4's (ex: Hole No. 7):
Before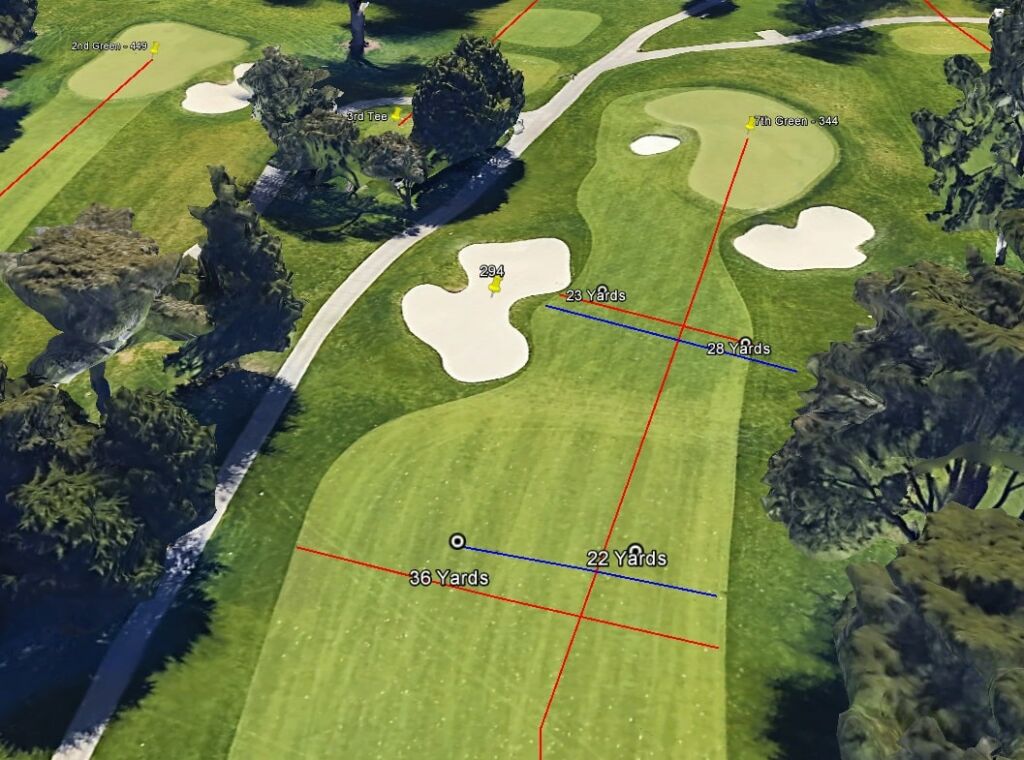 After
On this hole, anyone who wishes to lay up short of the fairway bunkers has about 15 fewer yards of fairway width to work with. And like Hole No. 10, the rough around the bunkers has been shaved down to allow for balls to run out into the bunker.
They also actually increased the landing zone for anyone who wants to try and hit over the bunkers by shaving the rough down past the far left fairway bunker, giving longer hitters a little more room to operate.
All in all, these changes should do enough to give the golf course some much needed teeth and provide a stern tee-to-green test for the players.
Here are some PGA Championship Odds.
Betting Strategies
As far as factors to consider, bettors are largely flying blind as to what types of statistics to value most. While the golf course hosted the Presidents Cup in 2009 and the WGC Match Play in 2015, both events aren't very helpful to take anything away from because A) how someone wins in match play and in stroke play can be totally different, and B) strokes gained stats were not maintained. As such, only an evaluation of the golf course is at our disposal.
It is abundantly clear what message the superintendents and the PGA of America are sending here – they don't want their golf course to be overrun with bomb and gouging. In a way, it's a refreshing message. After all, the PGA Tour seems to have decided that glorifying long driver distances and soft conditions are good for the brand, so the PGA of America trying to take the opposite approach here is commendable.
The $1,000,000 question, however, is will their strategy of pinching in fairways and growing out penal rough work?
History suggests that when golf courses have been set up in this manner, the bombers ended up winning anyways. The most recent example we have of this approach is Bethpage Black at last year's PGA Championship. Much was made all week about how penal the rough was and that it was absolutely vital to hit the narrow fairways.
In the end, Brooks Koepka and Dustin Johnson were head and shoulders better than anyone else.
At the 2018 PGA Championship, the PGA of America once again grew out the rough at Bellerive, and though the fairways weren't quite as narrow as Bethpage Black was or how TPC Harding Park will be, all week there was a focus from all the analysts that it was paramount to hit the fairway.
In the end, Brooks Koepka won.
There are so many examples of when you take a golf course and narrow the fairways and grow out the rough to try and give shorter, more accurate hitters a fighting chance, the opposite ends up happening. The players today can generate a fast enough clubhead speed that they simply don't care if they're hitting their approach shots out of the rough. They're perfectly capable of getting a wedge or a 9 iron underneath the golf ball to pop it out of the rough and at least get it in a general proximity on or around the green.
As for those short, more accurate hitters? Well sure, they'll hit more often out of the fairway than longer, inaccurate players. But by narrowing a golf course it also increases their chances of missing the fairways, only at a much further distance away from the green. At that point, now they're at a severe disadvantage. Instead of having a higher lofted club in their hand they'll have to hit a mid-iron, and they have a much tougher time gouging out of deep rough with those clubs than a longer, faster hitter does. And if the fairways are playing firm, then everyone will have trouble keeping their ball in the fairway unless they hit it dead straight.
While TPC Harding Park will play about 300 yards less than Bethpage Black and Bellerive did, there's still just as many Par 4's that will play over 450 yards as there were at those two venues. These are the holes that longer hitters have a tremendous advantage over shorter ones. In addition, many of the fairway bunkers are situated right in the landing zone of a shorter player's drives. With cooler temperature and the possibility of a marine layer thickening the air, these will be brought into play more often for shorter hitters while the bombers can hit over them.
There is one significant difference that TPC Harding Park is expected to have over Bethpage Black and Bellerive. It's expected to play much firmer and faster than those two golf courses did. A big reason why guys like Brooks Koepka or Dustin Johnson enjoyed so much success despite allegedly penalizing driving inaccuracy is because the greens were so soft. That made it much easier for them to gouge out of the rough and keep their ball on the putting surface.
If the golf course plays as firm as advertised, then the goal of punishing driving inaccuracy would be accomplished because balls would be very difficult to control coming out of the rough and have a much smaller chance of hitting the green. At that point, hitting out of the fairway would be put at a huge premium.
But I'm not totally convinced that the golf course is going to play as firm and fast as I hope it can. For one, I'm not sure the PGA of America is willing to go there. The golf course was re-sodded with bentgrass back in 2013, and while the cooler climate helps it still needs its fair share of water to help it thrive. The PGA of America also historically has tried to set up more player friendly golf courses. They could look to add some water to the greens or fairways if a few of the top players get in their ear a bit about balls bounding into the rough one too many times fir their liking.
Mother nature also might have a say in how much moisture the golf course has, and we saw this at last year's U.S. Open at Pebble Beach. There was hope that the golf course would get baked out because of the dry climate in June, however a marine layer hovered over the golf course all week long. That put enough moisture into the golf course to both reduce the amount of rollout balls had through the fairway, made the greens softer and kept the winds down. That helped create a leaderboard where long, good drivers like Gary Woodland, Brooks Koepka, Adam Scott, Xander Schauffele, Jon Rahm and Justin Rose ended up at the top of the leaderboard.
I'm not saying that a bettor should go heavy on bomb and gouge specialists only. Of course a more precise, shorter player off the tee could prevail this weekend. What I am saying is that in order to do so, their job is probably a lot tougher than many people might seem to think for the reasons I've stated above.
As far as other factors to consider, as mentioned before the golf course underwent a renovation back in 2013 to plant bentrgrass turf. While they try their best, inevitably there will be a little bit of poa annua mixed into the turf because of its Northern California coastal proximity. While bettors shouldn't go overboard trying to identify bentgrass/poa specialists, it's something that needs to be considered and can certainly be useful to break ties.
In addition, the greens are smaller than the average PGA Tour golf course (as one would expect from a municipal golf course). As the frequency players will be hitting approach shots out of the rough is increased as well as the potential for firm and fast conditions, players are going to be scrambling to get up and down for par more than they might be used to. As such, performance around the green should probably be elevated a bit in terms of importance. While scrambling in general is usually the least important characteristic towards scoring on a golf course, it definitely shouldn't be ignored by bettors.
Lastly, I'm not quite sure where I expect the winning score under par to be for the winner. I think there's definitely a chance one guy can separate himself from the pack thanks to an all-world driving week, which sometimes can happen when a golf course plays firm and fast. But going under the assumption of narrow, firm fairways with deep, penal rough, I don't think it'll be a birdie fest as I once feared it could be. I think par will wind up being a good score on most holes. Birdies will wind up being a precious commodity on the golf course, especially on the Par 5's.
Overall, I think the winning score will be somewhere around -10 with a cut line around +4, but my opinion will definitely change if I see that the golf course will play much softer than advertised.