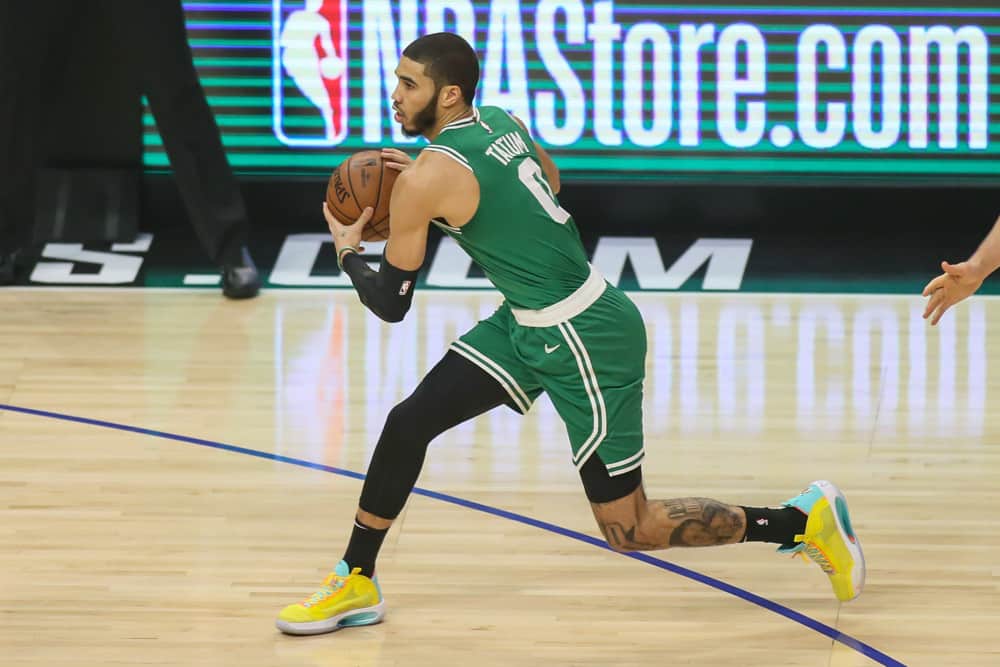 The NBA is back and boy does it feel good! Not only are we watching real basketball for the first time in 4+ months, but the DFS world seems to be still knocking off the rust as the season restarts.
Last night's $4 Milly Maker for the 2-game tipoff slate on DraftKings only filled about halfway which led to an insane 40% of lineups 1.5X min cashing. That's some sweet sweet overlay folks! I don't expect to see the same for tonight's $25 entry Milly Maker, but there is still plenty of potential to get contrarian and score some big lineups. There is an amazing amount of information regarding injuries, minutes restrictions, and team trends that are still out there in all corners of the league and over the past week, I have dug into every single team that is inside the Bubble in Orlando with the goal of consolidating this information for you all. I will get back into the DFS flowcharts as the season progresses, but for now let's dig into a team by team breakdown to help set up the landscape for these early games.
Orlando Magic @ Brooklyn Nets – 11:30am PST
Orlando Magic
Outside the Bubble – Al-Farouq Aminu
Potential Minutes Restriction – Markelle Fultz (conditioning), Jonathan Isaac (knee)
Huge workload – Aaron Gordon
Sleeper – DJ Augustin
Orlando coach Steve Clifford came out and said that he expects the Magic rotation to include 10 or 11 players on a nightly basis. This isn't exactly what you want to hear from a DFS perspective, so I would be weary of loading up on too many Orlando players in your lineups. Prior to the break, the Magic had won 8 of its last 12 games behind league leading bench scoring (44.7 pts per game). I expect that Fultz and Isaac will not be usable in DFS for the first couple of games, due to their projected minutes restrictions. When these players have been off the court this season, Gordon has seen a bump in assists & steals and I think we will see him continue his hot streak that he ended on prior to the break. Even though he may not be the starter, I would also expect Augustin to get the most minutes at PG in the first couple of games, he has a lot of potential to turn over value at his current $4300 price tag.
Brooklyn Nets
Outside the Bubble – Kevin Durant, Kyrie Irving, DeAndre Jordan, Spencer Dinwiddie, Taurean Prince
New Players (Back from Injury/Added) – Jamal Crawford, Lance Thomas, Justin Anderson
Huge workload – Caris Levert
Sleeper – Rodions Kurucs
Brooklyn is one of the teams that has been hit hardest by players opting out for the bubble. Irving, Dinwiddie, and Jordan were the team's Top 3 fantasy scorers this season. With all three of them out, Caris Levert will be the clear-cut alpha dog in this lineup and projects to be near the top of the league in usage. He will probably be a pretty chalky play, but I am still going to be over the field on him. If Joe Harris can shake off the rust inside the bubble he will also be a great player to target with his +18 FPPG differential this season without the Nets "Big 3". Kurucs has put up back-to-back double digit point outings in the recent scrimmages in the Bubble, and is almost a free square at $3300.
Memphis Grizzles @ Portland Trailblazers – 1:00pm PST
Portland Trailblazers
Outside the Bubble – Trevor Ariza, Caleb Swanigan, Rodney Hood
New Players (Back from Injury/Added) – Jusuf Nurkic, Zach Collins
Potential Minutes Restriction – Nassir Little (Concussion), Hassan Whiteside (Achilles)
Huge workload – Jusuf Nurkic
Sleeper – Gary Trent Jr.
Portland coach Terry Stots finally has all of his big men healthy with both Nurkic and Collins trending to be back close to 100% for the restart. He has been vocal about the option of playing both Whiteside and Nurkic together, and I think Nurkic will be the biggest one to benefit from this. In Sunday's scrimmage he took five 3-point attempts, which is three more than he has ever taken before in a regular-season game. At a $5900 price tag, he has a pretty safe floor and should see an increase in some of the miscellaneous stats as Whiteside continues to clog up the middle. With Ariza and Hood out for the remainder of the restart, there is a gaping hole on the wing for Portland. Carmelo Anthony should step back into his natural small forward role, but I think a lot of the usage will just funnel back to Portland's All-Star backcourt of Damian Lillard and CJ McCollum. At $3500 Gary Trent Jr. is a name worth keeping your eye on since Stots has the confidence to plug him in at a lot of different positions, and he should see increased minutes in the Bubble.
Listen to Jon and Ryan McKee discuss their picks for DraftKings Millionaire Maker lineups and subscribe to the new NBA Gambling Podcast on  Apple and Spotify.
Powered by RedCircle
Memphis Grizzlies
Outside the Bubble – Justise Winslow, Jontay Porter
New Players (Added/Back from Injury) – Jaren Jackson Jr., Brandon Clarke, Grayson Allen, Dillon Brooks, Jarrod Uthoff
Potential Minutes Restriction – Tyus Jones (Out, Knee)
Huge workload – Ja Morant
Sleeper – Brandon Clarke
The Memphis Grizzlies were a weekly injury minefield in late February and March, however the 4+ months off has seemed to help right the ship. Clarke and JJJ are both back to looking like they were before their injuries and Brooks seems to have shaken off his groin problem. The Grizzlies are locked and loaded for this restart and could be one of the more fun teams to watch and see if they can hold onto that 8 spot in the West. With the news of Morant bulking up over the break, I think the rookie is ready to come out and lock up his ROY campaign with some explosive performances. I am also looking to fellow rookie Clarke to show up as an early value play, because at $4100 he is priced about $1k lower than he was towards the end of the regular season and can produce 25+ DKPts fairly consistently.
Phoenix Suns @ Washington Wizards – 1:00pm PST
Phoenix Suns
Outside the Bubble – Kelly Oubre Jr (knee, most likely won't play)
New Players (Back from Injury/Added) – Frank Kaminsky
Potential Minutes Restriction – Dario Saric (ankle), Aron Baynes (COVID)
Huge workload – Mikal Bridges
Sleeper – Cam Johnson
The Suns are an interesting team that we need to monitor early on as they are currently 6 games back of the 8 seed and don't have a lot of motivation to play their studs for a lot of minutes. I would expect that we won't see any huge outings from Devin Booker and Kelly Oubre may end up not seeing the floor at all in the Bubble. Head coach Monty Williams has not been shy about his praise for Bridges during the first couple scrimmages and I plan on utilizing the versatile wingman in a lot of lineups. In Tuesday's scrimmage, Johnson started at PF and put up a 19-4-3-3 line. That's really good for a guy who is only $4300 and doesn't currently have a lot of depth behind him on the bench. With the Suns clearly looking towards the future, there are big time breakouts looming for some of their youngsters.
Washington Wizards
Outside the Bubble – Davis Bertans, John Wall, Bradley Beal, Gary Payton (COVID)
New Players (Back from Injury/Added) – Thomas Bryant, Ian Mahinmi
Potential Minutes Restriction – Garrison Mathews (Out, personal)
Huge workload – Shabazz Napier
Sleeper – Troy Brown Jr.
Much like Brooklyn, the Wizards team is going to be a shell of its former self in the Bubble. Beal was on an absolute heater when the NBA season was suspended and Bertans was one of the most consistent perimeter big men in the league. With both of those guys out, the offense should flow through Brown and at a $4700 price tag, it's hard to pass on him. The ball handling duties should fall to Napier, however there is always the risk that Ish Smith will continue to steal minutes. If the Wizards were smart (very questionable), they would let Napier take the reigns and with his 14.5% usage bump when Beal and Bertans were off the court I am going to be loading up on the former UConn stud.
Boston Celtics @ Milwaukee Bucks – 3:30pm PST
Boston Celtics
New Players (Back from Injury/Added) – Robert Williams
Potential Minutes Restriction – Kemba Walker (knee)
Huge Workload – Jayson Tatum
Boston is one of the healthiest teams coming into Orlando and they should be viewed as a real threat to challenge for the Eastern Conference title in September. All sings are pointing to Walker being a full go, however head coach Brad Stevens has already made it public that they will ease him back into his full-time role with the intent for him to be off a minutes restriction come the start of the playoffs. The guy we need to focus on for the Celtics is Tatum, and I don't have a lot of stats to back this up but I am expecting him to prove his Top-5 (yes I said it) potential during this run in the Bubble. I am all-in on the 22 year old phenom and I want to be way over the field on him in DFS.
Milwaukee Bucks
New Players (Back from Injury/Added) – Giannis Antetokounmpo
Potential Minutes Restriction – Eric Bledsoe (Out, COVID), Thanasis Antetokounmpo (Concussion), Wesley Matthews (ankle), Pat Connaughton (Out, COVID), Marvin Williams (groin)
Sleeper – Donte DiVincenzo
When Giannis went down with a knee injury at the beginning of March, the city of Milwaukee went into a frenzy. Luckily for them, and for the rest of us NBA fans, Giannis is back to full health and should be playing at an MVP level in Orlando. Khris Middleton shared that he went three months without touching a basketball during the quarantine so for that reason alone, I am staying away. With Bledsoe just getting released back into team activities due to COVID, I expect that Coach Budenholzer will ease him back into play, which leaves the door open for DiVincenzo. Oftentimes one of the highest owned players on the slate when late news of Bledsoe sitting came out, Divincenzo ($4900) is unfortunately being priced higher than he has been all season. I expect him to be high-owned again so I am staying away for both of those reasons.
Sacramento Kings @ San Antonio Spurs – 5:00pm PST
Sacramento Kings
Outside the Bubble – Marvin Bagley (foot)
New Players (Back from injury/Added) – Richuan Holmes
Potential Minutes Restriction – DeAaron Fox (ankle), Harrison Barnes (COVID), Alex Len (Out, COVID)
Huge workload – Nemenja Bjelica
Sleeper – Harry Giles
As usual, the Sacramento Kings cannot seem to catch a break. Bagley is once again out for the season and is trending towards being one of the bigger busts of the 2019 draft. Fox tweaked his ankle in one of the first practices in Orlando, but seems to have recovered and suited up for their last scrimmage on Saturday. I am looking to target the Kings frontcourt during the restart. Richaun Holmes is back and at $5100 is almost $2k lower than he was during his blowup week in late December. However, due to his food delivery mishap I'm not confident in his conditioning so I will still be staying away from him. I like both Bjelica (($5300) and Giles ($4700) to return 5x value in Thursday's matchup with San Antonio's depleted frontcourt. Before the break Bjelica was averaging 2 made triples per game, so he will be my higher owned option of the two.
San Antonio Spurs
Outside the Bubble – Lamarcus Aldridge, Trey Lyles
New Players (Back from Injury/Added) – Dejounte Murray
Potential Minutes Restriction – Bryn Forbes (Out, Quad)
Huge Workload – Derrick White
Sleeper – Keldon Johnson, Jakob Poeltl
Much like the Phoenix Suns, there is not a lot of motivation for San Antonio here in Orlando. With Aldridge already calling off the season, and Derozan seeming content to taking a backseat to some of the younger guy's in Pop's lineup it is going to be hard to try and guess where the production is going to come from on the Spurs. Similar to Sacramento, there is upside lurking in the frontcourt and either Drew Eubanks or Jakob Poetl are going to grab it. Both of them put up a double-double in Saturday's scrimmage against Brooklyn, so I am going to stay away and not try and guess. A potential deep sleeper is Keldon Johnson who Popovich loves and if the Spurs end up not trending towards a run at the 8-seed, he's a guy that could fill the stat sheet later on in the restart. For now, I am going to stay away from the Spurs.
Houston Rockets @ Dallas Mavericks – 6:00pm PST
Houston Rockets
Outside the Bubble – Thabo Sefolosha
Potential Minutes Restriction – Eric Gordon (Out, ankle), Russell Westbrook (COVID), DeMarre Carroll (hamstring), Austin Rivers (quarantine)
Huge workload – James Harden
Sleeper – Ben McLemore
As if the workload for Harden couldn't get any bigger, Gordon is now expected to be out for 2 weeks, Westbrook is still shaking off some serious rust after just getting through his battle with COVID, and Rivers may have a minutes restriction after exiting the Bubble for family matters . With some of the huge values available elsewhere on the slate, Harden is a guy I am going to target in my Stars-and-Scrubs builds and I hope to be over the field on him. Outside of Harden, there's not a lot to love on this Houston team, and I definitely do not want to try and navigate their "short" frontcourt.
Dallas Mavericks
Outside the Bubble – Willie Cauley-Stein, Courtney Lee, Jalen Brunson, Dwight Powell
New Players (Back from Injury/Added) – Trey Burke
Potential Minutes Restriction – Michael Kidd-Gilchrist
Huge workload – Kristaps Porzingis
Sleeper – Seth Curry
The Mavericks come into the Bubble with a pretty depleted frontcourt. Powell is still recovering from his Achilles, and WCS decided to sit the restart out. As such, I expect the opportunity to be abundant for Porzingis who will get plenty of run at the 5. When he has slotted in at Center this season, Porzingis is putting up a 26/11/3 line per-36 minutes. Luke Doncic will continue to dominate the ball in his normally efficient self, but I will gladly take the Porzingis ($8600) at almost a $2k discount from Luka. Curry is a guy who was extremely hot in Carlisle's offense prior to the break, and he's picked up back where he left off going 6-6 from three and putting up 23 points in the scrimmage last week against the Lakers. At only $5k he has potential to break the slate if he gets hot.
That's a wrap for the Friday slate folks, I will be back with a similar breakdown for the remaining teams in the Bubble who are playing on Saturday. Good luck to all!
Listen to Jon and Ryan McKee discuss their picks for DraftKings Millionaire Maker lineups and subscribe to the new NBA Gambling Podcast on  Apple and Spotify.
Powered by RedCircle