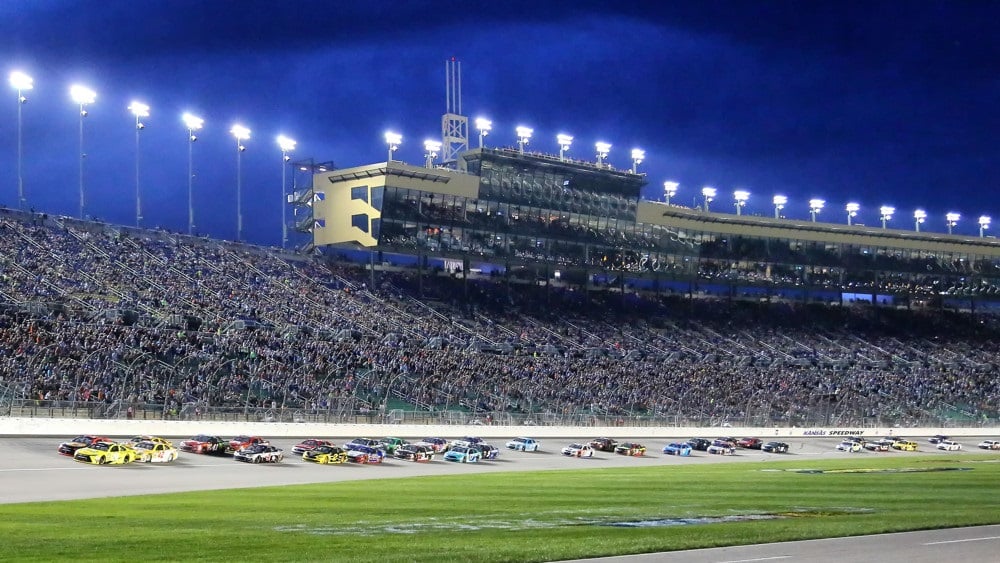 The NASCAR season rolls through the summer with another mid-week night race, as the fastest stock car drivers in the world head to Kansas Speedway for the Super Start Batteries 400.
Here's everything to know about the track and the race before putting together a DFS Lineup (values courtesy of DraftKings).
Recent Winners
2019 (Spring) – Brad Keselowski
2019 (Fall) – Denny Hamlin
2018 (Spring) – Kevin Harvick
2018 (Fall) – Chase Elliott
2017 (Spring) – Martin Truex Jr.
2017 (Fall) – Martin Truex Jr.
Track History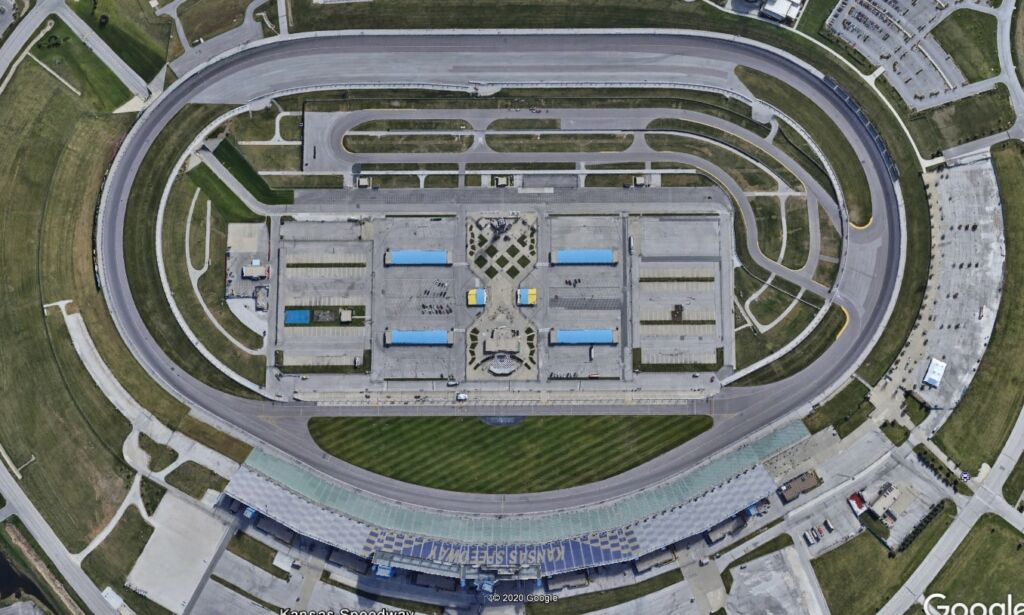 As International Speedway Corporation began gobbling up tracks around the country in the mid-90's, it started to explore the midwest as a site for a new speedway. At that time, the midwest was a largely untapped market for NASCAR, as it primarily operated in the deep south, the northeast or the Pacific Coast. The company utilized the same architect that help build Chicagoland Speedway (which opened in 1999) and picked a spot just outside Kansas City for their new track. The track opened in 2001 and Kansas Speedway has hosted at least one NASCAR event every year since.
Kansas Speedway is a 1.5 mile tri-oval with 17-20 degree progressive banking in the turns. This isn't as steep of banking as other 1.5 mile tracks like Texas or Atlanta, and helps keep average speeds down. It's similar to that of Kentucky Speedway and even is a smaller version of Michigan International Raceway, which is 2 miles long but also features a tri-oval shape and has similar steeped banking.
The track hasn't been repaved since 2012, and while Kansas isn't the most stressful on tires in the NASCAR circuit the crew chiefs will have to utilize good strategy with the tire wear in order to be successful.
Other Race Notes
1. The teams will be utilizing a very similar tire setup that was used at Texas and Kentucky, as well as the same specs that have been run at Atlanta, Las Vegas and Charlotte this season. That should help bettors build comparative performances to other 1.5 mile race tracks to try and predict the strongest drivers for Thursday.
2. It's been a miserable season for Martin Truex Jr, and only his win at Martinsville has salvaged what's been a forgetful year. He finds himself once again at one of his best tracks where he owns two wins and two other Top 5's in his last six starts at Kansas Speedway. Is the breakout of his slump on the horizon? A win this week could desperately right the ship for his team.
3. While Brad Keselowski has enjoyed good success at the track, his fellow Penske teammates have largely struggled lately at Kansas. Joey Logano has finished 15th or worse in four of his last six races at Kansas, with the lone bright spot being an 8th place finish where he led 100 laps and a 3rd place finish in 2018. As for Blaney, his average finish in his last three races at Kansas is 30th. He did amass a lot of stage points, however, which suggests he may be the victim of a little bit of bad luck. Both he and Logano will hope for better results on Thursday night.
DFS Picks
Denny Hamlin – $10,200: Hamlin has been a a rut since the late crash at Brickyard snuffed out a second consecutive win. Call it a hunch he and his team gets his act together at a track he has a good history at. Hamlin has led the fifth most laps of all drivers at Kansas since 2017 and has three Top 5 finishes in his last six starts there. He presents a higher ceiling than most top drivers given his 10th starting position on Thursday.
Brad Keselowski – $9,500: Other than Kevin Harvick, Keselowski is one of the steadiest and most consistent drivers this season. Since NASCAR returned after the COVID break, he's only finished outside the Top 12 twice in 14 starts, and has led at least one lap in 10 of his last 14 races. As noted above, Keselowski has by far the best results at Kansas of his Penske teammates and looks in line for another solid finish.
Tyler Reddick – $8,300: The talented rookie has emerged from his rookie slump with three straight Top 10 finishes, including a near miss last week when he finished runner up to his teammate at Texas. Reddick starts 23rd in the field, but with strong momentum on his side he stands a great chance to rise up the leaderboard for another good finish.
Kurt Busch – $8,000: Like Keselowski, Kurt Busch continues to crank out solid after solid finish every week. He has a lower DFS price point because he's always starting in the Top 12 of the field, but as long as he's hovering around there every week he's incredibly reliable for DFS. His average finish at Kansas in the last three years is 9.7, and there's not a lot of reason to think he won't hover around that spot again on Thursday.
Clint Bowyer – $7,500: This is a head scratching price for Bowyer this week. While the results might be disappointing for him personally, he's been much more reliable than over drivers around his price point. He also has the added benefit of starting 19th on Thursday to allow for bonus positional points. Kansas is Bowyer's home track and he hasn't finished outside the Top 20 there since 2017, providing yet another driver with a relatively safe floor.
Michael McDowell – $6,200: The last spot in this DFS lineup goes to McDowell, who's $600 cheaper than his teammate despite starting only three spots ahead of him on Thursday. Like his teammate, his floor (assuming he doesn't suffer an accident or mechanical issue) is 25th, and he's shown over the last few months his car has Top 15-20 upside. He also has run well on the 1.5 mile tracks this season, and provides some upside given his cheap price.