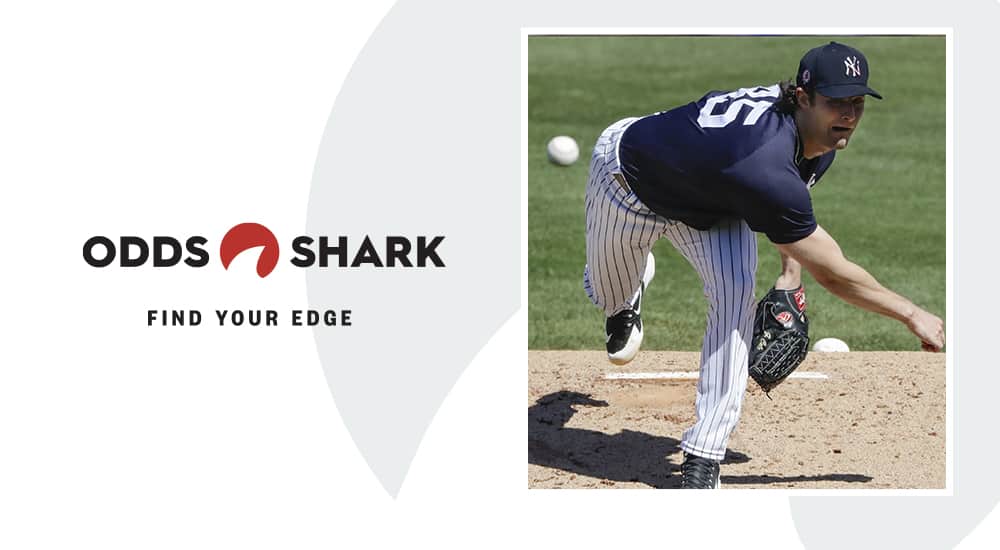 With the start of the Major League Baseball season finally set for Thursday, July 23, it's a pair of teams scheduled to be in action that night that are listed as betting favorites on their respective league pennant odds at sportsbooks monitored by OddsShark.com.
The opening game of the 2020 MLB campaign, barring another delay due to the coronavirus, will be the Washington Nationals hosting the New York Yankees, with the Bronx Bombers listed as the clear +170 favorites on the American League pennant odds heading into the season. That game has a 7:00pm ET first pitch on July 23.
The late game that Thursday is then the Los Angeles Dodgers playing host to the San Francisco Giants, with the Dodgers strong +150 betting favorites on the National League pennant odds at sportsbooks. That matchup will get underway at 10:00pm ET that night.
That the Yankees and the Dodgers are clear leaders on the updated league pennant odds at sportsbooks is no surprise, considering they were also the clear leaders on the 2020 World Series odds when those futures last came out. Baseball fans will now get a first look at both of those rosters in action when play gets underway, with only those two contests set for July 23.
After the Yankees on the AL champion odds are the Houston Astros at +375, with the Minnesota Twins at +750, and the Tampa Bay Rays at +800. The second tier of contenders then has the Oakland Athletics at +1100, both the Cleveland Indians and the Chicago White Sox at +1200, the Los Angeles Angels at +1600, and the Boston Red Sox at +2000.
The Texas Rangers are at +5000, with the Toronto Blue Jays at +6000, the Seattle Mariners and Kansas City Royals at +15000, and the Detroit Tigers and Baltimore Orioles at +25000.
Over in the NL the Atlanta Braves are the second favorites on the NL pennant odds at sports betting sites at +650, closely followed by the Nationals at +750, with the New York Mets at +900. The rival Chicago Cubs and St. Louis Cardinals are both set at +1100 on those futures, with the Cincinnati Reds at +1200, the Philadelphia Phillies at +1500, the Milwaukee Brewers at +2000, the San Diego Padres at +2500, and the Arizona Diamondbacks then at +3000.
Longshots in the National League to win the pennant in the shortened season this summer are the Giants at +7500, the Colorado Rockies at +10000, the Pittsburgh Pirates at +15000, and the Miami Marlins at +25000.