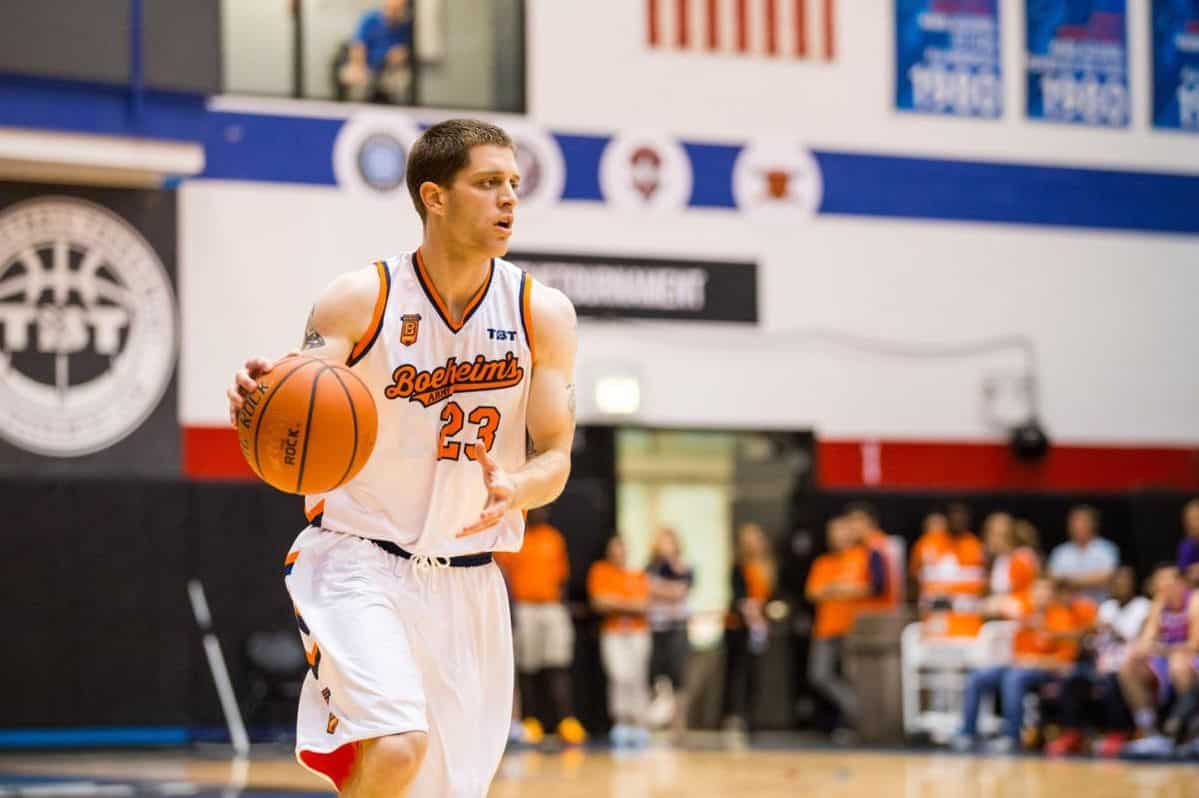 We've had a fun-filled three days of summer daily fantasy basketball as the The Basketball Tournament has been sifting past the introductory round and into the Round Of 16 teams. And now things are starting to really have the heat turned up in regards to the competition.
We're treated to a two-game early slate on Tuesday, and one that looks to make for an exciting afternoon if you can get to a TV or mobile stream regardless of which coast you reside on.
Now that we've gotten a Showdown slate under our belts from Monday's 76-67 Golden Eagles victory over Team CP3, we shift gears back to a full roster with back-to-back games that make for a longer lasting slate that we can sweat into the early evening. And depending on wherever your bulk of daily fantasy endeavors reside, I'll cover value across each pricing tier for both DraftKings and FanDuel.
As some players bleed between pricing tiers on both sites, I've eliminated the declared pricing brackets from previous articles and will proceed by simply casting a blanket of High/Mid and Mid/Low tiers (along with a potential Bargain tier).
High/Mid
Marcus Keene, Sideline Cancer
Guard ($8,800 DK/$23 FD)
With a usage percentage comparable to that of James Harden, ex-Youngstown State and Central Michigan alumni Marcus Keene comes into Tuesday's slate one game removed from a 93-91 win over Team Hines, and as another survivor of an Elam Ending nail-biter.
Finishing with a game-high 29 points, alongside 6 assists, 6 rebounds, and one steal (albeit inclusive of four turnovers), Marcus Keene dominated the ball much as he did in college: when he posted an insane 36.9% usage rate in his final collegiate season at Central Michigan, and a 29.1% career usage rate to boot.
Providing an optimal lineup performance with 44.2 FanDuel Fantasy Points and 48.0 on DraftKings, Marcus Keene was necessary to cash out any larger GPP prizes on Sunday and very well may be the case come Tuesday. This stipulation will almost especially be the case should Sideline Cancer continue their Cinderella streak as a 22-seed still dancing toward one million dollars.
Malachi Richardson, Boeheim's Army
Guard ($8,200 DK/$16 FD)
Although he didn't necessarily transition to the NBA as hope for, the fact of the matter is Malachi Richardson is another in a handful of players with such noteworthy experience notched on their TBT resumes (Sacramento Kings & Toronto Raptors). And to top that off, Richardson was an NCAA Tournament beast just four years back, to the extent of earning himself NCAA All-Region 2016.
Also in his dominant solo season at Syracuse prior to venturing into the NBA Draft, Malachi Richardson averaged 13.4 points per game, commanded at 23.1% usage rate, and added a 51% True Shooting Percentage.
Stacking Richardson with Eric Devendorf, Andrew White, or Brandon Triche may be a tandem or trio to behold in DFS should Boeheim's Army pull out the victory in a matchup they're currently favored over Men Of Mackey.
Justin Dentmon, Men of Mackey
Guard ($8,600 DK/$20 FD)
Coming into the second round following an 85-79 win over team Heartfire, Justin Dentmon leads the Men of Mackey as he dominated the court Sunday and looks to continue the theme heading into Tuesday's matchup with betting line favorite Boeheim's Army.
Dentmon was an absolute scoring machine against Heartfire, while providing little accompanying stats, dishing up 32 points with added garnish of 2 assists and 1 rebound. The four-year Washington Husky guard averaged 15.7 points in his college career, with a standout 20.4 PPG his senior year.
Racking up 33.7 FanDuel Fantasy Points and the clear ball-handler for Men of Mackey, Justin Dentmon looks to be involved in as much of the action as possible and is priced quite comfortably on FanDuel. He pushes the envelope in price on DraftKings but should Men Of Mackey pull down the upset, Dentmon will almost assuredly be the prime suspect as catalyst in achieving such.
Mid/Low
Tyrese Rice, Team Challenge ALS
Guard ($5,800 DK/$16 FD)
I know this seems like a guard-heavy picks list, but it just so happens to be a bulk of the value on this slate. And we've got another to add to the mix!
Boston College Golden Eagle alum Tyrese Rice leads six-seeded Team Challenge ALS as the award-laden point guard who looks to be demanding the ball by large volumes, or at least one would perceive given his college track record of court presence.
Rice averaged 20 points per 40 minutes through his four years at Boston College, and casts an impressive shadow by usage percentage, averaging a staggering 27.1% usage rate through his collegiate venture. Accompanied by a .579 True Shooting Percentage, Tyrese Rice is a value at his price point given the presumptive amount of offense he projects to be involved in.
Evan Boudreaux, Men of Mackey
Forward ($4,800 DK/$13 FD)
Providing promising upside at a very reasonable fantasy price, Evan Boudreaux fits into lineups comfortably at a cost reduced delivery of well-rounded production as well as a tale of two college career stat lines.
In his freshman and sophomore seasons as an Ivy League player for Dartmouth, his stat sheet was quite impressive, nearly averaging a double-double identically both years, touting 17.6-point and 9.45 rebound averages in the two combined terms. Transferring to the Big Ten with Purdue wasn't as noteworthy, slicing those averages down by two and three times less their formers.
But following an 8 point, 1 assist, 3 rebound, and 1 block multi-faceted performance on Sunday in the Men of Mackey victory over Heartfire, Evan Boudreaux managed 21.1 FanDuel Fantasy Points and, should he replicate a similar outing, will easily pay off his fantasy salary on Tuesday's slate.
Donte Greene, Boeheim's Army
Forward ($4,800 DK/$13 FD)
Boeheim's Army is a deep squad, ever so much so that a ball-dominant ex-NBA forward is floating around down by the Bargain level of pricing and looks to be the steal of the slate.
Providing four years of NBA experience with the Sacramento Kings (why does this sound like a theme), along with a dominant solo season at Syracuse posting 17.7 points per game with a 24.9% usage rate, Donte Greene aims to be delivery at a discount to fantasy rosters and should pay off his price tag rapdily so long as he gets the minutes and time of possession.