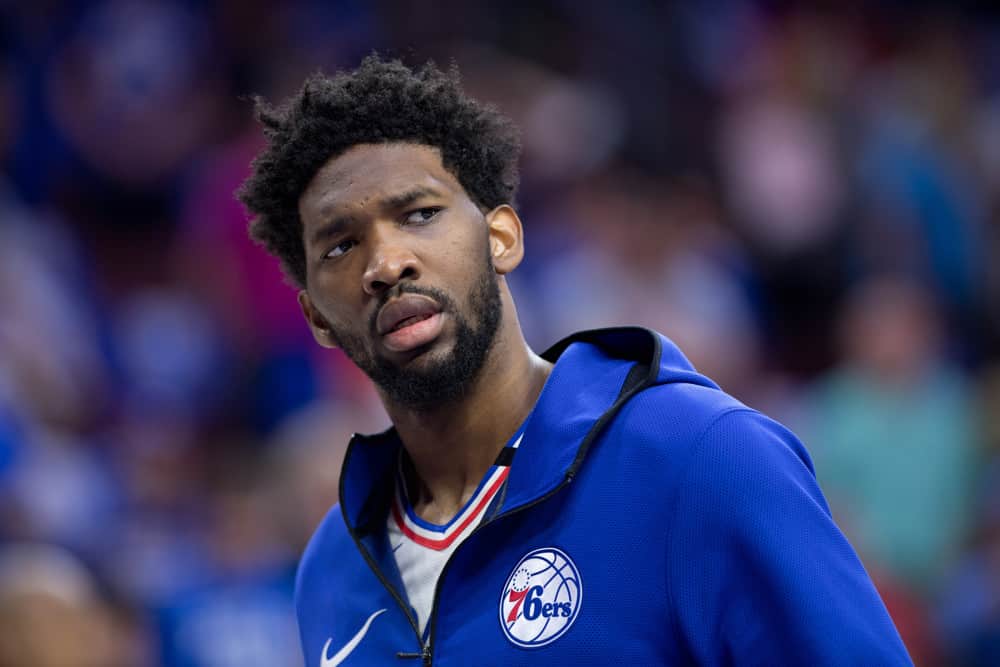 Welcome back to the NBA, everyone! For what's felt like too long, I've been hesitant to write anything for fear of jinxing basketball's return.
Now, I still might be doing that here, but we're now a month away and it's time to buy all the way in on this bubble. The plan for the return seems about as technically sound as it can possibly be; the NBA really has no choice but to trudge forward by taking a risk that will be absolutely epic if it works out and a colossal failure on levels we can't imagine right now if it does not.
For those of you still unclear on the procedural aspects of the NBA's return, the league linked a Q&A on its website explaining everything. I'm no virus or league revenue expert, which I'm sure were the two guideposts of the return to play conversation, but my only criticism of the plan is that Washington, Orlando, Brooklyn, and Phoenix probably don't need to be there.
There is a universe in which this return to play gives us playoff intensity and focus from day one, and the NBA just puts an absolutely ridiculous product on the floor every single day. But a relatively meaningless and almost assuredly lopsided Bucks-Magic game reminds us too well of the consistent tropes used to criticize the regular season and first round of the playoffs.
Between those four teams in "last place" in the bubble, I don't think they would win a title a single time out of 1000 simulations. Even if they do, they're sure as hell not winning one out of one, and I fear that the quality of play within the bubble (or even worse, the quality of the bubble itself) will suffer from too many teams without genuine championship motivation.
If Phoenix starts off 0-2, they would then have six more games to potentially just drag down the overall level of the experiment. Even worse, if you're a couple days from an assured bubble exit, maybe your incentive to stay locked down drops a little bit. At its core, though, the Lakers having to slog through a game against the Suns' dispirited G-League backups in quarantine is not what people had in mind when they say "sports have the power to bring us together."
Schedule Reactions
All that being said, we finally have a schedule  for the eight seeding games that each team will play at the commencement of the bubble before the playoffs start. Here are my first reactions to seeing the schedule and how it'll lead us into the playoffs.
Philly should pass Indiana and play Miami in the 4-5 matchup.
The Sixers are probably the most interesting "dark horse" candidate to me of anyone in this field just because their ceiling is so ridiculously high. Like, it seems very possible to me that they commit to just flying around comically hard on defense, Embiid's in shape, and they're the team best suited for a clunky and rusty style of play that emerges in the bubble. I could also see them just going to bed quietly to end a really weird and bad year for them.
Their schedule breaks right, that's for sure. Currently tied in the standings with Indiana, the two teams open the bubble with a huge game against one another that'll put one time in the driver's seat for the 5-seed. The Sixers play the 2nd-easiest remaining schedule of anyone and should be able to rack up easy wins against Phoenix, Orlando, Washington, and San Antonio. They avoid Milwaukee, Boston, and both LA teams.
The Pelicans have a really easy schedule. So does Sacramento.
Probably the most viral storyline to emerge from the schedule release is that the Pelicans will play six teams under .500 and have the easiest schedule of anyone in the return to play. Of course, the conspiracy theories resounded throughout the halls of NBA Twitter that there was a rig-job in place to get a Zion-Lebron matchup in the first round.
Indeed, the Pelicans' schedule comes out ridiculously easy, and they should probably be favored to be the team that gets two cracks at Memphis for the 8-seed. However, not enough people are talking about the other "9-seeds" out West, namely Sacramento, who has the easiest schedule of anyone besides New Orleans and Philly.
And while there's been much to do about Zion's emergence and the Pels' being super dangerous, Sacramento actually was the slightly better team down the stretch before the restart, going 7-3 in their last ten games with a +3.3 point differential (Pelicans 5-5, +2.7).
The Kings will get two cracks at the Pelicans as well. We don't know how this bubble will affect betting but I sure as hell know I'm looking to be a contrarian to the first major public play that's made its way through the market. Sacramento or Portland (albeit super tough schedule) have just as good of a chance to make something happen here as New Orleans does.
Rockets have to ignite immediately.
Houston is a great story but they're screwed if they play an LA team in Round 1, so they better start fast.
There is no team in the West outside of LA with any margin for error once the season restarts. That starts with Houston, who has an absolutely brutal stretch to begin the restart.
They open up with Dallas, the team who is only a game and a half back from them in the standings. The key in the West is to get to the sixth seed so you can avoid LA; the Rockets are currently the sixth seed and thus sitting on a cliff of despair. What makes that Dallas game essentially a must-win for Houston is that they get Milwaukee, Portland, and the Lakers in their next three games, all of which could and maybe should be Ls. If you drop that huge game to Dallas, you're already in an effective tie for the 6-seed going forward. Many have surmised that the Rockets' style is perfect for this bubble scheduling format, but that'll be put to the test early and often. James Harden has an uphill battle to vindicate his playoff self here and I can't wait to watch it.
READ ALSO
WNBA Team Win Totals To Smash While The Numbers Are Soft
The Basketball Tournament (TBT) Daily Fantasy Basketball Preview