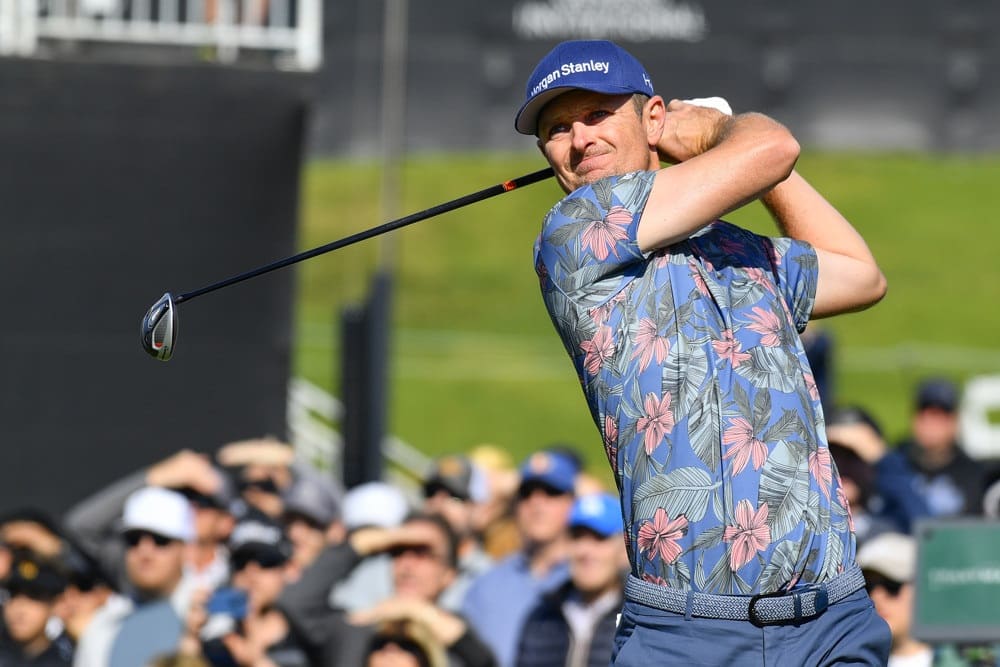 For those who missed it, please check out the 2020 RBC Hertitage Preview and Betting Strategies column for the types of golfers you should look to target for your bets.
With that in mind, here's who I like this week at Harbour Town Golf Links (with odds courtesy of MyBookie.ag).
Champion Futures (with Top 10 Prop Odds)
Jon Rahm – 18/1 (+200): A very disappointing showing for Jon Rahm last week at Colonial, but it wasn't as bad as it appeared. His ball striking numbers tee to green were pretty good, but his putting was uncharacteristically bad and a complete outlier to his performances on the greens before the COVID break. Harbour Town doesn't seem like a fit for a bomber like Jon Rahm, but he's a very versatile golfer who's won on all forms of golf courses around the world. His fast clubhead speed means he can throttle back off the tee without sacrificing too much distance to play the accurate, positional golf demanded Harbour Town. A regression to the mean for Jon Rahm's putter could mean big things for him, and 18/1 for someone who's played as good of golf as anyone in the world is a great price.
Sungjae Im – 28/1 (+275): A quiet yet solid showing for Sungjae Im last week at Colonial, and he makes another appearance in the picks column on SportsGamblingPodcast.com for the second week in a row. Sungjae backdoored a Top 10 by doing a little bit of everything well, which is what we've come to expect from him. That recipe should once again work well at Harbour Town, and a slightly better putting week could vault him to the top of the leaderboard.
Justin Rose – 30/1 (+275): Now that's the ball striking we expect from Justin Rose. Rose had his best performance tee-to-green since the 2019 Farmers Insurance Open, which coincided with his last win and first week on his Honma endorsement deal. It's been all downhill since, and in his first tournament after their split he showed just how inferior of golf clubs he was saddled with. If what he showed at Colonial is legit, he possesses the necessary skills needed to don the plaid jacket on Sunday.
Gary Woodland – 40/1 (+350): I'm a little concerned about his ability to have two outstanding putting weeks in a row. Nevertheless, his 40/1 price is too good to pass up with how well his game tee to green fits with Harbour Town. Woodland's iron play right now is fantastic, whether it's a stinger off the tee or pinpoint precision off the fairway, and his scrambling is really good. All of this will be necessary to play well at Harbour Town. If the putter shows up again this week, watch out.
Others to Consider (with Top 20 Prop Odds)
Rickie Fowler – 50/1 (+220): I'm firmly in the "overrated" camp, but for the first time I can remember Fowler's odds pre-tournament aren't unreasonable. Fowler underachieved a bit both with his ball-striking and putting at Colonial, and when he's at his best it works well at a golf course like Harbour Town. A combination of his high ceiling and potential for positive regression makes his 50/1 price worth a flier.
Viktor Hovland – 66/1 (+270): There's not many players who can better combine accuracy and length off the tee like Viktor Hovland, and his iron play has improved since the beginning of the year. Where he has serious concerns is with his short game, but his elite ball-striking helps limit his exposure in that area in tournaments. That hasn't seemed to prevent him from multiple good finishes at Pebble Beach, another golf course with small greens that places a premium on approach play and scrambling. He's worth a flier at 66/1 to try and break the "Puerto Rico Open Curse".
Christiaan Bezuidenhout – 120/1 (+600): Harbour Town reminds me a bit of Real Club Valderrama in Spain, another narrow golf course that's heavily tree-lined, and Bezuidenhout won the Andalucia Masters last year there. Bezuidenhout displayed solid ball striking at Colonial but missed the cut due to poor scrambling, an area he typically excels in on the European Tour. He also putted poorly, but that was on bentgrass and this week he putts on bermuda, a surface he found success on before the COVID break. He's a nice dark horse to be near the top of the leaderboard on Sunday.
Other Finishing Position Futures
Webb Simpson Top 10 – +275: Simpson is in a similar spot to Rahm in that he had uncharacteristically poor performances in his core strengths at Colonial. Webb was really bad both with his irons and his putting, losing strokes in both areas over the course of two rounds. He should bounceback on a golf course that's treated him well in the past, and Harbour Town should put him on more equal footing with the bombers than it did at Colonial. While I don't think he'll win, I like his odds at a return to the Top 10.
Ian Poulter Top 20 – +270: Short, less than driver golf courses with bermuda greens have been very friendly to Ian Poulter over the course of his PGA Tour career. While he played OK last week at Colonial, he actually underachieved a bit with both his ball-striking and putting based on his long-term trends. He stands a chance of seeing positive regression in both areas on a golf course he's had good success at for a Top 20 finish.
Other Top 20 Props to Consider – Joel Dahmen (+330), Adam Hadwin (+400), Bud Cauley (+500), Maverick McNealy (+600), Matthew NeSmith (+800), Brian Stuard (+1000)
Matchup Props
Scottie Scheffler over Jason Kokrak (-125): Scheffler had a solid ball striking week at Colonial yet massively under performed scrambling relative to his long-term trends. A bounce back in that department should be in order to lead to a better showing. Meanwhile, Kokrak historically struggles around the greens and with his putting and he massively overperformed in those two areas on his way to a T3 finish at Colonial. I expect both to regress a bit and for Scheffler to best him head to head.
Joel Dahmen over Jason Day (-130): Dahmen was on a roll before the COVID break and picked up right where he left off with another solid performance at Colonial. His game was a great fit last week and should translate just as well at Harbour Town. As far as Jason Day, I'm not sure if he has the motivational drive anymore. He won a major and reached World #1, but ever since then he's woefully fallen short of his natural talent. He's become a terrible ball striker, particularly with his irons, and his putting isn't nearly as deadly as it once was. Sloppy ball striking is an absolute no-no at Harbour Town, and I expect Dahmen to best him one on one.