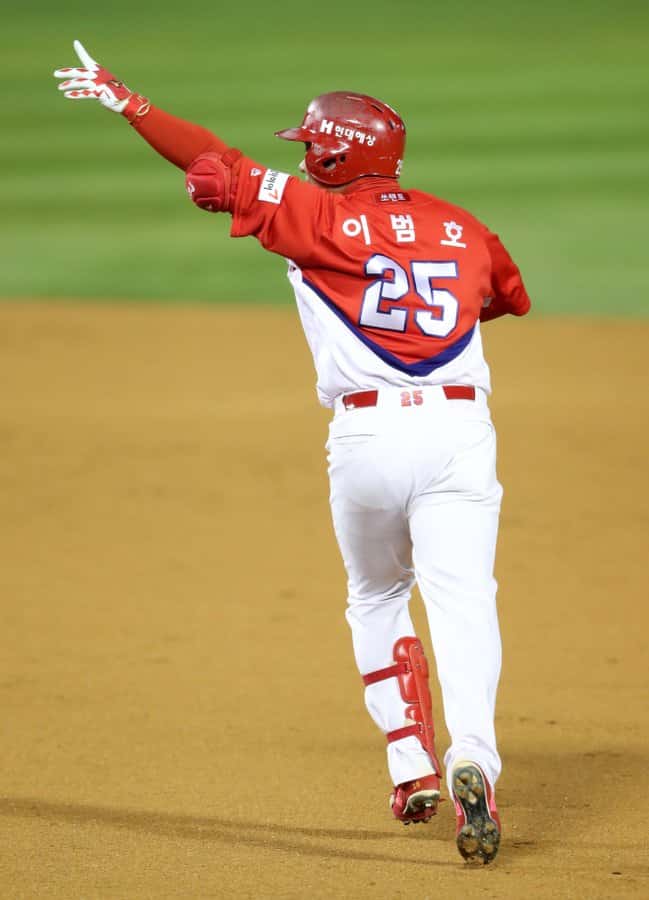 **UPDATE:  Saturday 6/13 , 8:25 PM PDT**
Not to deduct from our fun we've been having for several weeks now, but the other real sports seem to be encroaching on the territory KBO has been comfortably claiming on DraftKings' prize payout real estate as another month passed with little-to-no "real" sports outside of Korean Baseball, NASCAR, and cornhole (thankfully never quite got around to that Daily Fantasy welcoming committee).
And now, noticeably on DraftKings the slate payouts have diminished slightly as of this week, with the influx of failed MLB season resumption discussions between owners and players continuing abreast all the golf chatter.
But we are KBO fans, and we remain strong. Especially if you're at all an SGP degen who's willing to set specific alarms to provide yourself ample time to awaken in the dead of night to tend to your five-man Dinos stacks ensuring you nailed all starters before they're confirmed.
If this pandemic taught us anything it's that we're forced to live in the here and now in all aspects of life, whether we choose to participate or not. This was very much eSports for many of us when the world adjourned, and then transitioned into KBO.
If you had told me last December that, come six months from then, I would be able to name off every League of Legends and Korean Baseball starting roster (give or take), I would have to ask you what the hell happened.
Whether we will get to retain this newfound facet in KBO Daily Fantasy upon the return of the major real sports; that much is untold (and I would guess still likely). But we certainly get to withhold the proven ability to adapt with the times and make the most of it, and I feel KBO we can thank in part for that (in regards to DFS anyhow).
Don't forget to keep an eye out for rain indications for these games all weekend!
Hitters
Jamie Romak (1B/OF), SK Wyverns (vs. KIA)
Rostering any player from the SK Wyverns may seem like a bit of a challenge, especially when forced to spend up in doing so. So, everything I'm about to say…ignore for Cash Games. But as a tournament spend-up option, Jamie Romak provides a big boom (and bust) ability with his slugging these days.
Literally and proverbially the definition of hit-or-miss, Jamie Romak can just as easily put up a zero for you as he can tack a two or three in front of it when it comes to fantasy points scored (or not). Putting up a couple zeroes in his past five games was all-inclusive of 22 & 32 DraftKings Fantasy Point bombs, which makes for next-to-no ownership given the costly inconsistency. But I have faith in his one-off capabilities if the extra cash is there for you at the end of construction.
Swinging to the effect of an above average 135 wRC+, a noteworthy .903 OPS, and a .227 ISO that's not anything to shrug at, Jamie Romak has the potential to get you different by a long-shot while having proven ability to shine.
Jae Il Oh (1B), Doosan Bears (vs. HAN)
Following several games in a row of dud performances, Jae Il Oh has begun to strike a rhythm once again it appears, as he just laced together a 14 and a 30 DKFP point performances in a row. Facing the Hanwha Eagles makes it that much more of a palatable investment at $4K on DraftKings.
Hitting for a solid 172 wRC+ is definitely immediate reason for attention, and if that isn't quite enough, a potent 1.05 OPS is the added incentive of power and production. The lefty may not look like the best option Friday in the early part of the slate against a fellow left-hander taking the mound in Hanwha's Chad Bell…
…but it's Chad Bell. This Eagles pitcher has gotten downright nuked all season and a matchup with a loaded Doosan squad would assume the Eagles bullpen will be working from the get-go.
The .423 BABIP of Jae Il Oh warrants the typically-higher ownership on his behalf, demonstrating his ability to produce when the ball is in play. His injury earlier in the season may have had part to do with his dip in performance for about ten games, but he's showing the high-ceiling is again achievable and that's enough for me against this Hanwha pitching rotation all weekend.
On that note, Hanwha is rather easy to target against across the board: 1.71 WHIP (worst in KBO), 194 runs earned (most in KBO), 347 hits allowed (most in KBO), and 1.4 home runs per game (most in KBO).
Other Bats I'll Be Getting To This Weekend:
High ($4,600+):
-Roberto Ramos (1B), LG
-Jae Hwan Kim (1B/OF), DOO
-Aaron Altherr (OF), NCD
-Jared Hoying (OF), HAN
-Eui Ji Yang (C), NCD
-Min Woo Park (2B), NCD
-Sung Bum Na (OF), NCD
Mid ($3,600-$4,500):
-Jin Sung Kang (1B/OF), NCD
-Han Joon Yoo (OF), KT
-Kyung Soo Park (2B), KT
 -Jin Hyuk No (2B/SS), NCD
-Kun Woo Park (OF), DOO
-Woo Jun Sim (SS), KT
Low ($2,100-$3,500):
-Min  Sang Yoo (1B), KIA
-Hae Min Park (OF), SAM
-Ah Seop San (OF), LOT
-Jeong Dae Bae (OF), KT
-Ji Hwan Oh (SS), LG
-Chi Hong An (2B), LOT
Pitchers
Won Joon Choi, Doosan Bears (vs. HAN) (CONTRARIAN)
Normally I would only tag "CONTRARIAN" next to my non-write-up pitchers, as notation necessary for the unexplained. But in this instance, I have to point it out blatantly just in case anyone were to consider going stupid heavy on this play: Won Joon Choi is strictly based on the factor of price (bottom-barrel for starting pitchers, $4K) and opponent (I think I've hammered on  Hanwha enough in this article).
His best of three seasons in the KBO, as a reliever, was in 2019: 2.65 ERA with a 1.25 WHIP and 1-2 in decisions, over 34 games played. It's his two surrounding seasons that are cause for concern, and by rostering Won Joon Choi you're basically just hoping he can go 4-5 innings without getting beat up too badly, and would only recommend this in tournaments and if you plan on using the rest of the salary he provides.
But Hanwha is terrible on both sides of the field. I will take my chances, but don't say I made you.
David Buchanan, Samsung Lions (vs. KTW)
While he started off the season in a bit of a funk, David Buchanan has since spun a 180 when the DFS Twitter doubters were in full effect, proving to be quite possibly the Lions' best starting pitcher on the roster (in my opinion anyhow).
While his modest 3.79 ERA and 15.2 K% a more reflecting of his earlier woes in the late Spring, Buchanan has heated up along with the weather, cruising through both stud offenses in NC Dinos and Doosan Bears, before striking out five more in 103 pitches in six innings of work against the SK Wyverns for a 3-0 shutout.
Buchanan faces a KT Wiz squad on the freefall, and 3-11 in their away games as well. I suspect Buchanan aces along the lines of the past three DraftKings Fantasy Performances: 23.3, 19.55, and 23.75 DKFP, with no fewer than six innings innings pitched (all over 103 pitch-count).
This will be a chalk play that I have little shame in touting. David Buchanan should be taking the mound no later than Sunday (although I have stood corrected before).
Other Pitchers I Will Confide In This Weekend:
Friday:
-Chang Mo Koo, NCD
-Drew Gagnon, KIA
-Dan Straily, LOT
-Tyler Wilson, LG
-Odrisamer Despaigne, KT
Late Fri/Early Sat:
-Woo Chan Cha, LG
-Odrisamer Despaigne, KT (Deja vu? No no, just a postponement on the Friday AM slate)
-Ki Young Im, KIA
-Hui Kwan Yu, DOO (CONTRARIAN)
-Seung Won Moon, SK
Sunday:
-Casey Kelly, LG
–Tae In Won, SAM
-Hyun Jong Yang, KIA
-Young Jyu Kim, NCD (CONTRARIAN)
-Geon Wook Lee, SK

-Adrian Sampson, LOT
Stacks
While I will be getting to just about stacks from every team in the next three days, the following are going to be favorites that I'll be chasing for a variety of reasons rolled into one ranking (in numerical order):
1) NC Dinos
2) Samsung Lions
3) Lotte Giants
4) Kia Twins
5) LG Twins (CONTRARIAN)