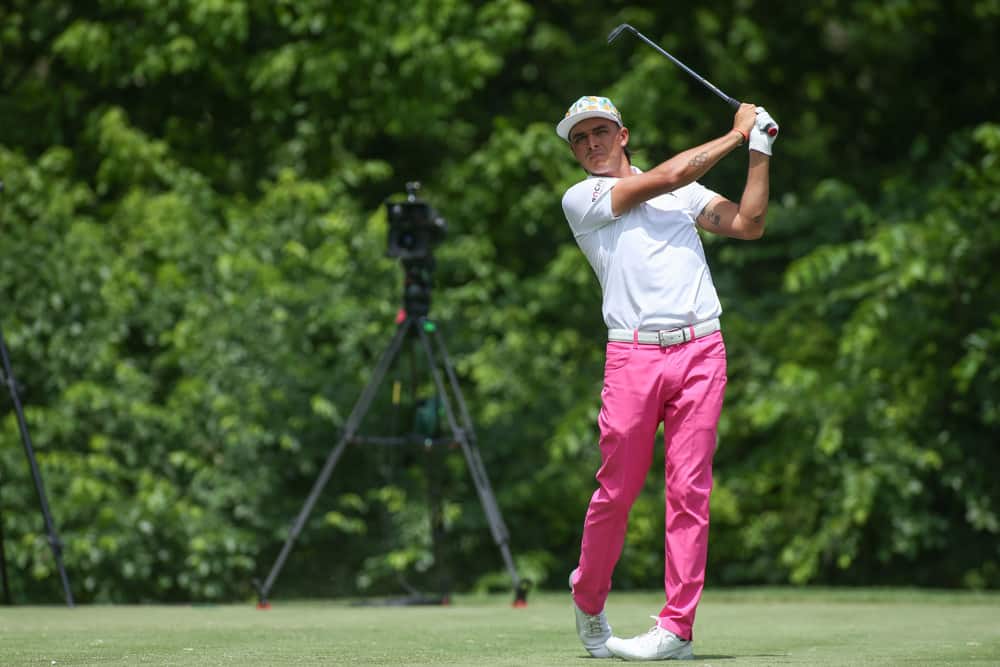 We are back baby! After coronavirus, murder hornets, and Korean Baseball; it is finally time to turn off NASCAR and get back some normalcy.
We come back to an absolute beast of a tournament with the Charles Schwab Challenge. The 7,200 yd, par 70 Colonial will host 16 out of the 20 top golfers in the world. This tournament has also never had a field like this in the past so tournament history will not be a good indicator.
The added factor of how golfers spent their time quarantining is a huge unknown. Did golfers with families and children find time to practice? Did the younger golfers play everyday or did they spend their time like Rickie did post President's Cup?
With no current form and limited past, this week is the definition of gambling. Here are our are picks for the week.
Key Stats
SG: Approach
SG Approach 125-175
SG: ARG
Number of Children
Driving Accuracy
SG: P  Bent grass
Webb Simpson-$9,800
Webb may be one of the chalkier plays off the week, but we think he'll be worth it. Before the break, Simpson was having a very strong campaign. In his last five events, he had four top 10 finishes and won the WMPO.
As we mentioned before, course history is not a big factor this week, however, Webb does have two top-fives in his last three events at Colonial.
We are concerned with the fact Webb has been home with five kids during quarantine, potentially limiting his time to focus on his game. However, his pre-quarantine form and course fit are too good to get us off him. We expect Webb to pick up where he left off and shoot darts with his irons all weekend.
Rickie Fowler-$9,400
If you follow golf social media, you know Rickie spent almost every day smoking Justin Thomas on the coarse. He also, almost single-handily, beat Rory and DJ on national TV. While none of that really matters, we do know Rickie spent his quarantine playing a lot of golf, which cannot be said for everyone.
Ricky didn't have the best form early this year. However, it's been awhile. We are focusing on the fact that when Rickie is hot, he can play with anyone in the world.
Colonial has favored golfers with great short games and Rickie is a guy who can roll the rock. We think Rickie has a great shot to be chugging champagne come Sunday.
.@RickieFowler is on a 24-hour champagne diet 🍾 pic.twitter.com/zCH8D5kfgI

— PGA News Feed (@PGANewsFeed) October 3, 2016
Matthew Fitzpatrick – $8,200
This skinny Englishmen is built for a course like Colonial. He drives it straight, has good irons, and plays well around the greens. His biggest shortcoming, length off the tee, won't be a factor this week.
Before the break, he had a nice start to the season making every cut and three top 10s. This is also a guy who has shown he can play at major events with stacked fields like this week with three top 25 finishes in majors last year.
At $8,200 and low projected ownership we are all over Fitzy this week.
Jordan Spieth-$8,000
Quarantine-drinking may have taken a few of our remaining brain cells, because we are on Spieth this week. He hasn't won a tournament in close to three years and has rarely looked like the guy who was supposed to be the next Tiger.
With that being said, he has great course history here at Colonial and we are banking on it. In seven starts, he has a win (2016), two runner-up finishes and a pair of other top 10s. Spieth also changed his swing at the beginning of the year, which he said would take months to sink in. We hope he used the downtime to get dialed in.
Lastly, he is always a good putter, but ranks fifth in his past 50 rounds on bentgrass. At the $8k price-point, we think Spieth is worth a gamble this week.
Kevin Kisner – $7,600
Kiz is built for the Colonial and it showed when he won the even in 2017. His ability to hit fairways and roll the rock will give him a chance to be in contention come Sunday.
Early this year, his approach game was holding him back as he lost strokes in his last four events. We think a 12-week break is just what he needed to get his irons tuned up.
In an event where most pros will have some butterflies after such a long delay, you are going to want a bulldog like the WGC match play champ Kiz. While other golfers may be knocking off rust,  Kisner is going to be throwing in dips and knocking down birdies all weekend long.
Brian Harman – $7,200
It's not often you will find us with three golfers under 5'8, but that's where we are going this week.
Rounding out our picks is another guy who hits fairways and has a good short game. Harman's skillset fits this course and we really love the rumors swirling that he has been living at Colonial for the past three weeks. This tells us that this guy is HUNGRY and DIALED THE FUCK IN.
While most golfers were still finishing Ozark and Zoom happy hours, Brian was putting in the work at Colonial. That's a Tiger-esque move that has us throwing Harman in some of our lineups this week.
Fades
Dustin Johnson $9,500
DJ just spent months at home and it showed it in his match with Rory, Rickie, and Wolff. If they kept individual scores, he may have been plus-80 that day. Not only was he playing bad pre-quarantine, but it didn't look like he did much to fix it over the break. At $9,500 there are too many other good options this week.
Scottie Scheffler $8,400
Scottie is one the top young golfers on tour, but he's priced way too high for this event. He's no where near the same players he's priced alongside: Finau, Lowry, Kuchar, Day and Fitzpatrick.
His strengths of distance-off-the-tee and par 5 scoring won't be as valuable this week. While we love Scottie Scheff, this is just not the week for the young Texan.
RELATED
Charles Schwab Challenge Preview and Betting Strategies
Charles Schwab Challenge Odds, Picks, Winners and Prop Bets