After a three month pause, professional golf is back! No more gimmicky scrambles or analyzing which Hall of Fame Quarterback's swing is superior. This week we get a real golf tournament as the PGA Tour restarts its season at Colonial Country Club in Fort Worth, TX for the Charles Schwab Challenge.
Here's everything to know about the tournament before placing a single wager on it.
The Field
Many top players are very eager to jump right back into playing on the PGA Tour, and as a result this year's Charles Schwab Challenge boasts a little stronger field than it normally would. Sixteen of the Top 20 players in the world will restart their seasons at Colonial Country Club this week, including everyone currently in the Top 5 of the Official World Golf Rankings. Rory McIlroy, Jon Rahm, Dustin Johnson, Brooks Koepka and Justin Thomas highlight this star studded field.
Other notables in the field include a trio of past champions in Kevin Na, Jordan Spieth and Justin Rose. Kevin Na is the defending champion and looks to build upon a very successful year of golf that's seen him win twice worldwide. Jordan Spieth and Justin Rose, however, are looking to break out of prolonged slumps. Jordan Spieth has battled both severe putting and ball striking issues for two years now, which many attribute more to mental obstacles than a loss of talent. As for Justin Rose, his brief marriage to Honma was very unsuccessful, and he's reportedly back to using his trusty TaylorMade golf equipment. The long layoff may have been a blessing for both to collect themselves and get back on track.
Other notables in the field are Patrick Reed, Xander Schauffele, Tony Finau, Rickie Fowler and Phil Mickelson.
For the full field list, click here.
The Golf Course
The Colonial Country Club was built in 1936 on what was essentially an effort to prove naysayers wrong. It was speculated that bentgrass (grass utilized at places like Augusta National) was too fragile to withstand the hot Texas heat, and most golf courses in the area strictly utilized the native bermudagrass (a heartier, bumpier grass). Taking up the challenge, club founder and golf nut Marvin Leonard constructed the grounds entirely of bentgrass and with that, the golf course was born.
Unfortunately, the first incarnation to create a sustainable bentgrass golf course in Texas failed and the fairways and rough were converted back to Bermuda. However, the greens remain comprised with bentgrass and are some of the best maintained greens offered on the PGA Tour. Unlike other Texas golf courses, Colonial also features sloping fairways and some elevation changes, which will force the golfers to accommodate for uneven lies several times a round. The routing of the golf course is also very creative, as hole to hole there isn't a huge sense that a player is just going back and forth over and over and over.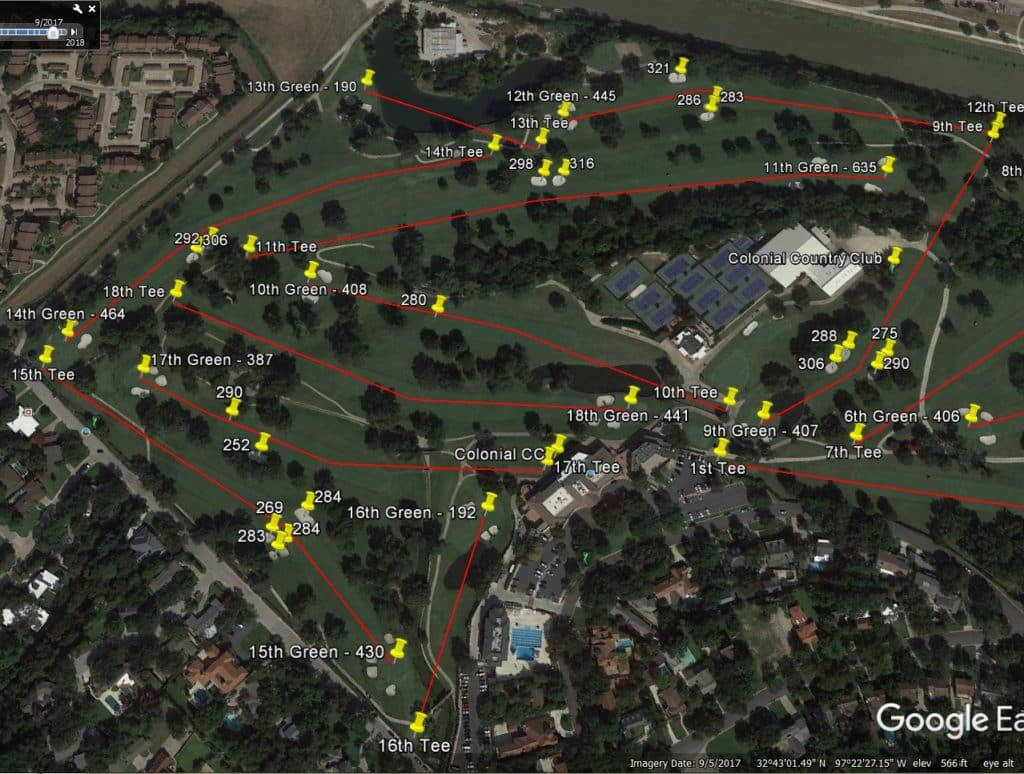 Something that makes Colonial Country Club a great golf course is that it's located right in the heart of downtown Fort Worth, and there is a tremendous bond between the community and the private country club. The tournament is also rich in tradition as one of the oldest on the PGA Tour and has a murderers row of former winners – Ben Hogan, Sam Snead, Arnold Palmer, Ben Crenshaw, Lee Travino, Jack Nicklaus, Tom Watson, Phil Mickelson, Sergio Garcia, and the aforementioned Jordan Spieth and Justin Rose.
Here are two videos from the boys of No Laying Up covering Colonial Country Club. The first one discusses what the tournament and the country club means to Fort Worth. The second one shows them take on the Horrible Horseshoe, a grueling trek across the third through fifth holes and is one of the tougher three hole stretches in golf.
Betting Strategies
While only about 7,200 yards on the scorecard, strategically placed bunkers, tree lined fairways and dog legs slightly lengthen the golf course overall because it takes driver out of the players hands more often than other places. The fairways are also very narrow and the club grows the rough up to penalize errant drives. As a result, typically shorter and more accurate hitters off the tee who show great control on their irons and putt well on the perfectly manicured bentgrass greens stand a great chance at a good finish. Scrambling is also important, as Colonial Country Club is an old golf course featuring very small greens.
This is largely borne out when looking at both past leaderboards as well as the relative skill set plot chart of the golf course:
That's not to say the golf course can't be bomb and gouged. Jon Rahm has played this course to great success by being aggressive off the tee, as he possesses the length to hit it over the dog legs to set up short approaches. Brooks Koepka and Tony Finau each have runner up finishes at Colonial over the last two tournaments and can employ a similar strategy. The stronger field also brings some of the longer hitters in the game like Rory McIlroy, Dustin Johnson and Bryson DeChambeau, and with blistering hot temperatures this week the ball will be flying off the club face. The historical trend of short tacticians dominating at Colonial will be put to the test.
In terms of horses for courses, players with at least 12 rounds who have gained more than 1.5 strokes per round at Colonial include Jordan Spieth, Kevin Na, Harris English, Emiliano Grillo, Tony Finau, Kevin Kisner and Zach Johnson. Most of them are considered more accurate ball strikers and are great scramblers and putters. As shown above, that's typically been the recipe for success at Colonial Country Club.
Lastly, the closest correlated golf courses on the PGA Tour schedule to Colonial Country Club include Harbour Town, Waialae Country Club, TPC Southwind, Detroit Golf Club and Sea Island. Players in the field this week with great results on these golf courses include Charles Howell III, Kevin Kisner, Webb Simpson, Billy Horschel and Matt Kuchar. That doesn't mean you have to necessarily pick these players, but rather provides a template of the types of golfers who are expected to play well at Colonial Country Club.