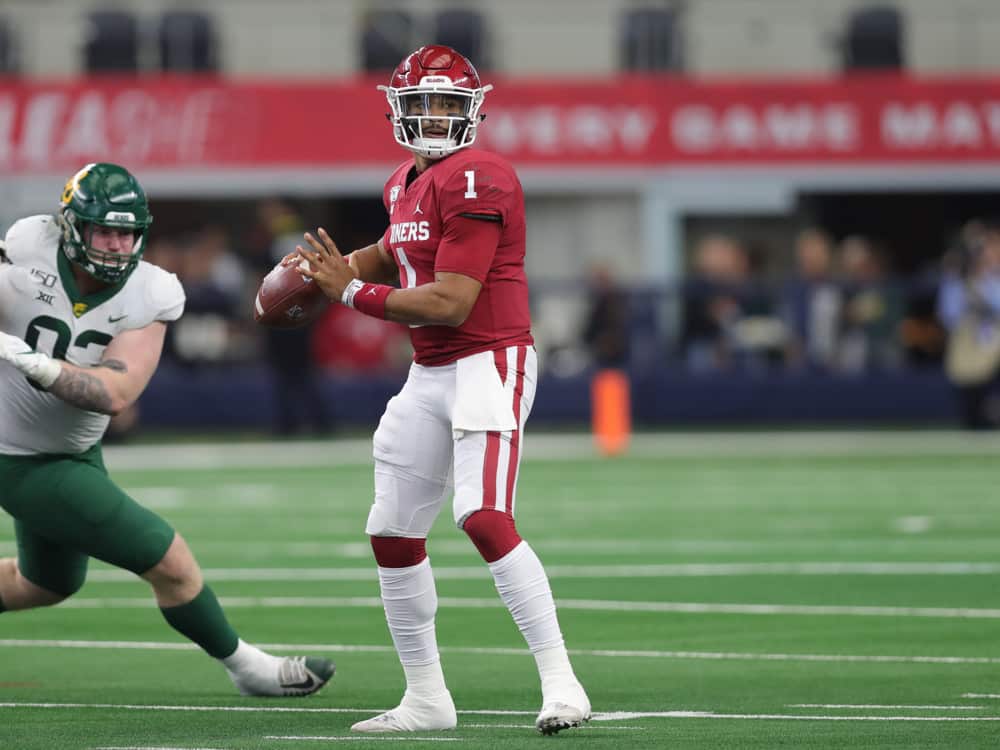 Yes folks we really sat down and figured it out. We didn't need even need Condaleezza Rice. Over a tough 15 minute stretch, we figured out how to have a 16 team college football playoffs.
This NCAA Football 14 simulations tournament has zero subjectivity to it. There are guidelines and if your team didn't make those guidelines, then they didn't get in.
Last night was kicked off the first night of the SGPN College Football Tournament and it was fantastic. Both favorites won but Miami (OH) put quite a scare on LSU and Joe Burrow. Now comes night two!
Get your bets in exclusively at MyBookie!
All games can be viewed on Twitch, YouTube, Twitter (@GamblingPodcast), Twitter (@theSGPNetwork), Facebook, and Instagram
Boise State Broncos @ Oklahoma Sooners
Line: OU -14.5
Total: 61
Sunday 5pm PST
The rematch of the 2007 Fiesta Bowl which was one of the greatest college football games ever. It only took 13 years to find a way to have a rematch and sure enough the SGPN College Football Tournament figured out a way.
Boise State has been the winningest division 1 college football program since the year 2000 and hasn't been just luck. Boise has beat the big boys like Florida State, Georgia, Oregon, Virginia Tech, Washington and Oklahoma. Sure, it was 13 years ago and Chris Peterson was the head coach but don't under estimate head coach Bryan Harsin. Harsin was on that Peterson staff and Boise State went 12-1 in the regular season with their only loss coming in a close game at BYU without their starting quarterback. Boise is always a live dog and I'm sure by now Oklahoma knows this.
The Broncos are led by perhaps the best freshman quarterback in the nation in Hank Bachmeier. Bachmeier is the real deal just ask Florida State who thought they had Boise beat in Bachmeier's first ever start. Bachmeier led the Broncos back from down 24 to beat Florida State in Tallahassee. Bachmeier also has a talented group of running backs to give OU problems with Robert Mahone, George Holani, and Andrew Van Buren. Mix them with wideouts Octavius Evans and John Hightower and this offense can be legit. The real task is going to be can Boise State stop the Oklahoma offense. Boise State is really experienced on defense but Lincoln Riley's offense is a fine tuned machine.
Looking to bet on more video games? Go here for more Esports betting.
Oklahoma is led by quarterback Jalen Hurts the grad transfer from Alabama. Hurts has proved throughout the year that he's capable of being a great throwing quarterback as well as a runner. Kennedy Brooks ran for over 1,000 yards and wideouts CeeDee Lamb, Charleston Rambo and Lee Morris will all be matchup problems for the Broncos.
Defensively Oklahoma has had issues under Lincoln Riley but this year their defense has been the best yet with the addition of new defensive coordinator Alex Grinch. Grinch has the Sooners forcing more turnovers and applying more pressure on the quarterback than years past. His best defensive player is linebacker Kenneth Murray.
Picks:
Lincoln Riley and the OU offense will be too tough for the Broncos to stop but Boise State will cover and keep the OU fans on edge. I'll also ride with the over in this game.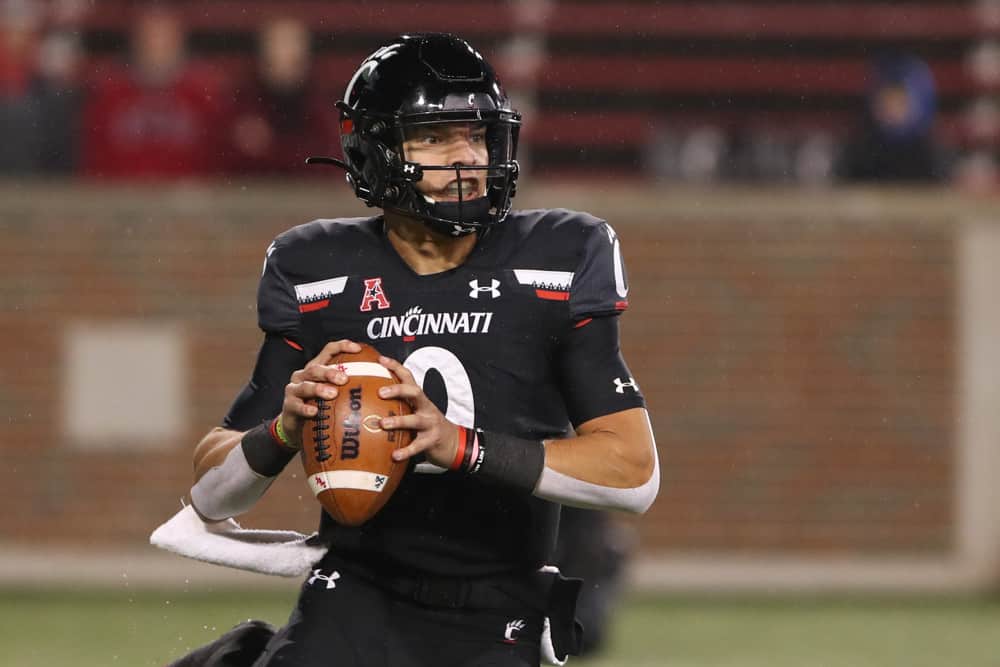 Cincinnati Bearcats @ Georgia Bulldogs
Line: UGA -13.5
Total: 48
Sunday 7pm PST
Two at large teams going head to head in Athens, Georgia. What's not to like here? Georgia has had a disappointing season to some with a home loss to a 4 win South Carolina team on their 3rd string QB and a blowout loss to LSU in the SEC Championship game. Cincinnati on the other hand is about a year ahead of schedule with a nice 1o win year.
Cincinnati is led by sophomore QB Desmond Ridder and when he's healthy this Cincinnati team only lost one game all year. Ridder is a dangerous threat because of his mobility. The Bearcats also have an elite running back with Michael Warren II. Warren is the real horse of the offense and as long as he can excel it opens up the offense for Ridder's arm and his top target in tight end Josiah Deguara.
Defensively the Bearcats will have to key in on the Georgia rushing attack and apply pressure on junior QB Jake Fromm. Cincinnati head coach Luke Fickell's background is defense so I'd expect a nice game plan to limit the best parts of the Bulldog offense. Keep an eye out for safety James Wiggins he's the best defensive player on the Bearcats and could be a game changer.
Georgia has perhaps the best running back in all of college football in D'Andre Swift. The Georgia run game is the gateway to the passing game which is led by quarterback Jake Fromm. If there's a weakness on this roster perhaps its the inexperience of the wide receivers but make no mistake they are still a talented bunch.
Defensively the Bulldogs are skilled at pretty much every position and led by safety Richard LeCounte and linebacker Nate McBride. The Georgia defense finished 3rd in the nation. They pretty much do everything well but the key in this game will be stopping Warren II from running the ball and making Ridder sit back and pass.
Picks:
Cincinnati and defensive head coach Luke Fickell will devise a defensive plan good enough for the Bearcats to hang around and cover and perhaps win this game. Give me the Bearcats and the points. I'll also side with the over here as a defensive touchdown is likely to happen in this one.