The NASCAR world was able to catch a small breath of air without a mid-week race, but the fastest stock car drivers in the world will be raring to go this Sunday for the Folds of Honor Quik Trip 500 at Atlanta Motor Speedway.
Here's everything to know about the track and the race before setting a DFS lineup (values courtesy of DraftKings).
Recent Winners
2019 – Brad Keselowski
2018 – Kevin Harvick
2017 – Brad Keselowski
2016 – Jimmie Johnson
2015 – Jimmie Johnson
Track History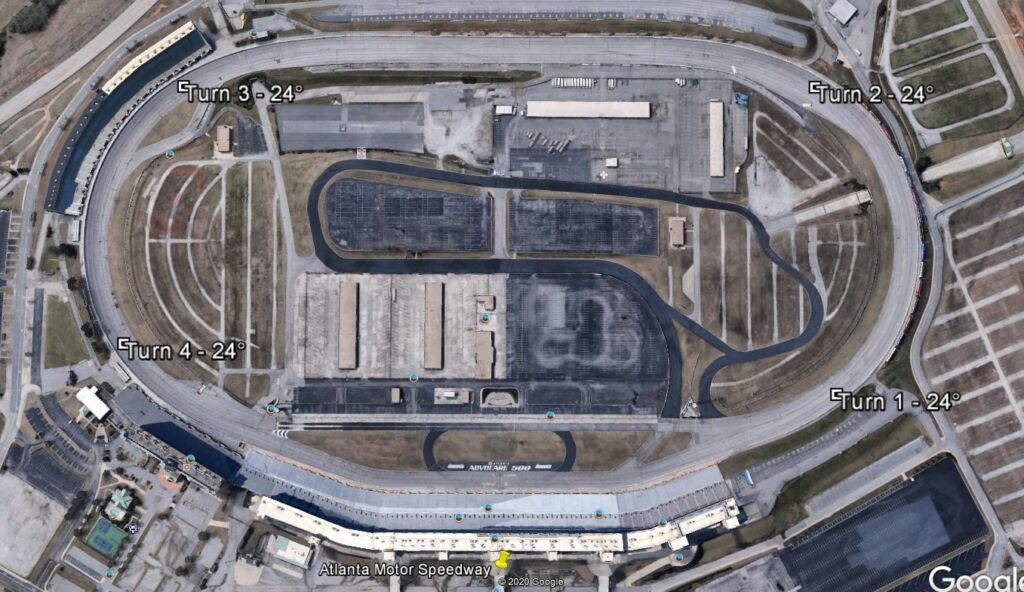 Ground for construction of Atlanta Motor Speedway broke in 1958, with full construction of the track completed in 1959. The original design of the track was a standard 1.5 mile oval, and it has been an annual stop on the circuit every year since.
In 1990, Speedway Motorsports purchased the track and directed sweeping changes to both the layout and the grandstands. It increased the grandstand capacity from 71,000 to 125,000 and added 46 condominiums on the track's north side. In addition, the entire track was completely rebuilt to conform it to other tracks owned by Speedway Motorsports. The track was rebuilt into a quad-oval with 24 degree banking, which completely mirrors other Speedway Motorsports owned tracks like Charlotte, Texas and Las Vegas.
For many years, Atlanta would hold two races per year and was the host to the final race of NASCAR's season, but the track has been mired with financial difficulty and sagging attendance ever since its beginnings. Over the years NASCAR has seen the track more as a problem child and has attempted to shift its place on the schedule to drum up better attendance numbers.
In 2002, NASCAR moved the season finale race to earlier in the fall as a part of NASCAR's playoff format. In 2009, the fall race was pushed forward to Labor Day to try and capture some of the magic from the former Southern 500 at Darlington. In 2014, NASCAR finally cut its losses by eliminating the Labor Day race in its entirety, and the track now only hosts one race a year early on in the season.
Not only should DFS players look at past results of Atlanta Motor Speedway, but also those of Charlotte, Texas and Las Vegas as the chassis and engine setup for each car is virtually identical across all tracks. The one difference Atlanta has over those other tracks is there's much more tire wear on long runs. Results from other high tire wear tracks like California and Darlington can also be utilized.
Other Race Notes
1. The starting lineup once again will be drawn from random based on year to date owner points. Spots 1-12 will comprise of the current Top 12 in ownership points at random, followed similarly by spots 13-24 for the next group of cars, followed again by cars 25-36 in ownership points at random, with the remaining four spots filled by other non-chartered NASCAR teams.
For the full starting lineup, click here.
2. For years, Jimmie Johnson was the King of Atlanta Motor Speedway, but that title has been usurped by Brad Keselowski. In his past three races at Atlanta he's won twice and finished 2nd. His recent record on a cookie cutter quad-oval like Atlanta is also sterling, with four wins and 14 Top 10's in 21 starts since 2017. Keselowski has been on a bit of a lucky streak of late, but he can prove he's no fluke at one of his favorite race tracks.
3. Kevin Harvick and his Stewart Haas Racing teammates are also annual contenders at both Atlanta and on 1.5 mile quad-ovals. Since 2017, Harvick has five wins and 18 Top 10 finishes in 21 starts on 1.5 mile quad-ovals and has led 1,742 laps. As for the Stewart Haas Team as a whole, their collective average finish at Atlanta since 2017 is 8th and the team has led almost 2/3 of all laps completed. They've also led the most laps of any team on 1.5 mile tracks since 2017. Tracks like Atlanta are right in their wheelhouse where they can produce multiple fast cars on a weekend.
DFS Picks
Kevin Harvick – $11,700: For the reasons explained above, Harvick once again looks like he'll have the car to beat at Atlanta. He's the most expensive driver on the board, but between his dominance and a favorable starting spot that should yield positive positional bonus points he's a no brainer to build a lineup around.
Kurt Busch – $9,400: Busch has enjoyed nice success at Atlanta and 1.5 mile quad ovals racing for both Stewart Haas and Chip Ganassi over the last three years. His average finish at Atlanta since 2017 is 6th and he pilots a Chip Ganassi car that has a good feel on how to set up a successful race car at the track.
Brad Keselowski – $8,900: Keselowski feels mispriced given his success at Atlanta and on 1.5 mile quad ovals. While one can look at his recent streak as lucky and he starts high in the field, his track record speaks for itself. Pairing Harvick and Keselowski together provides an opportunity to have two track dominators who lead lots of laps in the same lineup.
Matt DiBenedetto – $7,200: DiBenedetto hasn't had good success at Atlanta but those were with Go Fas and Leavine Family Racing. The Wood Brothers car he'll pilot this year has been solid there, with an average Atlanta finish of 16th since 2017. He starts 21st in the field on Sunday and the Wood Brothers' technical alliance with Penske gives him the upside of a Top 10 finish for positive positional bonus points.
Erik Jones – $6,600: Another driver who feels mispriced this week. Jones has an average finish of 10.6 at Atlanta since 2017 and has been very solid since NASCAR returned back to racing. He starts 14th from the random drawing and there's not many drivers below him that are a big threat to rapidly rise up the leaderboard. His floor feels relatively high for a cheaper option on the back end of a lineup.
Cole Custer – $6,100: It's been a very rocky beginning to Cole Custer's rookie season and a disappointing one given his placement in a successful #41 car at Stewart Haas. But he's starting 31st in the field and is in a car with a good history at Atlanta that gives him the upside to work his way up the leaderboard. Daniel Suarez and Kurt Busch has piloted the car to three Top 10's in the last three races at Atlanta, meaning the car should be set up for success.
READ ALSO
NCAA Football 14 Simulation Tournament