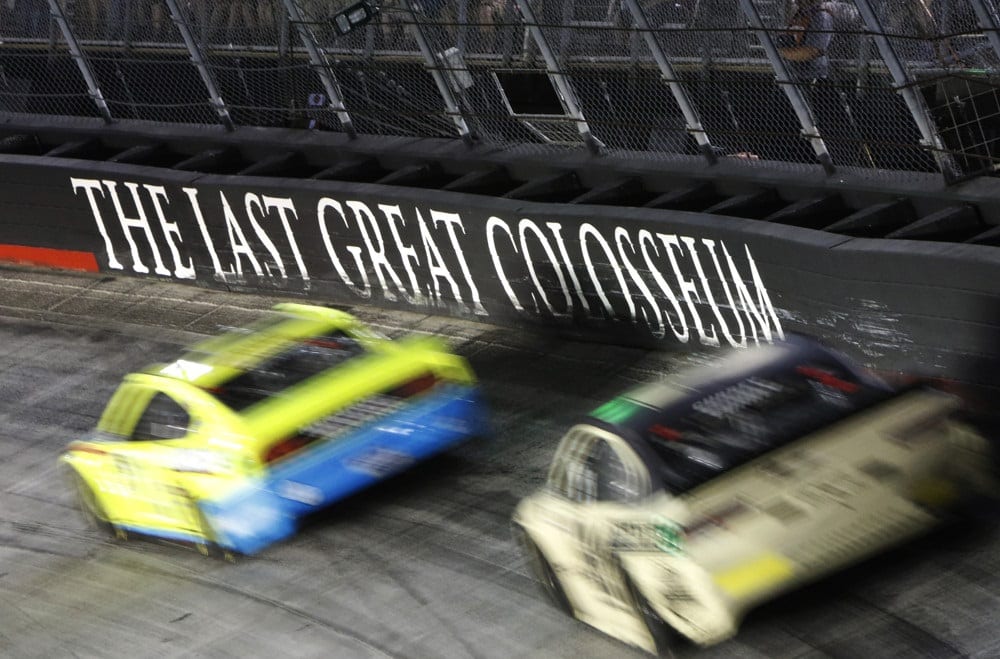 There's no rest for the weary for either DFS players or the fastest stock car drivers in the world, as the NASCAR series competes in its fifth race in two weeks for the Supermarket Heroes 500 at Bristol Motor Speedway.
Here's everything to know about the track and the race before setting a DFS lineup (values courtesy of DraftKings).
Recent Winners
2019 (Summer) – Denny Hamlin
2019 (Spring) – Kyle Busch
2018 (Summer) – Kurt Busch
2018 (Spring) – Kyle Busch
2017 (Summer) – Kyle Busch
2017 (Spring) – Jimmie Johnson
Track History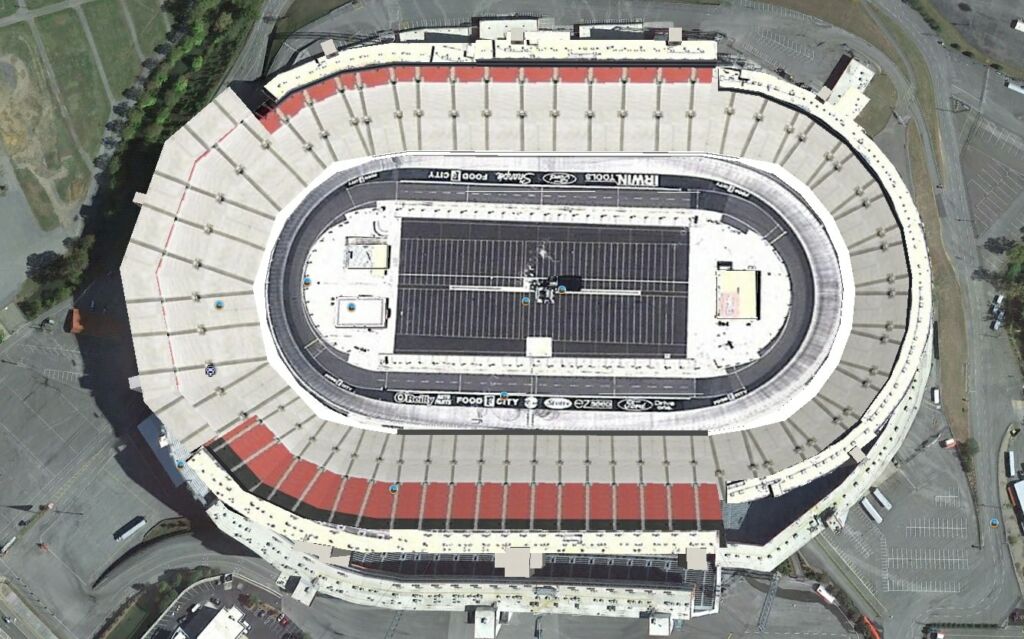 The site of the current Bristol Motor Speedway opened in 1961 by a group of local businessmen who wanted to build a speedway in northwest Tennessee after watching a race at the Charlotte Motor Speedway. Instead of making a carbon copy of Charlotte, they built a perfectly symmetrical half mile concrete oval with 22 degree bankings. The original seating capacity at the track was 18,000 and gradually expanded to 71,000 over the next 35 years. Since that time track alterations reconfigured it as more of a hairpin oval, similar to that of Darlington.
In 1996, Speedway Motorsports, Inc. purchased the track and rapidly expanded the seating to accommodate the exploding popularity of NASCAR. Over the next two years, 60,000 seats and 100 luxury boxes were built to attract more bodies and bigger corporate sponsors to the track. Further improvements to the track continued in 2003, with the addition of a pedestrian tunnel, a revamped infield, two new scoreboards and another 30,000 in seats to bring total seating to 160,000. At the height of the track's popularity, all 160,000 seats would be filled for the annual Summer Night Race at the track.
Bristol Motor Speedway is now the seventh largest sporting venue in the world and looks more like a football stadium instead of a race track. In fact, it was able to attract the Tennessee Volunteers to take on the Virginia Tech Hokies to play a football game in the infield that drew a crowd of 156,990. That set the record for the most attended college football game in history.
While the track doesn't sell out anymore, the track remains as one of the more popular on the circuit for fans. The fast paced oval can produce very exciting races with high speeds, constant side by side action and many fender benders. Watching a race at Bristol is even more exciting and at times can be a little overwhelming. The whirlwind pace can make it difficult to keep track of the top cars on the track, as well as constantly cranking your neck side to side to watch all the action. If there was a fan experience equivalent to attention deficit disorder, Bristol Motor Speedway is it.
The only complaint from fans in recent years is the graduated banking of the corners that was done in 2007. The bottom groove of each corner is banked 24 degrees, while the top groove is 28 degrees. This made passing at Bristol more challenging, especially for anyone who drove their preferred line on the bottom. The top of the corners allowed cars to carry more speed both throughout and out of the corner, making passing from the bottom a very difficult task. This has been alleviated some with tinkering of aerodynamic packages, however easy passing by more dominant cars remains a bit of a challenge.
Other Race Notes
1. The starting lineup once again will be drawn from random based on year to date owner points. Spots 1-12 will comprise of the current Top 12 in ownership points at random, followed similarly by spots 13-24 for the next group of cars, followed again by cars 25-36 in ownership points at random, with the remaining four spots filled by other non-chartered NASCAR teams.
2. Joe Gibbs Racing, and particularly Kyle Busch, has dominated Bristol Motor Speedway in recent memory. The Gibbs cars have won four of the last six Bristol races with 10 Top 5 finishes in 24 attempts. The lone exception to Bristol success is Martin Truex Jr., who via his technical alliance with Joe Gibbs as well as his place on the team has only managed one Top 10 in his last six tries.
3. The other dominant team at Bristol Motor Speedway is Team Penske, who've combined for eight Top 10's in their last 16 starts at Bristol and have led NASCAR in both total laps led and stage points accumulated. All three of Brad Keselowski, Joey Logano and Ryan Blaney have led a significant number of laps since 2017, however none of them were able to come away with a victory. The team has showed very well recently and looks to break that winless drought this weekend.
Looking to mix it up and bet politics? Go here for Presidential Election Odds.
DFS Picks
Joey Logano – $10,700: DFS players didn't get any favors from the random starting draw for Logano, who starts 3rd at Bristol on Sunday. But he's won twice at Bristol and over the last three years has led the third most lap of any racer at the track. Logano has had very fast cars his last two races but got a little unlucky in the final results, so he should have a chip on his shoulders to notch his third win of the season.
Clint Bowyer – $9,800: Bowyer has a high price tag because of his 23rd starting position and his good history at Bristol and at short tracks generally. Three of his 10 career wins have come on short tracks and he's had an average finish of 8.2 in his last six races at Bristol. He has a pretty high ceiling for both a good finish and bonus points for finishing position differential.
Kurt Busch – $8,300: Like Bowyer, Kurt Busch has a great history at both Bristol and on short tracks. His first career win came at Bristol way back in 2002 and he's added five wins at the track since. He also has four other wins at short tracks on the NASCAR circuit. Busch got a favorable draw from the random starting selection by slotting 12th, and if he has a fast car could have a pretty high ceiling.
Ricky Stenhouse Jr. – $7,400: After getting fired from Roush Racing, Stenhouse Jr. has held his own in his new JTG Dougherty ride. For an underfunded team he's been pretty impressive this season and goes to a track where he's had two Top 10's in his last six starts. His team is riding good momentum heading into Bristol and he could land back in the Top 10 for the second straight week.
Matt DiBenedetto – $7,100: It looked as though Matt DiBenedetto would get a Cinderella ending last year at Bristol for an improbable victory in the Leavine Racing Toyota, but Denny Hamlin ran him down in the closing laps to steal the win. DiBenedetto is back in a faster race car and has the aide of the technical alliance with Penske Racing, who has produced very fast race cars at Bristol in recent memory. He starts 9th so there's a risk of negative positional points, but his floor is relatively high at Bristol if he keeps his nose clean.
Austin Dillon – $6,300: Austin Dillon doesn't have the best track record at Bristol, but he's had three Top 15 finishes in his last three short track races and he's had a fast race car early in the season, including last week at Charlotte. Dillon starts 20th in the field and stands a good chance of rising up the leaderboard for bonus points.