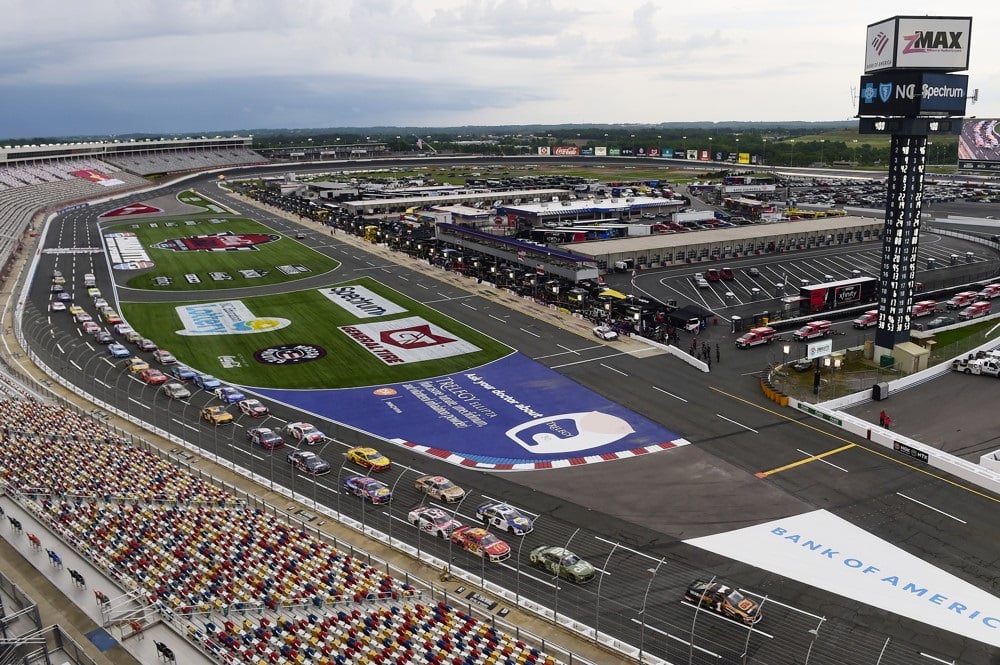 The whirlwind and jam packed NASCAR schedule continues as the racing world emerges from its COVID-19 cocoon. For the second time in three days, the circuit races around Charlotte Motor Speedway for the Alsco Uniforms 500.
Here's everything to know about the race before filling out a DraftKings lineup.
Recent Winners
2020 (Sunday) – Brad Keselowski
2019 – Martin Truex Jr.
2018 – Kyle Busch
2017 (Fall) – Martin Truex Jr.
2017 (Spring) – Austin Dillon
2016 (Fall) – Jimmie Johnson
2016 (Spring) – Martin Truex Jr.
Track History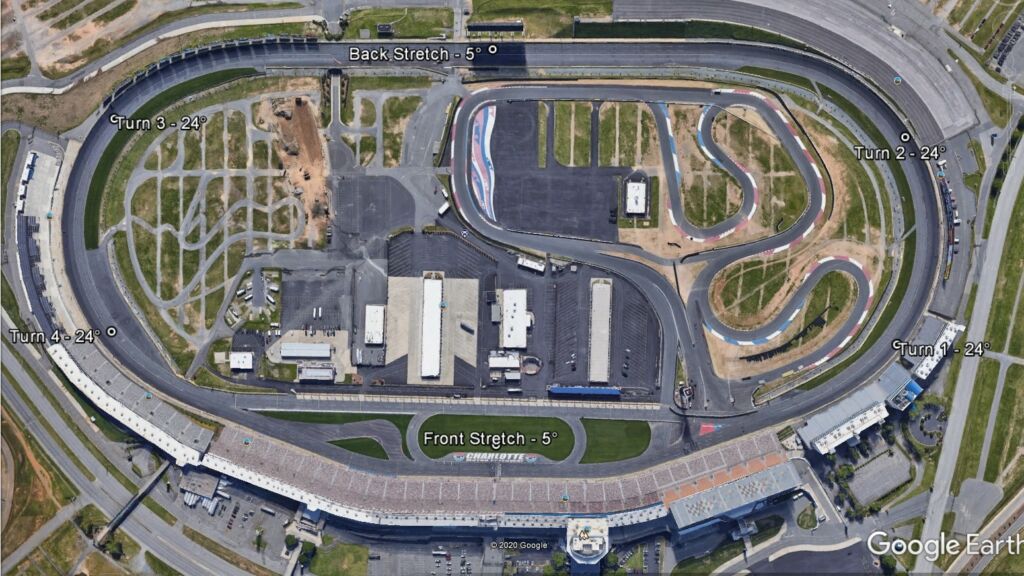 Charlotte Motor Speedway was the creation of one of NASCAR's founders, Bruton Smith. The track first opened in 1959, and in 1960 it hosted its first race – The World 600. The first race at the track was held in June due to construction delays, but the goal for Smith was for the track to hold a major race on Memorial Day weekend.
While originally they didn't want to compete directly with the more prestigious Indianapolis 500 on that weekend, they wanted to create an entire racing weekend for fans with two major events in the two different sports. But as NASCAR gained popularity, it started to look for ways to compete directly with the open wheel racing circuits. Beginning in 1974, it moved the World 600 to the same day as the Indianapolis 500 to run directly head-to-head with their open wheel racing counterparts.
In 1992, the race track added lights so that races could be run at night. Fans had also clamored for the track to move the May race to night so they don't have to sit in as oppressive North Carolina heat and humidity. The move to the evenings also presented an opportunity to showcase NASCAR on its own without any competition from the Indianapolis 500 and make the Sunday of Memorial Day a complete day of racing. Beginning that year, the Coca Cola 600 was held Sunday evening, where it's held that spot on the schedule ever since.
Charlotte Motor Speedway is a very fast quad-oval where drivers can race a little more wide open without using braking too much. Its layout is very familiar to fans because several tracks on the circuit have nearly identical setups, including Texas Motor Speedway, Atlanta Motor Speedway and Las Vegas Motor Speedway. Not only can bettors this weekend look at past results from Charlotte but they can also look at the results at these very similar race tracks to identify teams and drivers who have fast cars on 1.5 mile quad-oval layouts.
Lap averages are generally in excess of 180 MPH and the high banking allows for the cars to maintain a lot of speed through the corners. This can enable for some competitive and exciting racing between two equally matched cars, and the ends of some races at Charlotte have been very memorable with dramatic last lap passes.
However, like a criticism of other tracks sometimes a handful of drivers have cars who are clearly head and shoulders above the rest, which leads to a very spread out field and yield a relatively boring race. Last year, NASCAR tinkered with the aerodynamic package for the track's annual All-Star race to try and recreate some of the restrictor plate races at Daytona and Talladega and give the fans more exciting pack racing.
The reception from fans were generally pretty positive, and that setup might be implemented more often down the road. Given the current state of the pandemic and the inadequate time to prepare for the race, however, the teams will be using a more traditional set up this weekend.
Other Race Notes
1. Like the mid-week Darlington race, NASCAR is using its modified inverted field format to set the lineup for Wednesday's Alsco Uniforms 500(k). The top 20 positions from Sunday's race are inverted, meaning winner Brad Keselowski starts 20th and 20th place finisher William Byron will start on the pole. This bumped several fast cars down the qualifying order for big potential positional bonus points, while putting cars who might otherwise be sleepers for DFS towards the top of the grid to make it very difficult to justify rostering them.
Positions 21st-40th were set based on the results Sunday's race. Notable drivers starting deep in the field this week include Matt Kenseth (26th), Denny Hamlin (29th), Clint Bowyer (39th) and Jimmie Johnson (40th). All of their salaries this week have been adjusted upward because of the potential for significant positive positional bonus points.
For the full starting lineup, click here.
2. While the final results don't suggest it, the Hendrick cars collectively were the dominant forces all night. Led by Alex Bowman, the Hendrick cars led 208 of the 401 laps on the night and had a combined average running position throughout the race of 6.1.
Yet all of the cars were tremendously snake bit to skew their final results. Chase Elliott had the win in hand before his teammate William Byron, running in 7th at the time, spun out to bring a late race caution. Elliott opted to pit while everyone behind him stayed out, and though he rallied to a 3rd place finish he ended his night on a bitter note for the second straight race. Meanwhile, Alex Bowman had the fastest car all night, but his decision to not pit before the green-white-checker shuffled him back to a 19th place result. And while Jimmie Johnson crossed the finish line in 2nd, he was disqualified after failing the post-race inspection to finish dead last in the field.
Unsurprisingly, Jimmie Johnson has the highest salary this week given his fast car and the potential for maximum bonus points for position differential. In addition, Alex Bowman and William Byron carry salaries of $8,700 and $8,500, respectively, yet have additional risk of negative position differential points by starting on the front row on Wednesday. All three pose challenges to build adequate lineups around them.
3. Coming into Sunday's race, Penske cars hadn't enjoyed tremendous success at Charlotte Motor Speedway in recent memory. However due to a brilliant late race decision by Crew Chief Jeremy Bullins, Brad Keselowski stole the victory from Chase Elliott to claim his first Coca Cola 600.
The rest of the Penske cars were also very fast. While only managing at 13th place finish, Joey Logano had one of the fastest cars all night with an average running position of 7.8. Meanwhile, Ryan Blaney's car got better and better as the race went on, climbing from a starting position of 26th to finish 3rd. Even Matt DiBenedetto, whose team has a technical alliance with Penske, had a fast car in the middle of the race before getting shuffled back for a 17th place finish. All these cars will look to keep the momentum going and make it a Penske sweep at Charlotte.
DFS Picks
Chase Elliott – $9,700: Chase looked like he was going to redeem himself from his late race crash at Darlington and go to victory lane, but a late caution put him between a rock and hard place and saw a win slip through his fingers for the second race in a row. A frustrated and determined Chase has a fast car and starts 19th in the field, making his points ceiling very high on Wednesday.
Martin Truex Jr. – $9,400: Yet another week where the results don't match the performance for Truex. Truex led 87 laps on Sunday, but like Chase Elliott pitted before the green-white-checker and could only manage to rise back up to 6th. He'll start 15th in the field on Wednesday, giving him a high points ceiling as well.
Kevin Harvick – $9,200: Harvick did not have a very strong car in Charlotte but some savvy pit strategy and veteran craftiness landed him a 5th place finish. Harvick has had the most consistent car in terms of finishes this year, and though his record at Charlotte isn't anything special he's one of the best 1.5 mile racers in the field. Harvick starts 16th in Wednesday, and a few adjustments to his car could see him rise up the leaderboard once again.
Ryan Blaney – $7,900: As mentioned earlier, Blaney's car got better and better as the night wore on to give him his best career finish on the quad-oval layout of Charlotte Motor Speedway. He'll start 18th after the field inversion, and if his car responds as well as it did Sunday he'll be in line to rise into at least the Top 10.
Erik Jones – $7,800: Erik Jones hung around the Top 10 for most of the evening and wound up with a respectable 11th place finish. That marked his fourth Top 12 finish in his last five races, as his team seems to have things rolling. He'll start 10th on Wednesday which opens himself up to a bit of positional differential risk, but the Toyota's collectively seem to always have fast cars for Charlotte. His floor feels relatively safe given his price point.
Ryan Preece – $6,000: Packing this lineup with the first five drivers doesn't leave much room in the budget for the final spot. In this case, Ryan Preece seems like an adequate filler to complete this lineup. Preece hung around the Top 20 for most of the evening and wound up 22nd, which is where he'll start on Wednesday. It's been a very rough sophomore season for Preece, but he does have two Top 20 finishes in his last four starts to give a little hope things are getting better for him and his team.