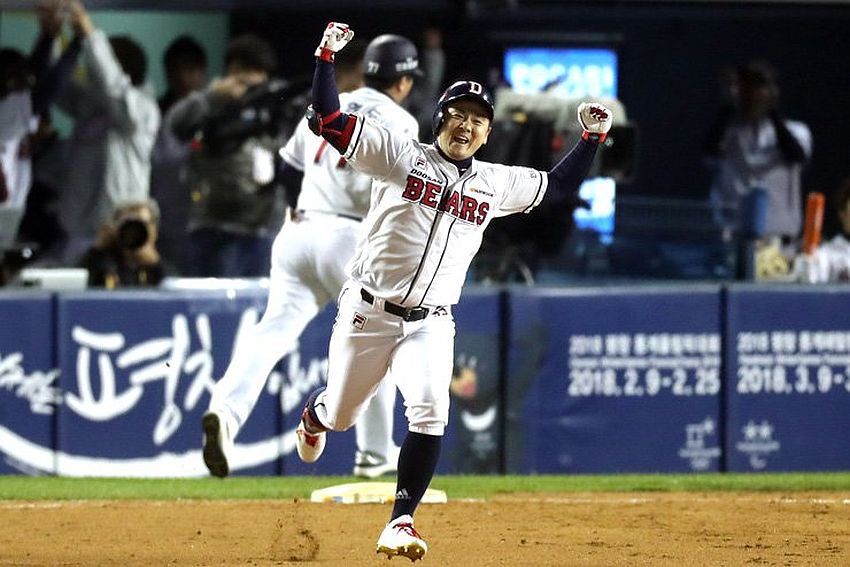 **UPDATED: Wed 5/27**
I'm certain that I can speak for the vast majority of us in saying we will remember where we were, and how we felt, the moment that live sports were put on pause and the world as we knew it would be drastically changed for the foreseeable future.
Through an interestingly fun couple months of Daily Fantasy eSports endeavors, operating on different time zones and schedules became an odd norm for many of us degens. And the moment I caught wind of the Korean Baseball Organization getting picked up by DraftKings and FanDuel, I rushed to the opportunity to find solace in a solid temp replacement to MLB DFS.
In immediate hindsight, I realize that part of that hurriedly victory lap came on the wings of a bit of presumption to any reader of this series of articles. With that said, my apologies for anybody who may have wandered into this with little-to-no knowledge of how daily fantasy baseball should be effectively approached.
While I'd love to be able to dedicate one entire piece to that introduction, we can touch on these tutorial elements at the beginning of the next of the releases as we go, so no necessary basics will go uncovered. And ultimately, starting with stacking couldn't be more ideal in this instance.
When it comes to offense, "stacking" the majority of your batters from one team for a given fantasy lineup is most ideal, considering the correlation of batters receiving co-production from teammates (ie: runs batted in) compounds into fantasy points. Obviously, any of us would love to rack up solo home runs; no harm in that!
But this is where stacking differentiates from wishful thinking on flash-in-the-pan stat lines, quantifying likelihood scenarios between hitters generating shared production…as opposed to the flip side of that notion: rostering random one-off hitters from several teams while chasing a linear regression model for home runs and the like. Stacking will supersede that strategy 99% of the time, because 10 runs shared from one team's production most likely will occur before 10 runs are individually tallied from five players on all different teams.
Probability is a bitch, but so long as you recognize that, it can be a lot of fun walking the fine line between stacking and hedging (but we'll get into that another time). Keep it simple for yourself and toy with different stacking layouts to see what works better, with which teams, and on which nights (ie: vs Left-handed pitcher/vs. Right-handed pitcher/confirmed hitter handedness). Here's the most recommended based on success:
-5-man primary stack, 3-man secondary stack
-5-man primary stack, 2-man secondary stack, one-off hitter
-"Naked" 5-man stack: 5-man stack, 3 one-offs (highest chance of getting different from the field, relative to remaining player salary)
-4-man primary stack, 3-man secondary stack, one-off hitter
-4-man primary, 2-man secondary, 2 one-off batters
-4-man primary, 4-man secondary stack
I highly encourage you to use your imagination with where the productivity may stem from on a given team, as 1-2-3-4-5 hitters are the beyond-obvious chalk sequence. ALSO: there are plenty of free resources to check projected starters behind the plate (RotoWire's KBO Daily Lineups is a great start).
And, by all means, feel free to get ahold of me on social (Twitter/SGP Slack) to run any ideas or questions by me if you'd like…I love talking shop at all hours of the day.
Time to put rhyme to reason! Let's see what Tuesday thru Thursday slate matchups have to offer us…
Hitters
Roberto Ramos (1B), LG Twins (vs. HAN)
The fact that this guy's pricing on DraftKings is so absurdly cheap is making me feel like I missed something…outside of the fact the last we saw of him was hitting a walk-off grand slam on Sunday against the KT Wiz. But somehow, here we are at $3,600 (where I draw the line between Middle tier and Bargain).
In addition to the Sunday morning miracle, we're looking at a legitimate Top 5 hitter in all of the KBO, and one of two hitters with a wRC+ rating over 200 (which, for frame of reference, Mike Trout is 172 wRC+ career with Anaheim). There's no doubt this guy will be chalk so long as he remains at this price point, but I would pounce on the opportunity as often as possible if this stands for the length of the series through Thursday with Hanwha.
Just to add the sprinkles and icing to the cake before we hit the candles, Ramos has a KBO-leading .417 ISO as he's smashed the league's most home runs to-date with 7 HR. I would roster Ramos as an anchor in all Cash Games, and be over the field in GPPs if possible. The question isn't if he's going to be chalky, but how chalky he will be is left to be determined by the field.
Joo Hwan Choi (1B/2B), Doosan Bears (vs. SK)
Another batter priced down in the clearance bin, Joo Hwan Choi makes absolutely zero sense at the near-minimum salary of $2,300 on DraftKings. He's not quite the on-paper steal that Roberto Ramos appears to be, but he's relatively close from a price/production standpoint.
Donning an admirable 117 wRC+, Joo Hwan Choi also provides plenty of power at a discount as he carries a .309 ISO, .881 OPS, and in a 12-player tie for 5th in Home Runs (4 HR). Facing a moderate talent on the mound in opposing pitcher Jong Hoon Park on Tuesday morning, the opposite-handedness in combination with noteworthy power generated at the plate makes for a solid value filler with Joo Hwan Choi in your Doosan stacks and as a one-off batter.
His due-to-be-chalky nature is something to take a bit more lightly given his extremely cheap price point being difficult to do more harm than good, and an entertaining option in both Cash Games along with GPP tournaments.
Hak Ju Lee (SS), Samsung Lions (vs. LOT)
While his raw numbers for the season don't scream out value, part of that has come on the shoulders of the Samsung Lions' slow start out of the gate. But with the recent uptick in production behind the plate (for the Lions as a whole), Hak Ju Lee has lit up the scoreboard as a left-handed solution at shortstop for daily fantasy rosters.
Averaging 14.66 DraftKings Fantasy Points over his last three games (against a decent Doosan pitching unit) and double-digit fantasy points in four of his last five games, Hak Ju Lee faces the Lotte Giants whose pitching has allowed the second-most home runs in the KBO (16 HR), along with an average of 6.37 runs per game in their past eight games played (only two games under six runs in that frame).
Being that Samsung has barely started getting some production going as of these past few days, I don't anticipate the ownership should be anywhere close to high for many Lions players, and Hak Ju Lee would be one of the most valuable of them in my opinion. I would gauge how I implement him each slate between now and Thursday in this series against Lotte, which is looking like it's going to be an interesting one.
Other Batters I Will Be Happily Rostering:
High ($4,500+):
-Mel Rojas Jr (OF), KT
-Preston Tucker (OF), KIA
-Jae Hwan Kim (1B/OF), DOO
-Eui Ji Yang (C), NC
-Aaron Altherr (OF), NC
-Jose Miguel Fernandez (1B/2B), DOO
-Hyung Woo Choi (1B/OF), KIA
-Jun Woo Jeon (OF), LOT
-Jamie Romak (1B/OF), SK
-Hyun Soo Kim (OF), LG
-Jeong Choi (3B), SK
-Jared Hoying (OF), HAN
Mid ($3,600-$4,400):
-Sung Bum Na (OF), NC
-Dae Ho Lee (1B), LOT
-Dong Min Han (OF), SK
-Min Woo Park (2B), NC
-Suk Min Park (3B), NC
-Kun Woo Park (OF), DOO
-Byung Hun Mind (OF), LOT
-Tae Gon Oh (1B), KT
Bargain ($2,100-$3,500)
-Ji Wan Na (OF), KIA
-Jin Sung Kang (C), NC
-Ah Seop Son (OF), LOT
-Kyung Soo Park (2B), KT
-Keun Woo Jeong (2B), LG
-Sung Yeol Lee (OF), HAN
-Woo Jun Sim (SS), KT
-Dong Yeop Kim (OF), SAM
-Yong Ho Jo (OF), KT
-Chang Gi Hong (OF), LG
-Ji Chan Kim (2B/3B), SAM
Pitchers
Drew Gagnon, Kia Tigers (vs. KT)
Another example of pricing disparities in contrast to talent, Drew Gagnon comes into Tuesday morning as the cheapest offering at starting pitcher on the slate at $6,700, and assuredly deeming him a chalk option by result (which isn't awful given his cheap tag).
Gagnon is posting a modest 1.16 WHIP alongside a very appreciable 2.77 FIP, and faces a bit of a challenge in the opening game of a series with the KT Wiz, who has a .728 OPS which is currently 4th in the KBO offensively.
However from the projected starting hitters for KT, they're only slated for four left-handed hitters in the rotation, which may bode well for Gagnon in regards to going the distance in this game. Also to his credibility are 23 total strikeouts in his three starts this season, making for a 34.3% Strikeout percentage, which is the best in the KBO in 2020.
Gagnon also recently painted a 32.50 DKFP performance in a 6-0 shutout of the Lotte Giants.
Min Ho Lee, LG Twins (vs HAN)
In his first start of the season, 18-year old prospect Min Ho Lee proved to be a promising hope for the future on the mound with LG, pitching a 5 1/3 innings scoreless gem, allowing four hits and four walks. While the BBs and lacking strikeouts (2 SO) are something to work on in the months and years to come, Min Ho Lee will likely continue this improvement on a solid outing come Wednesday.
Letting him get to a moderate 86 pitch count last game, he achieved 17 DraftKings Fantasy Points in his breakout game as a non-reliever and faces a Hanwha Eagles team sputtering offensively, producing just 69 runs so far this season, which is second-lowest in the KBO.
The youthful rookie has a bright future ahead of him in my opinion, and while the sample size is brief, the progression from his two relief outings going into his first start are all promising numbers to build upon.
Pricing should be interesting on this guy going into Wed/Thurs, which we will obviously keep an eye on and I will update with additional pitching options as we hopefully cash some lineups through the work week.
Other Pitchers I Will Be Gladly Rostering:
Tues:
-Chang Mo Koo, NC
-Chris Flexen, DOO
-Tyler Wilson, LG
-Dan Straily, LOT
-Chad Bell, HAN
Wed:
-Tae In Won, SAM
-Ki Young Im, KIA
-Jae Hak Lee, NCD
-Odrisamer Despaigne, KT
-Chan Heon Jung, LG
Thurs:
-Hyun Jong Yang, KIA
-Young Gyu Kim, NC
-Warwick Saupold, HAN
-Adrian Sampson, LOT
-Geon Wook Lee, SK
Stacks
While I will be getting to just about stacks from every team in the next three days, the following are going to be favorites that I'll be chasing for a variety of reasons rolled into one ranking (in numerical order):
NC Dinos

Lotte Giants

Kia Tigers

LG Twins

Samsung Lions

Hanwha Eagles