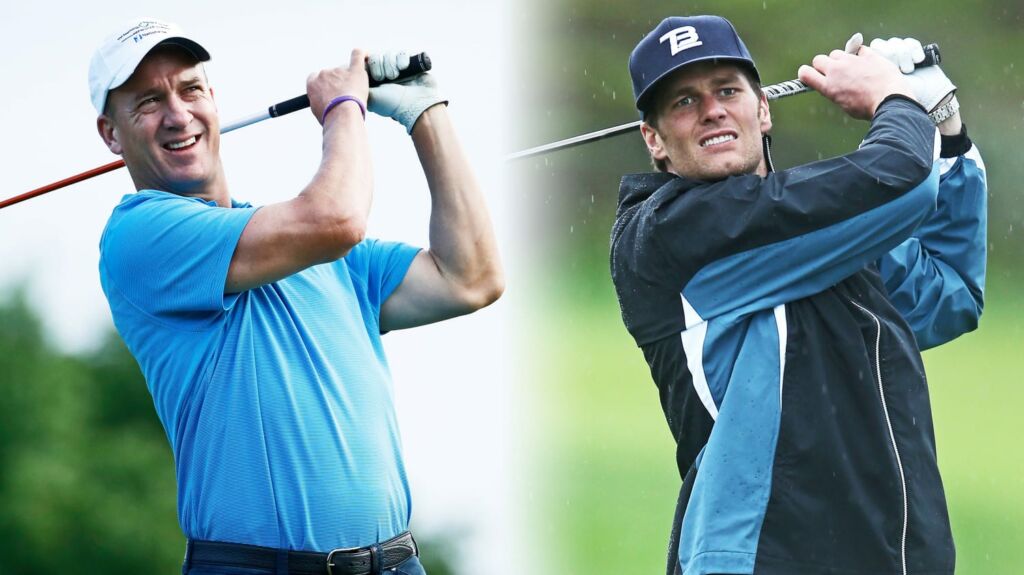 While the real professional golf associations continue with their hiatus, it's officially Exhibition Golf Szn with yet another star powered, made for TV golf television event. One week after the TaylorMade Driving Relief drew very nice television ratings, four of the most powerful names in all of sports team up for Capital One's The Match – Champions for Charity from Medalist Golf Club in Hobe Sound, Florida.
As you would expect, MyBookie has offered a smorgasbord of fun props to bet on for the event. Here's everything to know about the match before placing a single wager.
The Format
Tiger Woods will team up with Peyton Manning to play a match against Phil Mickelson and Tom Brady. The Front Nine format will be best-ball (best score of each duo counts for the team score), while the Back Nine will be modified alternate shot. Under this format, all competitors will tee off and each team will pick which drive they'd like to hit their second shot from. After deciding, the remainder of the hole is alternate shot. In addition, there will be a one club challenge on Hole No. 5.
It hasn't yet been confirmed what tees Peyton and Brady will be using, or if they'll be getting strokes for the best ball portion. One would assume that both will be playing from shorter tees than Tiger and Phil, and that they'll both be receiving strokes on certain holes depending on their handicap.
In terms of the pairings, each side is well balanced. Not in terms of skill sets but in terms of personality. Both Phil and Peyton are known to be pretty witty guys who often provide great soundbites for the cameras and aren't afraid to bust chops at all. Meanwhile, Tiger and Tom Brady carry themselves through life like they're aliens who try to speak and act in ways they perceive humans would do in their daily lives. By pairing Peyton with Tiger and Phil with Brady, each team possesses a yin to their yang.
Unlike the last highly touted showdown between Tiger and Phil, viewers won't have to pay for this one. It'll be broadcast across most Turner stations (TNT, TBS, etc.) at 2:00 on Sunday afternoon. Ernie Johnson, Trevor Immelmann and Charles Barkley will provide the play by play, while PGA Tour star and Medalist member Justin Thomas will serve as the on-course reporter.
The additions of Charles Barkley and Justin Thomas to the coverage should keep it very lively for the viewer. One of the complaints about the production of the first Match was how dry and dull it was. Barkley is a loose cannon in the booth and will keep it light, while Justin Thomas is a pretty easy going talker himself and won't be shy to rib any of the competitors on the course.
The Golf Course
Pete Dye and Greg Norman teamed up in the early 1990's to construct a new golf course near Jupiter, FL, and in January 1995 their creation Medalist Golf Club opened for membership in nearby Hobe Sound. Over the years, Greg Norman (who does not have the best reputation in the golf architecture game) tinkered with the course to take away most of the classic Pete Dye flavoring for his own flair for golf design. This ruffled the feathers of members a bit as the club's reputation began to slip.
In 2012, the board of members informed Greg Norman that they were looking to restore the golf course to the original design, but they were not going to utilize him to do it. Instead, they opted for Pete Dye disciple Bobby Weed (most known for places like TPC Summerlin, TPC River Highlands and Michael Jordan's brand new Grove XXIII club also in Hobe Sound) to handle the restoration. This did not sit well with Greg Norman, who penned some very sternly worded letters to the club expressing his disproval. Nevertheless, the club went ahead with the Bobby Weed restoration, and the golf course has been taken back to its original roots.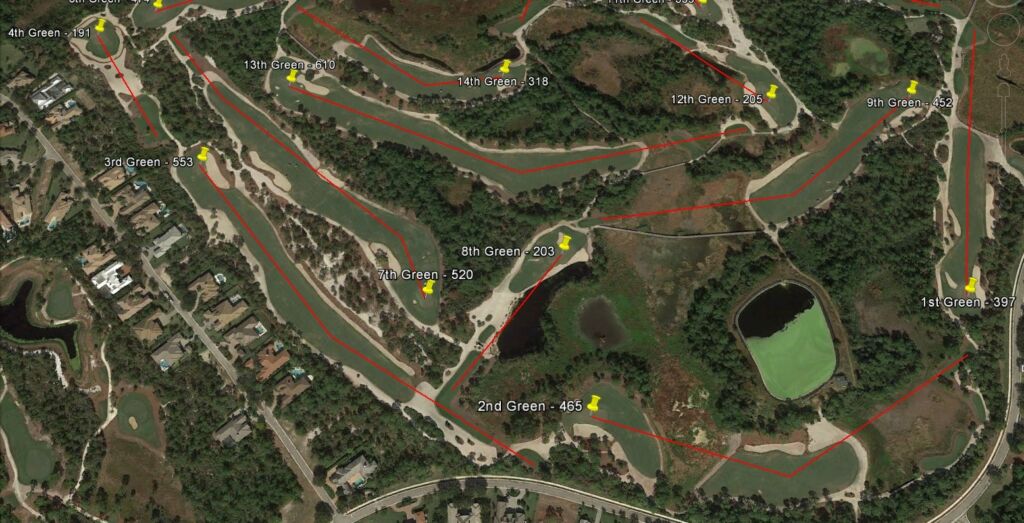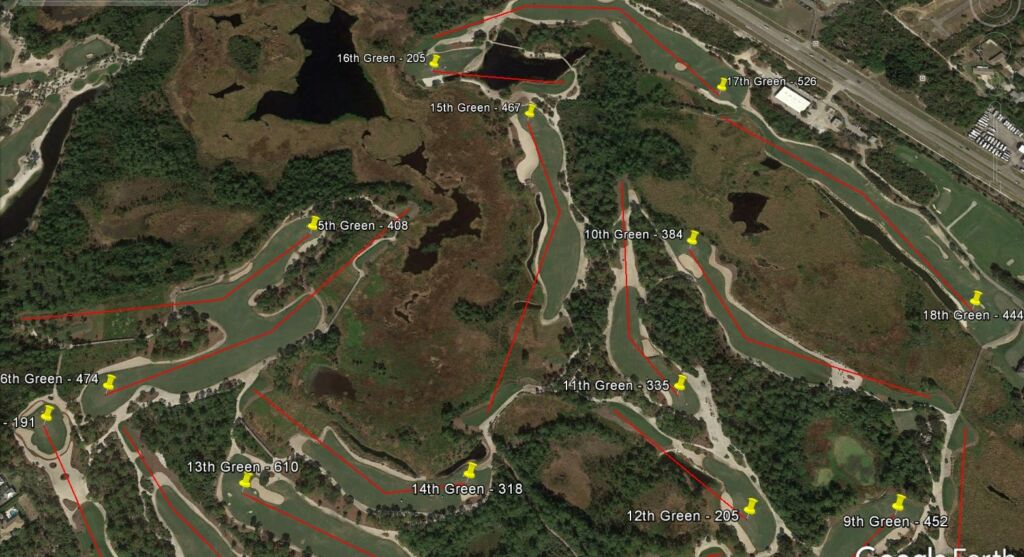 Most of the changes to the golf course involved reconstructed bunkering, mainly to both reshape and reposition them to their original placements from the Pete Dye design. In addition, Greg Norman had added numerous frontside bunkers which made the golf course very challenging. These were mostly removed from play to make it a little friendlier for the amateur.
From the championship tees, the golf course is just a little over 7,200 yards, however in the renovation Bobby Weed introduced a new set of tees called "The Tiger Tees" in honor of the club's most famous member – Tiger Woods. From these tees, the golf course is stretched to over 7,500 yards long and it's a set of tees Tiger uses to prepare for the Masters. It also was used for Tiger to record his infamous "Worst Ball 66" back in 2015, which got all his mouth breathing and typically non-golf fans all hot and bothered while claiming he was "back" (Tiger would later go on to have the worst year of his career and succumb to two back surgeries before getting back on track).
Overall, Medalist is a very well-conditioned and straight forward test for any professional or low handicap player. The fairways are generously spacious to allow a player easy access to the short grass for great opportunities to fire at pins. But for anyone who has trouble getting off the tee they'll be in for a long day. Any tee shots that don't hit the fairway has very little room for error. Only a small patch of waste area stands in the way of balls flying into marshes and heavily wooded swampland, where they could either choose to find their ball among all the alligators and snakes or reach into their pocket for a provisional.
Restoring the golf course to its original Pete Dye roots still presents some challenges for any golfer who plays there. For Tiger and Phil, as long as they bring their B game they should be fine. For Peyton and Brady, however, they could be in for a long day depending on which side of their mid-handicap coin shows up to the first tee.
The course record at Medalist is 62, held by both Tiger Woods and Rickie Fowler.
Scouting Reports
All golf fans are familiar with the current form of Tiger Woods and Phil Mickelson. Besides for Mickelson's erratic driving and Tiger Woods' ticking time-bomb of a back, fans have very few questions about how they'll perform on Sunday.
But what about Peyton Manning and Tom Brady? Besides cut up highlights from their days competing in celebrity pro-ams or a cameo on Entourage, their skill set is pretty unknown to the average viewer.
Here's a breakdown of the game of both amateurs for this event:
Peyton Manning: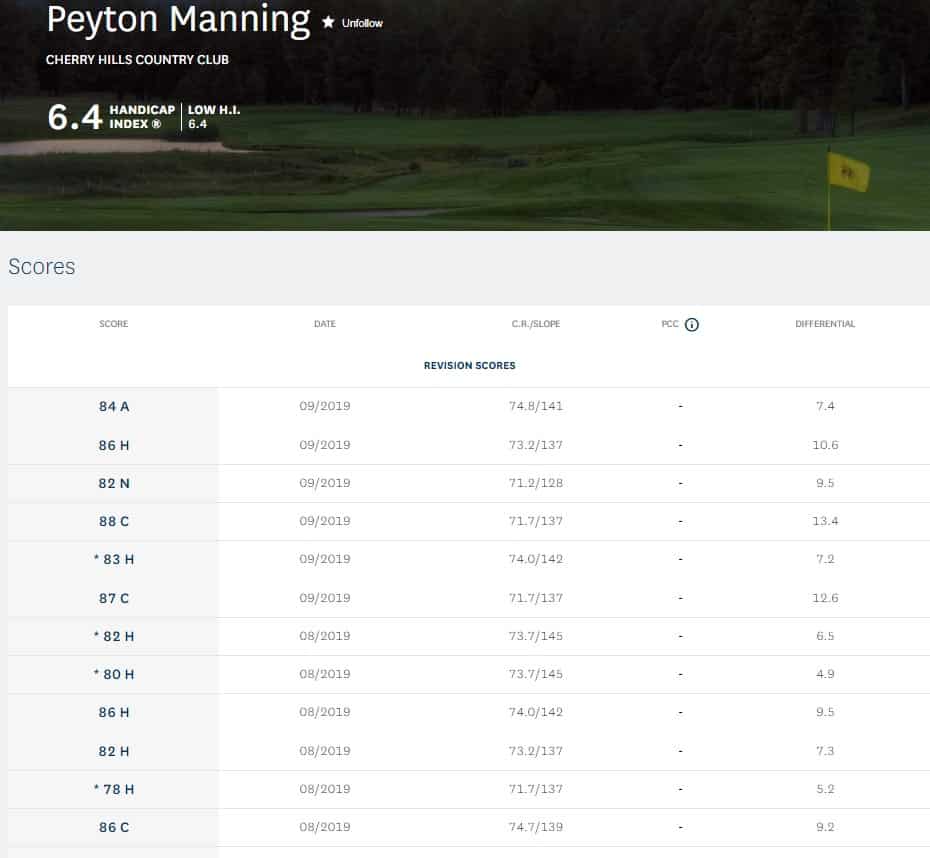 I'm no swing expert, but Peyton Manning's driver swing looks pretty good. He does a great job getting good body rotation on the back swing, keeps his body behind the ball through impact, does a nice job squaring up the club face and driving hard to his left side after impact. He might have a few duck hooks in his arsenal with how strong his grip is and how shut his club face is at the top of his back swing, and he might do good to maybe shorten up the swing a bit at the top. But overall on video he strikes me as a confident player over the ball who has a one way miss.
What I question, however, is his handicap, which currently sits at 6.4. This is inconsistent with most current reporting of his handicap, which up until recently was reported to be a 3.5. You would think now that his football career is over and he's golfing more he should be getting better or maintaining that index, not faring 3 strokes worse. So what the hell is going on here?
For one, that driving swing I showed above was from 2007. Since then, Peyton Manning had a serious next surgery. That could hinder his mobility through the swing. Or maybe his short game and putting is so bad it ruins many of rounds.
But what I think is truly going on is that now that Peyton is likely playing in a lot more member club championships than he was in his football days, I think he's what's known as a "sandbagger". He's much better than his index indicates, but by pumping up his handicap higher he'll get more strokes in the member championships and stands a much better chance of winning them.
Bottom line – I think Peyton is playing a bit of possum with his handicap index and might end up being a pretty useful asset for Tiger throughout the round.
Tom Brady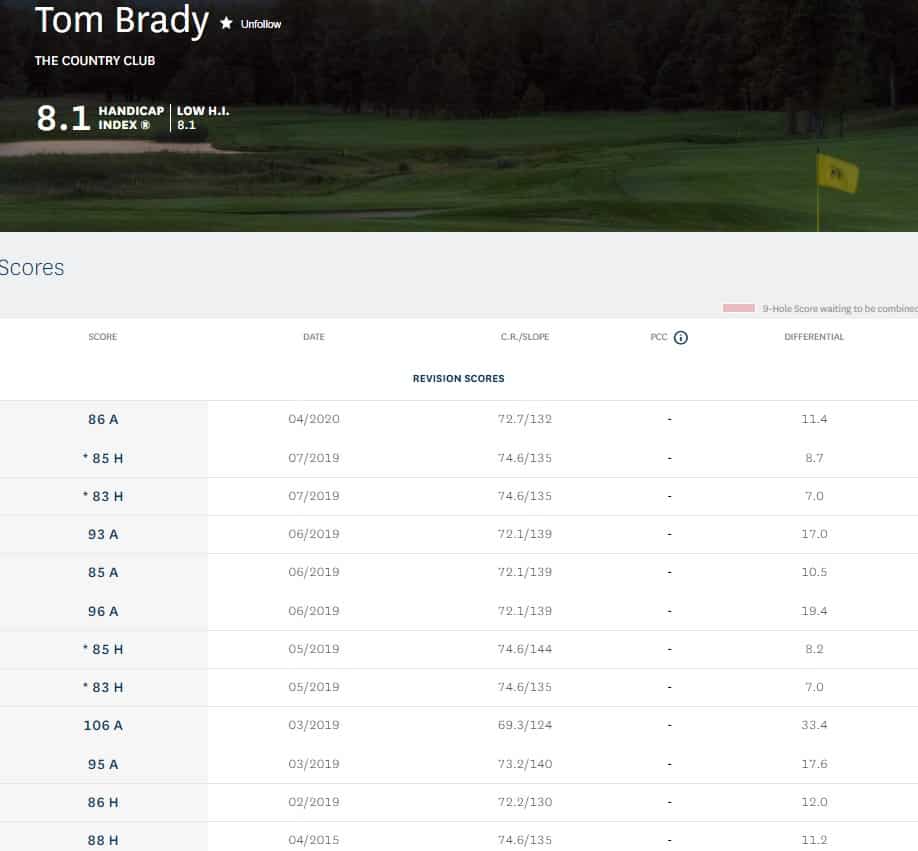 From the video above (and from another more technical and longer video that you can watch by clicking here), there appear to be a lot more flaws in Brady's swing than Peyton's. For one, there's a lot of lateral movement instead of rotation with his body for Brady's swing, and he can occasionally cup his wrist at the top to open the club face. He also seems to drift closer to the ball and suffers a bit from early extension, and he has to overcome all of these movements to square the club face up at impact with his hand eye coordination
This seems to be a great combination for someone to have a devastating two way miss off the tee. Either he'll snap the club face too shut and hit a wicked duck hook, or he'll keep the club face too open and send the ball off the planet with a banana slice. Or he could sync up everything perfect for stretches and he'll play like he's a scratch golfer.
Looking at his recent posted scores above, this seems to be the case with his game. For the most part his scores are in the mid-80's but he has a few blow up rounds in the 90's and an ugly 106 on the scorecard. To me, that means he's a very inconsistent player who can see things go very awry at a moment's notice.
In short – he's actually human like the rest of us hacks.
It's also possible he maintains what's known as a "vanity handicap" and he's not nearly as good as his index suggests. Given how much effort he takes to present himself as the epitome of perfection, whether it be through his eating habits or public persona, it would make all the sense in the world if he's not confident enough to post a score as bad as it truly was. For him, being an 8 handicap is an acceptable lower limit to the type of golfer he perceives himself as being.
Prop Bets
The mindset a bettor should have is to understand that this isn't really a competitive sporting event. For one, it's all for charity. But because four of the most recognizable faces in the games of golf and football are competing on Sunday, this made-for-television product is going to be driven with the casual sports fan in mind. The goal isn't necessarily to deliver a high quality golf production, but rather serve as a way to generate thousands of clickbait articles or soundbites on FS1 and ESPN for the next 48 hours while not wading into anything that would be "controversial".
With that in mind, here's a few prop bets I like for the event (with odds courtesy of mybookie.ag):
Tiger Woods Wears Red Shirt – YES (-270): This is a lot of juice but I can't imagine a scenario in which he won't be wearing his infamous "Sunday Red". This event will draw the eyeballs of both non-golf fans and "golf fans only if Tiger is involved", so it's an absolute layup to give this demographic what it wants and have him rock the red.
Phil and Brady Win 1st Hole (EVEN): More than likely, this hole will be halved anyways due to the best ball format and it'll be no action. However, getting even money on the underdog to win outright is pretty good value even if I think Phil will likely go it alone and Brady will be in pocket before they get to the green.
This hole plays to a 15 handicap, meaning that even if the two amateurs were getting strokes they wouldn't get one here. As for Tiger and Phil, this is a pretty straight forward hole where each will likely hit a fairway metal to a wedge distance and look to stuff it close to the hole. While Phil's wedge game isn't as good as it once was, he's still more than capable of sticking one close and converting for birdie to go one up for his team.
Phil Mickelson's Headgear – Baseball Cap (+110): In full disclosure, I did a google image search of every recent golf tournament Phil Mickelson has played, and I got to the Memorial of last year before I quit the task. I couldn't find one tournament he played where he wore a visor. Plus, at the last Match he wore a baseball cap and I expect the production crew to roll out the same formula this time. This prop is a lock.
Words Said By Players On The Broadcast Props:
Audible – YES (+135)
Gronk – YES (-230)
Belichick – NO (-275)
Omaha – YES (+175)
As mentioned earlier, this is a television spectacle with more casual and non-golf fans in mind. In addition, more effort is going to be put into making sure the players engage with each other more on the golf course, as that was a big criticism of the first match with just Tiger and Phil.
As such, I think the producers will try and encourage the players to work in some inside jokes about Brady and Manning. They'll also go over a list of things that shouldn't be brought up that either Peyton or Brady would have to answer for down the road.
Having jokes worked in about "audibles", "omaha" and "Gronk" are low hanging fruit to generate favorable sound clips on SportsCenter or thousands of click bait articles the following day.
Trying to lure Brady to comment about his relationship with Bill Belichick, or even tempt him into a cheap shot, is probably going to be off-limits because of the blow back he might have to answer for from the media a few days later.
As such, bet accordingly.
Will the Lombardi Trophy Be Seen In The Broadcast – Yes (-330): This one is going to cash by the end of the opening montage for each player. Of course they're going to show a highlight of either Peyton Manning or Tom Brady holding one of their eight Lombardi Trophies that they've amassed in their career.
Will Any Player Spike Golf Ball – No (-250): There's going to be a lot of corny, forced jokes injected into the coverage that'll make you roll your eyes but even this one might be too far. I'm just not sure where it would happen.
It'd have to be something that was clearly planned in advance. It wouldn't be something that's organic. It also would have to happen either off the green or in the fairway, meaning someone would have to see their partner make a long putt and then take their own golf ball and spike it on their own. That would be a bad look for someone to fire their golf ball into the green, and this event is about creating good highlights for the news cycle after.
Official Pick
Last weekend I advised betting the underdog in Rickie Fowler and Matthew Wolff at +165, and for a while it was looking pretty good. Rickie Fowler played great that day and Matthew Wolff was doing just enough to at least make sure holes were halved. Meanwhile, Rory was pretty good but Dustin Johnson was definitely checked out and didn't have his best stuff.
After 18 holes with Rickie and Wolff with a $400K lead, $1.1 million in skins were still left outstanding and the groups headed to the 17th to decide it. There, each player got one shot to hit as close as they could to the pin from 120 yards. After a hilariously on brand semi-shank from Rickie and a so-so shot by Wolff, Rory cleaned up the mess by DJ one more time by sticking his shot to 10 feet to claim the remaining $1.1 million to win the match for the favorites.
But if I told all of you that the match was going to come down to a closest to the pin competition on the 17th hole, wouldn't you have auto-picked the underdog too?
Flash forward to this event and not only do we have a similar non-serious made-for-television event, we're throwing in two amateurs with handicaps above 6 into the equation! And while I have my own opinions about whether or not their handicaps are legit, who the hell knows how effective they'll even be.
Frankly, with the format the way it is I think Peyton and Tom might just end up being window dressing and most of the heavy work will come down to Tiger and Phil anyways. And just like the TaylorMade match, and just like the first Match, the more sensible bet is the underdog. Because at the end of the day, this event is a complete crap shoot and for entertainment purposes only.
Pick: Phil Mickelson and Tom Brady +160