Last night's UFC Fight Night: Smith vs Teixeira was an unmitigated disaster. No, no one got COVID-19 (that we know of), and no one died (but Anthony Smith seemed close to it) – rather, it was an unmitigated disaster for my picks (and for anyone who followed my unwise advice). A 3-7 night put this column in a big hole for the year. But, this Saturday night, UFC Fight Night: Overeem vs Harris is going to turn things around for us. Right?!
Here are my picks for every fight that will be going down at the VyStar Veterans Memorial Arena in Jacksonville on Saturday.
All odds courtesy of MyBookie
Alistair Overeem (+140) vs Walt Harris
I'm going with an underdog in the main event between two big hitting heavyweights. Despite having his face brutally rearranged last time out, Alistair Overeem was dominating the fight with Jairzinho Rozenstruik before being caught with one punch late in the fight. I think he'll have the striking advantage in this one, as well as the grappling advantage if he chooses to go that route. Here's hoping his chin isn't shot.
Claudia Gadelha (-190) vs Angela Hill
No real scientific or analytical discourse for the co-main event between Claudia Gadelha and Angela Hill. There are levels to this game, and Gadelha is on a different one than Overkill Hill, at least at this point. Perhaps Saturday will prove me wrong, but hopefully not.
Edson Barboza (-135) vs Dan Ige
This will be Barboza's first foray down at featherweight after spending his 11-year career at lightweight. Assuming he can cut down without any detrimental effects on his health or strength, he should have a significant size and power advantage in this one.
Krzysztof Jotko (-170) vs Eryk Anders
This is a tough one for me to call, but I'm leaning towards the betting favorite Krzysztof Jotko. He'll have a two-inch reach advantage, and is significantly better at avoiding strikes than Anders, who is quite hittable.
Marlon Vera (+165) vs Song Yadong
I've changed my pick on this one, so it's probably sure to lose. But Chito Vera has won five-straight, all coming via stoppages (three TKOs, 2 submissions). While Yadong is undefeated in the octagon, I think Vera for plus money is good value.
Miguel Baeza (-210) vs Matt Brown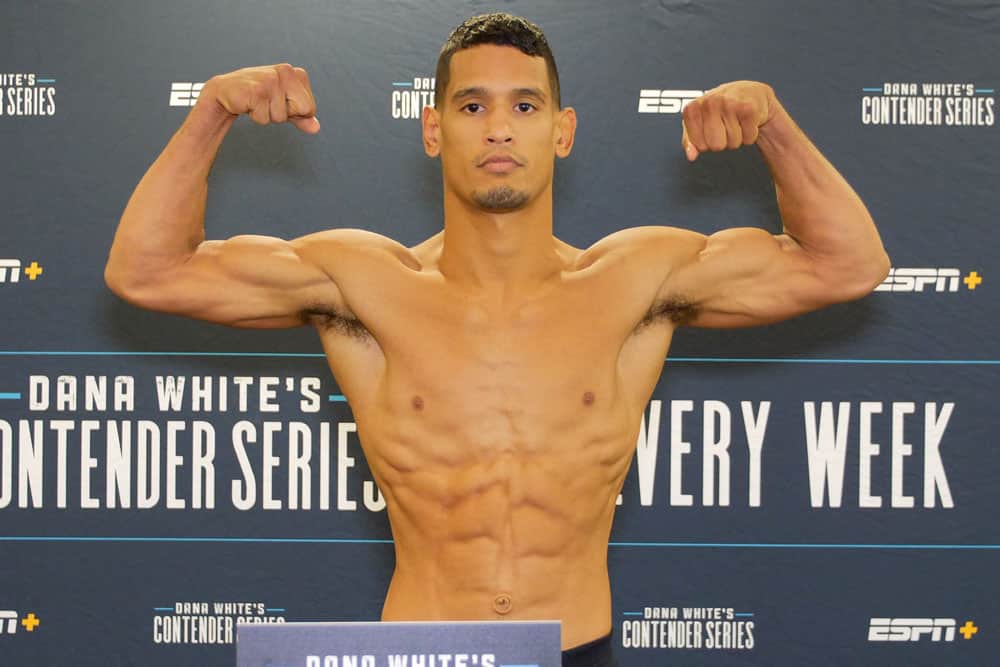 Caramel Thunder, Miguel Baeza, is 11 years Matt Brown's junior, and with that much of an age gap, I'll always put my money on the younger fighter. He'll have a significant athletic advantage in this one, and with Immortal pushing 40, he could be shopworn (although he has won his last two).
Anthony Hernandez (-120) vs Kevin Holland
MMA math pretty much never adds up, but I'm going to rely on it anyhow. Anthony Hernandez beat Brendan Allen, while Allen beat Holland. Therefore, Hernandez beats Holland, right?! Besides the wonky math, Hernandez does have the takedown and grappling skills to beat Holland, who has been victim to submissions in the past (including his last fight, against the aforementioned Allen).
Giga Chikadze (+170) vs Mike Davis
Giga Chikadze used to be a professional kickboxer, so he'll definitely have the striking advantage over Mike Davis in this fight. Plus, having beaten two wrestle/grapple heavy opponents in his first two UFC fights, Davis, who isn't a grappler, should be an easier matchup here. And plus money is always a nice addition.
Cortney Casey (-170) vs Mara Romero Borella
This will be Casey's first fight at 125 pounds in the UFC after having competed, with so-so results, at 115 pounds exclusively. Hopefully not having to cut as much weight will help her performance, as she should be able to outclass Borella skillwise.
Nate Landwehr (-110) vs Darren Elkins
Nate 'Train' Landwehr was a highly touted prospect entering the UFC, but dropped his octagon debut. I'm looking for him to bounce back against the skidding Darren Elkins (loser of three straight).
Rodrigo Nascimento (-105) vs Don'Tale Mayes
In the curtain jerker I'm going with UFC newcomer, and undefeated fighter, Rodrigo Nascimento Ferreira. He's a heavyweight submission ace, and Don'Tale Mayes just lost via heel hook his last fight.
Overall Results (for picking all fights on card)
Record: 16-16
Earnings: -($658.20)
Return on Investment: -21%